Antwerp - Second City of Belgium and Capital of Flanders


Antwerp has had a eventful history of power struggles and changing rulers, religious strife, great commercial success and dire failure, destructive bombardment and rebuilding, that has shaped the city as it is today. After our first visit, we realized that there was too much to do there in a day so we made a return visit to explore there another day.
Antwerp's railway station was a wonder! They have retained the historic Baroque style station in all its glory and carefully added modern station facilities equipped to handle larger crowds (top right) and more trains with easy people moving convenience!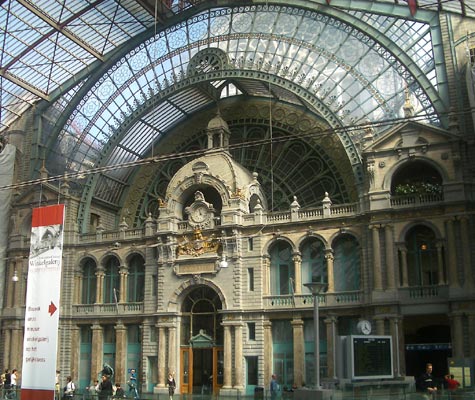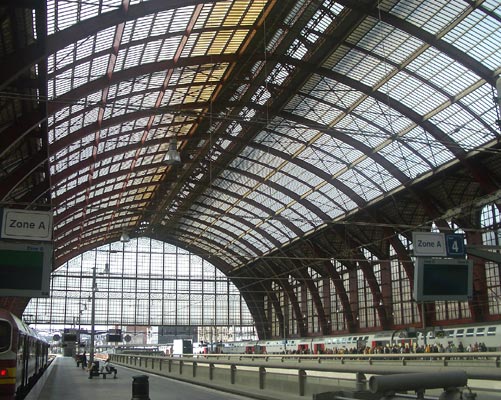 As we left the station, we looked back at it's wonderful dome, now being refurbished and covered with scaffolds. We will need to return when the work is finished.
We walked on along the main shopping street, Meir, admiring the fusion of grand classic buildings and modern ones, all with their retail shops at street level (below left).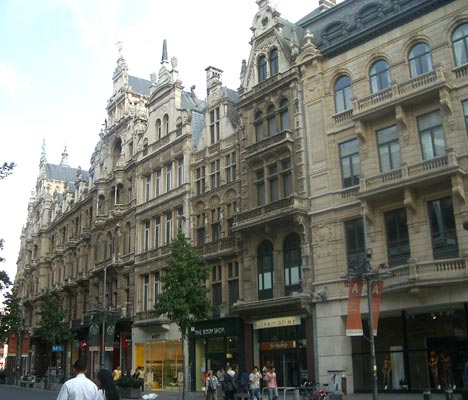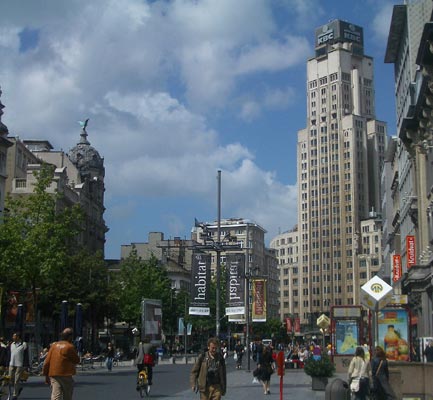 Along the way we had views of the soaring Gothic spire of the Onze Lieve Vrouwekathedraal, the great cathedral of Antwerp (below left).We visited the cathedral, enjoying the lofty, grand interior space supported by graceful columns and arches, admiring the great paintings of Peter Paul Rubens and his contemporaries.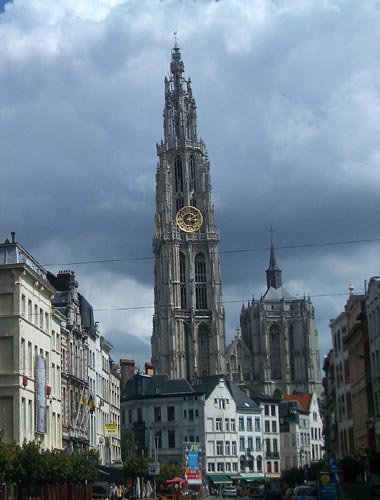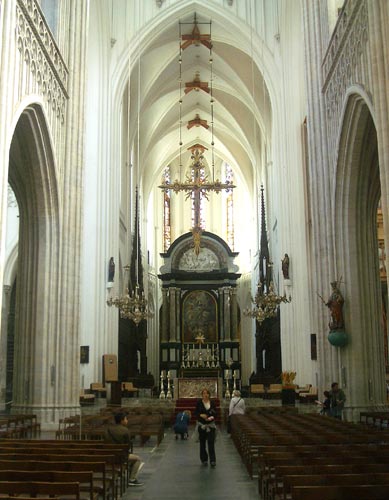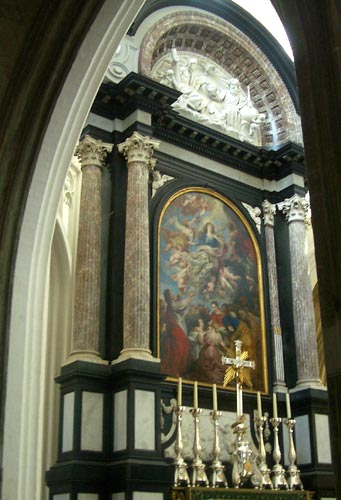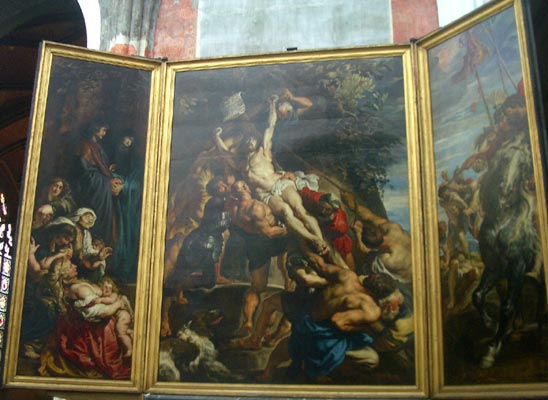 After this visit, we stopped for lunch, sitting outside to enjoy sunshine and pizza! From here, we walked on to the Grote Markt, lined with guild houses sporting the symbols of their trade (below left) and the noble Stadhuis with flags flying (below right).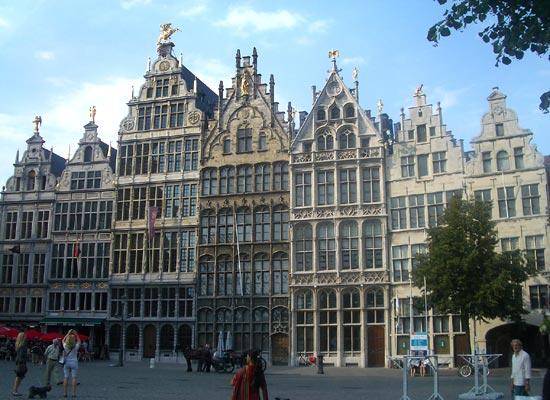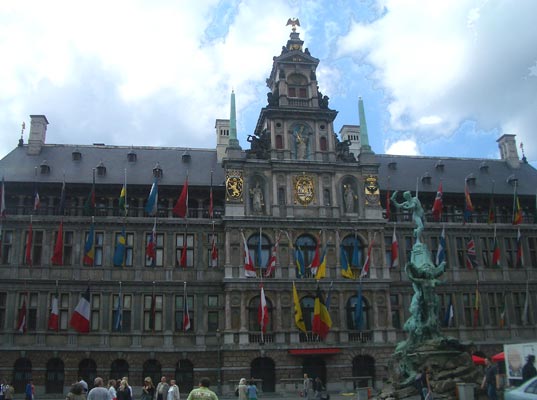 From here, we walked on toward the River Scheldt, wide here, not far from its mouth. To the north, we could see the cranes of the modern container port.
Just off the river, we discovered a plain brick building. Investigating, we found it housed an elevator and an old escalator with wooden step treads (below left). We found that either took us down about 66 meters to the entrance of a tunnel that goes underneath the river, for use by pedestrians and bicyclists (below right). We walked through it on another visit (see below).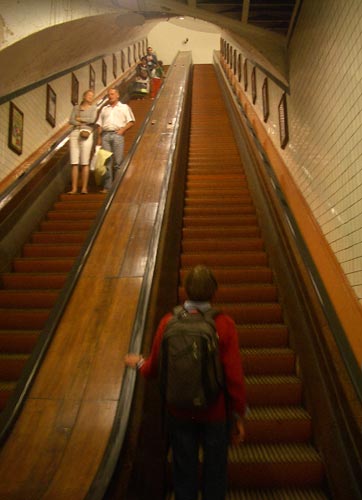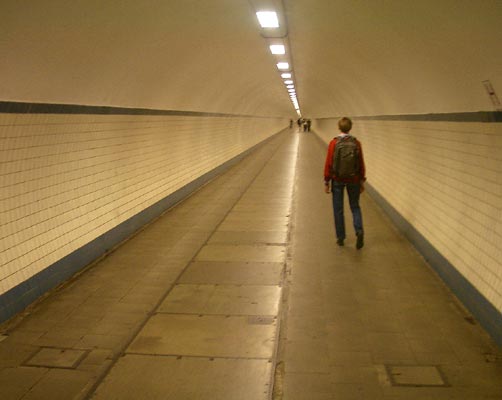 Walking on through the cobbled streets, past an eclectic mix of modern and classic row houses, we arrived at the Museum Plantin-Moretus, an elegant mansion that was once owned by printer Christopher Plantin (below left). The Plantin-Moretus Printing House was once one of the largest in Europe and the exhibits and interpretation of the museum told the story of this historic business and of life in the 16th century in Antwerp. We admired tapestries and furniture (below right), paintings and gardens (bottom) as we learned about the printing process of that age before word processors and spell checkers!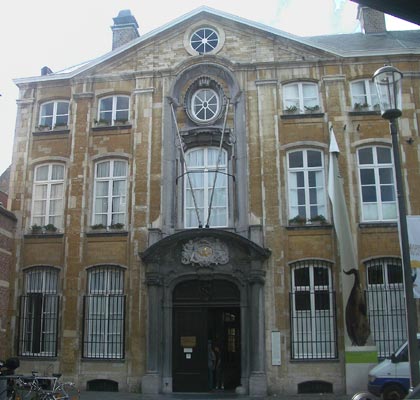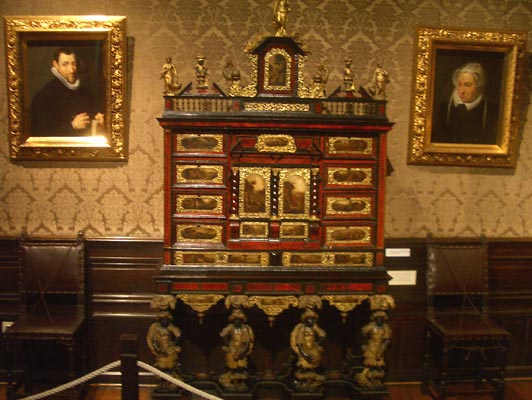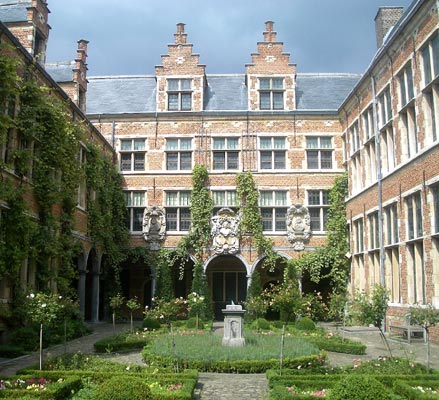 After this visit, we relaxed over a beer or two and walked back through town to the station to catch a train home.
We returned 10 days later. This time we stopped for coffee and pastries in the Royal Cafe finding its elegance surprising for a railway station, but very appropriate for this grand place.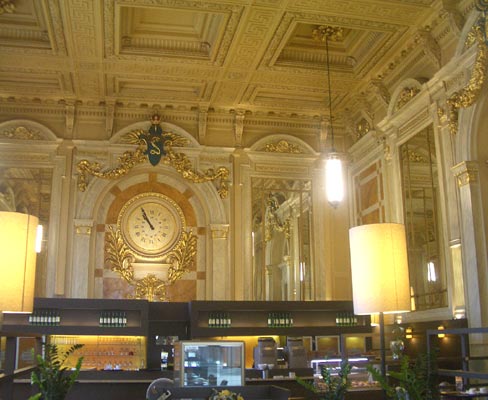 Refreshed, we walked to Sint Jacobskerk (Saint James Church) where the pilgrims to Santiago de Compostela in northwest Spain begin their long walk. It is also Rubens' parish church and resting place. We walked through the Gothic interior of the church, filled with paintings by Rubens and other great Flemish artists.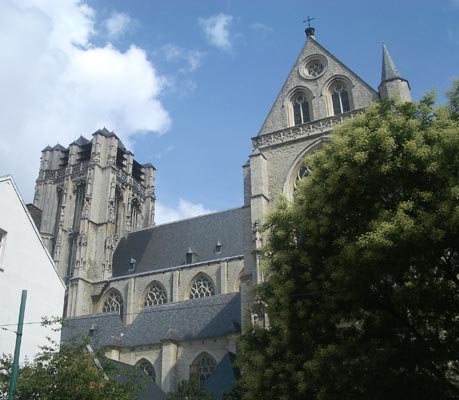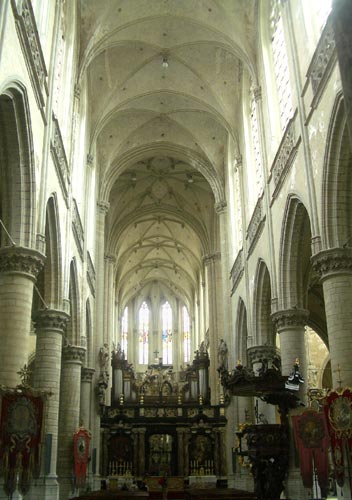 Back outside, we found the day to be even more lovely as we walked to the Rubenshuis, where the artist lived and worked. On one side are the living areas with cozy dining and sitting rooms, well equipped (for the 17th century) kitchen, bedrooms and a grand semicircular domed gallery adorned with colorful marble and Roman sculpture. On the other side is the studio where Rubens created his great art and taught students. He was a collector as well and the paintings he collected are displayed throughout the house and studio. Between is a formal garden, bright with flowers and sculpture and fountain (below right). We did not meet Rubens himself but we certainly felt his presence!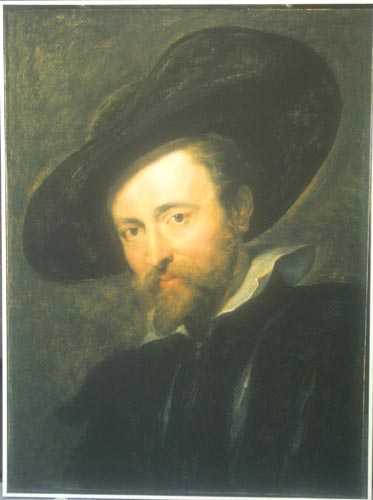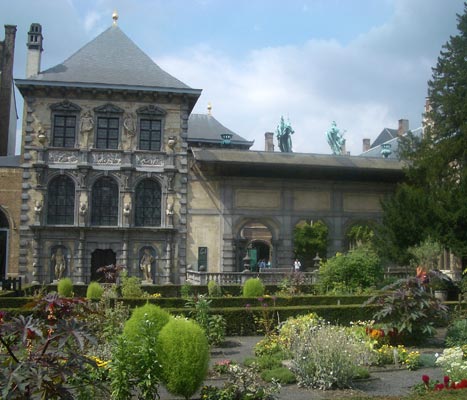 After this visit we stopped for a nice lunch sitting outside, watching the world go by. We then walked on to the tunnel entrance, rode the elevator down and walked through the tunnel to the other side. We were amazed at the number of people using the tunnel, both on bikes and on foot.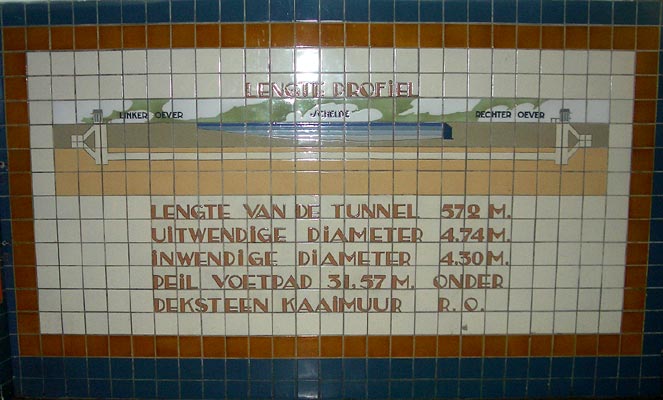 The views over the river to the city are wonderful (below left) and there is a wooded green space along the river here, perfect for a nice walk. Returning from our walk, we stopped for drinks in a riverside cafe (below right) and then returned through the tunnel.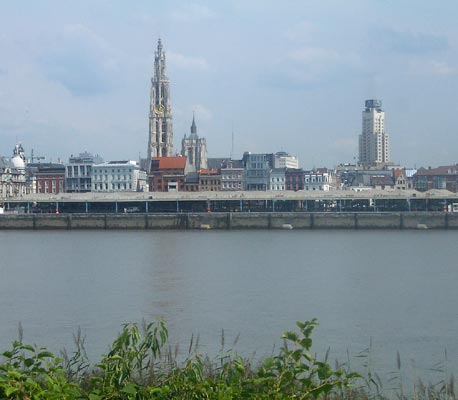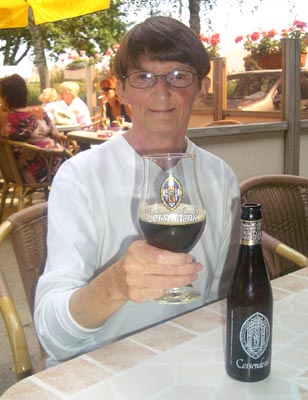 We walked on to the Grote Markt to join groups of folks enjoying the afternoon light on the venerable buildings and the cathedral with it's golden clock faces soaring above us.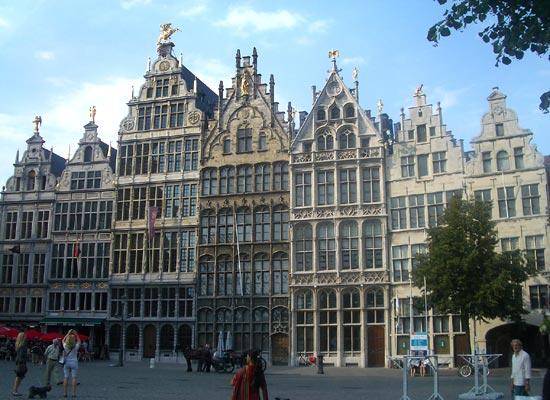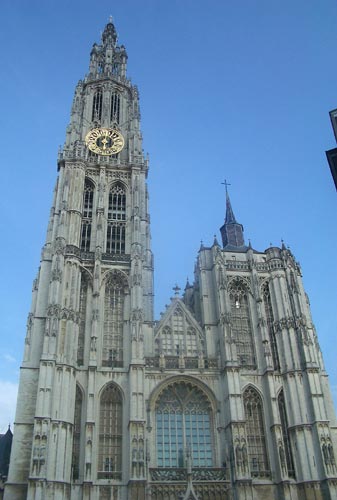 Walking back to the station, we agreed that this is a town where we can imagine ourselves living the next time we choose to live in Belgium. It is smaller than Brussels but still has much charm and culture and all of the urban friendliness and convenience of Brussels. But that is a decision for another day!
Click here to return to Our Travels in Europe - Summer of 2007 page