Bangalore - Expectations, Realities and a 'Save the Trees' Crusade


Bangalore was a city we just had to visit! Known as India's Silicon Valley and the fourth largest municipal corporation after Mumbai, Delhi and Chennai, we could not, as Urbanists, miss a visit to this vast sprawling urban agglomeration. After our tranquil visit to colonial Mysore just 120 kilometers away, we boarded the train to head to Bangalore. The train traveled from tranquil green fields and groves, then through the edges of the metro area with informal communities along the way, then residential areas of increasingly higher density and finally the old city with its three to five story buildings of richly mixed uses.
As the train pulled into the station, young men began crowding in from the wrong side of the car, pushing into our seats as we frantically grabbed our bags and tried to get out on the platform side. We made it out with help from three men, our seat mates for the trip. After this rather shaky and unexpected introduction, we took deep breaths and headed out to find a ride to our hotel.
After a meal, a walk around the area provided our first impressions of Bangalore Centre. Nearby Brigade Road, a complex mosaic of retail shops and stores, malls and stalls, vendors and hawkers, was packed with shoppers on this Sunday afternoon. Strolling was not an easy option so we went with the flow, absorbing as much of this rich visual clutter as possible while dodging people, sidewalk gaps, motorcycles and cars.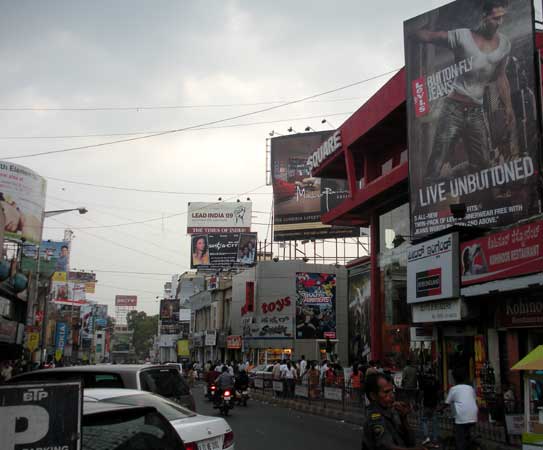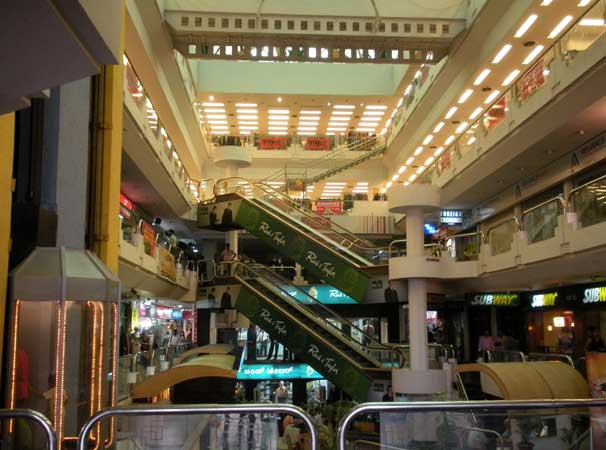 In Search of Wifi Connections in India's IT Capital
One of our first goals was to find a place with a Wifi connection we could access. It's Bangalore, IT Capital of India, so Wifi should be everywhere, right? But, no! At the hotel, we checked for wireless signals, but NONE were to be found! We then asked at several upscale coffee shops, and an Internet Center or two. Finally a guy in a small shop, offered to hook up our laptops to his cable connection! It's India, expect the unexpected!
Visit to India's Silicon Valley
Having found an Internet connection, we then decided to check out India's Silicon Valley! The Bangalore Metropolitan Transport Corporation had recently launched a new bus service and purchased nice modern buses as well. One of these express routes ran from the Centre, near our hotel, to Electronic City, on the southern edge of the city, home of Wipro, Infosys and all the other legendary IT companies. We boarded one of the bright yellow buses and rode the 14 kilometers passing through a more graceful older quarter, then the usual two to four story residential blocks with retail at street level typical of Indian cities. Then, the road, National Highway 7, became a construction zone for new overhead traffic lanes, that in places required the bus to weave from lane to lane and even slow down occasionally.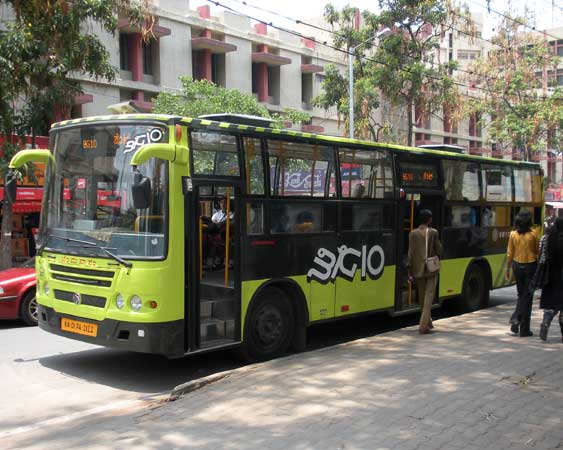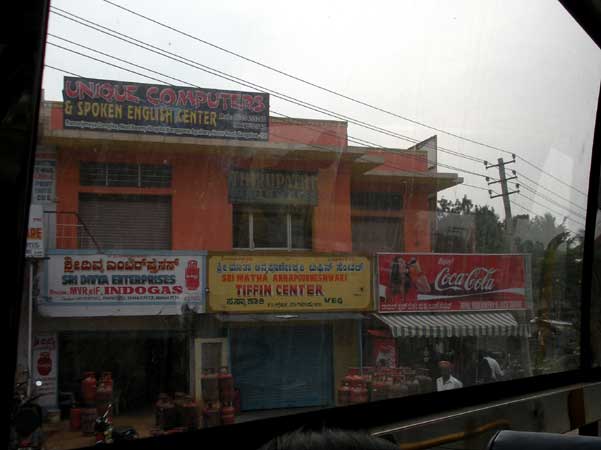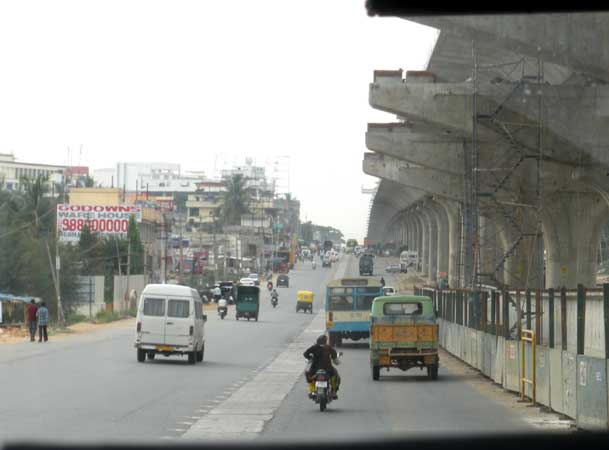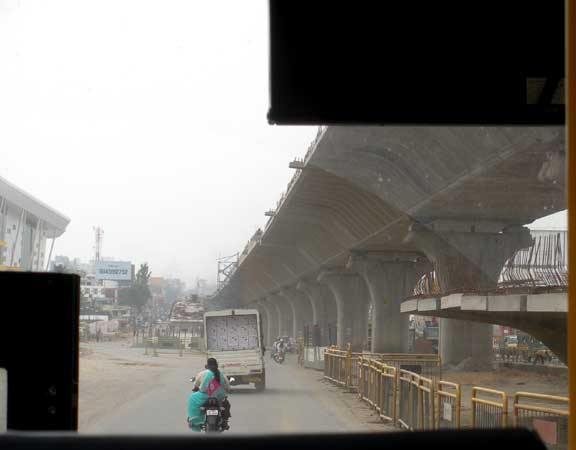 The bus stopped in front of a typical three story commercial building. The conductor announced that this was Electronic City. We got off and looked around, astounded! We were standing on the side of this major road, no station or even a bus stop in sight, much less any sign of an 'Electronic City'. Our first instinct was to cross the road and take the next bus back.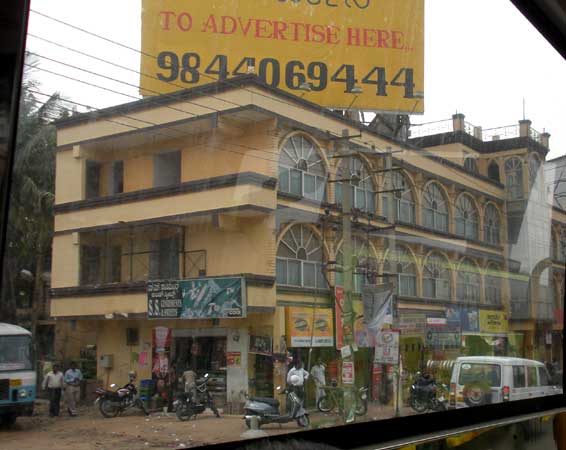 But, determined to find the famed Infosys Campus, we engaged a tut-tut and asked him to take us to Infosys. We soon realized that the Campus, the heart of India's Silicon Valley, was just across the road but the construction had blocked it from our view. Reaching the campus, we also realized that this place, where 13,000 'Infoscions' work, was actually a fortress, a collection of attractive office buildings behind a wall crowned by high voltage wires, with guards standing at intervals along the perimeter walkway. At a gated entrance with an office, we spoke with an officer who curtly told us that visitors were not allowed inside. So, we settled for a few discrete photos (over the wall between guards) and then caught another bus back to Central Bangalore.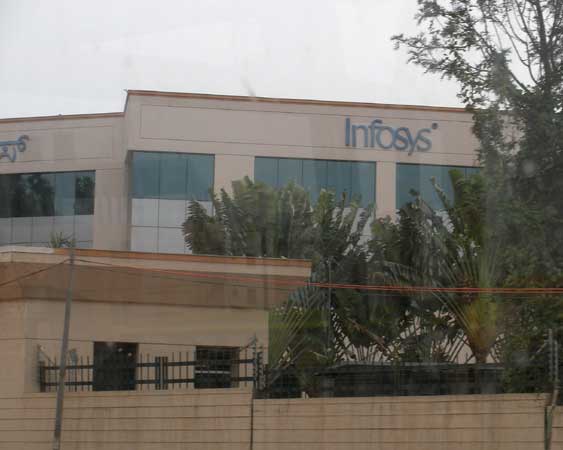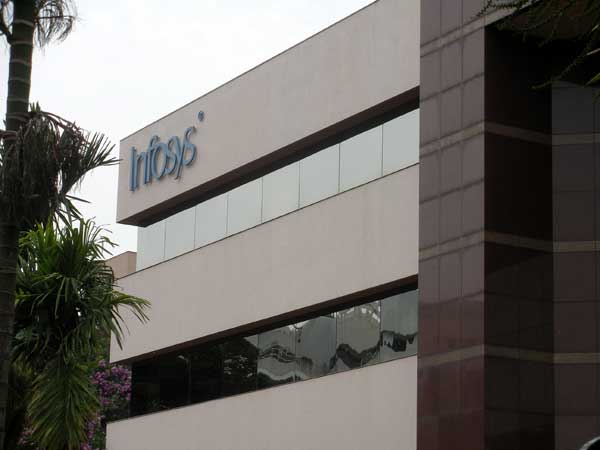 Later, over a beer, sitting in a rooftop bar overlooking Brigade Road, we agreed that so far, Bangalore was not at all what we had expected.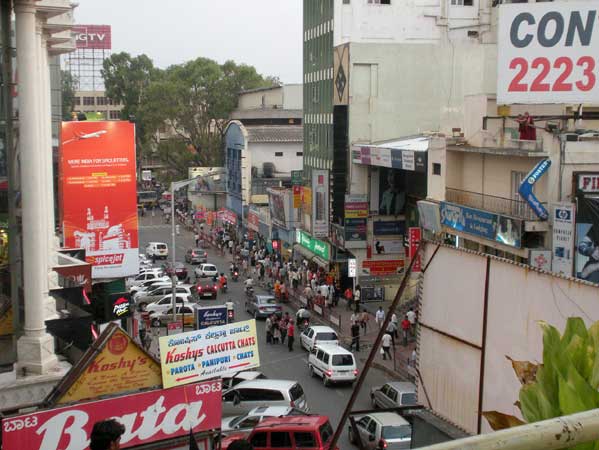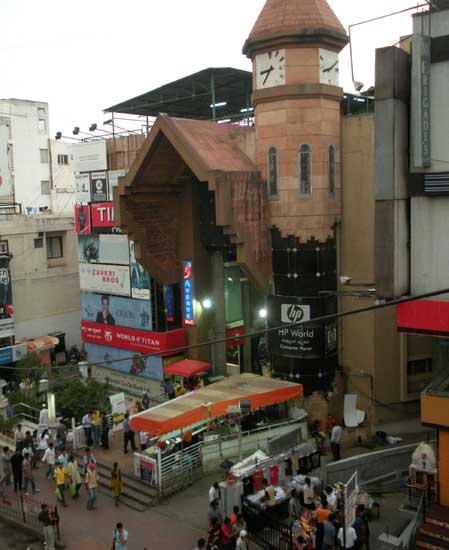 Sure, the Infosys campus with its ultra modern architecture set in gracefully landscaped, leafy, shady grounds had more than a passing resemblance to San Jose or the Seattle Microsoft Campus. But the resemblance ceased when one considered the surrounding context of dusty, dingy urban landscape, a modern new bus but no bus shelters, and the 'electronic fortress' workplace. Of course, any Infoscion would drive to work, gliding through the big front gate, and parking in an employee parking lot! And his commute will be a lot faster when all the construction we had seen on along the way is completed! We learned that the overhead thoroughfare was not an extension of the new Bangalore Metro but a nine kilometer stretch of elevated expressway! The rationale for building this highway rather than a Metro extension remains a great unknown!
The Lal Bagh Park Versus Metro Showdown
The second morning of our visit, the morning DNA (Daily News Analysis) paper, in addition to election coverage, had a story about cutting trees in Lal Bagh Park to make way for the new Metro. Our enviro-activist instincts were immediately on alert and we decided to learn more. According to the story, the Metro planners had decided on an alignment for the ground level metro line along the edge of the park. Apparently, the public involvement elements of the planning process had been skipped and the arrival of the tree cutters was a big surprise to the large contingent of folks who walk regularly in the park. Before long, a local environmental organization organized protests and a meeting with a Metro spokesperson was arranged.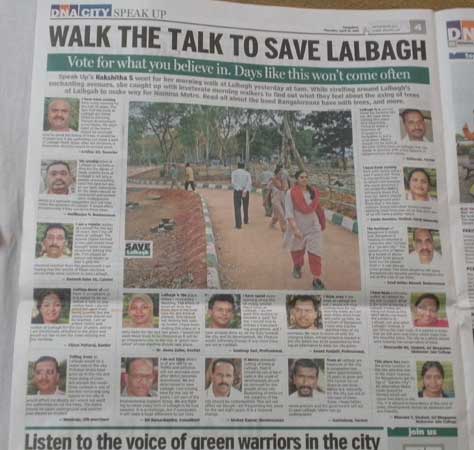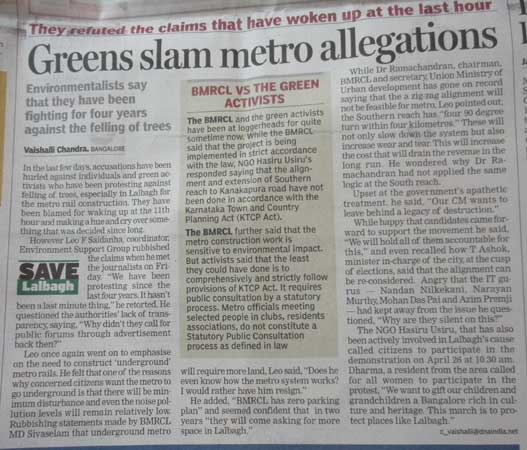 To provide a bit of background, Lal Bagh Park began as a Botanical Garden in the reign of Sultan Haider Ali in 1760. Since then, the gardens have been expanded and today, the 240 acre park offers green lawns, shady pathways under great old trees and formal gardens for residents to enjoy. Walking Clubs meet daily for group walks through the park and folks from the nearby Jayanagar neighborhood feel that Lal Bagh is part of their backyard.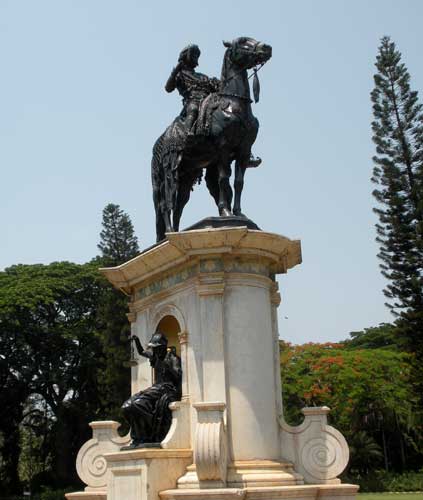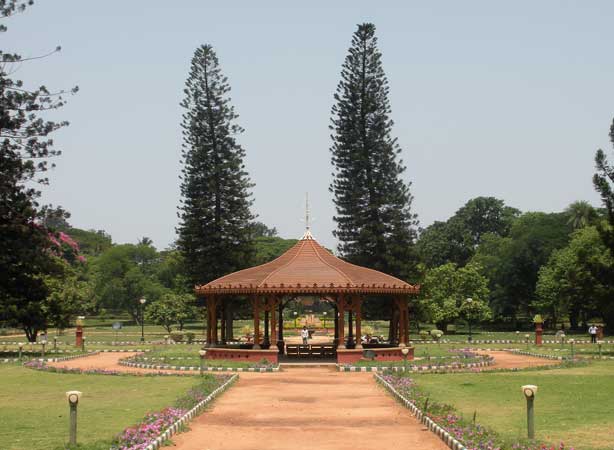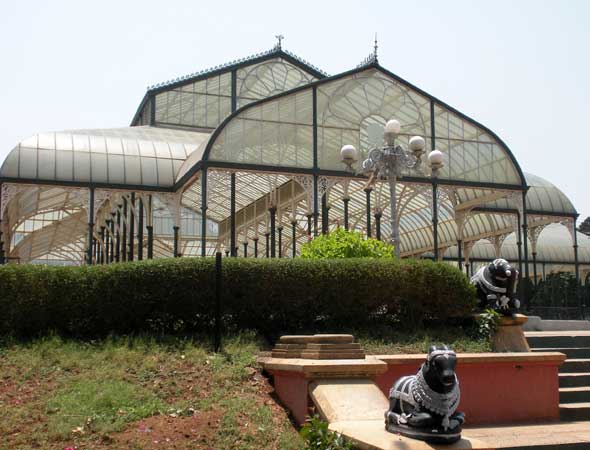 That such a well loved and special place would be selected as the route for the new Metro was astounding to us. On visits to the park, we immediately understood the high emotions that the threats of tree cutting and disruption had aroused! It is a truly lovely place in a city that cries for beauty.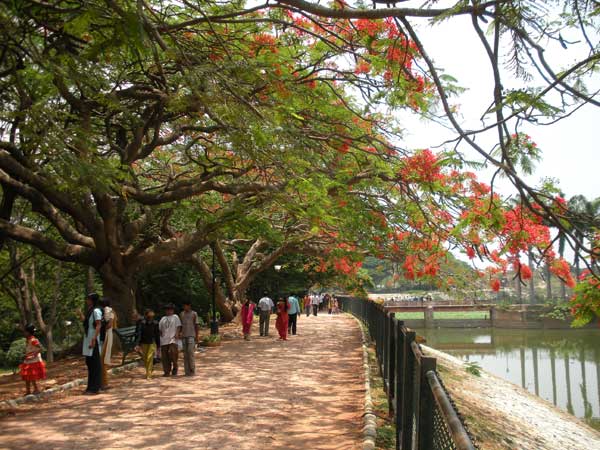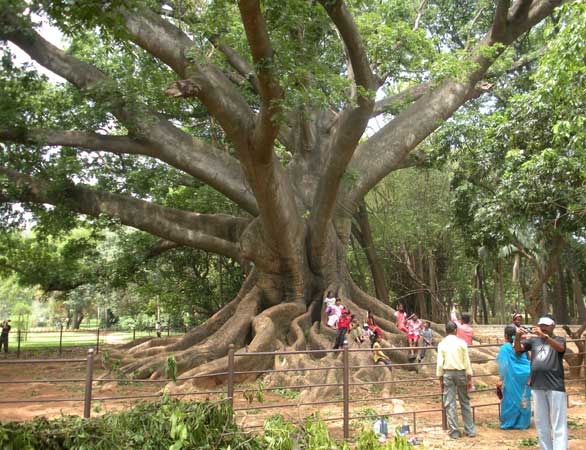 We learned that an alternative alignment through Jayanahar's commercial complex and bus stand area had been considered and rejected in favor of the Lal Bagh alignment! We were equally astounded by the apparent lack of transparency and public involvement during the planning of this massive project and the perceived arrogance of the Metro planners to believe they had the right to destroy a valued green space.
But, at the same time, it was clear that the Metro is essential to Bangalore's future well being. The air quality improvement, green house gas reduction, stress reduction, reduction of deaths and injuries due to traffic accidents are among the well documented benefits that a metro rail system provides to a city, and if there ever was a city that could use these benefits, it's Bangalore!
At the moment, the final outcome is uncertain. We learned that the High Court of Karnataka had issued a stay order on all work on the southern reach of the metro (including the Lal Bagh area) and specifically that tree felling should cease until issues are resolved. This would seem to be hopeful for the final outcome. In any case it was clear that, should we return, we'd certainly have no trouble finding crusades to join!
Bangalore's Challenges
In the ensuring days of our visit, we came to realize that these findings were symptomatic of the challenges Bangalore is facing. On one hand it is an old city not unlike many in India with old infrastructure and old ways of doing things. On the other hand it is a city racing toward modernity, growing rapidly, and a youthful population with new ideas that are straining the 'old city' processes and ways of doing things. Yet the opening of their brand new airport (below left) and the construction of a Metro system (below right) suggest that they are taking steps to become modern.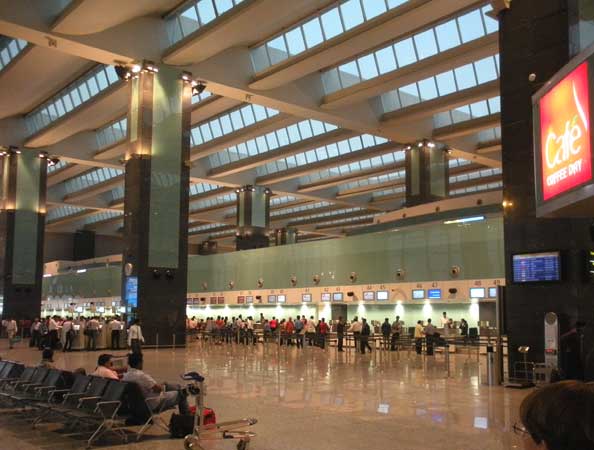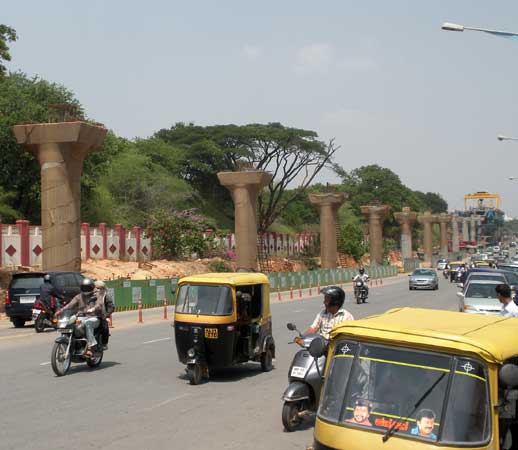 Some say that with these changes, 'Bangalore is losing its soul'. We hope this isn't true and this city is able to retain it's heritage while becoming the progressive, modern city it wishes to be.
Click here to return to Our Revisiting India - 2009 page