Berlin - Das Leben Ist Sehr Gut! (Life is Good!)


"Our life in Berlin was filled with the joys of urban life - easy mobility with many choices, shopping for daily needs within a pleasant walking distance, outdoor markets twice a week, plenty of cafes and pubs, the vast Tiergarten Park for lovely walks in greenery. Then there were the many museums, monuments, and neighborhoods to visit and explore. Add to this, the opportunity to understand more fully the challenges that the Berliners faced during the whole of the 20th century! What more could we ask?"
So we wrote last September from our sunny living room in the apartment on Lutzowstrasse. Recalling those idyllic days as we contemplated where to spend the summer of 2011, we felt ourselves drawn back to Berlin for more of that good urban life!
We arranged to rent another nice apartment, this time in Friedenau, a district south of Potsdamer Platz, and boarded a flight from Philidelphia to Frankfurt. A speedy Deutsche Bahn train took us on through the lovely wooded hills, expansive green fields, and picturesque towns of central Germany and into Berlin's Hauptbahnhof. Now in familiar territory, we purchased a sim card for our handy (mobil phone) and called our friend, Renate. In a few minutes she was there to meet us.
We spent the first two nights as guests of Renate and Uli in their lovely home in the northern district of Heilegensee, and just inside the path of the Mauer. As it turned out, Uli was not home when we arrived. He was on his way home following a long journey through Turkey on his motorbike! He arrived while we were still there.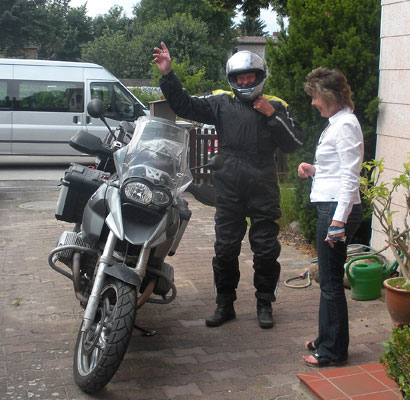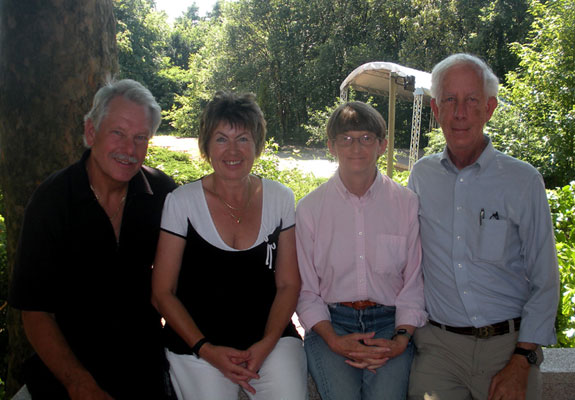 After this auspicious beginning, we moved into our new apartment. On the first floor in a typical Friedenau residential building, it was spacious, comfortable, and well equipped. With its living/dining room, kitchen with dining area, and a separate bedroom, it was larger than normal for us. A rear window opened to a lovely garden. The high ceilings edged with floral designs testified to the graceful age of the building now so carefully restored.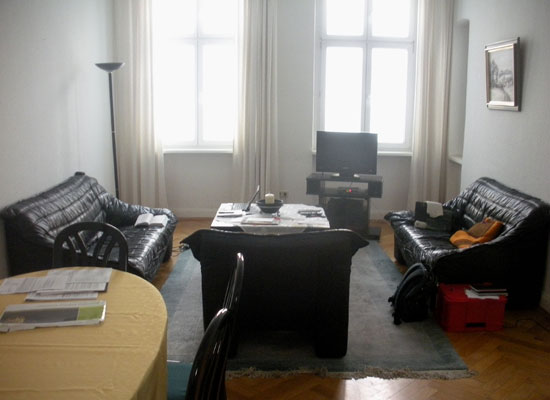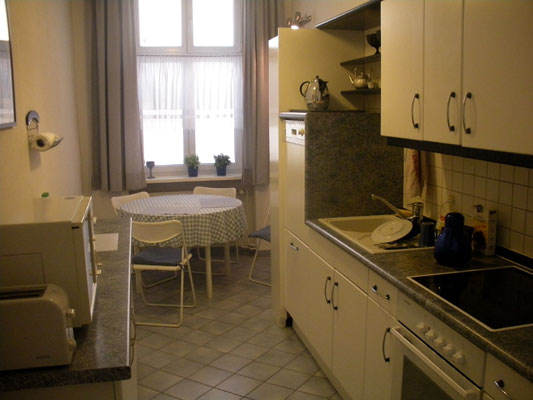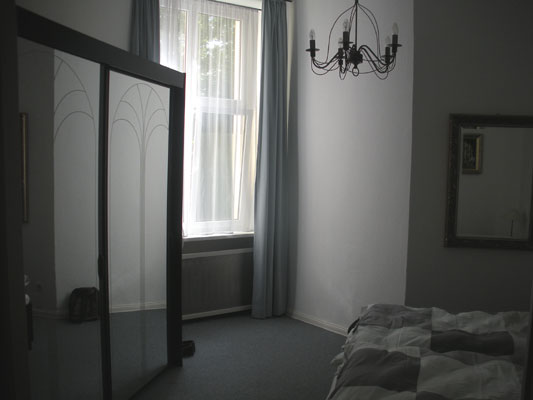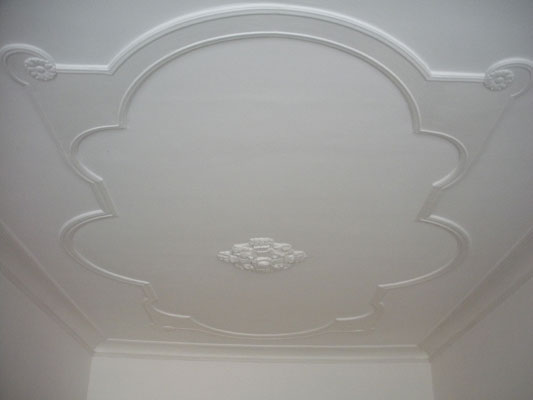 As we explored the adjacent blocks, we discovered shady tree lined streets and wide sidewalks with residential buildings similar to ours, each one with its own delightfully stylish facade and many with a nicely kept small garden in front.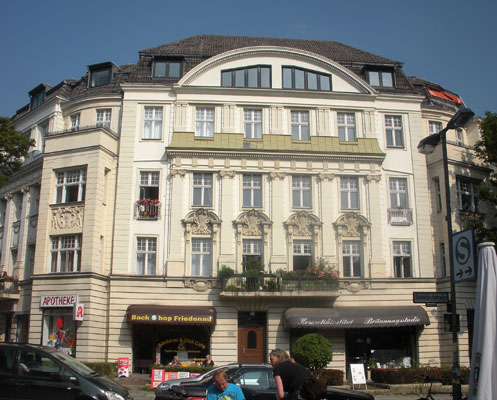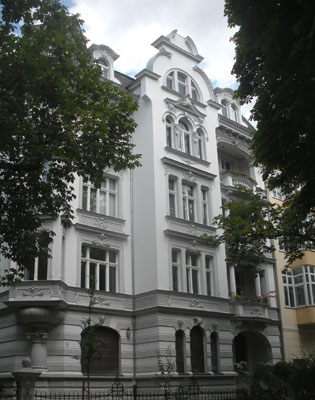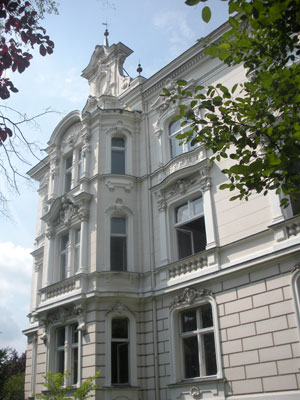 Rheinstrasse, a major retail street was just a few blocks away. Here were several food stores, cafes, and every other shop for daily needs and much more. In fact, within just 500 meters there were two large city shopping malls and with dozens more shops - way more shopping than we'd ever need!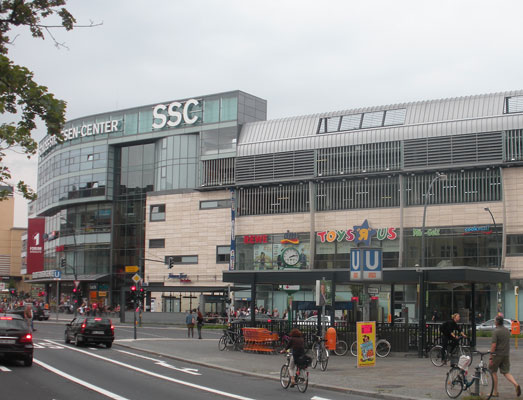 Our transit options were varied: an S-Bahn station was a ten minute walk away and buses stopping on Rheinstrasse took us through Potsdamer Platz to either Alexanderplatz.or the Hauptbahnhof. These entry points opened up the vast Berlin transit system to us, enabling us to travel easily anywhere.
While later trips would take us to Berlin's many large parks and the Grunewald, the great forest reserve, just walking from our apartment to the S-Bahn station, past the trees and gardens of our neighbors gave us a feeling of connection to the natural world.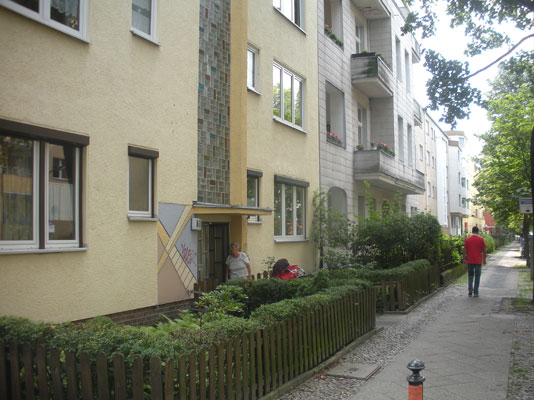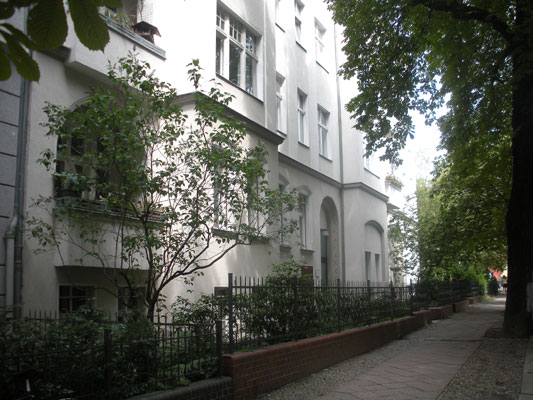 So, we settled in quickly and again began to experience the urban living that we had so much enjoyed last year.
To read our story of that visit, click here.
Click here to return to our 'Summer 2011 - Joys of Urban Living' page