Bruges, Belgium - Charming Medieval Town


During the turbulent history of Belgium, Bruges gained immense economic success as a seaport in the profitable cloth trade, then suffered economic collapse as the cloth trade withered and the River Zwin silted up cutting the city off from the sea.
The city managed to avoid much of the destruction suffered by other Belgium cities, however, and today it manifests all the charms of organic medieval development: classic step gable row house lined streets, meandering canals, plenty of small shops and cafes, graceful cathedrals and grand squares. There are even several windmills along the river dike.
We traveled to Bruges by train one fine morning, retracing the same route to Ostend through the green countryside. After finding our way through the station under serious renovation, passing a sea of bicycles parked in front and a garden of bright summer flowers, we found our way through a park to the Visitor Center.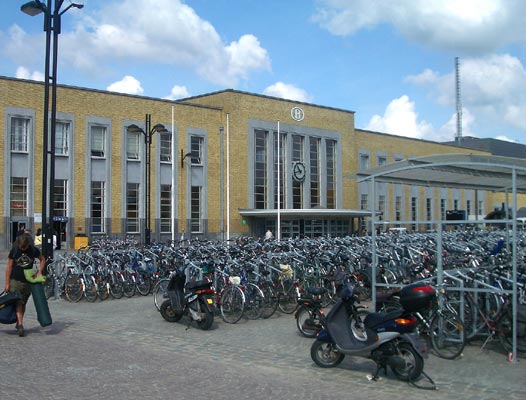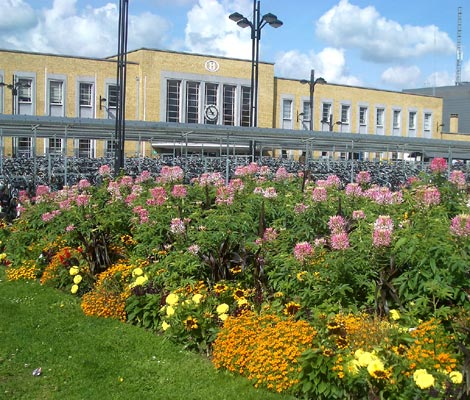 It was packed with people! Bruges' medieval charms makes it a destination for droves of tourists (for good reason, we will discover)! Undaunted, we walked along a pedestrian shopping street, stopping at a small cafe for a snack. We then began our exploration of the golden brown brick buildings, feeling transported back in time.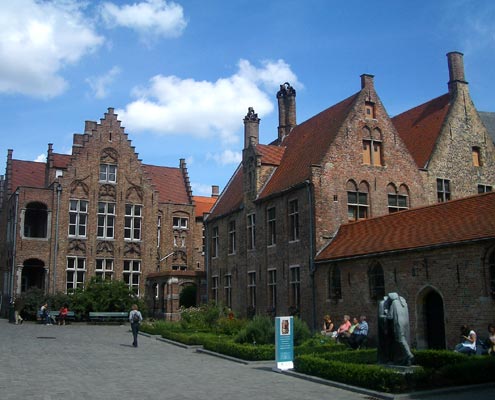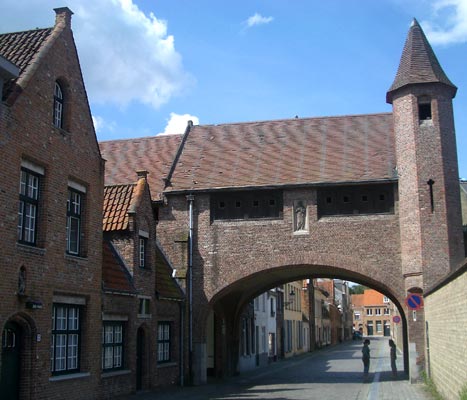 Playing tourist, we took a canal boat ride, enjoying the boatman/guide who gave his narration in Flemish, French, English and German! The water level views of the step gabled houses and arched bridges, flowery gardens and horse carriages were really enchanting!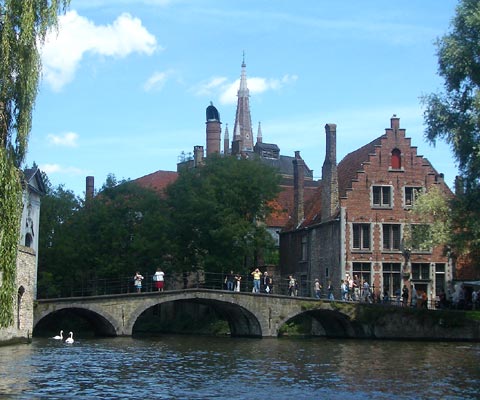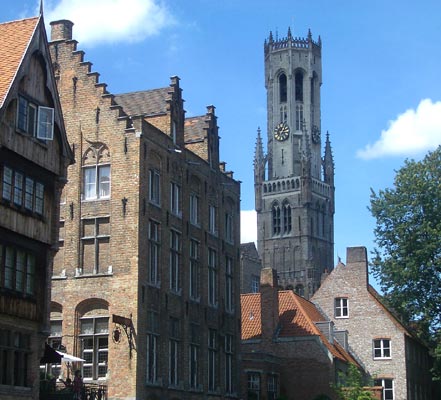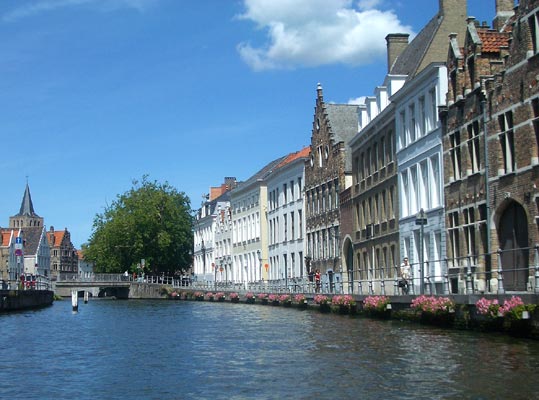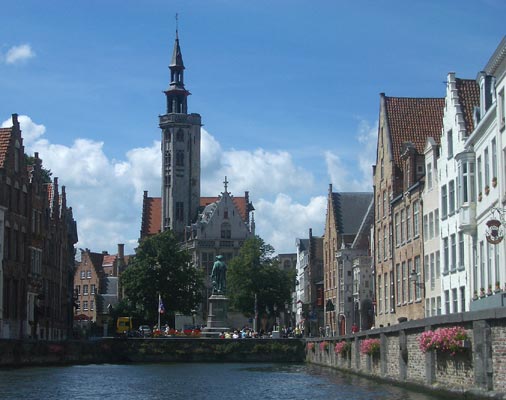 After a nice lunch, we walked to the Markt to admire the recreated ensemble of gabled buildings (below, top left). We learned later that these were built in the 19th and 20th century. To our right was the massive greystone and brick post office (below, top right), and the extravagant, towering Belfort (below bottom).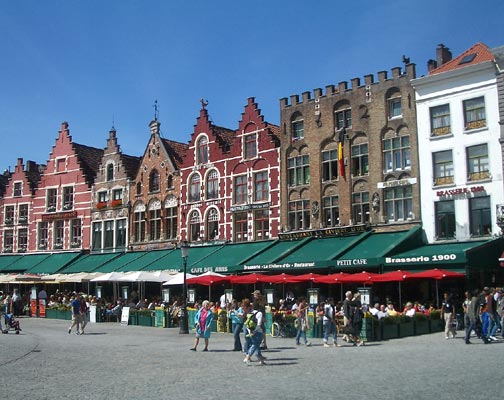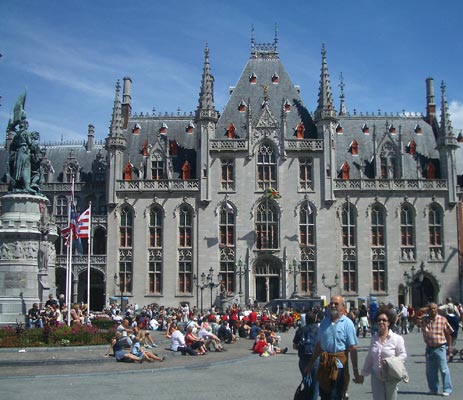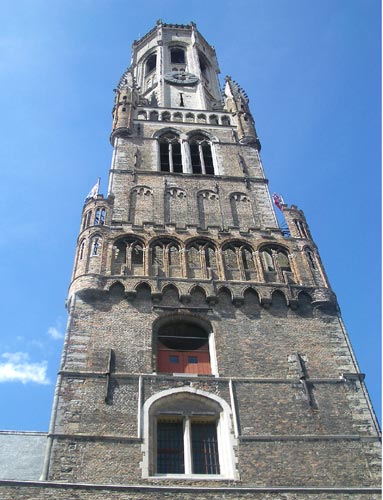 Inside the Belfort, we discovered a gallery of intriguing drawings and paintings by a local artist plus a gathering of modern built harpsichords on display as part of a celebration of ancient music. We wandered past the array of these instruments and were fortunate to attend a recital, gaining new appreciation for the music!
Back out on the square, we dodged horses pulling carriages of tourists and walked on to the second great square, the Burg, where we admired the Stadhuis (below) and Heilig Bloed Basilek (Holy Blood Basilica).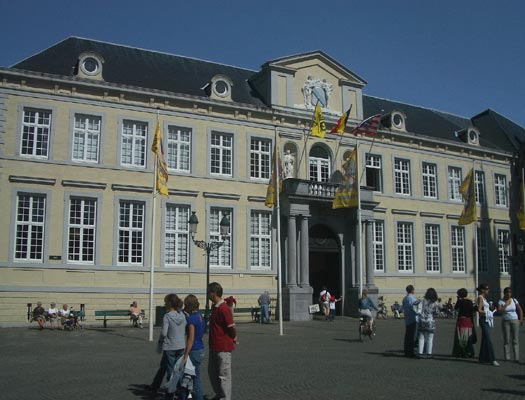 We continued our exploration toward the canal which defines the edge of the old city. Here we admired the windmills sitting atop the canal-side dike, which is also a wonderful walking path, taking us past historic stone entrance gates, a mixture of historic homes and a complex of contemporary townhouses.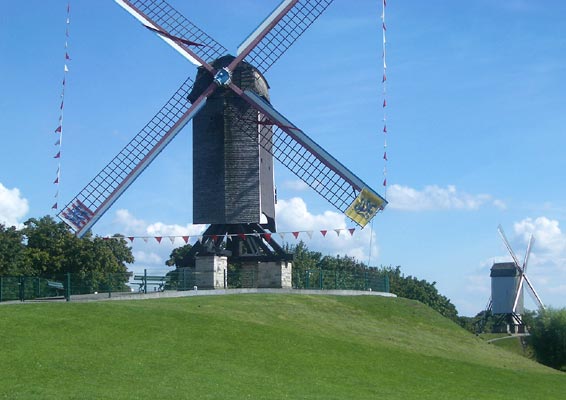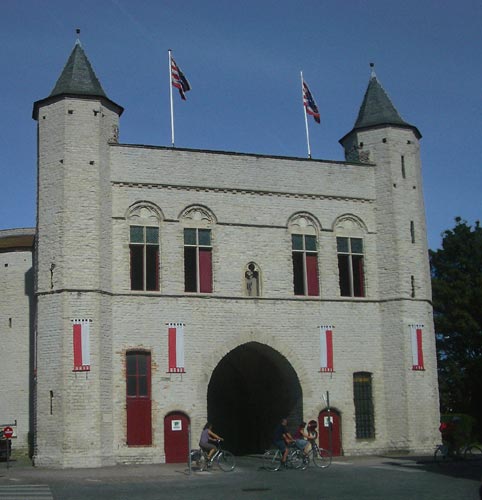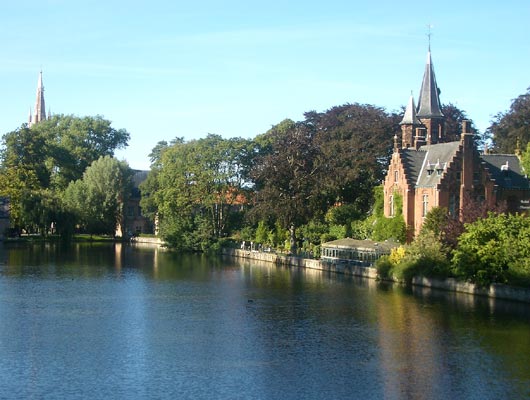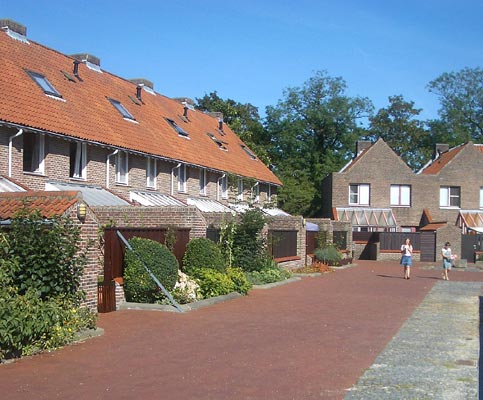 Eventually this path returned us to the to the station for the ride home. We agreed that Bruges is a bit like Santa Fe or Segovia - a historic town, overwhelmed by the visitors, but still very pleasant.
Click here to return to Our Travels in Europe - Summer of 2007 page