People Friendly Cairo?


Cairo is a chaotic, bustling, congested, exotic, friendly, polluted, noisy megacity. The downtown, which includes the maze of streets surrounding the now globally famous MidanTahrir, is easily explored on foot. There are a few obstacles however, such as broken pavement and holes in the sidewalks, obstructions such as posts and light poles, tables brimming with merchandise surrounded by shoppers, lack of traffic signals and pedestrian crosswalks, and the occasional motorcycle on the sidewalk.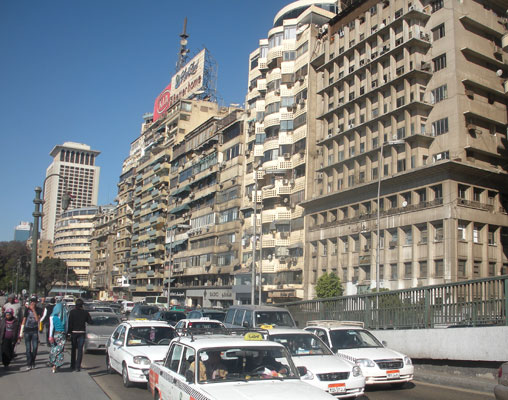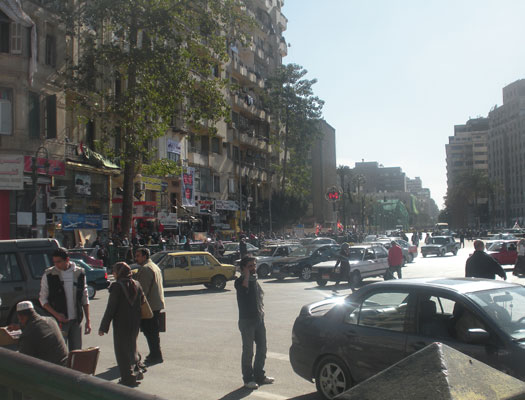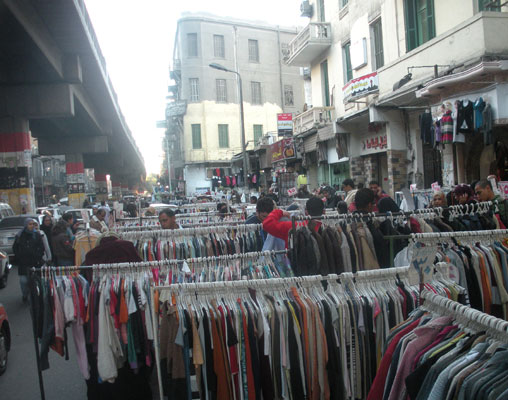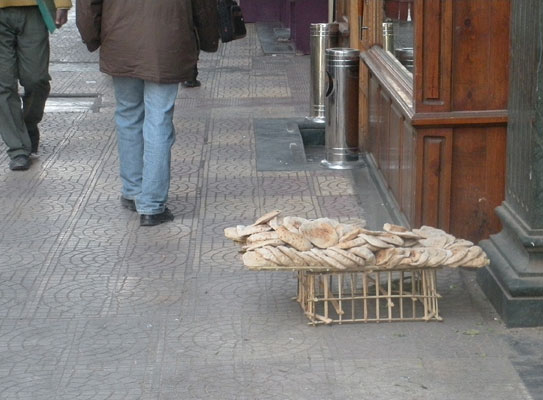 During eleven days of exploration, we did our best to evaluate the People Friendliness of this vast urban conurbation, attempting to be fair and open minded. We quickly concluded that comparisons with Ciudad de Mexico or Delhi would be more apropos than those with Hamburg, Berlin or Malaga, the three cities where we have most recently lived.
With this caveat in mind, we began our explorations.
People Friendliness, as defined by our Principles, includes the aspects of Pleasing and Efficient Physical Form, Mobility Options, and Natural World Connections. For our brief evaluation of Cairo, we picked four districts: Downtown, Zamalek, Saint Theresa, and Maadi to walk and observe. We rode the Metro, taxis, and minibuses, and searched for parks, open space, gardens, historical and archaeological sites, and observed streetscapes, hunting for pleasing ones..
Before long, we realized that we'd need to see Cairo with different lenses than the ones we had used for Hamburg or even Delhi. We also realized that a tangle of extenuating circumstances had defined Cairo's development and that we'd need much more study to understand these.
So, with those qualifiers in mind, we offer this analysis.
Pleasing and Efficient Physical Form
Cairo is a city of mixed use medium rise buildings - mostly four to ten stories - with a few steel and glass towers interspersed. The building material of choice was and still is concrete, except for the mosques, churches and museums that provide Cairo's sacred and respected space, and create its sense of place.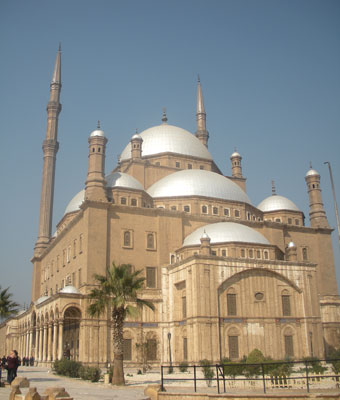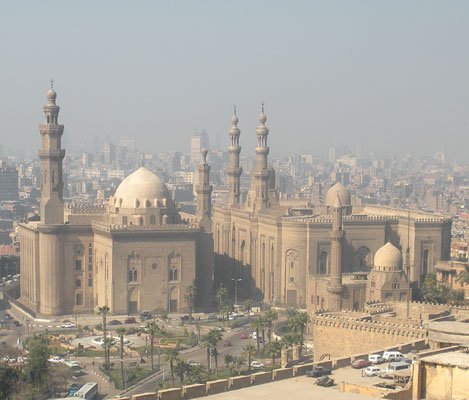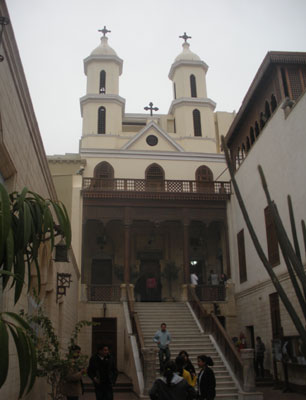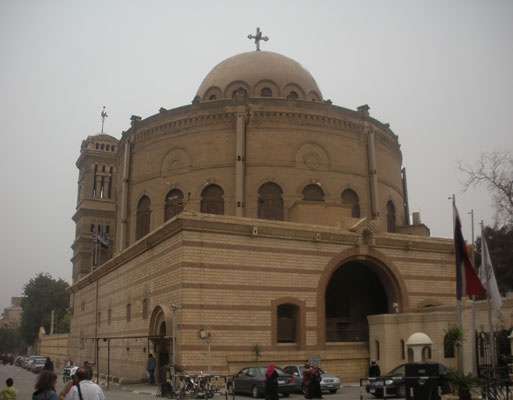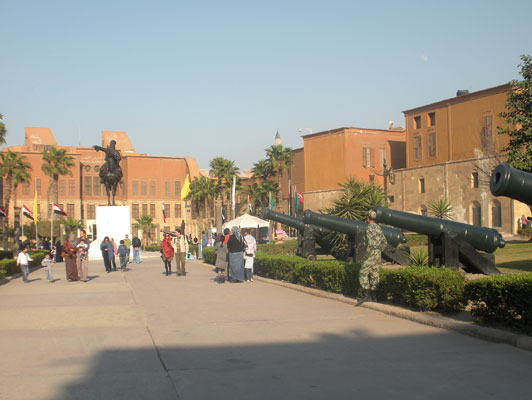 The whole city is the color of the surrounding desert due to the continuous assault by the polluted air. From the top of the Cairo Tower, even on a relatively clear day, the haze obscured nearby buildings (below left). Although only about 5 miles away, the Pyramids at Giza were nearly invisible (under the arrow in the right picture)!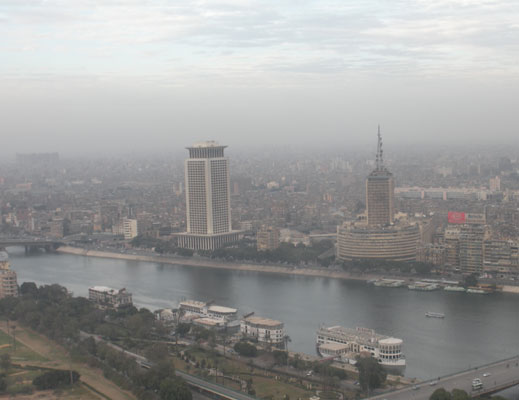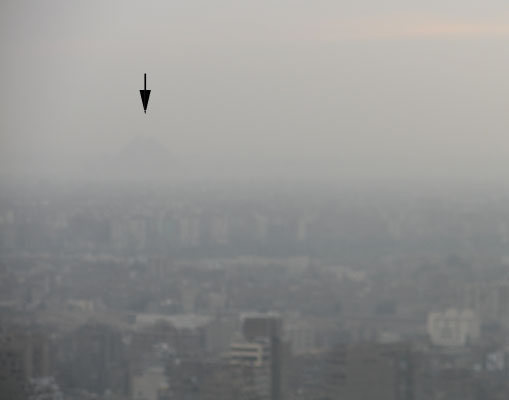 The airborne corrosive gases and adherent particulates attack every exterior surface, structural or decorative. The recurrent breezes often whip up into hazardous winds bearing greater loads of grit and dust that heap up in corners and cover every exposed surface, even the leaves of the street trees. Shopkeepers continuously sweep and slosh the sidewalks in front of their shops to keep this grit from entering on customers' shoes. If Cairenes ever attempted to counter this assault, they long ago lost the battle. Perhaps this left them disheartened so that they have ceased any attempts to patch, paint or repair exterior walls, or in some cases even the entry foyers of buildings.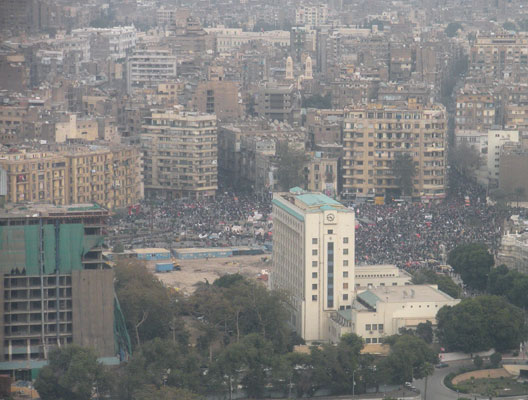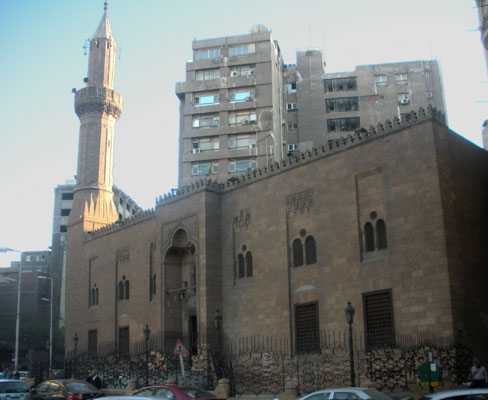 But more often, even the buildings clad with expensive materials such as marble or alabaster loose their gleam under the assault of the toxic air. (Look closely at the brown stains on the normally white alabaster or concrete surfaces). One cannot help but wonder what one's lungs are suffering under this same assault!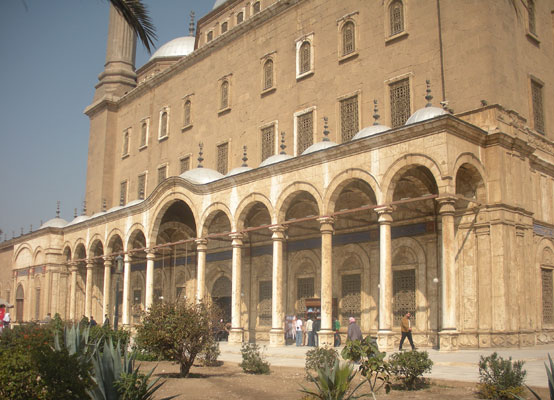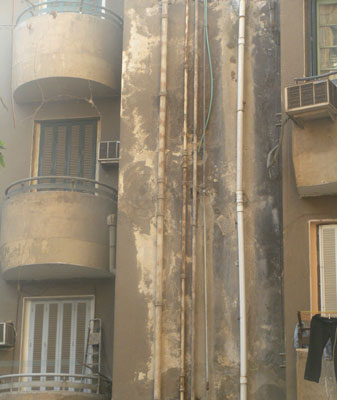 Occasionally, a building stands out because it is clean and bright, such as the Egyptian Museum, Ramses Railway Station, some upscale hotels, and occasionally, a new or freshly painted building.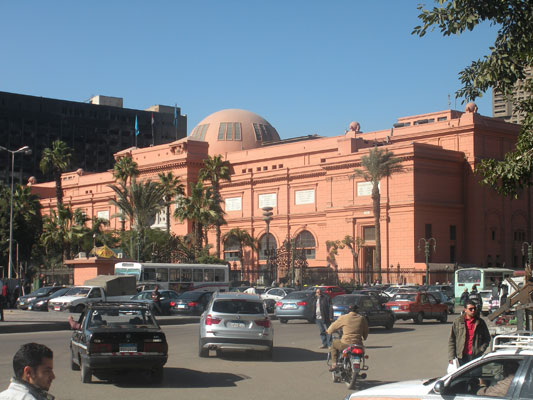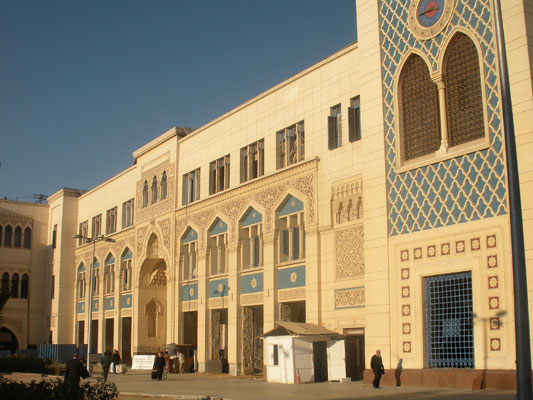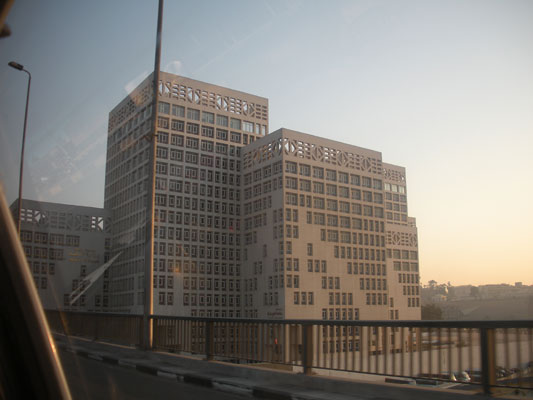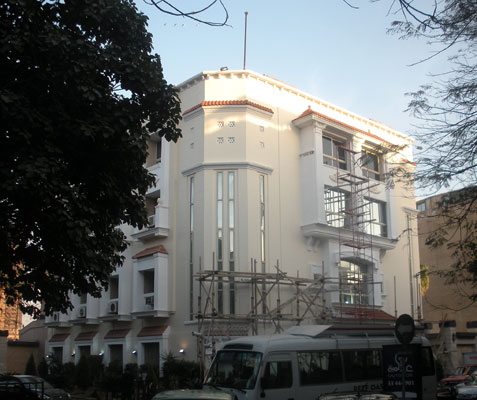 Mobility Options
The Cairo Metro works admirably. Trains run frequently, are moderately clean with special cars reserved for women, and the stations are efficient and well kept; some are even nicely decorated with artwork on the walls. The signs are clear, mostly bilingual (Arabic and English) and the way to the trains is clearly marked, the lines named by the terminal stations. Fares are affordable: one Egyptian pound ($0.16) per ride. The downside is that there are only two lines for this vast city. While a third line is under construction, there are many areas of the city that are totally unserved by Metro. Click here for more info (opens in a new window)
In comparison:
Ciudad de Mexico has eleven lines. Click here for more info (opens in a new window)
and Delhi has six lines plus a special Airport Express Line Click here for more info (opens in a new window)
A vast and mostly entrepreneurial system of buses and mini-buses makes up the rest of Cairo's mass transit. While they are well used, it is very difficult for newcomers unfamiliar with the Arabic language to find the proper vehicle to take them to where they wish to go.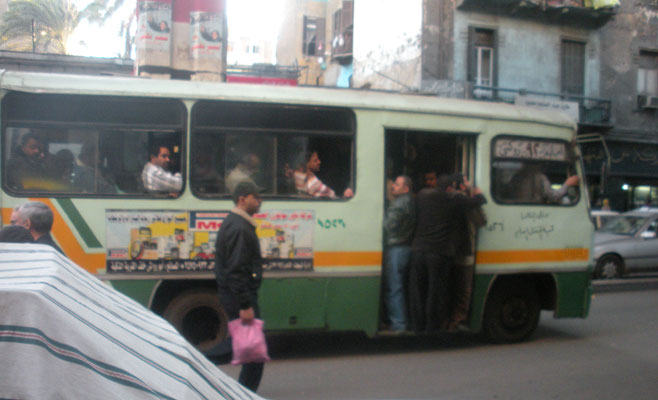 Traffic in central Cairo is very congested and moves very slowly. At some point in the past, Cairo's transportation planners made the decision to invest in flyovers, bridges, and tunnels to improve traffic flow on main arterials.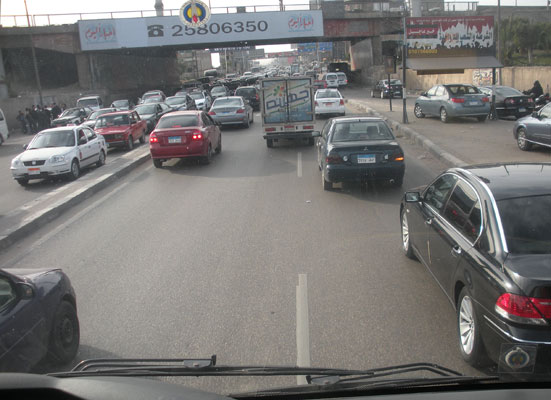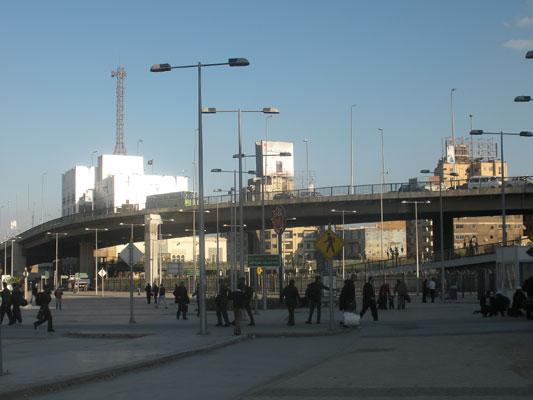 An article in Egyptian weekly newspaper Al-Ahram, in August 2010, outlined the plan to continue to invest in flyovers, corridors, and tunnels to ease traffic. According to the Minister of Housing, Public Utilities and Urban Communities , these projects were likely to relieve "40 per cent of Cairo's traffic", thus saving up an estimated LE140 million annually in time lost as a result of the traffic and petrol consumed. "The overall cost of the projects dedicated to improving traffic in Egypt is LE45.5 billion," the minister said.
How much these improvements have helped we can't say, but in view of the amount of congestion that still exists, we wonder why they made this choice, rather than to expand the Metro and add surface mobility options such as trams, light rail or bus rapid transit (BRT).
Flyovers do, however, serve a good purpose - they create space underneath for informal markets!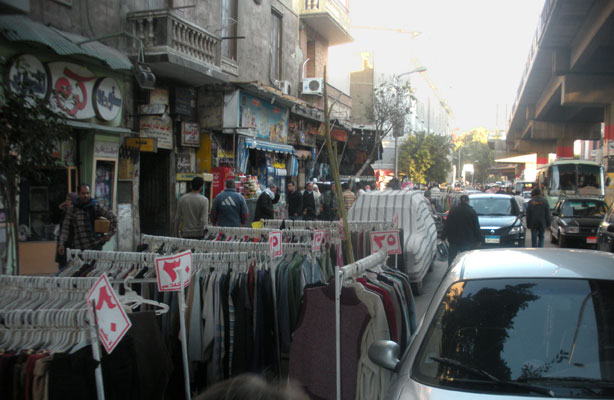 Natural World Connections
We searched for parks, open space, gardens, historical and archaeological sites, starting in the centre, Midan Tahrir. In the past year, the whole world has become familiar with this once great plaza, the site of Egypt's Revolution. Today, the graceful Egyptian Museum (picture above) offers a respite from the visual blight of construction fences, the shrouded former Nile Hilton Hotel now being renovated, the burned out hulk of the former headquarters of the National Democratic Party, and the clots of protesters camping in the remaining spaces.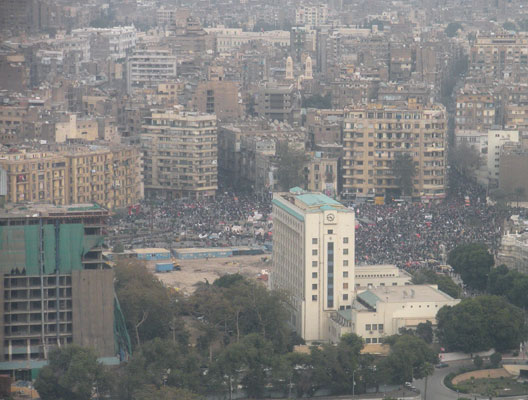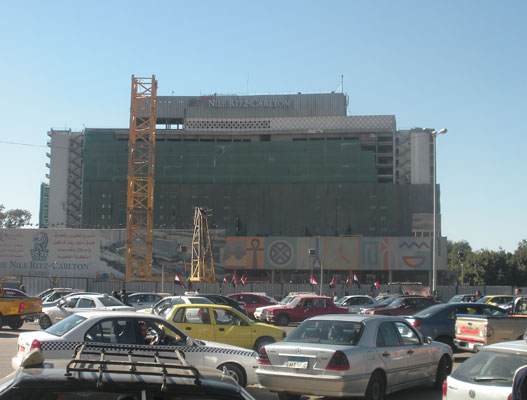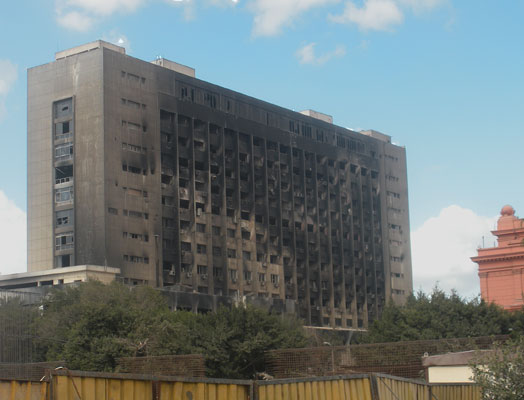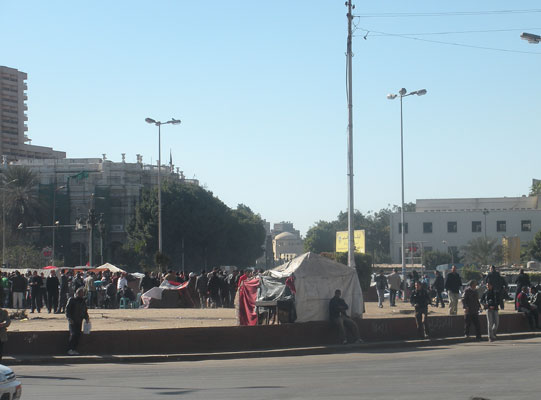 Tahrir was not always like this! Link to historic image
What about parks, open space, gardens? None were to be found with the exception of Sporting Clubs which were complexes of green lawns, gardens, and sports fields, surrounded by fences and open only to the members, never the rabble of the people (left picture below).
Once long ago, land was set aside for cemeteries but today, squatter communities have filled these once green spaces. (picture of the City of the Dead on the right below)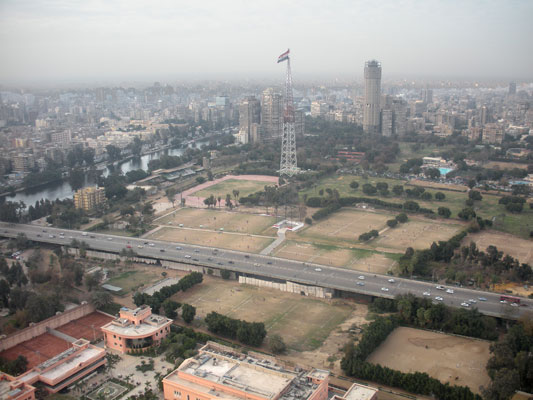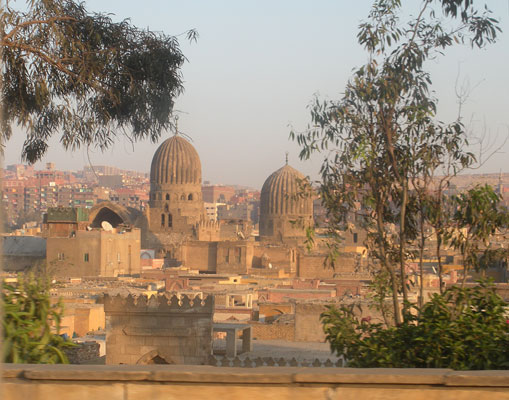 In search of open places to picnic and play, families travel to the Citadel, Saladin's massive fortress on the hill, to enjoy the green spaces around the Mohammed Ali Mosque and the Military Museum.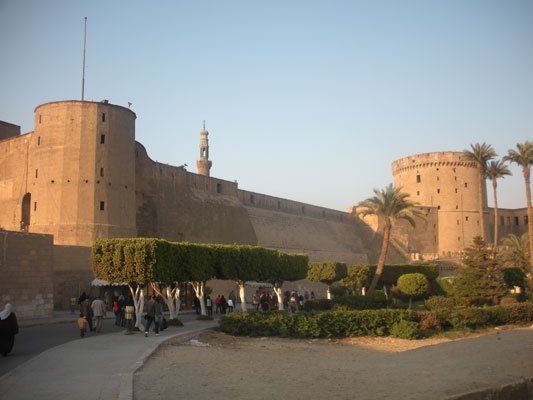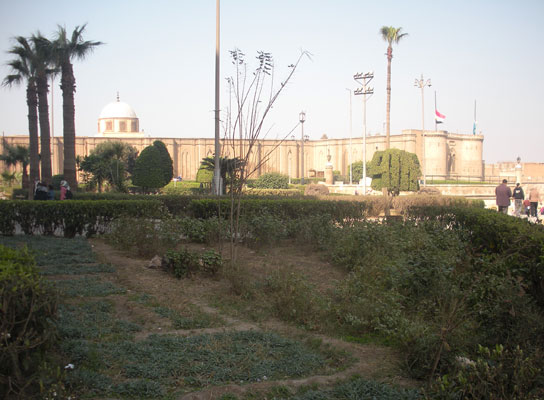 As the whole world watches, Egypt has embarked on a courageous path toward remaking its future. To this we wish them every hope for success.
But, as an acquaintence at our Cairo hotel exclaimed, "They have so much to do!". The conversion of Cairo into a more People Friendly City is just one of the myriad tasks on the long and formidable Scope of Work! Will we return in five years, or ten, or twenty, to reevaluate? Maybe..... We'll watch and see how they do.
Click here to return to our 'Spring 2012 - Our Journey Through Egypt' page