Our Bus Trip from Santa Cruz to Chillan
More of an Adventure Than We Expected


After a pleasant stay in Santa Cruz, we were ready to move on, next stop Chillan. Inquiring at the bus station we learned that there were no direct buses to Chillan. Instead we would need to take a bus to San Fernando, an hour away, and change to another bus for the 2+ hour trip to Chillan. No problem we thought - little did we know what this simple plan would involve.
On our travel day, the taxi from our hotel dropped us right next to our bus to San Fernando - a good start we thought.
An hour later in San Fernando, we learned that the next bus to Chillan was three hours later. Not the close connection we had expected, but 'no problema', the bus agent told us (in Espanol, of course) as it would give us time for lunch. As it turned out there was quite a nice cafe in the terminal.
We also learned that our bus to Chillan left from another location, a short taxi ride away - again, 'no problema', we thought, as we knew many cities have more than one bus terminal.
Returning after lunch, the bus agent took us to a taxi and told the driver where to go. We were on our way. So far, so good.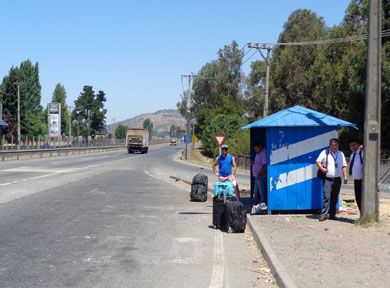 We rode about 10 minutes and then the taxi stopped along the road; no bus station or even a bus stop was in sight. The driver motioned us to get out, unloaded our wheely bags and pointed up a side road that was an expressway exit ramp. "Donde esta el bus? " we asked. "Alli arriba" (Up there) he replied. So, we walked up the road pulling our wheely bags.
Fairly soon it became clear where we were supposed to go, as a bus stop alongside the roadway of the expressway came into view (picture at right). We had seen these bus stops on other trips and knew (hoped) our bus would arrive at this bus stop at the appointed departure time. Feeling better, we walked on to the bus stop, and felt even better when a man in a uniform from our bus company was waiting. A nod to our inquiry 'bus para Chillan' confirmed that we were in the right place. Whew!
Sure enough, in a few minutes our bus arrived, our wheely bags were loaded under the bus and we climbed on.
Once in our comfy seats and on down the road, we breathed a sigh of relief. We had experienced another of those events that make our Nomad lifestyle challenging, enjoyable and engaging (albeit momentarily a bit un-nerving).
Click here to return to our 'The Nomads Again Fly South for the Winter !' page
Click here to go to our 'Searching the World for People Friendly Cities' page
Click here to go to our PioneerWest homepage.