Resuming Nomad Life - In Mexico and on to Hawaii


Our journey through Egypt took us from Luxor and Aswan, to Cairo and on to Alexandria. There, we came to a decision - that it was time to leave. We needed time to process all the places and people, the ancient history and the evolving present, the great pharaohs and warriors of old, and the fighters and revolutionaries of today.
We needed a comfortable place to do the research and writing - a Writers Retreat. But where to go? After some thought and planning, we chose Puerto Vallarta, Mexico.
After an involved and convoluted journey, we arrived and settled into a nice apartment, just a block and a half from the beach. Reminiscing on our earlier visit, we recalled that life in 'PV' has a rhythm of its own, as all places do, and we settled back into it easily. We walked on the playa in the mornings, and spent days writing and doing research. We bought food at a tiny tienda, and from the bed of a truck parked each morning around the corner from our casa. Drinking water came in 20 liter bottles delivered by a man who drove by blowing a whistle to alert us that he was there. After working all day, we might not feel like cooking dinner so we ventured out to find a cafe, often spending the evening watching the sunset while sipping cerveza and enjoying guacamole at our friendly ocean front cafe, Langostinos. Life was Good!
We went there to WORK, and indeed, we did! We wrote stories about our travels in Egypt, added albums of our pictures on Flickr, and posted essays on our blog about the momentous transition that the Egyptians are making from the autocratic rule of Hosni Mubarak to become a true democracy.
We also revised and updated our website, made navigation more straightforward, and expanded the direction of our urban research to include Climate Friendly Cities.
Because we came to work we didn't write new stories about PV and therefore offer a link to the story from our visit in 2008. (opens in a new window)
Puerto Vallarta - A Near Perfect Tropical Resort City
After six weeks in Puerto Vallarta, we were rested and ready to return to Nomad Life. We traveled by bus through the mountains to Guadalajara to explore this city where the Spanish colonial architecture of the Centro Historico has been lovingly preserved.
Click here to read about our visit to the pleasures of this grand Mexican city.
On to Hawaii
From there, we traveled on to Hawaii, that most unique place, created by volcanoes, inhabited by Polynesians, the 50th state in the USA, a paradise of beaches, deep blue waters, white surf breaking against black rocks, verdant valleys, volcanic peaks, gorgeous sunsets, historic small cities, and 'the big city' Honolulu.
We began on the Big Island of Hawaii, landing in Kailua-Kona on the west volcanic coast, where we enjoyed our first views of the fabulous Hawaiian sunsets. We then took a road trip around to Hilo on the east more verdant coast. We spent days in the Volcanoes National Park where we looked into the heart of the earth. We were reminded that power of the planet with its seething, hot, liquid rock center lies not far below, while on the surface, special ecosystems have evolved to thrive in this unique environment.
Click here to view our Flickr photo album.
On to Maui, a short hop in a small plane. Here we cruised in the harbor of Lahaina, watching the last whales of the season, and the pods of spinner dolphins performing for us. Maui offered another volcano, Haleakala, with its unique ecosystem to explore, too.
Click here to view our Flickr photo album.
Then on to Kauai, the Garden Island, where the power of wind, waves and rain created green clad peaks, the depths of Waimea Canyon, waterfalls, and soaring cliffs of the Na'Pali Coast. An afternoon boatride and a sightseeing flight in a small plane gave us wonderful views of this incredibly beautiful terrain.
Click here to view our Flickr photo album.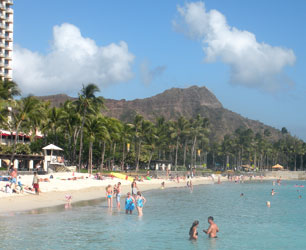 O'ahu, our last stop, offered a return to urban life - Hawaiian style. Yet there was more - historic sites of the Kingdom of Hawaii in the 1800s to the attack on Pearl Harbor on December 7, 1941 offered an engaging alternative to the flowing palms, white beaches and views of Diamond Head.
Click here to view our Flickr photo album.
From here, our plans have been made for us! Blair has been called for Grand Jury duty, so after six years of being Nomads, we must spend much of the summer in Albuquerque (sigh!). We will do what we can to enjoy our time there, while working around the work schedule called for by the court.
Click here to return to our 'Searching the World for People Friendly Cities' page