Herculaneum - A Roman City Preserved


In 79 AD, Mount Vesuvius awoke and erupted, spewing massive amounts of toxic gas, ash and pumice as well as avalanches of volcanic mud. The residential town of Herculaneum was buried in the mud, that over time hardened into tufa rock.
The town remained lost from history until 1709, when a well digger discovered a structure and excavations (scava) were begun. At first, the excavations enabled marble and bronze sculptures to be removed to adorn the palaces of Napoli but in 1927, archaeological excavation and site preservation began and continues to this day.
It's a short train ride to Ercolano, the modern city that surrounds the Scavi (excavations). We walked from the station down a busy street with lots of people shopping and only a few tourists. We found the entrance and walked through a porto (top left) and along a walkway above the excavations, offering an overview of the site (top right and bottom left). As we descended the pathway to the site (bottom right), we realized how deeply buried the town was by the thickness of the tufa walls. We also learned that the watery area at the bottom of the ramp was once the seafront where people waited in vain for boat to rescue them.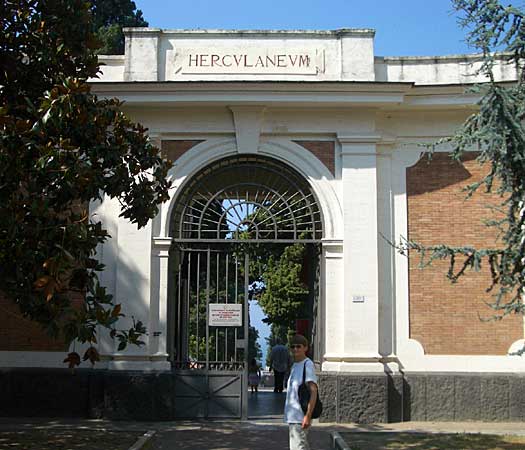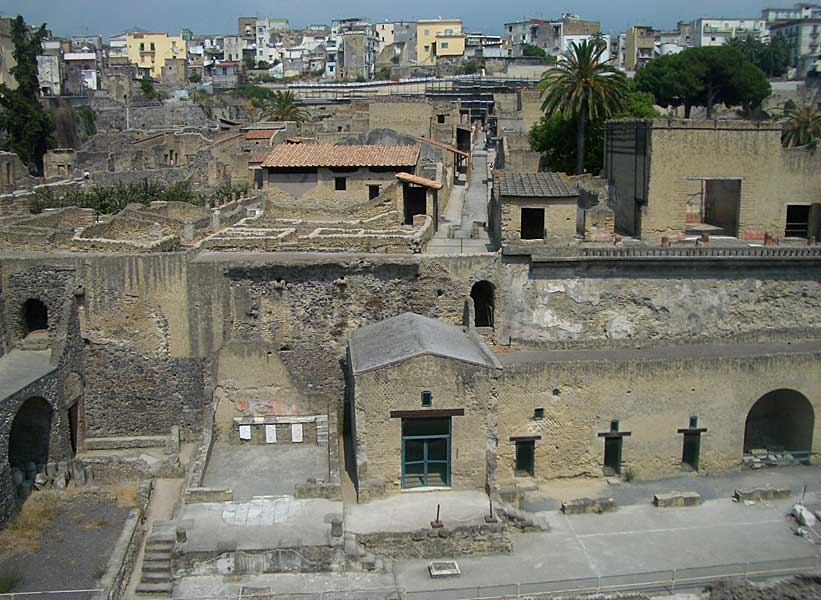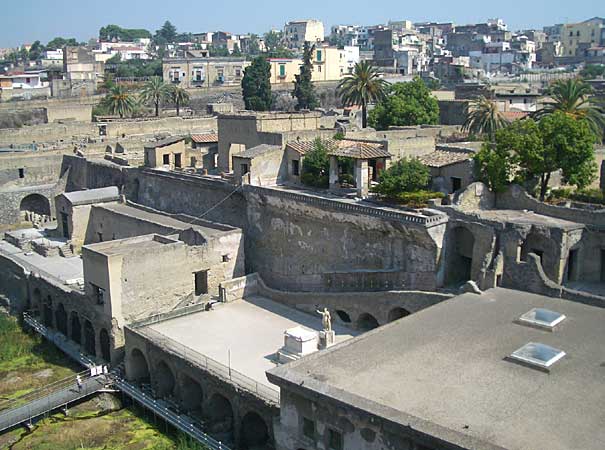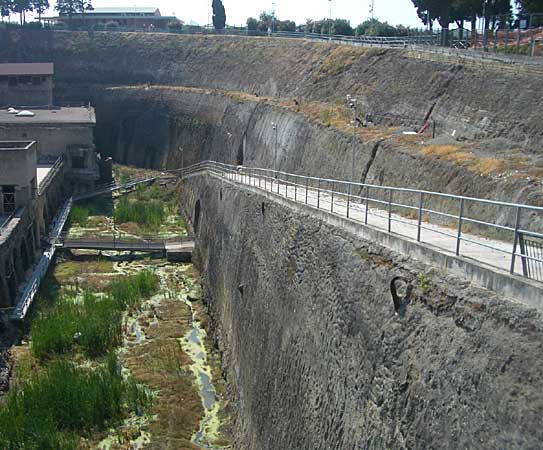 Entering the site, we followed narrow streets, paved with large rocks like the Appian Way pavement, with colonnades and sidewalks along the sides, and buildings lining the street.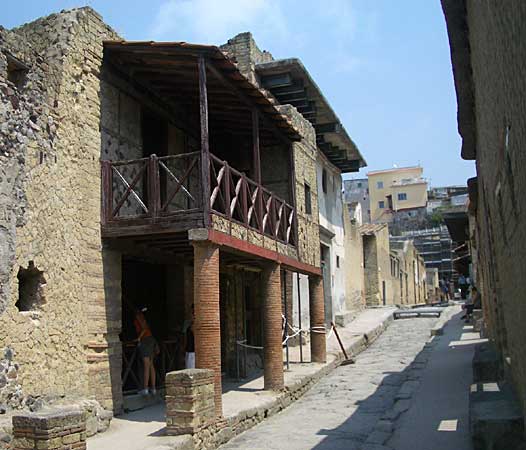 Passing through the door of a casa, we entered a courtyard with rooms all around and more rooms behind. Some casas have walls painted a rich red and mosaics still in place.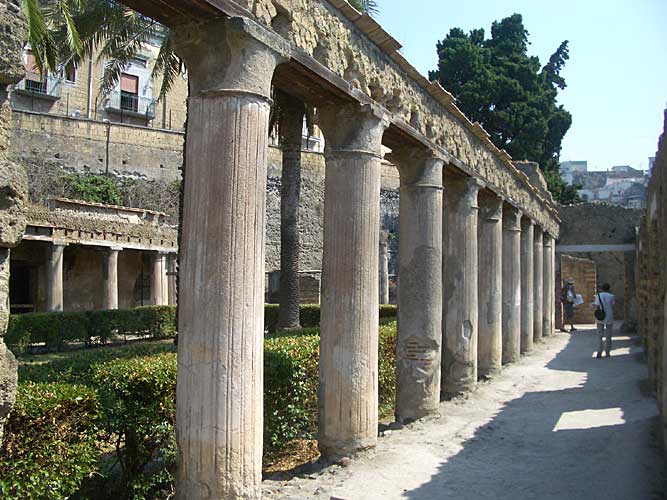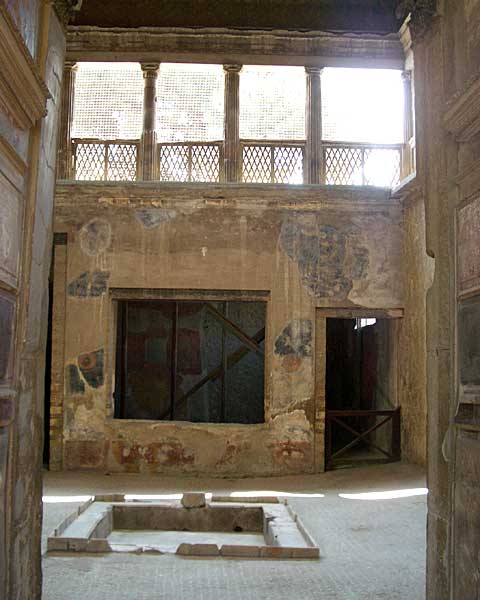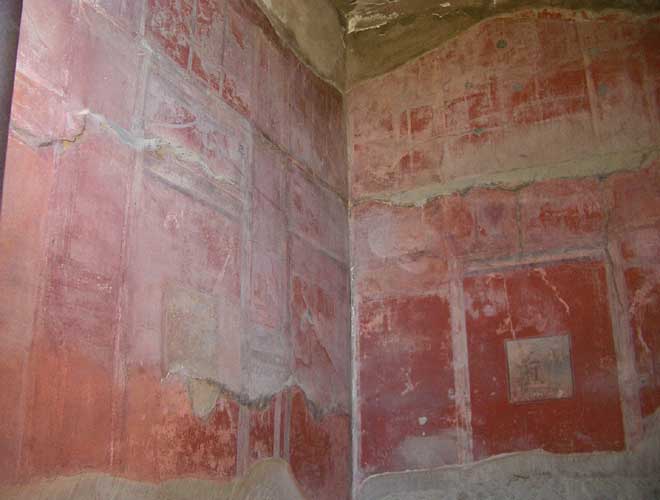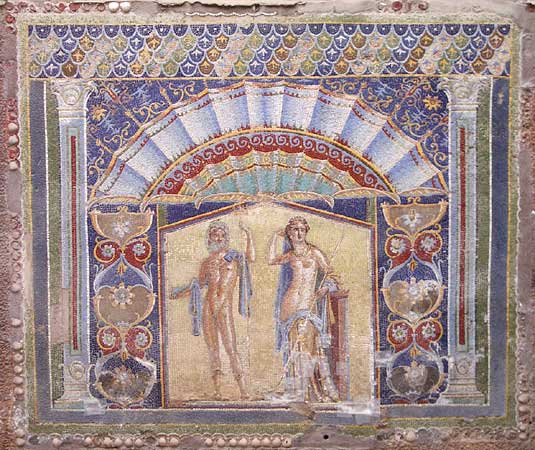 A wine shop has shelves with jugs for the wine. It was easy to imagine shoppers bringing small jugs to be filled at the shop or sitting at sidewalk tables enjoying wine and talk together. Interspersed among the casas are other shops with marble topped counters with large jars, the rims at the counter level. One can imagine that dry goods, such as beans or grain were sold here, scooped from the jars.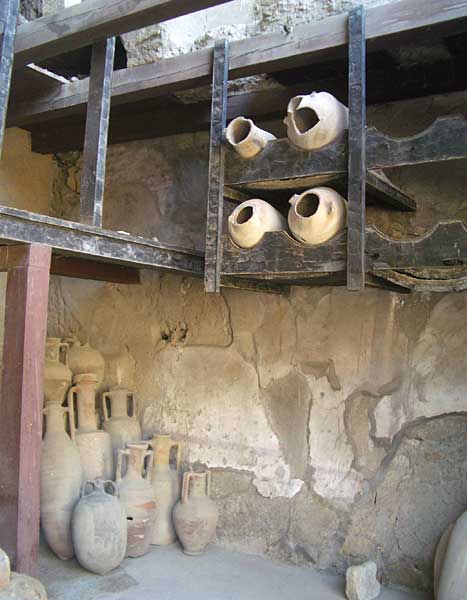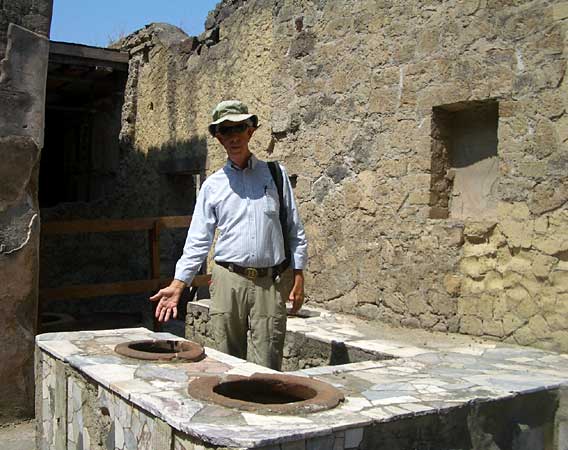 The baths were especially well preserved and offered another glimpse of life in Herculaneum. Various rooms offered steam, warm and cold bathing. The floor of the women's bath had a mosaic of a sea man with long tentacle legs and a well built torso, surrounded by sea creatures.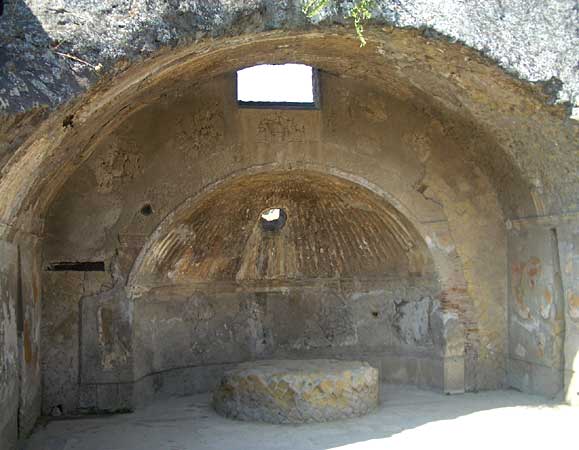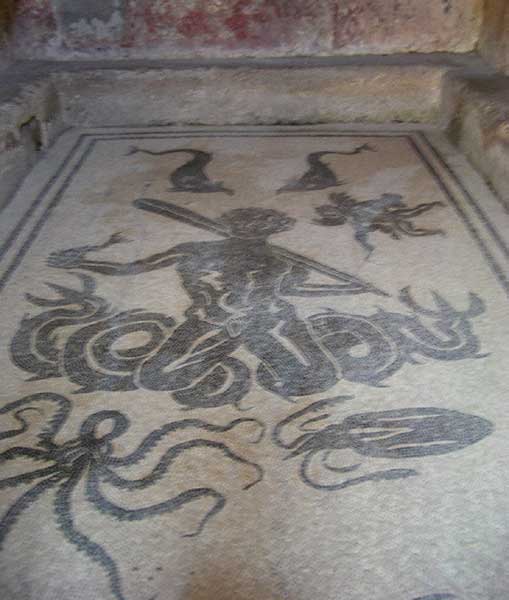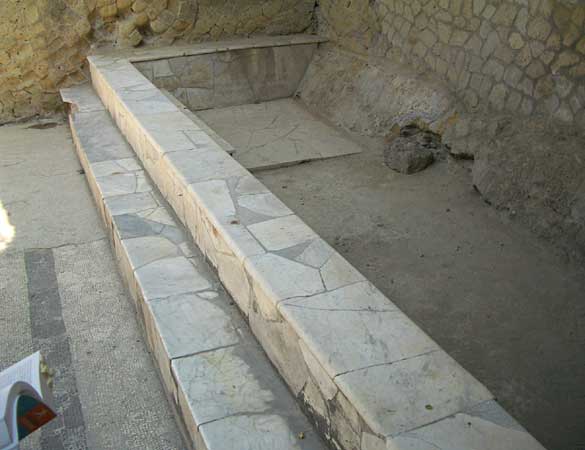 As we wandered along the old streets and through the buildings, we envisioned life back in 79 AD. As we walked, we felt the presence of ghosts of a town whose people had come to a sudden and horrible end. Many people escaped but others did not. All lost everything they owned.
Still the volcano preserved this city and enabled us to learn about their lives and to understand and enjoy the art and architecture they created.
Click here to return to More Travels in Europe - Summer 2008 page