Hluhluwe National Park and St. Lucia Estuary
More Encounters with South Africa's Critters


It wasn't that we were unaware of the Hluhluwe National Park, but we did not know how to get there without driving ourselves. We found the solution at the Tekweni Travel Desk at Tekweni Backpackers Hostel, where we were staying. Ben offered a two day tour to both Hluhluwe and the St. Lucia Estuary. We signed up, and on the afternoon of the first day, our driver and guide, Sagren, arrived to collect us.
The afternoon drive from Durban north to the village of St. Lucia took us through cane fields and tree plantations. We arrived in St. Lucia after dark, Sagren checked us into a nice lodge, and then we all ate an excellent meal together. We enjoyed our dinner conversation with him. After dinner, we returned to sleep and be ready for the an early start the next morning!
Hluhluwe National Park
It was still very dark when our vehicle arrived (5am) but Sagren was there to make sure we were safely on our way. The ride in the safari vehicle was pretty chilly. Arriving at the gate of Hluhluwe Park, David, our safari driver and guide, raised the plastic sides for good viewing. Five other guests joined us and we were off at first light.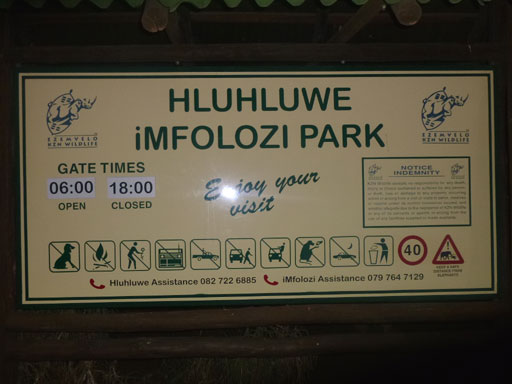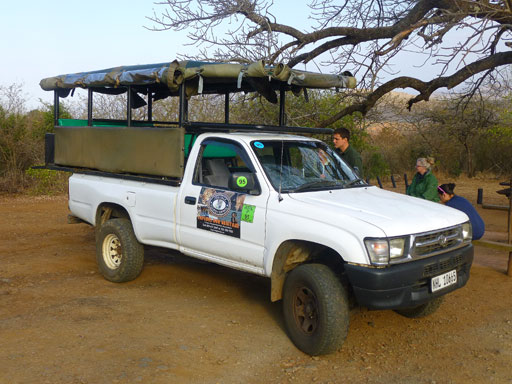 Just inside, moments later, David stopped the truck. In the tall grass, a male lion was resting, not 15 meters away and other lions were resting nearby. Soon, the increasing light revealed that a pride of perhaps 12 lions, including 4-5 cubs, were hanging out in the immediate area. We sat quietly, just watching. Magical! Soon, the lionesses and cubs crossed the draw and headed across the road and disappeared into the bush. Last to leave was the young male lion. He looked directly at our vehicle before disappearing into the bush.
What a wonderful way to start our day !!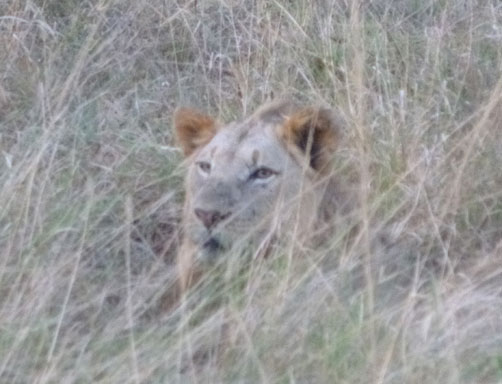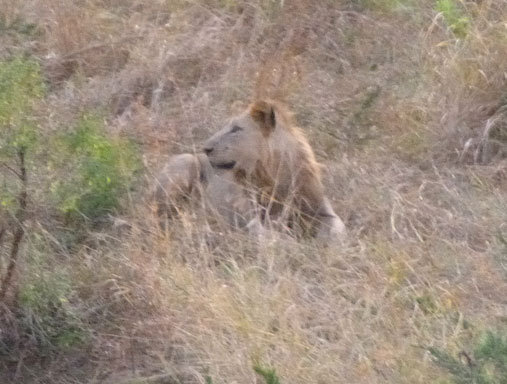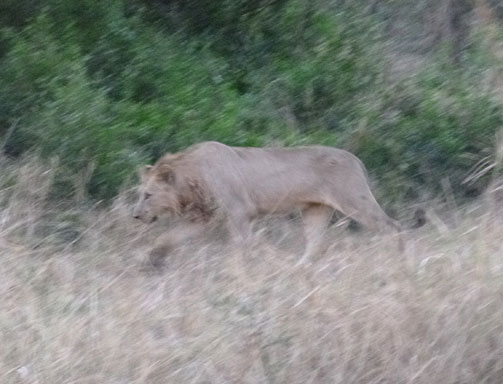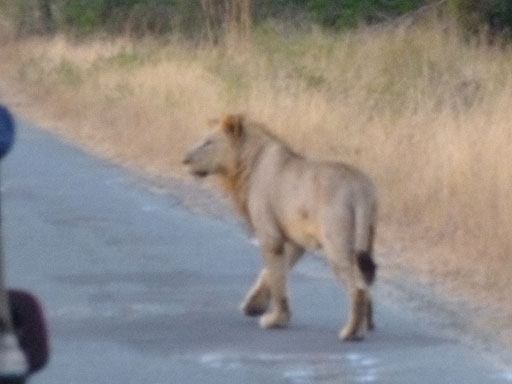 David drove slowly along the road and before long, we spotted a family of white rhino. We had not met up with rhinos in Addo Elephant Park so we were anxious to see them here. We knew that they are endangered by poaching so we were thankful to have the privilege of a meeting
Rhinos are really big and even the baby looked like a small tank! We stopped and just watched them a while.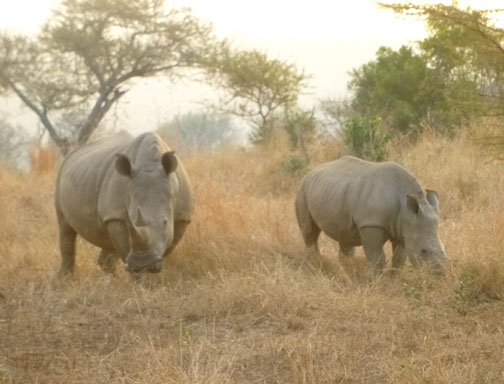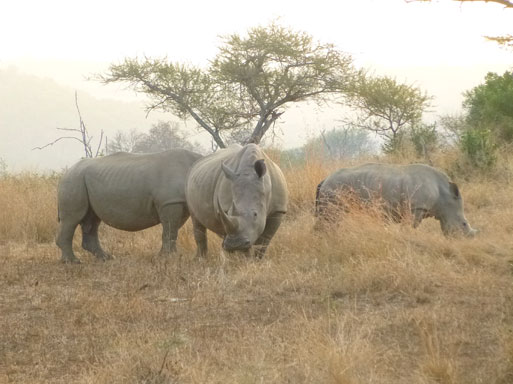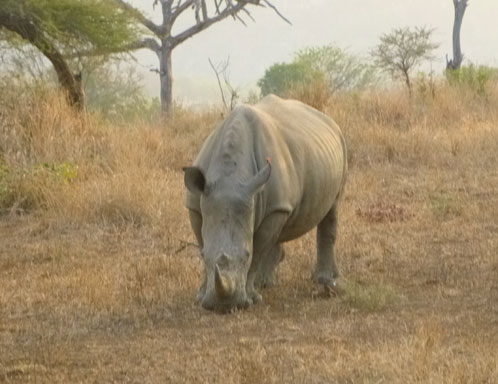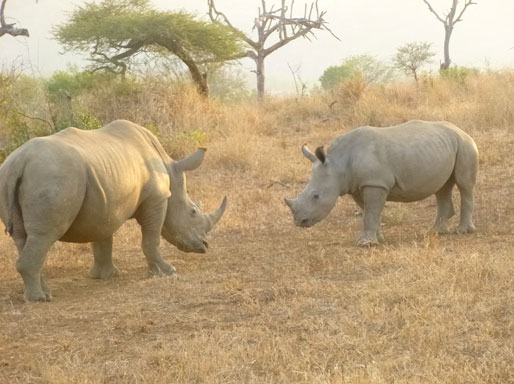 We continued on to a picnic ground. As David set out food for our breakfast, a group of warthogs wandered through, munching on tender vegetation, while we munched rolls and yogurt.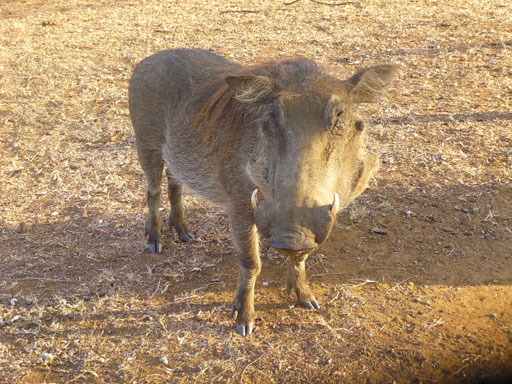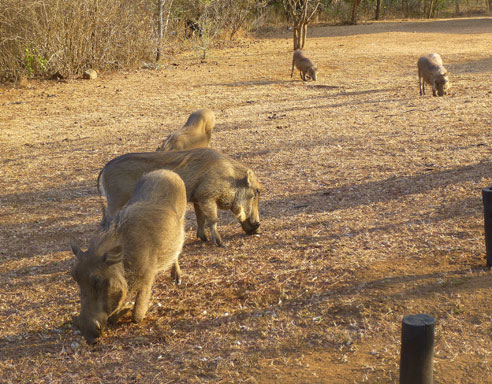 Now the sun was warming us as we continued on. We drove through high rolling hills covered with tall reddish gold grass. and dotted with small trees. This is Zululand, David explained, his homeland.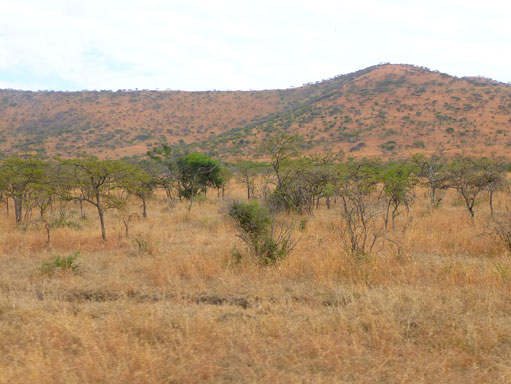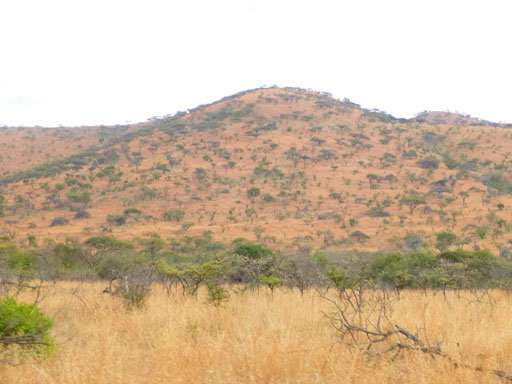 During our drive we encountered:
Giraffe - Their heads were easily visible above the trees, grazing on the tender leaves. They stared directly at us as we stared at them.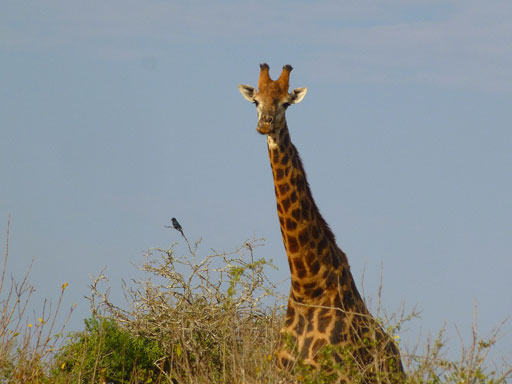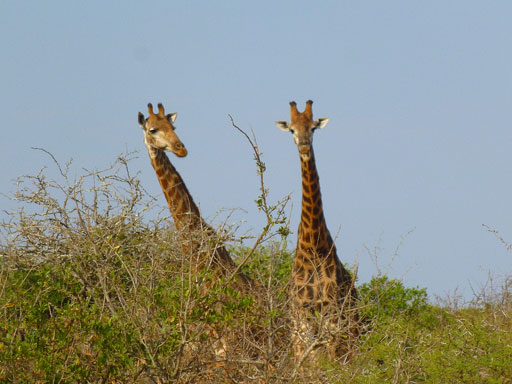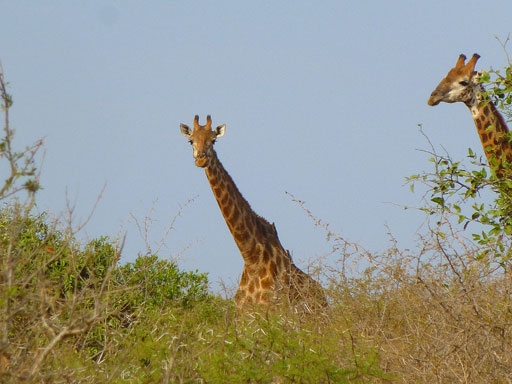 Cape buffalo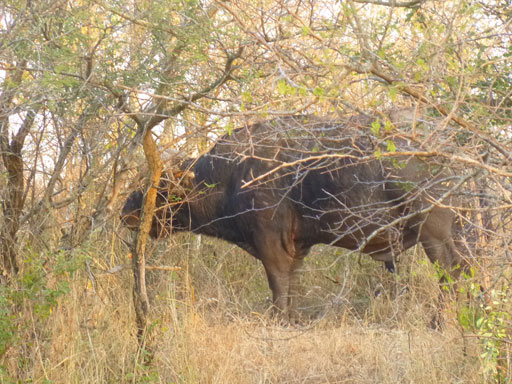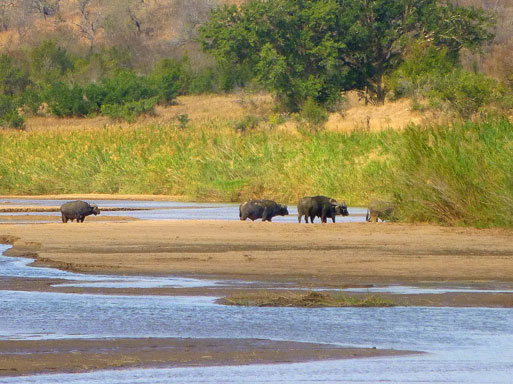 Zebra - They were usually in small groups of two or three, grazing on the lush grass, looking so well groomed, fit and plump.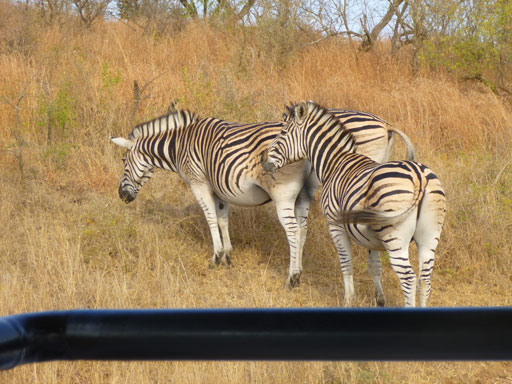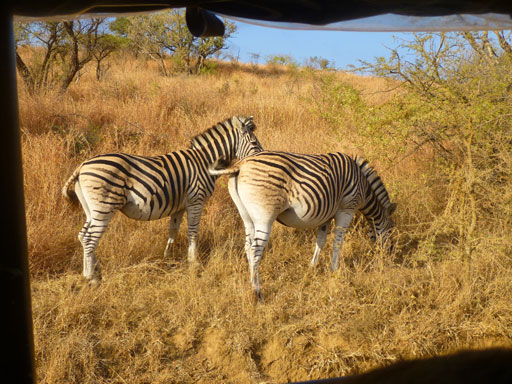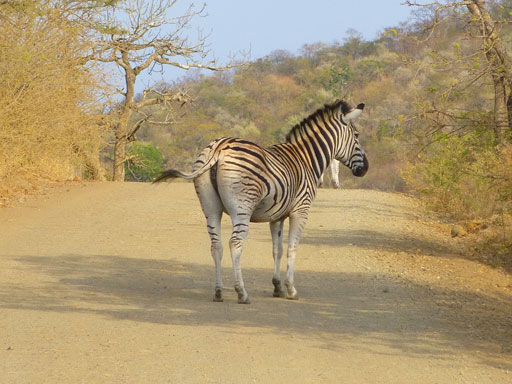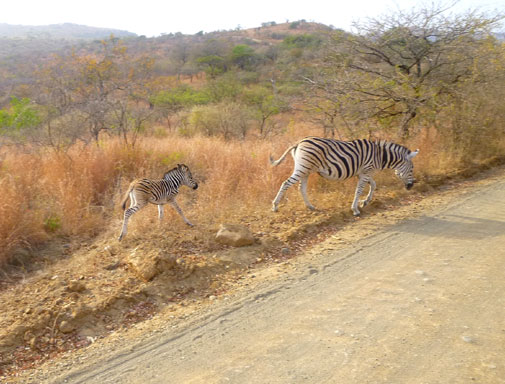 Blue wildebeest - These guys are sort of ungainly but have their own dignity and charm.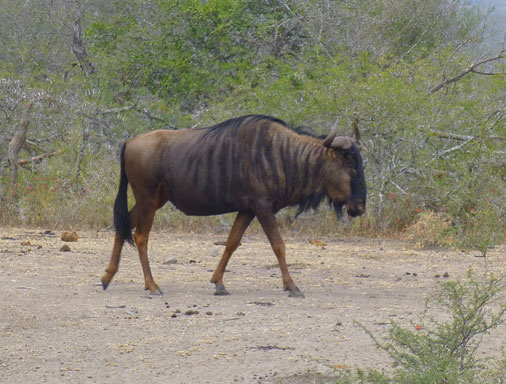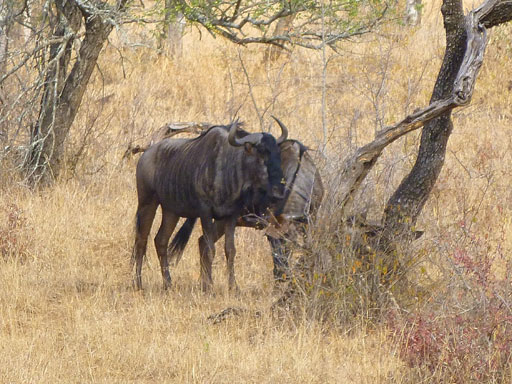 Impala - These antelopes embodied the concept of grace with their slender bodies, long legs and white rumps.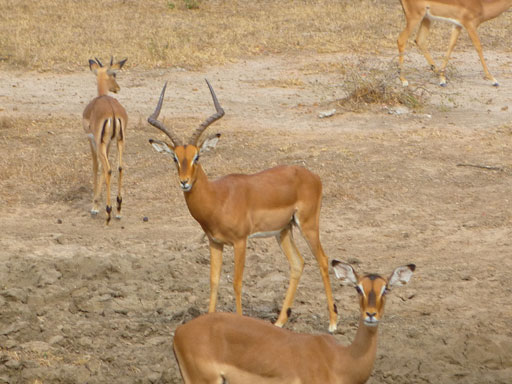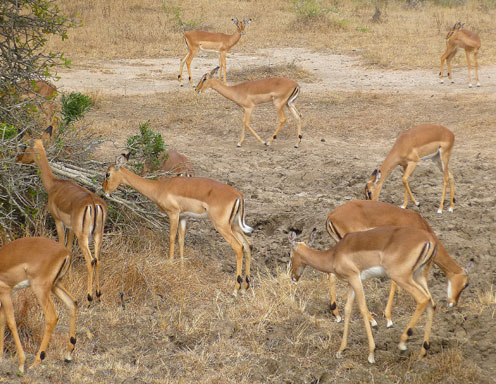 Nyala - With their reddish coats adorned with white stripes, these antelopes adorned the grassy areas, grazing. Handsome males were much darker with long hair on their necks and rumps.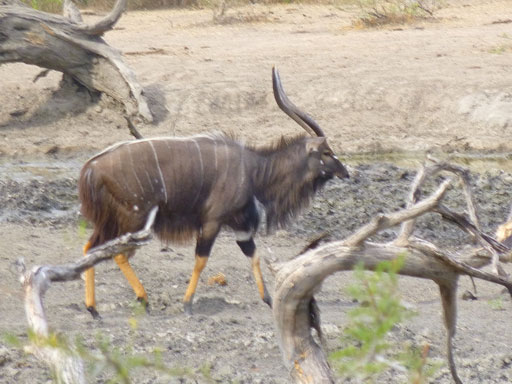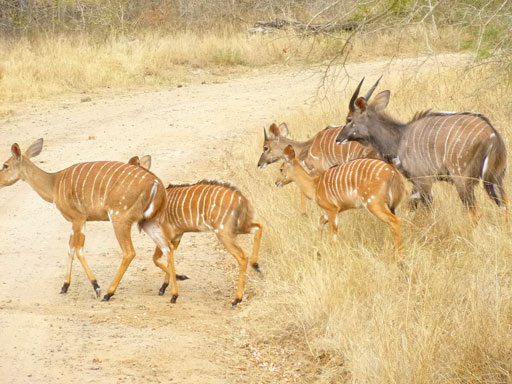 Terrapin - His mud hole was dry so he was hiking across country in search of moisture.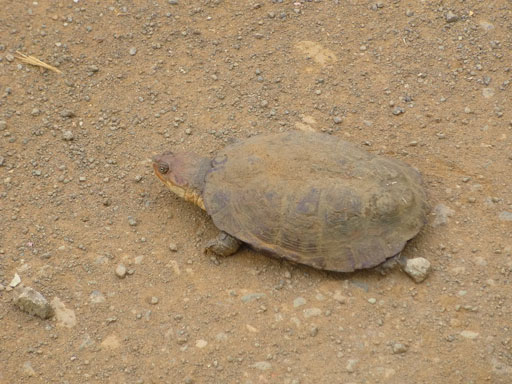 Vultures - They build large nests in tree tops to raise their young.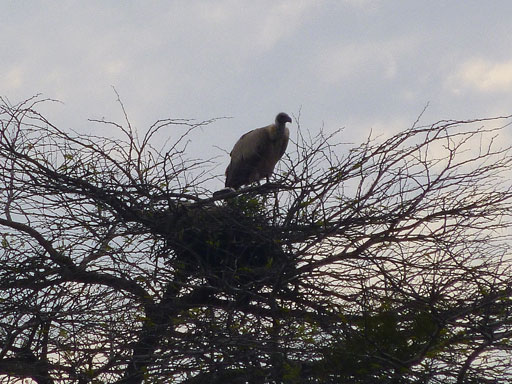 More warthogs - In addition to the group who joined us for breakfast, many others were grazing all along the way.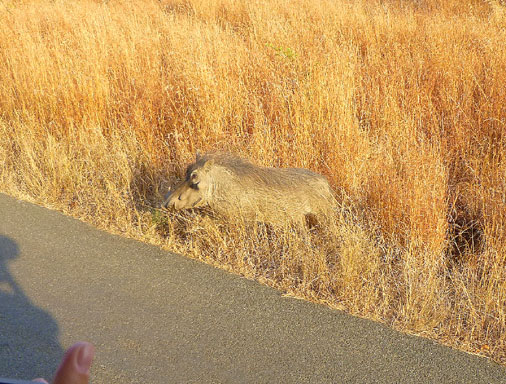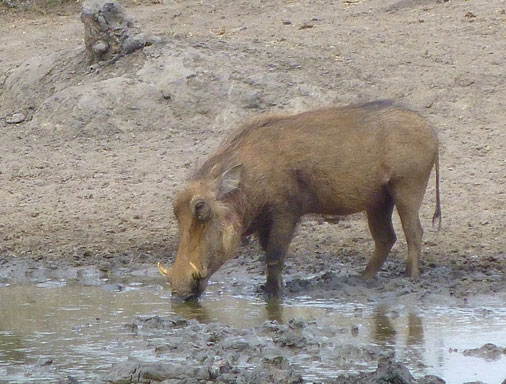 More white rhinos, including a mom resting with her baby lying next to her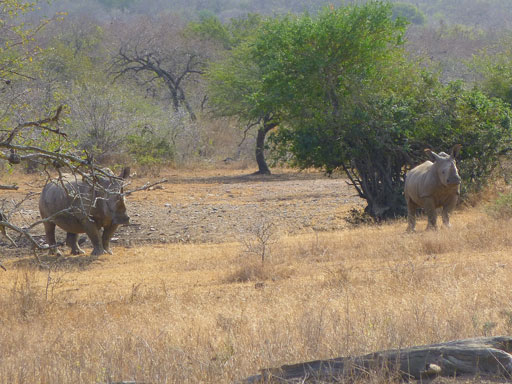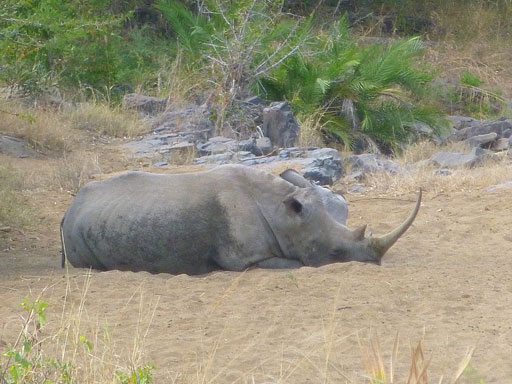 Highlights
Watching the pride of lions, of course!
Seeing the white rhinos
Meeting the gentleman giraffe - He was standing right in the road, watching us approach. Clearly he was the respected elder of the giraffes of Hluhluwe as indicated by his size and the darker color of his spots. His head was partially hidden in the branches of a tree but he peaked out to check on us for many minutes. We wished there was one of those bubbles above his head that told us what he was thinking. We felt honored to be worthy of his gaze!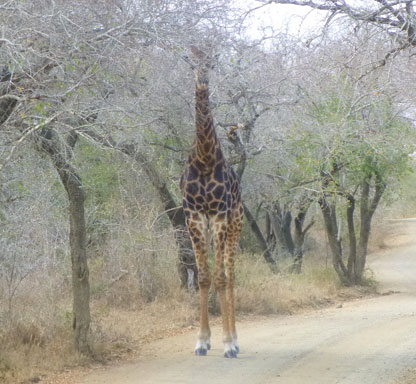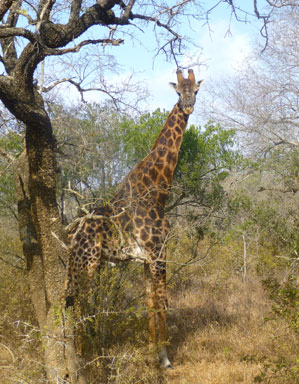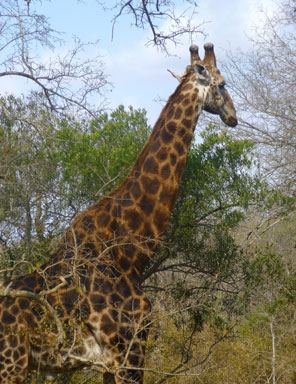 Visiting Zululand - This land embodies one's vision of South Africa with the high rolling grasslands sparsely covered with small trees.


St. Lucia Estuary
We finished the drive just after noon and returned to St. Lucia to meet Sagren. After a quick lunch, we headed to the riverside to board a large boat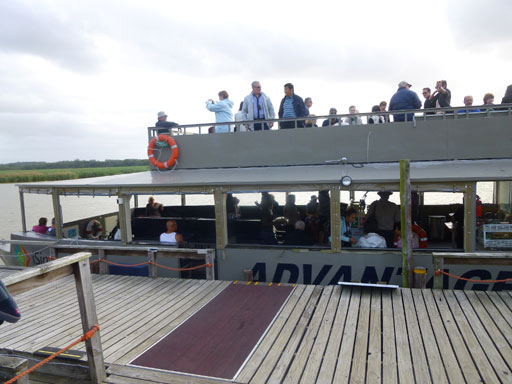 For the next two hours, we cruised on the St. Lucia Estuary that traverses the iSamangaliso Wetland Park. The Estuary, lined with mangroves, provides habitat for crocodiles, hippos and plenty of water birds.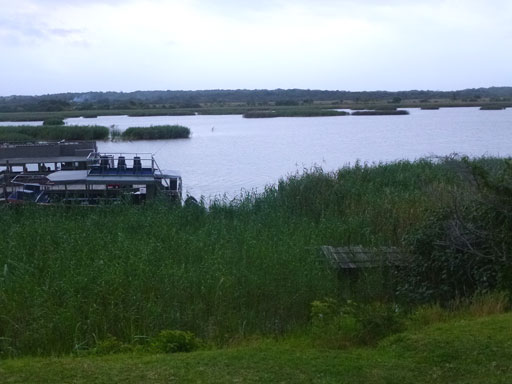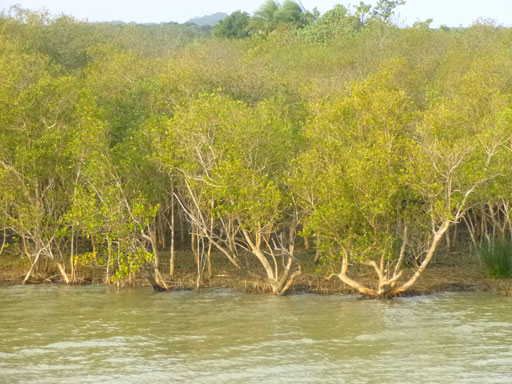 Cruising slowly, the boat passed the first hippo, standing in water with just his head visible. As we passed, he dipped underwater. Continuing on, the boat passed close to a large group of hippos who were hanging out, blowing and snorting, Their great dark heads with contrasting pink around their eyes, ears and nostrils reminded us that these guys were not as cute as often portrayed. In fact, hippos kill plenty of people in South Africa.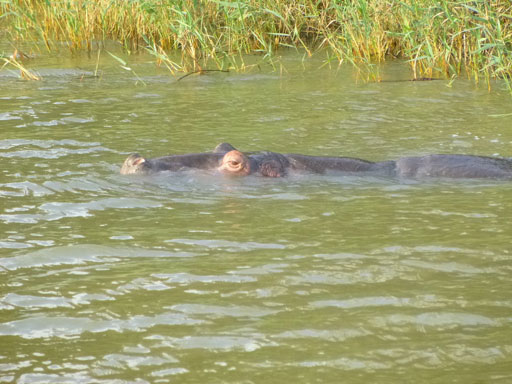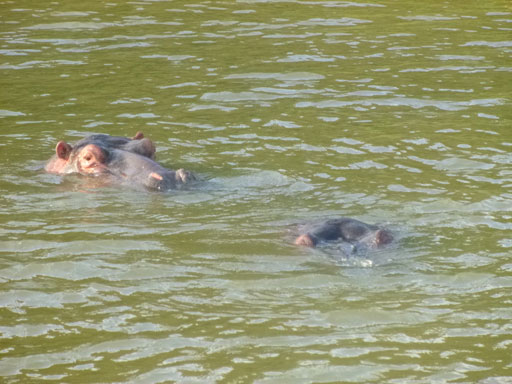 During the cruise, we saw lots and lots of hippos, some by themselves and others in groups,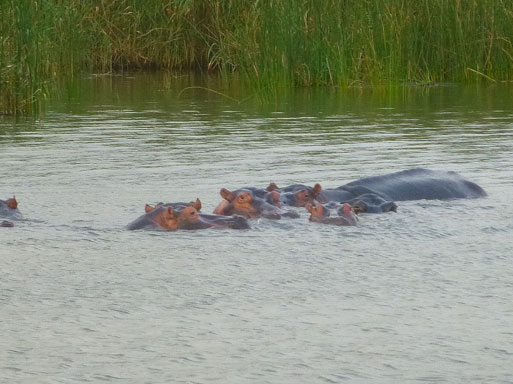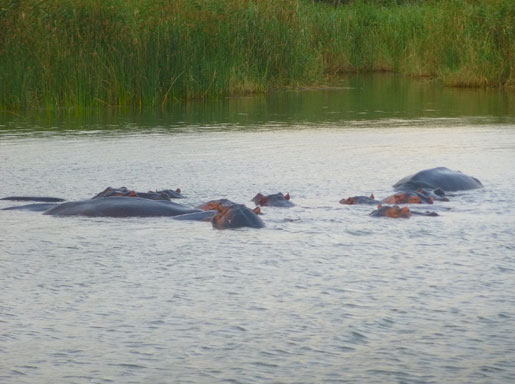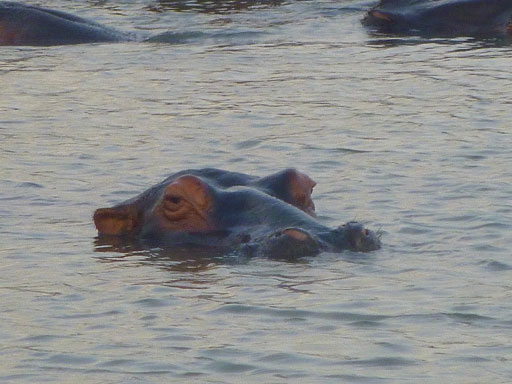 A couple of crocodiles,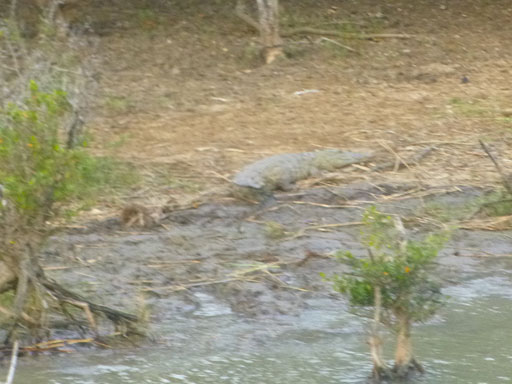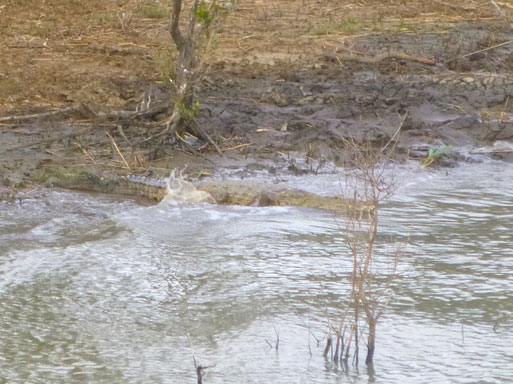 Several fish eagles,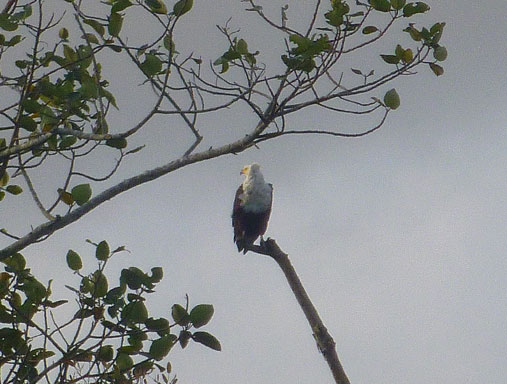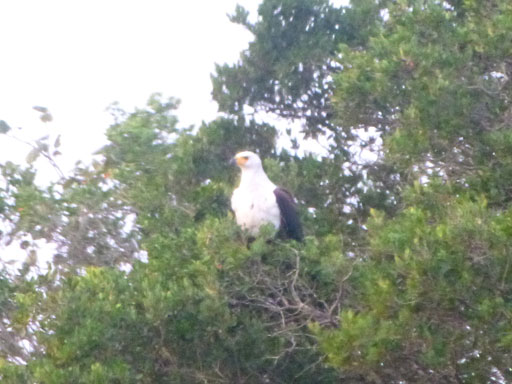 Plus a giant kingfisher, and lots of herons.
By the time we returned to the dock, we were completely in sensory overload. These encounters with wild animals in their own homes opened new dimensions of the natural world to us. We have long known the intrinsic value of just being "out there" but this was deeper, more intense, food for the soul.
We have also posted Flickr albums of many of these pictures and a few more.
Hluhluwe National Park
Hippos in the St. Lucia Estuary
Click here to return to our 'Searching the World for People Friendly Cities' page
Click here to return to our Home page