Bus Travels in Kerala - Adventurous and Then More Adventurous


When we visited three years ago, we had learned that India is the land of the unexpected. Just when we thought things had gotten as exotic, rustic, quaint or antiquated as they could get, they became even more so.
On that trip, our adventures took us into the Himalayas in Arunachal Pradesh where we rode up into the most rugged mountain terrain we had ever experienced, on narrow, boulder strewn and downright dangerous roads. It was awesome in the true sense of that overused word!
On our return trip, in 2009, our first big adventure was riding the buses in Kerala, in southern India.
Preparation
We had flown from Mumbai down to Kochi to begin our travels in Kerala. From Kochi, we planned to travel to Munnar, high in the Western Ghats, then on to Thekkady to visit the Periyar Tiger Reserve and back down to Kottayam on the coast. We headed to the 'Central Bus Station' to check the schedule to Munnar. We found the station surrounded by a sea of red and yellow buses with the letters KSRTC (Kerala State Road Transportation Company) painted on them.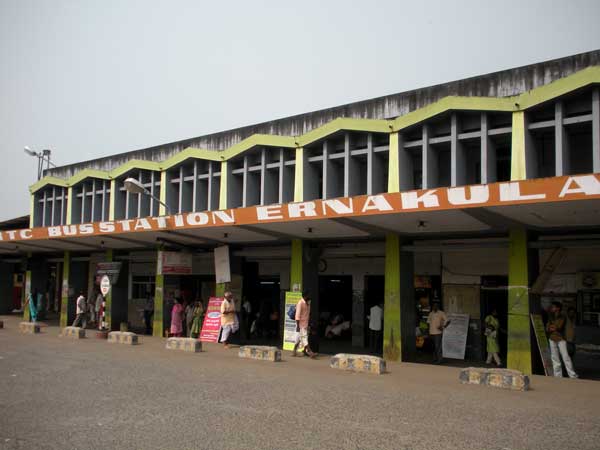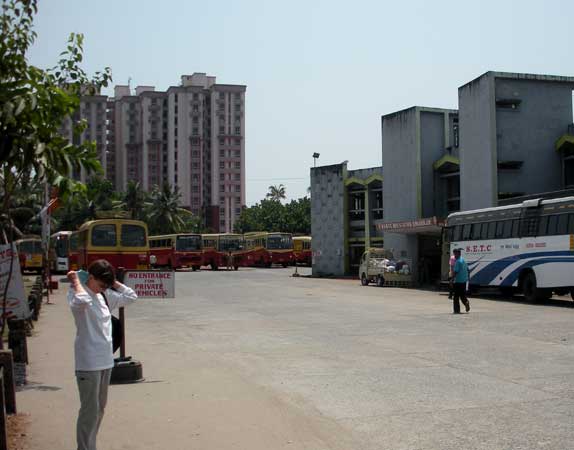 Since there were no signs we could read (they were all in Mayalam, the local language) we inquired at the information window. A helpful man wrote down the schedule of buses to Munnar and told us to arrive about 15 minutes before departure time, when they would announce our bus departure and point out which bus. While not like the lighted signs and gate numbers we had seen elsewhere, this sounded pretty straight forward and seemed like it would work. We would just come out and go with their system, which must work as lots of people use it. There were many buses to Munnar (every hour) so we figured we would get there on one of them.
Stage 1 - The Ride to Munnar
Two days later we were back and ready to go. We were not the only foreigners traveling so at least we would have company on this adventure. Soon a man came out and pointed to one of the buses indicating it was the Munnar bus. We all climbed on and stashed out suitcases wherever we could and were soon on our way. We immediately realized that our bus trip would be more basic than, say, our bus trips in Mexico. The buses looked to be a number of years old and well worn. They had bench seats and no solid windows - only blinds that could be lowered if it rained. Air Conditioning wasn't even a choice - we would have all the fresh air we would need.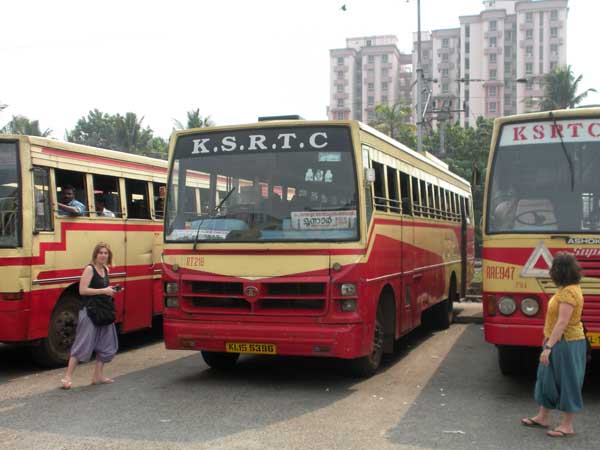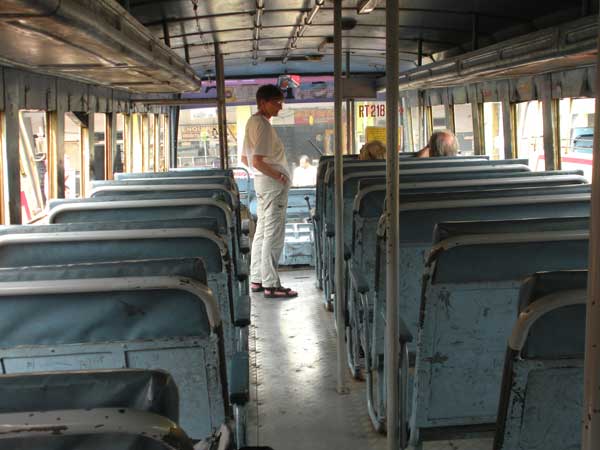 The first hour was spent maneuvering slowly through traffic - rickshaws, cars, trucks, buses, motor and pedaled bikes, walkers and the occasional cow - getting out of Kochi and its suburbs. In addition, there were constant stops (these buses stop anywhere someone wants to get on or off).
Finally we cleared the congestion of the city and traveled through smaller towns, alternating with fields of crops - paddy, banana, coconut trees - along the narrow road.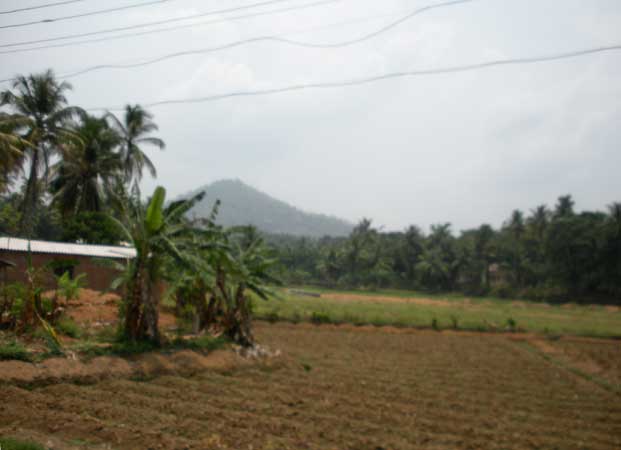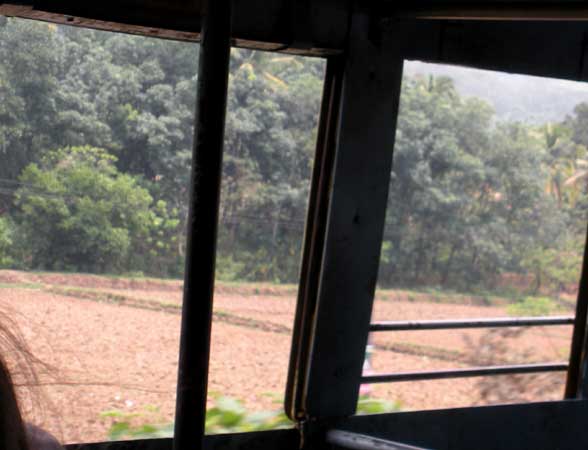 Then the bus began a long climb into the mountains, hugging the sides of the increasingly steep slopes. Our rate of speed dropped accordingly and in places the road narrowed further so that in some places our bus had to come to a stop to let an approaching truck pass. With the perpetual turns and stops we were constantly grabbing for our armrests for stability. Thankfully, the continuous draft of fresh air eliminated any feeling of carsickness. Comfort was not an attribute of this trip, but the views were spectacular.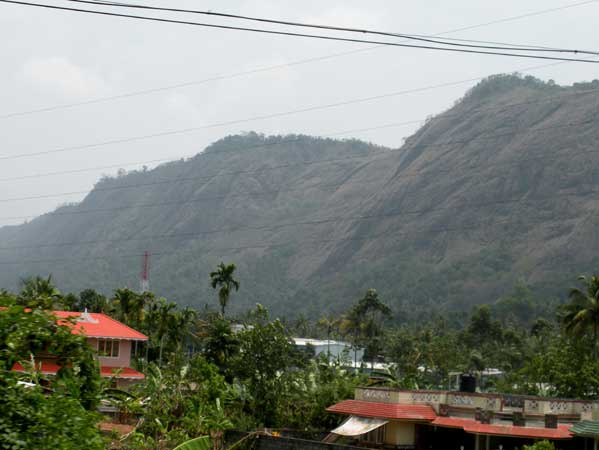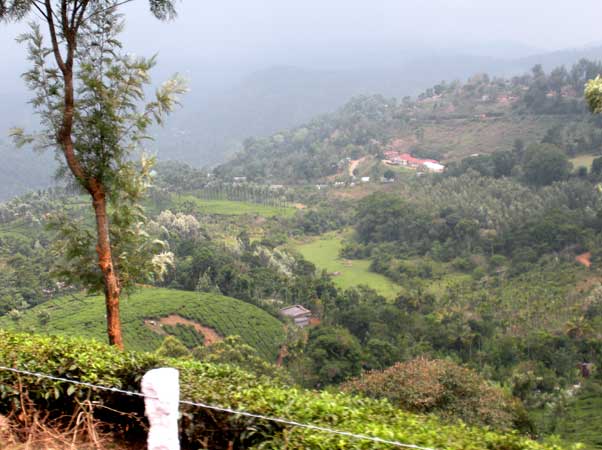 After about 2½ hours of climbing, the roadsigns announced that Munnar was not far ahead. We had entered a high country of wide rolling hills with the manicured, neatly aligned, emerald green slopes of the tea plantations.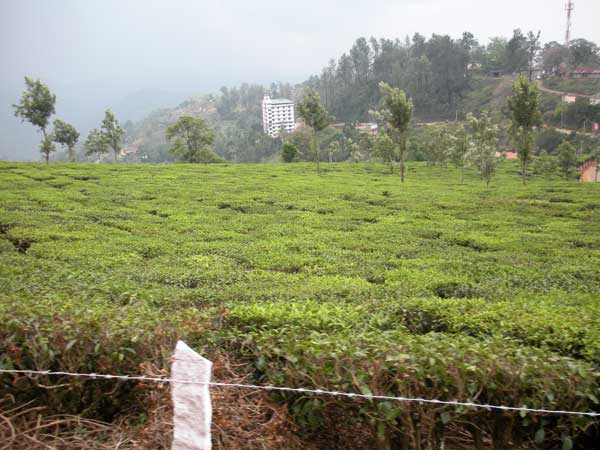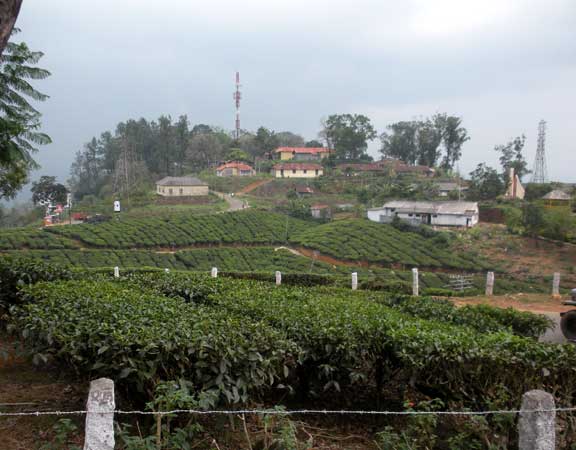 Then the bus pulled into Munnar's KRSTC bus stand, which could more accurately described as a dirt parking lot. Happy to have arrived and even more to be walking and not riding, we walked toward our nearby guest house. We agreed that this had been quite a ride. Little did we know our next ride would be even more of an adventure.
Click here to read about our stay in Munnar.
Stage 2 - Munnar to Periyar
Our hosts at the guest house informed us that our bus to Periyar, our next destination, left from 'Post Office Junction' downtown. So, after our pleasant stay in the cooler mountain air, we hailed a rickshaw to take us into town. There was a bus at the appointed departure location, but it wasn't the red and yellow KSRTC bus we expected. We learned that the KSRTC bus was 'under repair' but we could take this bus to another city whose name we didn't understand, and would then switch onto another bus to take us to Periyar.
Knowing that Indian bus stations are rather helter-skelter operations, usually with little or no information in English, we looked at each other, a bit hesitent to try this plan. Alternatively, we could wait for about 3 hours for the next direct bus (assuming it ran). What to do?
Departure time came and we decided to go for it; somehow it would work out. So we climbed on with our luggage and took a seat. The ride was gorgeous, through green tea gardens and then across broad valleys and along the crest of mountains with beautiful views in all directions. The challenges of our upcoming 'bus transfer' somehow became far away.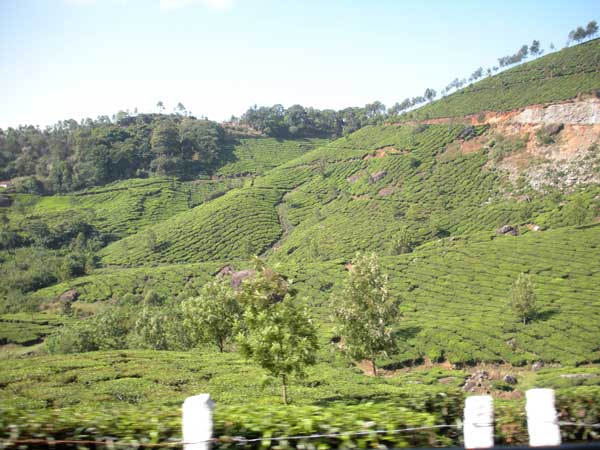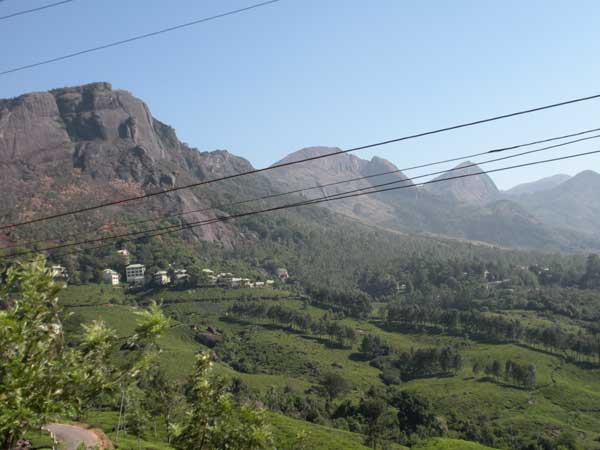 After about two hours of very curvy roads and frequent stops, we arrived in a larger town, Nedumkandan, and pulled into the bus station. This didn't look too bad we thought; someone can point us to our other bus. We looked expectantly at the conductor, who knew our situation, but he waved for us to sit down. Not yet, we concluded!
The bus pulled back out onto the street and stopped again in about 100 meters. The conductor waved to us to get off. This was our 'transfer point', a 4 meter long chunk of sidewalk, with a rusty shelter roof but no signs or information (view of the area below). At least there were other people waiting, so maybe this would work after all. Now our challenge was to find the right bus - considering that the signs on the buses were all in Malayalam. Figuring that we needed some help from someone who spoke a little English; we inquired at a nearby hotel, but no one understood.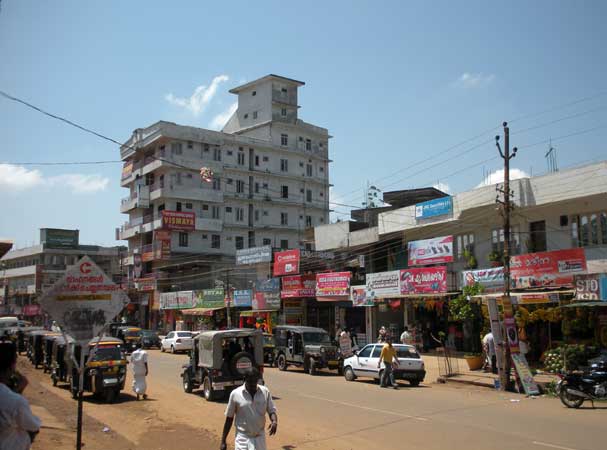 So we returned to the bus stop and started asking the conductor on every bus that stopped if it went to Periyar. After 4 or 5 no's, we were feeling a little frustrated. By now, some of the other waiting passengers figured out where we were going, and a minute or two later pointed to an approaching bus, waved it to stop and motioned for us to get on. We waved 'thank you' and jumped on.
We were on our way, but the bus was packed and we stood in the aisle, looking for empty seats. Just as it began to look like this would be a less than comfortable trip we were offered seats on the top of a side facing box at the front of the bus - not ideal, but we had a place to sit. The conductor stowed our suitcases, one next to the driver and the other under the last row of seats in the back. We nodded our appreciation and grabbed for the support poles as the curves started at the edge of town.
After about two hours of curves, stops and speed bumps, the bus arrived at a large square in the town of Thekkedy, right outside Periyar Tiger Reserve. We retrieved our suitcases, and grabbed a tut-tut to Periyar House, a peaceful lodge within the Reserve, for a couple of nice quiet days enjoying the wildlife.
Click here to read our story.
Stage 3 - Periyar to Kottayam
The final adventure on this trip was just as unusual, but not nearly as disconcerting, simply because we were getting accustomed to the 'anything can happen and probably will' way of life in this part of India.
After checking out of Periyar House, we asked the tut-tut driver to take us to the downtown bus 'square' so we could catch the bus to Kottayam. As we turned onto the main road into town, the driver suddenly stopped in the middle of the road and flagged down an oncoming bus, which stopped alongside us. It turned out this was our bus, so we jumped out, quickly paid our fare, muscled our suitcases out of the tut-tut and onto the bus, climbed on and found a seat - all in maybe 60 seconds and in the middle of the road. Within a few more seconds we were on our way for another three hour, more comfortable, but very scenic ride out of the mountains and down to sea level and the town of Kottayam, at edge of the Keralan Backwaters.
Conclusion
We have tried to convey at least some of the sense of adventure that we experienced on these bus trips. While we knew these buses would be quite basic, we had faith that they would get us where we wanted to go - and they did. This was another life experience we will never forget.
Reflections
To undertake a trip like this, one has to have faith - faith that we would be OK, faith that the bus people would take care of our suitcases, faith that somehow we would get on the right bus, faith that these old beatup buses would take us where they were supposed to, and faith that our bus wouldn't get hit by a truck and go over a cliff.
Did we have anything to base this faith on? Not really, but we had faith that it's the way things are supposed to work and just because we were riding was no reason they wouldn't work for us.
Would we have missed this experience for anything - not on your life!
Click here to return to Our Revisiting India - 2009 page