Exploring the Los Angeles Area by Foot, Bus and Rail


Our summer in Europe had taught us that America has much to learn from Europe! It's easy to find a real urban place to live in any city in Europe, a place where one can walk to shops for food and other daily needs, where there are pleasant cafes and parks where one can go to enjoy a beer or walk through green spaces. Cities in Europe have plenty of transit options making a car superfluous or even undesirable (and costly) while enabling one to enjoy a high level of mobility. The pedestrian environment is pleasant and safe, even late at night.
Back in the USA, we found ourselves longing to return to the real urban life we had experienced in Brussels and Madrid. But circumstances are keeping us here in America so, we decided to investigate places where one might enjoy car free mobility and the joys of being a pedestrian.
The first place we considered was Los Angeles. Say what, you ask! LA, the first city of universal car love? Is this a place where we could be visitors and get around without a car?
To us this seemed more possible than one might think. We had read about LA's new subway and their new light rail lines, which, along with improved bus service is the core of their campaign to improve transit and reduce traffic congestion. We needed more information, so we searched the Internet and found the website for LA's Metro, including great maps of their transit system. Further searching provided information on some of the transit oriented redevelopment projects that are occurring around the new rail stations; we were excited to think this meant we could also find urban living in LA. We decided a visit was in order..
To get there, we boarded an Amtrak train in Albuquerque and headed west watching the sun set as we enjoyed a nice dinner in the dining car. By early the next morning, we were rolling into San Bernardino, watching the lines of slowly moving cars on the freeways as the train speeded past This was definitely LA!
Soon we arrived at Union Station, still as grand as we remembered (pictures below).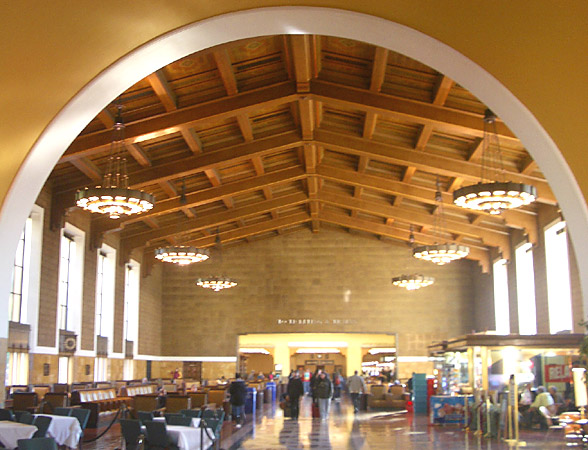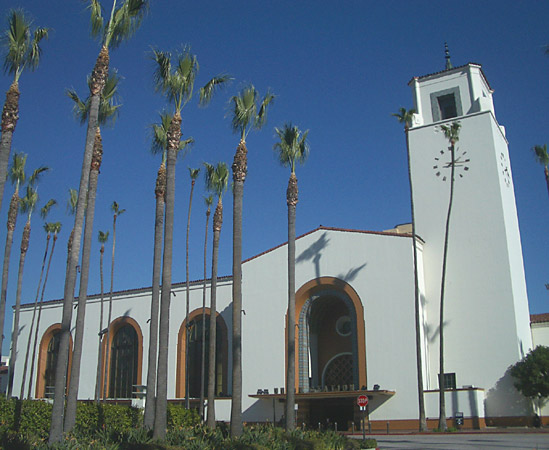 We found the Metro Ticket kiosk where we produced passport photos and IDs and for $14 each we bought monthly passes to the LA Metro. We walked into the California sunlight, towing our wheely bags and walked the two blocks to the Metro Plaza Hotel (pictures below). The decorations are for Chinese New Year - appropriate as the hotel is right on the edge of LA's Chinatown.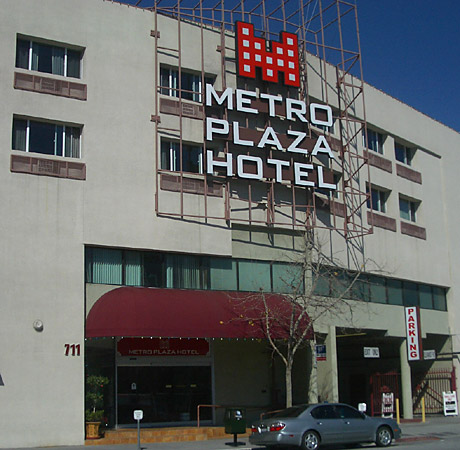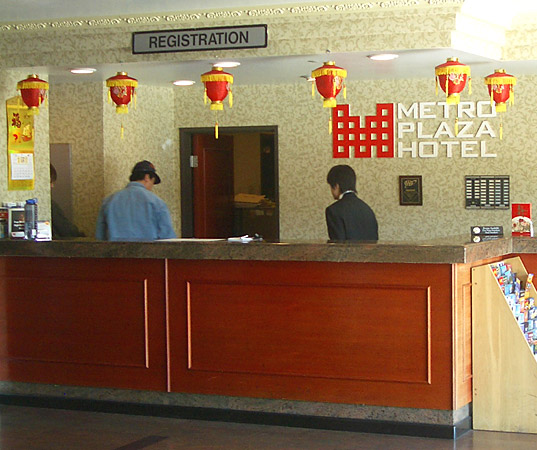 We were early so our room was not ready, so the friendly woman at the desk suggested we go to Phillipe's for breakfast (pictures below). Just a block away, this venerable cafe is a mainstay for Angelenos from all ethnic and age groups. We joined the lines of diners to order a cheese omelet and 9˘ cups of coffee! It felt good to already be a part of this place.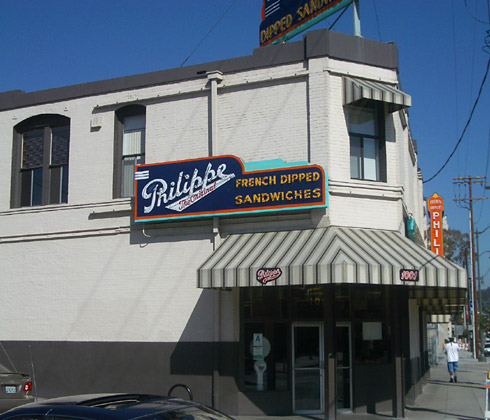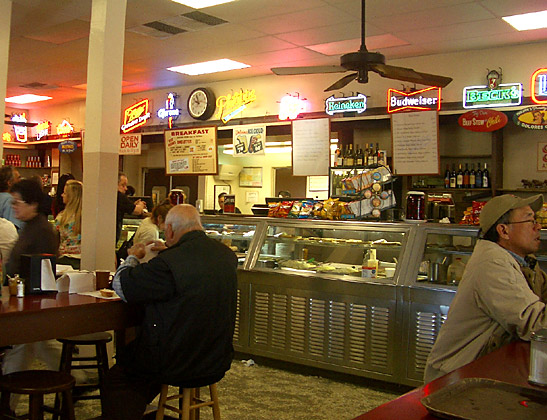 Feeling rejuvenated, we returned to the hotel to check in and leave our stuff. We were ready to do the un-heard-of - explore the LA area by only foot, bus and rail (and no car).
Our first foray was a ride on the Gold Line of the MetroRail. We rode north through neighborhoods of southern California bungalows noting the bloom of transit oriented development (residential, retail and commercial) surrounding many of the stations. Most impressive were the stations in Pasadena. After Pasadena, the train traveled in the median of the 210 freeway enabling us to watch the commuters, mostly one per car, edging forward slowly as we whizzed past. The last three stations were park n rides with major parking structures. It was unclear if there was TOD as well (pictures of Sierra Villa Madre station below).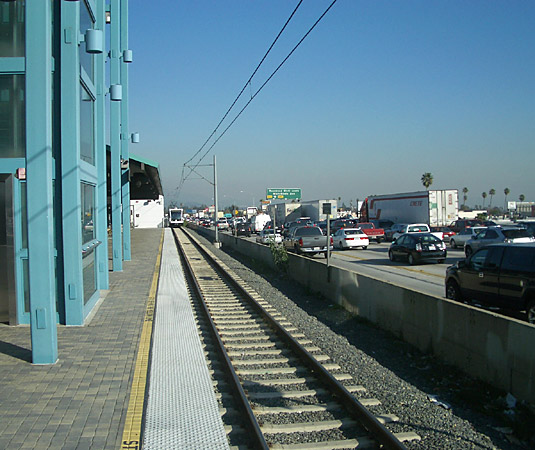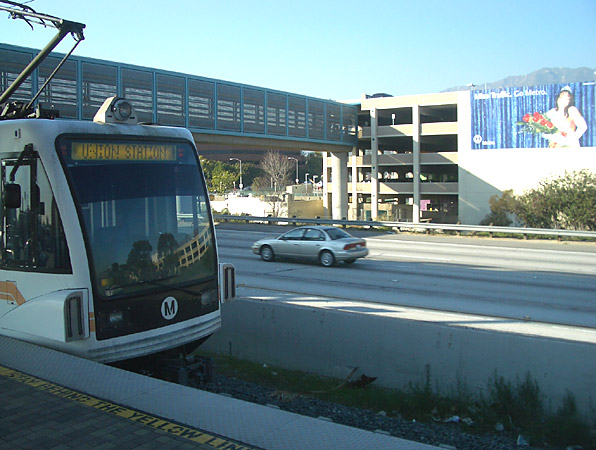 Pasadena
We returned to the Del Mar Station in Pasadena to explore, first admiring the apartment buildings that surrounded, indeed shared common walls with, the Gold Line station. The Del Mar Station development includes 347 rental residences, retail area and underground parking for 1200 cars. The historic Santa Fe Train Depot has been restored and is available for a restaurant. (pictures below).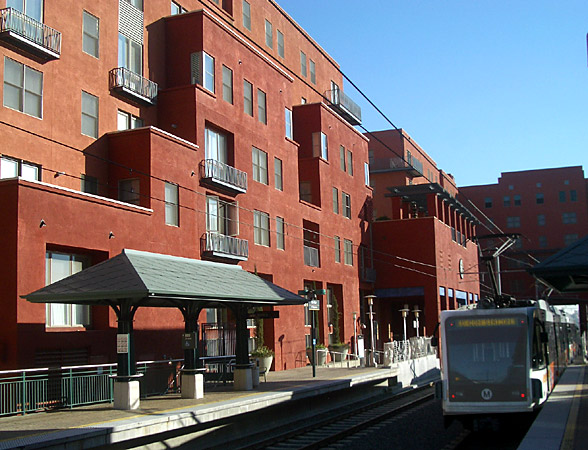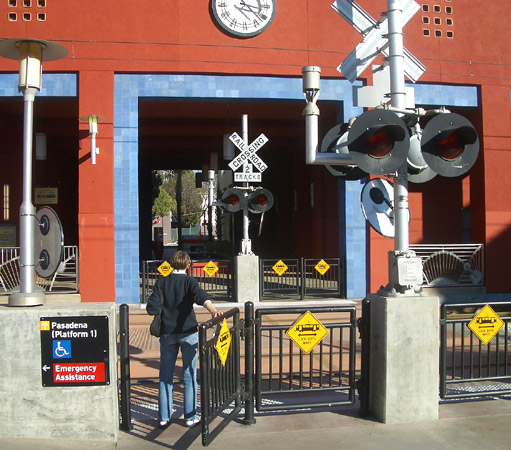 From Del Mar station, a short walk took us past Central Park and the classic Green Hotel, now upscale condos (pictures below)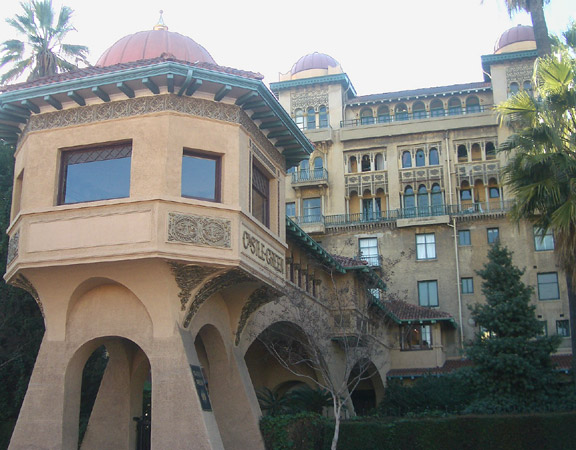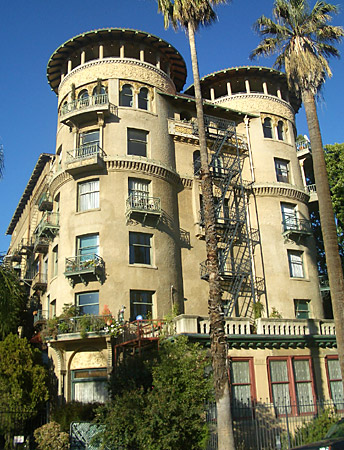 In another block we were on Colorado Boulevard, the route of the Rose Parade and a major shopping street. The wide sidewalks and diagonal crossings at intersections caused us to award high marks for pedestrian friendliness (picture below)! We stopped for beers and munchies at a friendly pub before heading back to the station and our hotel home. We agreed that we needed to return for more in-depth investigations.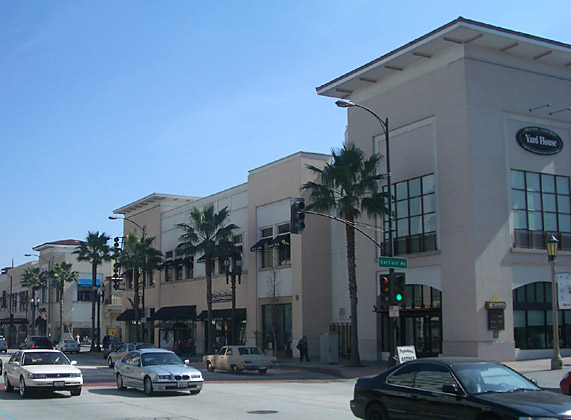 We returned to Pasadena to document two TOD developments and two urban regeneration projects. The first TOD development was Holly Street Apartments at the Memorial Park lightrail station. The apartment building extends right over the station so residents can catch the train literally right outside their doors! There are two food markets within walking distance and all the stores and restaurants of Colorado Boulevard are just two blocks away (picture of the station and a model of the apartment complex below).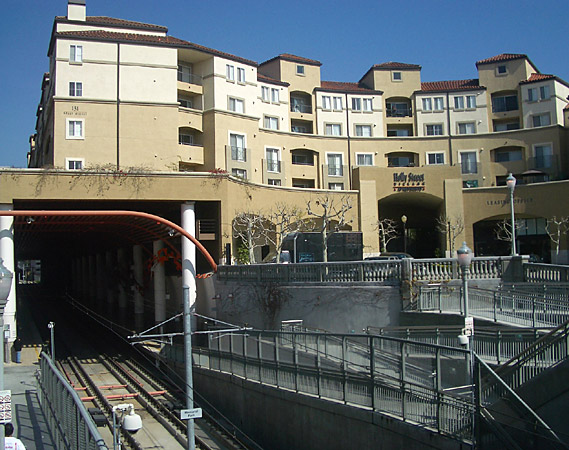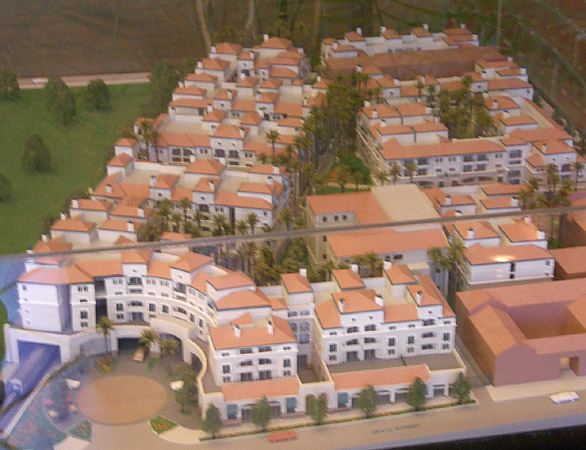 The second TOD development was Mission-Meridian Village just a block from the Mission station and a historic neighborhood center that was being restored to full vitality. The development features 67 condos in an array of building types with retail including a nice bakery/coffee shop. (pictures below).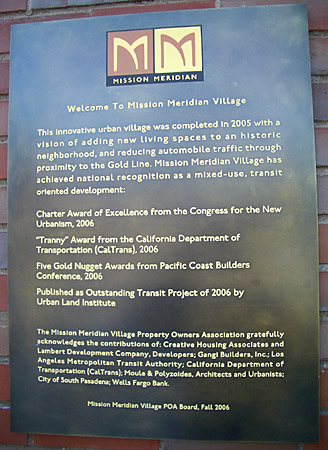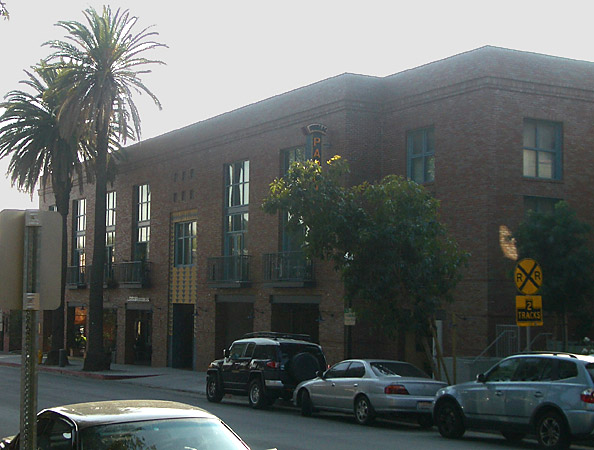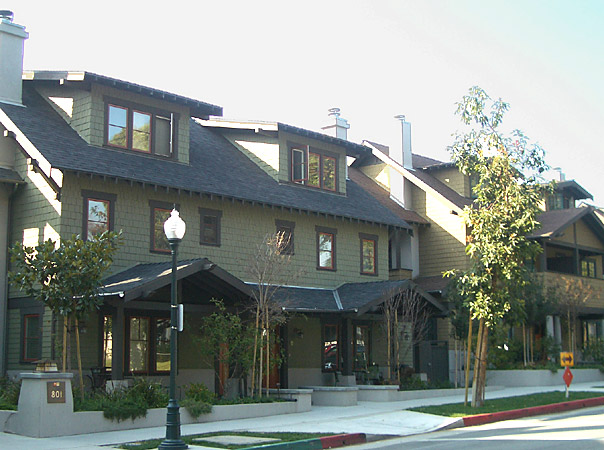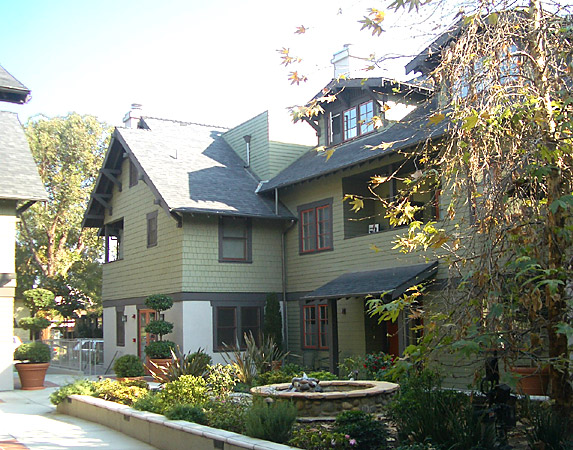 Across the street were traditional bungalows so the architecture of the development was designed to blend gracefully with the surroundings (left below). The development is just across the street from the lightrail station (below right).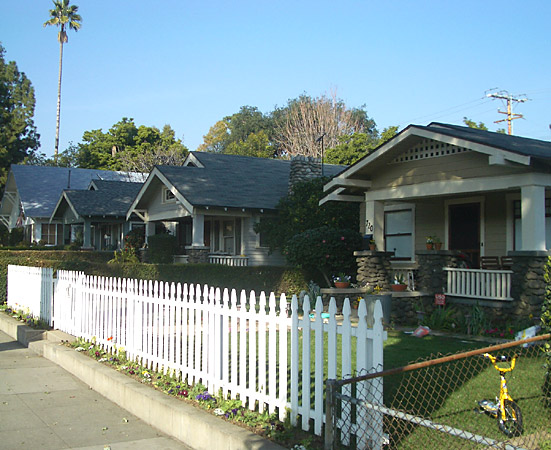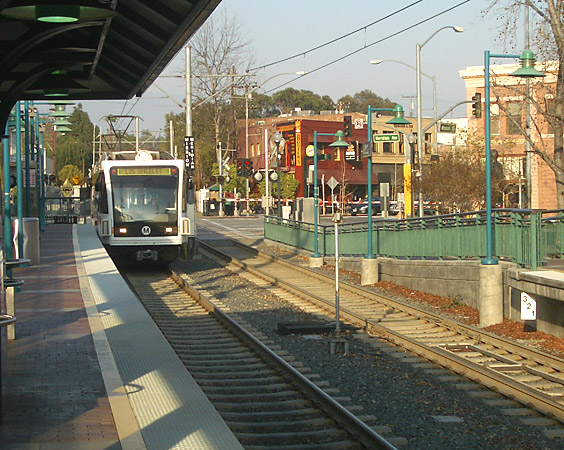 The two urban regeneration developments featured new buildings gracefully combined with existing historic structures. In one case, Vista del Arroyo, it was difficult to tell what was new and what was historic! (pictures below)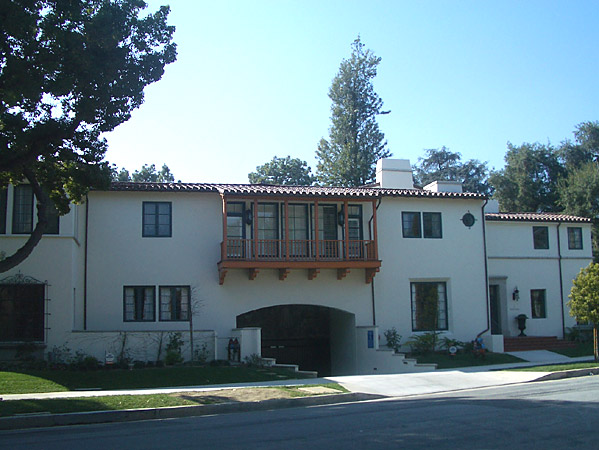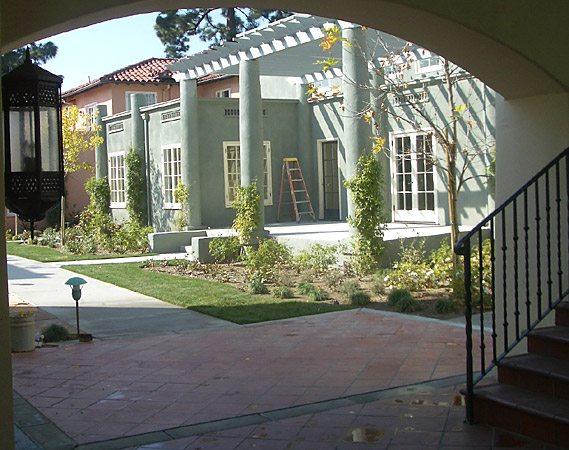 In the other case, Westgate, a block of new apartments was hidden behind the historic modernist facade. Additional acreage had been prepared for development so it will take a return visit to see what happens here. (pictures below)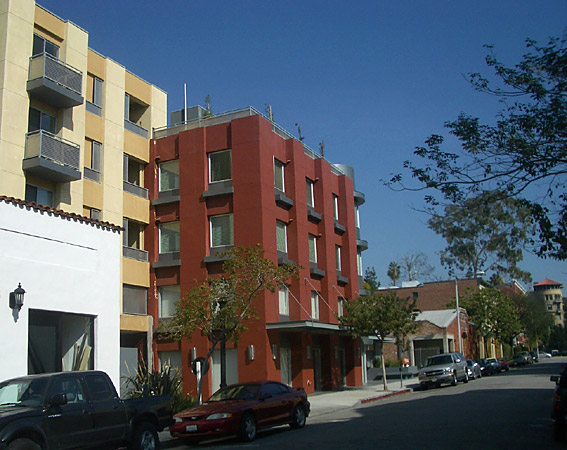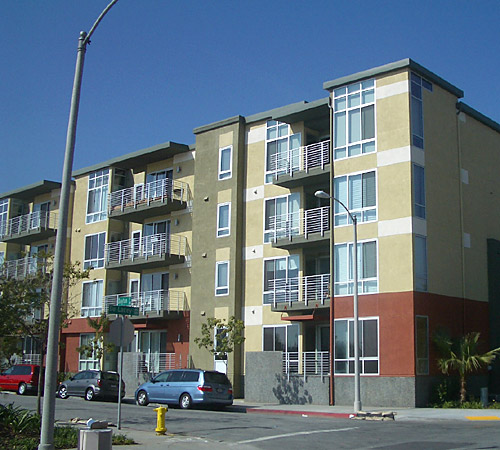 City of Los Angeles
One morning, we set out to explore downtown LA on foot. We enjoyed the wide sidewalks but soon realized that the scale of this place was a bit too large for easy exploration on foot. No problem, we caught a DASH bus to ride into the heart of the Financial District. These DASH buses are circulators that cruise several interlinked routes to move people around LA's Downtown. A grand building caught our eyes so we hopped off to find ourselves in front of the LA Central Library. Walking through formal gardens, we entered the rotunda and discovered a walking tour was about to begin. We joined the group and spent an hour being guided through the lovely old building, which was fondly restored after a disastrous fire in 1986, and the new addition, a grand atrium with subject departments on either side (pictures below).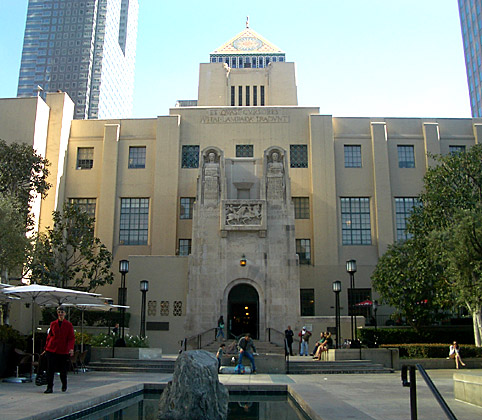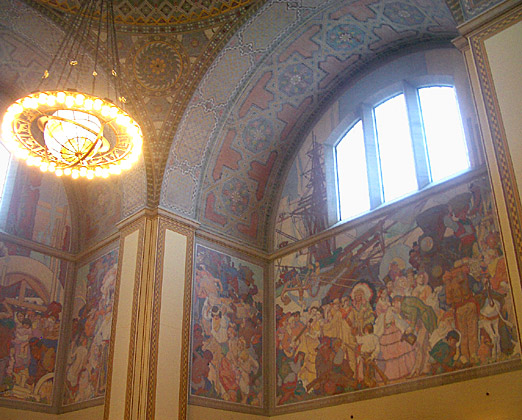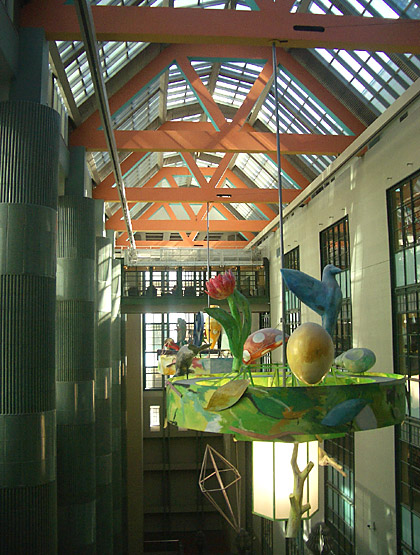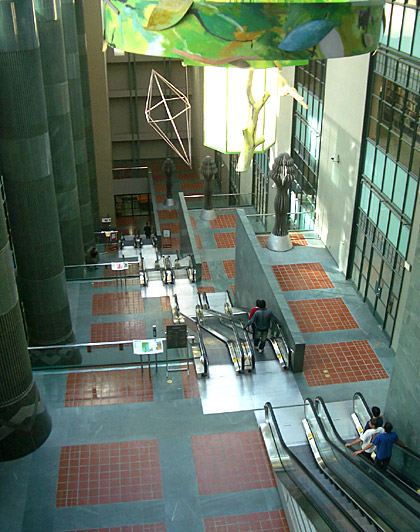 Following this detour into LA's historic architecture, we continued on to ride the Blue Line Train from downtown south to explore the Convention Center and Staples Center area (below left). Another DASH bus returned us to the Financial District and we walked past many high rise offices to Disney Center, the new performance hall with its soaring gleaming metal fins shining in the sunlight (below right). WOW!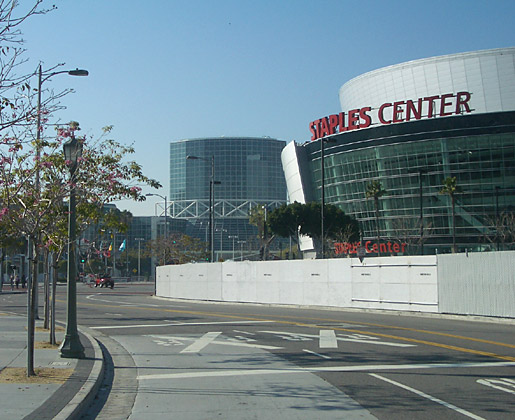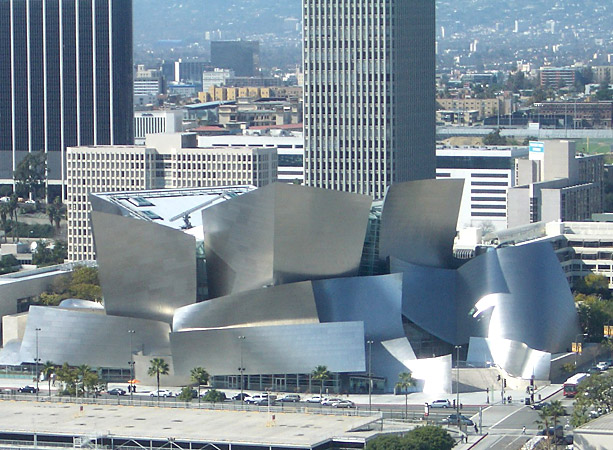 After all this travel and discovery, we returned home to relax and later ventured back to Pasadena for dinner at the pub we had visited the day before. The easy access to the Gold Line Train made this possible and the trains run late enough for us not to worry about being stranded!
Considering our day in downtown LA, we agreed that this is definitely a world class city where people value and respect their history and where more people are choosing to live. Perhaps many of the new lofts, condos and townhouses are a bit too expensive for the average worker but it was great to see LA becoming a 24/7 place for people. Further efforts are underway to rejuvenate the historic theaters and buildings along Broadway, including the addition of a modern version of the historic 'Red Car' streetcars. We will definitely need to return in a few years to see how they are doing.
Next day, we took the Red Line Train from Union Station to the eastern end at North Hollywood. Here we found new developments under construction,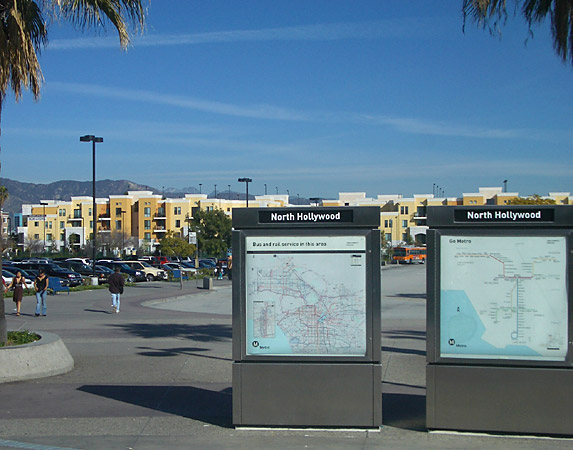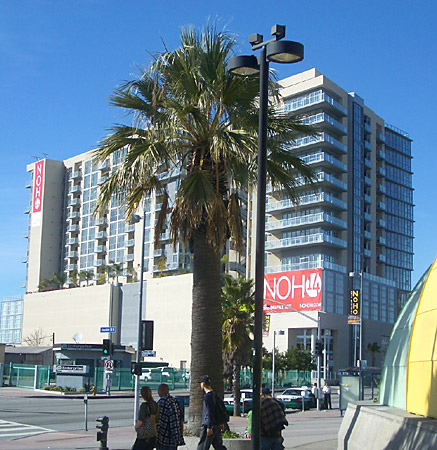 We also saw that travelers may continue on west by the Orange Line buses that run in dedicated lanes (picture below). We asked a Metro worker if there were plans to extend the rail and he explained that there are always funding shortages and MTA, the local acronym for the Metro, really means "May Take Awhile". Still, based on our experience, the investment that has been made has resulted in an effective, rider friendly system.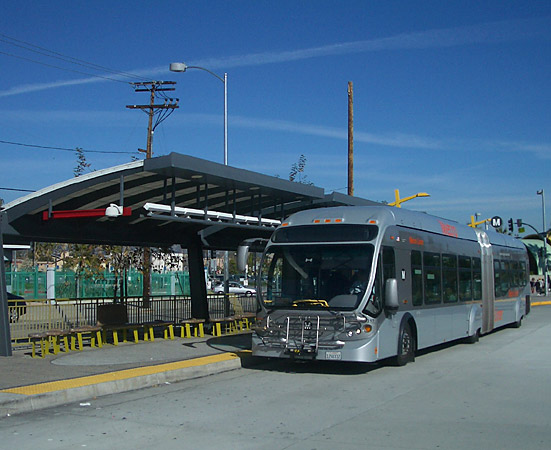 We took the Red Line Train back to the Hollywood/Highland Station to walk the famous stretch of Hollywood Boulevard with the stars in to sidewalk. We had read that there was new residential development here but we really did not find much. To us this area is just as weird and touristy as we remembered.
Our next destination was the Los Angeles County Museum of Art, or LACMA, so we boarded a bus that us took us west and then south to Wilshire and Fairfax, a block from the museum entrance. We relaxed over a meal in the cafe and then made a totally inadequate visit to the Asia Gallery to admire Dancing Shiva and Buddha (picture below) The real purpose of our visit was a free concert - a great ensemble of musicians playing quite delightful music. A Rapid Bus, packed with people, provided transportation back to downtown LA and our hotel.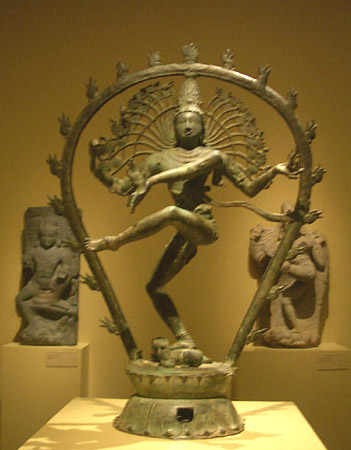 For our next foray into downtown LA we walked south to City Hall (top left). Here, we discovered we could visit the tower, 27 stories above the city for great views out over the city. Here there was also a gallery of portraits of past mayors with small bits of history for each one's term of office.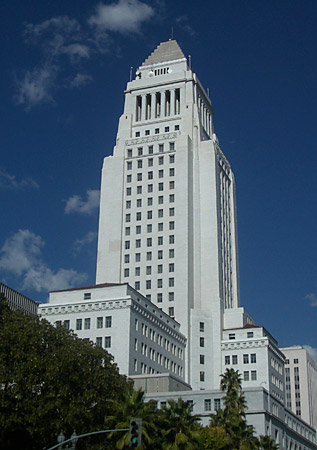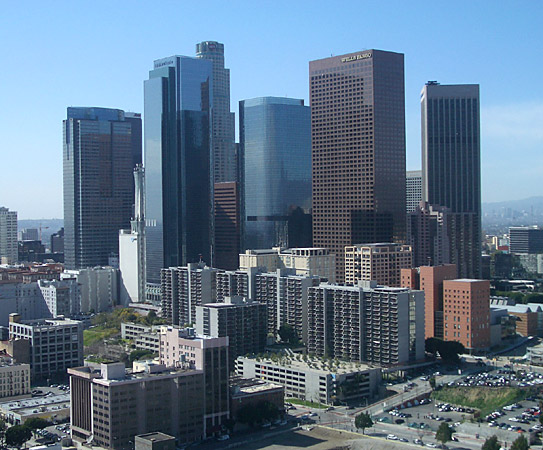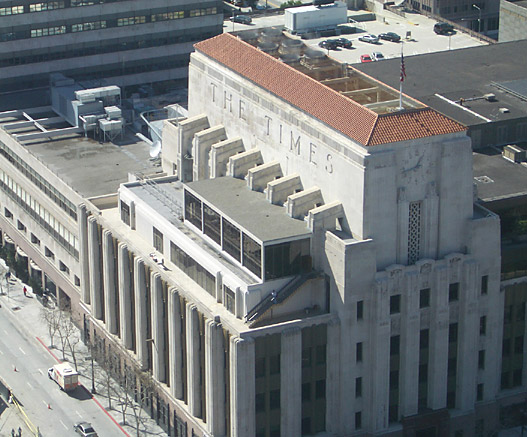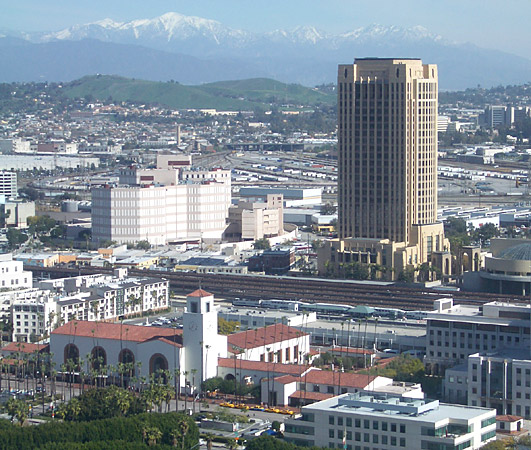 After this exploration of LA history, we visited another example of the respect this city has for its beginnings - the Bradbury Building, a grand art deco place, lovingly restored (pictures below). Movie fans will remember this place for the scenes of 'Blade Runner' that were shot here.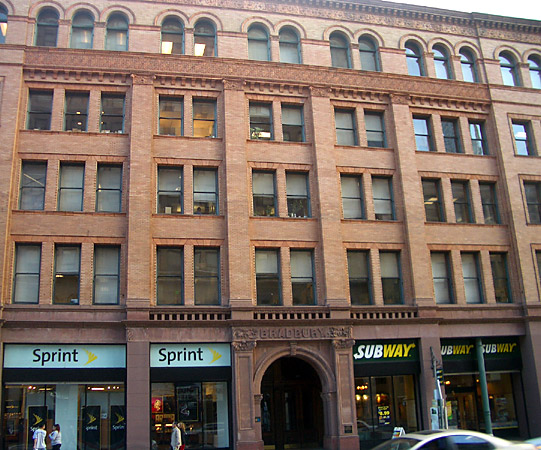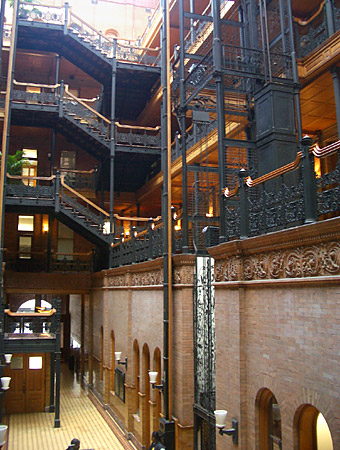 Next stop was Grand Central Market, a trip back to earlier times when this was LA's main fruit, veggie, meat and fish market. Today, it retains its historic charms, offering shoppers an assortment of local foods. (pictures below)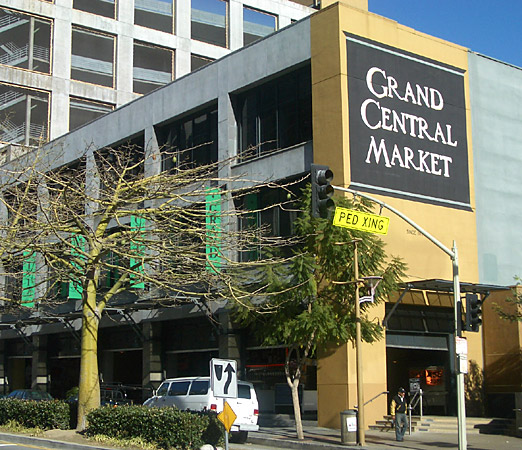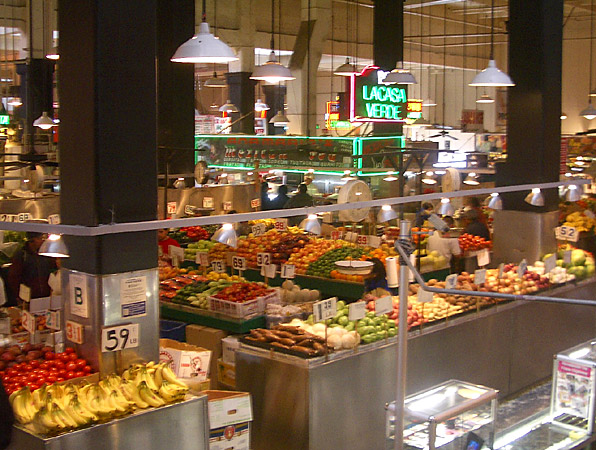 In the evening, we again rode the Gold Line from the Chinatown lightrail station (picture below) back to Pasadena to celebrate Valentine's Day with a tasty dinner of Indian food and good California wine.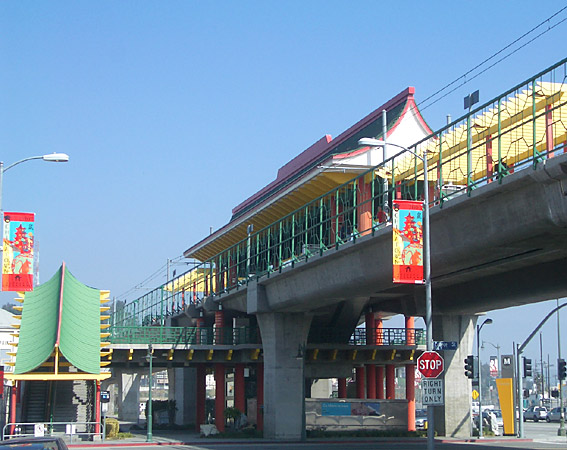 We believe that keeping people connected to nature is essential for people friendly cities so we headed to Griffith Park to hug some trees and visit the newly refurbished and enhanced Griffith Observatory. From our hotel, we rode the Red Line to Vermont/Sunset Station and caught the special weekend trolley up to the Observatory, delighting in the forest views. The observatory was much as we recalled (picture below left) but very spruced up and the planetarium has been completely reconstructed - the star show was amazing! The exhibits have been enhanced, too, with the addition of a new hall underground. From the decks, we had panoramic views of the expanse of development that is the Los Angeles Valley (below right). The Cafe at the End of the Universe offered great snacks to keep us going.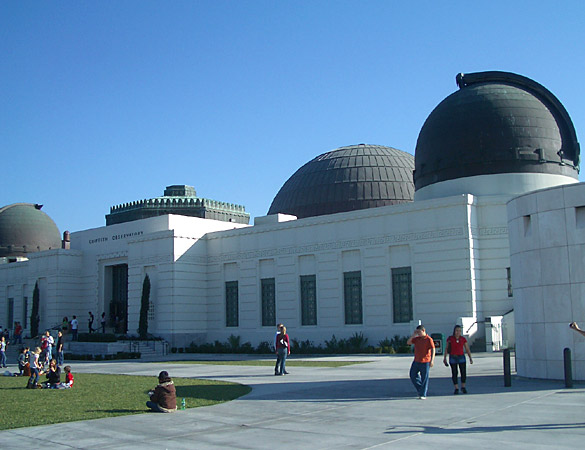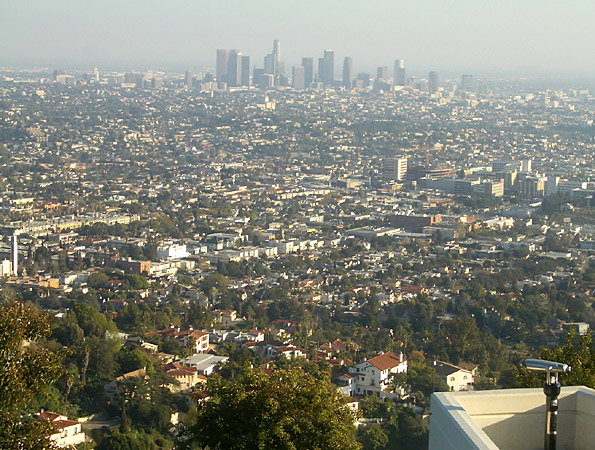 Later in the afternoon, we rode the trolley and Red Line Train back to our hotel and in the evening, strolled out to the Mayflower Restaurant, a neighborhood Chinese place. It was packed with Chinese and Latino families so we enjoyed great food and people watching. Midway through our meal, we heard a hubbub outside - symbols clanging, drum beats and firecrackers going off. Soon two Dragon-Lion figures danced and strutted into the restaurant, past the patrons and right into the kitchen. We did not learn the significance of all this but we were immersed in the color and sound! LA is easily the most international, multicultural city in the US!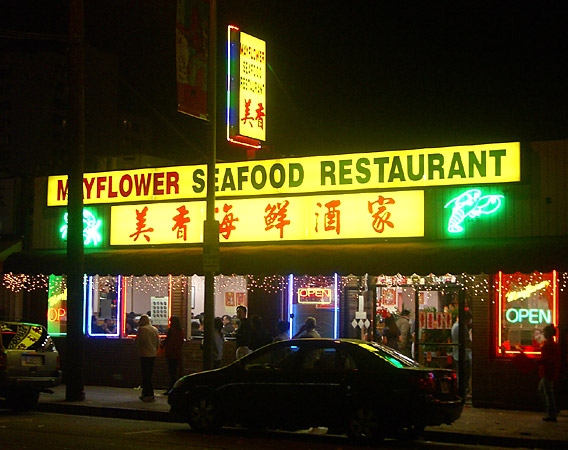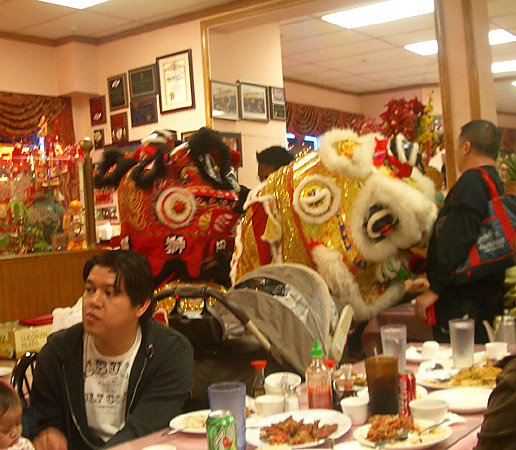 Long Beach
Long Beach was our next destination. We caught the Blue Line Train from the 7thSt/Metro Center station and traveled south through miles and miles of single story small bungalows interspersed with industrial and commercial development and major intersections of multi-lane arterial streets lined with big box stores and surface parking. Not much TOD along here. But in about an hour, we were rolling into Downtown Long Beach. We realized that this is a major city, a separate place from LA with its own identity. Pine Avenue is the main retail street, rich in retail stores, national and local, cafes with sidewalk tables, and pleasantly wide sidewalks. Several blocks had been redeveloped into City Place with condos and shops. (pictures below).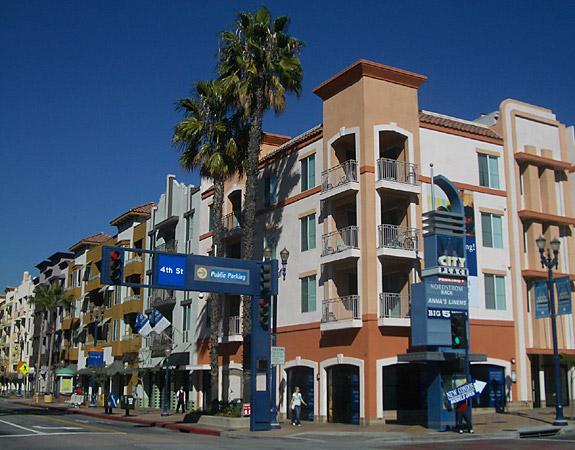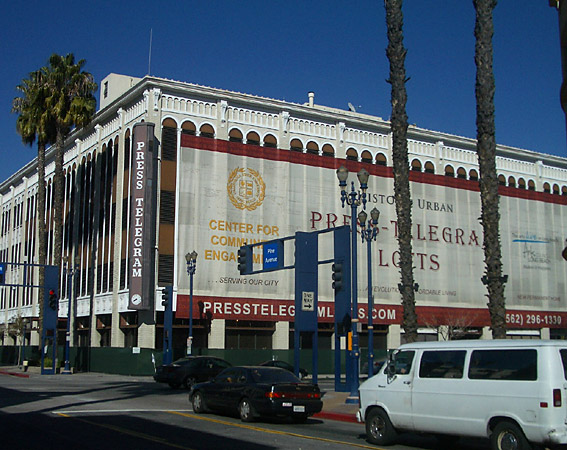 We also noted that many of the older buildings have signs announcing that they being rejuvenated as lofts and condos. We visited one, a loft in the old Kress Department Store. Downtown living is finally catching on the Realtor told us.
A Passport connector bus took us to the waterfront, rich in parks and walking areas along the bay. We explored further enjoying the nice views of the city. (pictures below).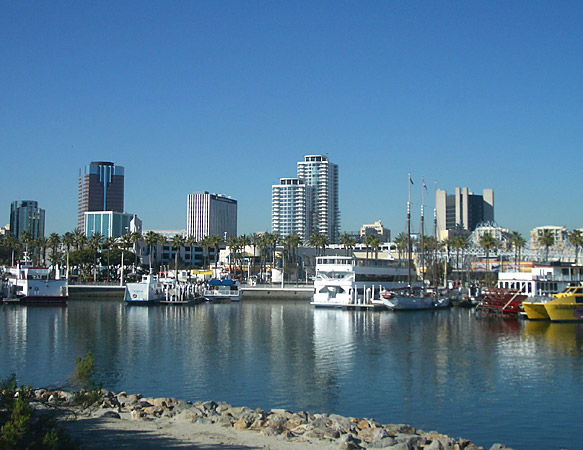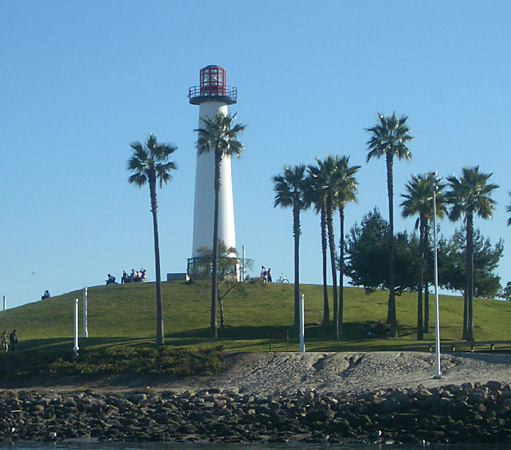 We traveled by Aquataxi across the harbor to the old Queen Mary cruise ship, now a hotel. We climbed a parking structure for a good view of the port, still the major economic driver for Long Beach (pictures below).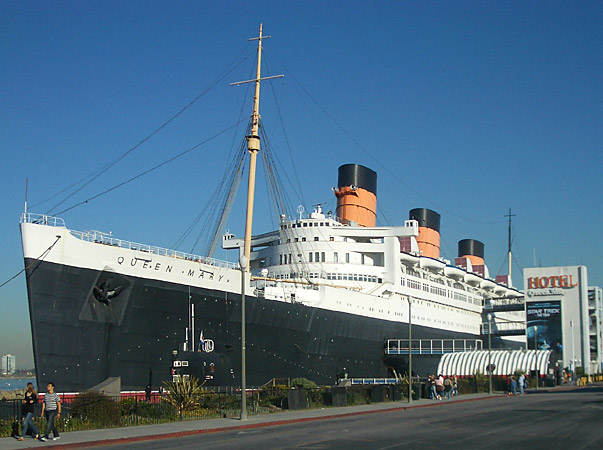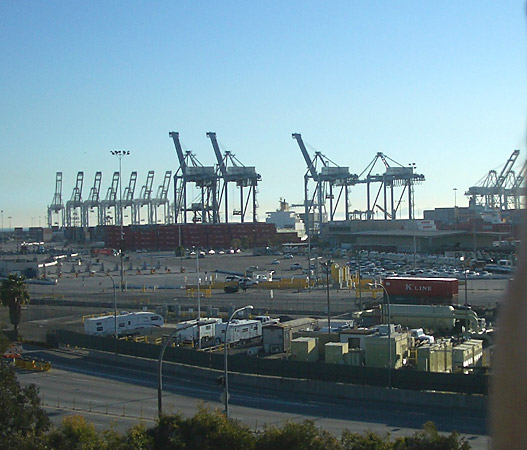 Long Beach turned out to be an interesting urban place - more so than we had anticipated. With the street life, Passport connector buses and nearby waterfront, we decided that a real urban lifestyle could be possible here! We rode the Blue Line back to our hotel considering these possibilities.
El Segundo
Back in 1990, we had lived in El Segundo, a small town just south of Los Angeles airport,, nestled between the Hyperion Wastewater Treatment Plant and a large Chevron oil refinery. We wanted to return to see what changes had occurred in the 17 years since we left. Getting there was a bit of a trip. We took the Red line to the Blue Line to the Green Line and got off at the El Segundo Station. Here we hoped to catch a bus into town but we waited and waited - the first time we had experienced a long wait. After a awhile, we did the obvious thing - we walked! Feet are the ultimate fall back! A walk of about a mile or so took us to the middle of downtown at Grand and Main, with the chimneys of the refinery still omnipresent to the south.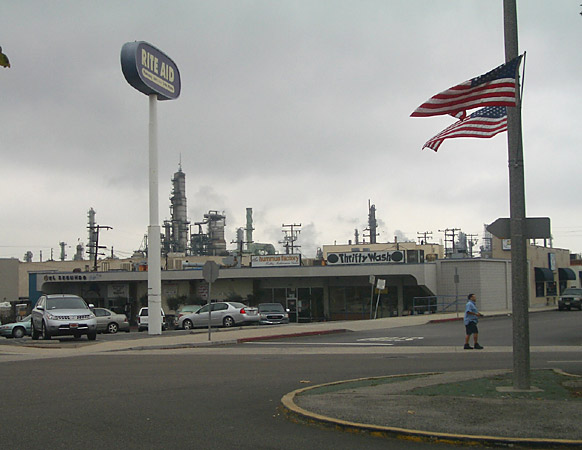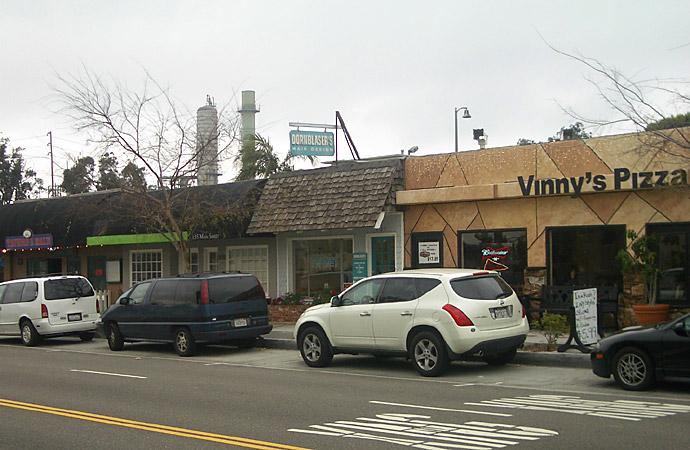 Downtown El Segundo looked much as it had in 1990. It's a nice little downtown with retail shops along Main and more along Grand and a very pleasant small-town feel.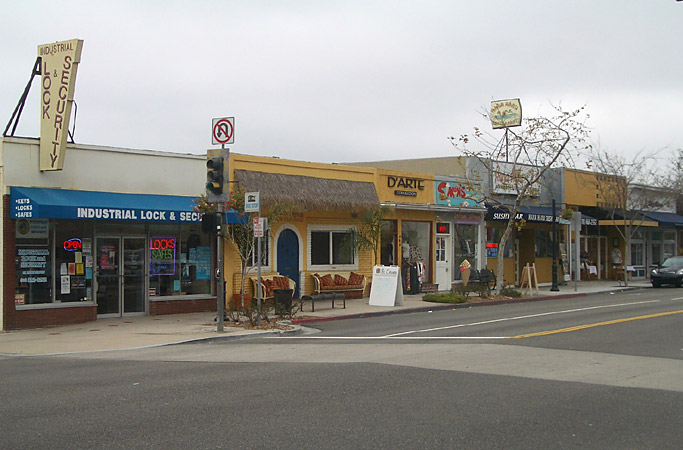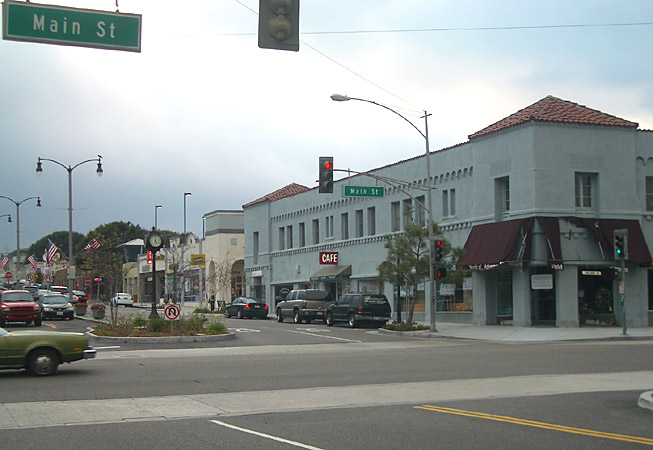 We stopped at the library (below left) where a helpful librarian helped us with bus schedules and asked us to send our story about being pedestrians in LA. She told us she never rides the buses! Continuing on, we walked past the apartment where we had lived (below right), finding it the same as we remembered.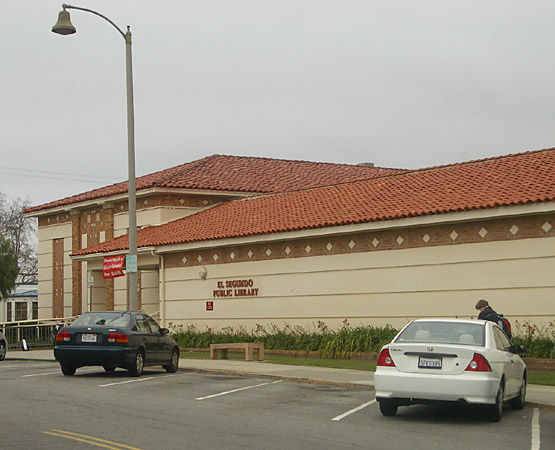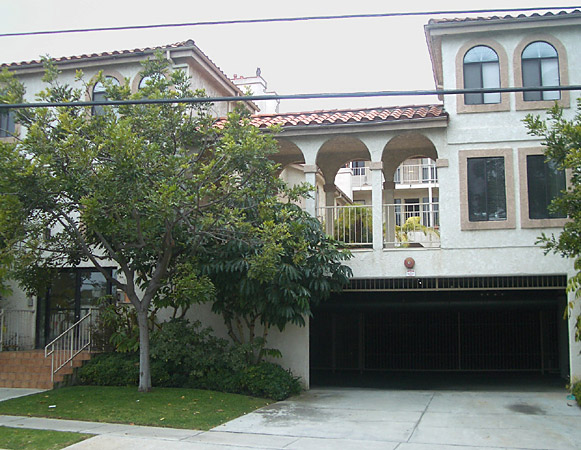 We walked on along streets lined with nice small homes with porches, very charming and well kept! (pictures below).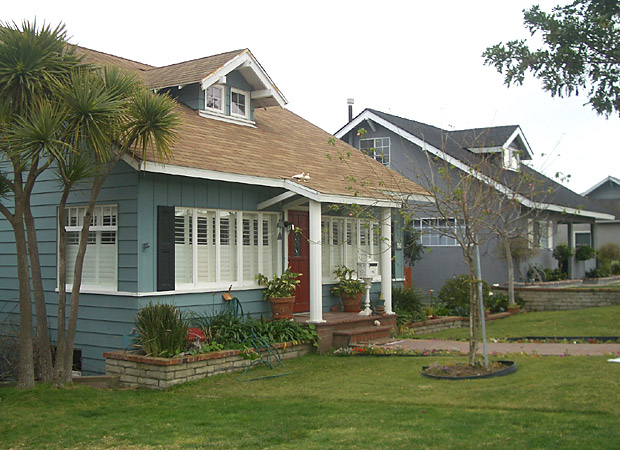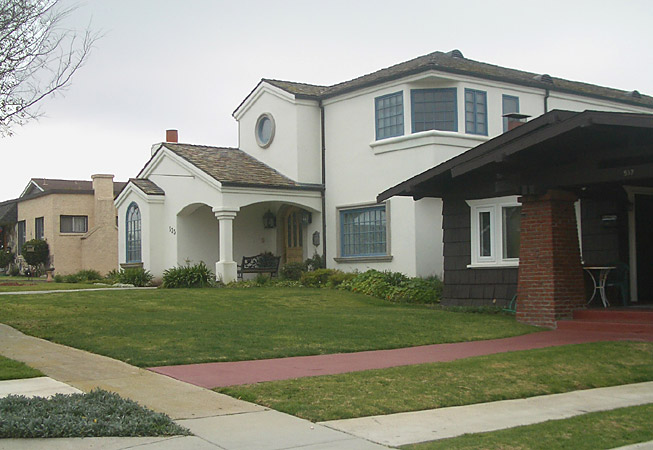 There were a few new apartment developments and the local food market, Cookes, had built a public parking structure where the surface lot had been (pictures below).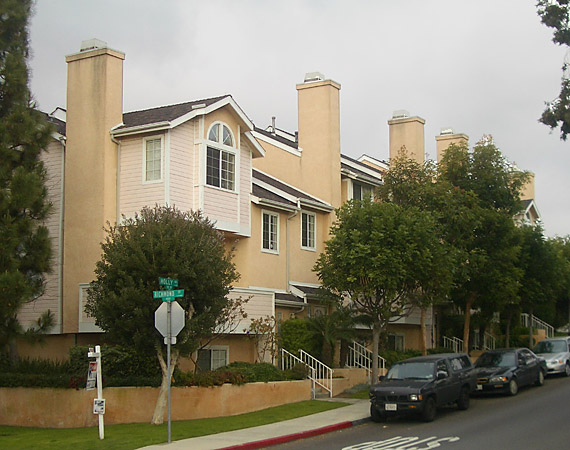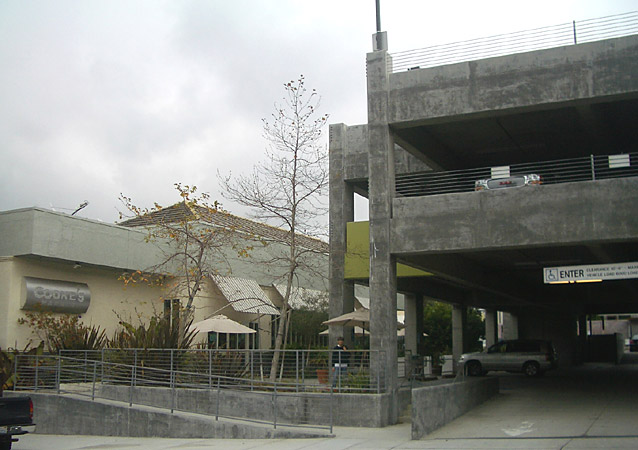 Feeling nostalgic, we caught a bus that traveled south along the beach and then along Rosecrans, a major retail street that runs down the beach and then east/west through the sprawling heart of the LA Valley. We were amazed by the intensity of retail development along this street, considering that miles of bungalows stretch to the north and south for miles. In Compton, we caught a Blue Line Train back to Downtown LA where we stopped for a nice dinner at a brewery/pub in a shopping complex beneath the street, a very interesting approach to create a pleasing space for such businesses in a downtown location. (pictures below)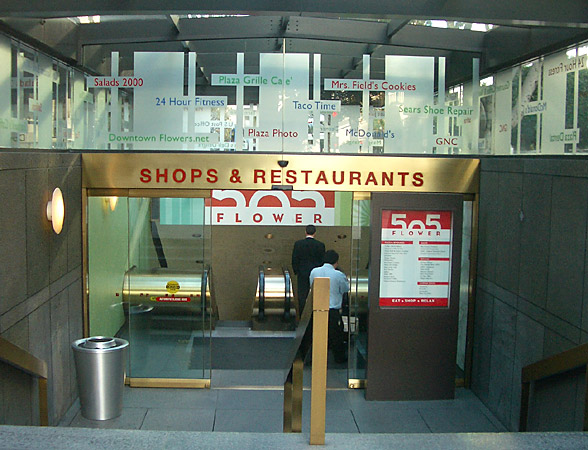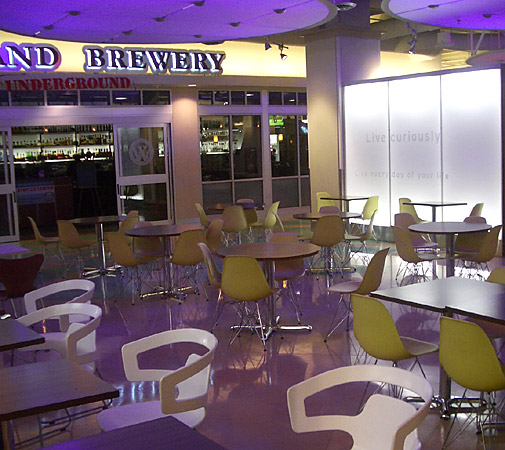 Santa Monica
We fondly remembered Santa Monica with its grand pier and wide stretches of sand and surf. We traveled there by Rapid Bus since there is no access by rail yet. The ride was not so rapid taking 90 minutes to travel through the western neighborhoods of LA. Once there, we stood in Palisades Park admiring the white sand and deep blue water with white surf and paying homage to the marker for the end of Route 66 (pictures below).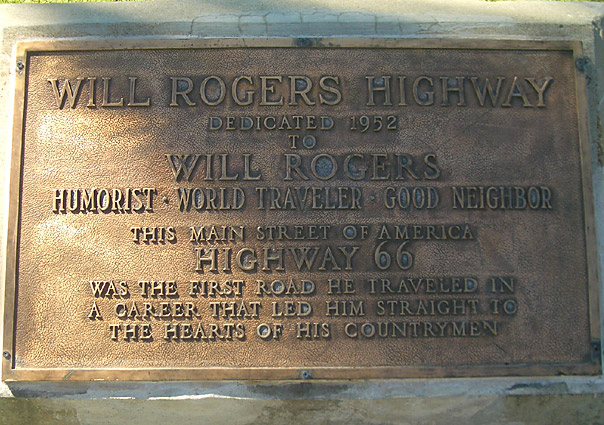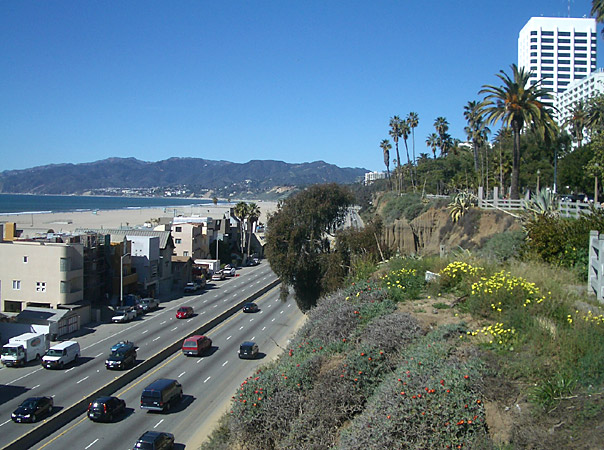 We walked out on the pier, admiring the views of the city, people on the beach and the mountains to the north (below left) and people enjoying a nice sunny day on the pier (below right).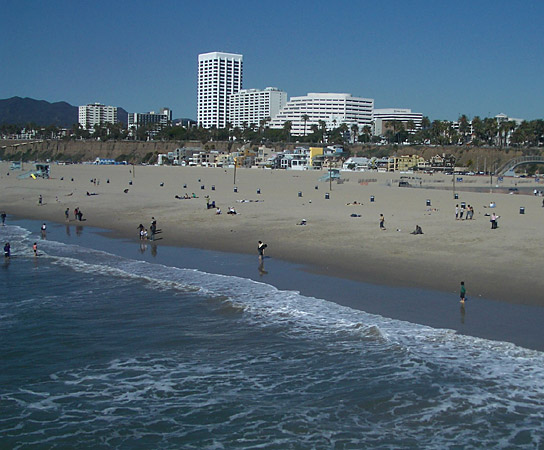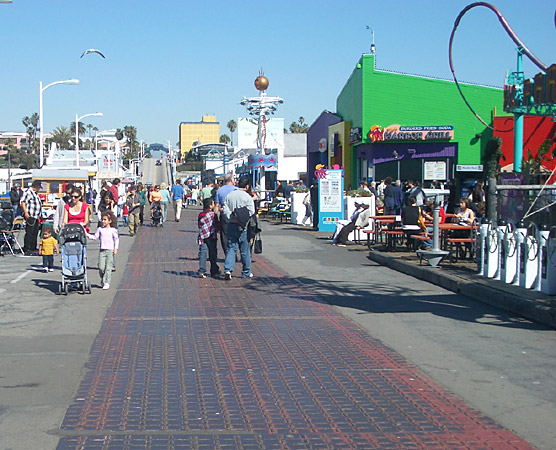 After a lunch stop at a burrito place on the pier, we explored the beach walk to the south, and then walked back into town. Our next destination was the 3rd Street Promenade, a pedestrian mall lined with restaurants and every retail store imaginable, which we found to be very busy on this nice sunny day (pictures below). We were pleased to see that a number of the buildings included some residential housing above the retail.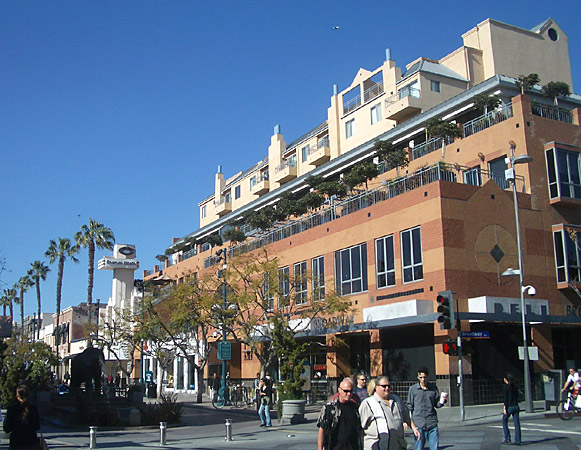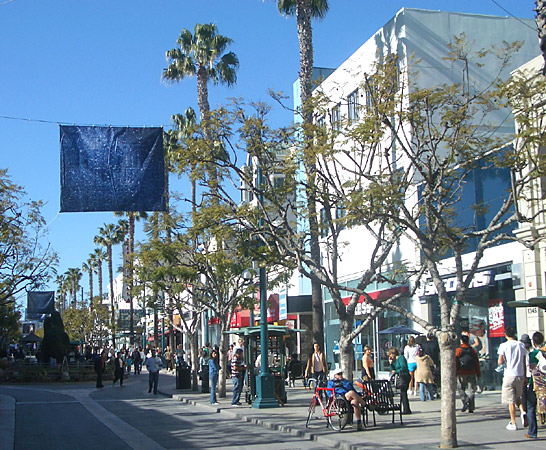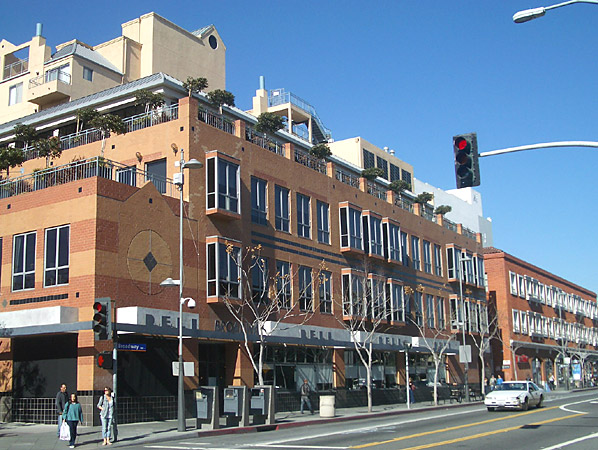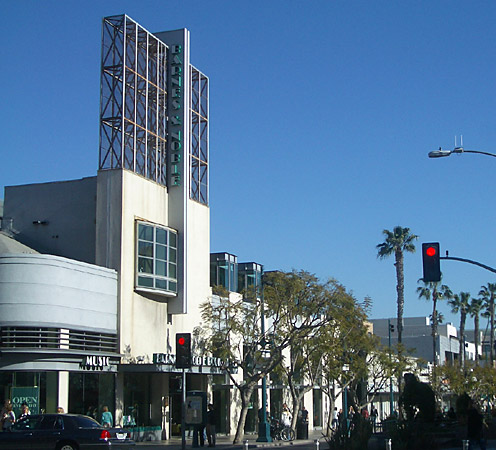 We found Santa Monica to be a very people scale place with plenty of possibilities for urban living, even including a hostel. While leaving on the bus, we saw a wide variety of low-rise apartments just east of town,
The Rapid Express Bus ride back to the Red Line Station promised to offer a quicker trip but actually took longer, 105 minutes. This was probably due to rush hour congestion that the buses cannot avoid. We understand that LA is trying to find alternatives to the longer travel times from Santa Monica and the other western suburbs, so, we'll have another reason to return in a few years.
Our Observations and Conclusions
The experience we had as pedestrians and bus, trolley, subway and rail riders throughout the LA Valley was quite pleasant, agreeable, rewarding and fun! We found we could travel to many parts of LA with relative ease, but sometimes with somewhat lengthy trips. Yet the transit system is not universal enough to provide transportation for every need and for all trips. Perhaps we would not wish to live in the LA Valley without a car, but we know we could.
At the same time, we were reminded that LA is a big place so that in order live a more comfortable life one would need to carefully select places to live and work so that one could either use the transit system or have a short enough trip to not spend a lot of time in the car.
In our short visit, we found a number of places where we could experience an urban lifestyle, with most daily needs within an easy walk; this was quite refreshing and unexpected.
The Impact of Transit on Traffic Congestion
We found that LA has made a huge investment in transportation planning and infrastructure construction to improve the transit system. Since we left in 1991, new subways have been built, new light rail lines completed, MetroLink trains established, bus rapid transit corridors created and a system of Rapid Buses (limited stops) and Express Rapid Buses (even fewer stops) added, all in an attempt to draw people to transit and improve mobility.
Yet, according to Metro, "Los Angeles traffic congestion is heading from bad to worse. We consistently have been ranked as the urban area with the worst traffic congestion in the country. The average commuter spends 72 hours per year idling in traffic. The average freeway speed during the afternoon peak period in the region was about 25 miles-per–hour in 2003, and is projected to deteriorate to 21 miles-per-hour in 2035—unless we find additional solutions beyond completing the highway and transit projects in the pipeline."
So, is there any hope that things will get better? We would like to think that they will. As the Metro system is extended and expanded, more and more people will find that transit will be a viable alternative for their trip to and from work, going to an event downtown or at Staples center, or spending a Sunday at the beach. We hope that Metro continues the great work they have started.
The Metro System
Includes Local, Rapid and Express Rapid buses, connector buses and bus rapid transit, subways and light rail (above ground) trains to provide, along with MetroLink and Amtrak, a full range of mobility choices.
It operates from early morning to very late at night with head ways on most lines short enough so that riders do not need to check schedules.
Trains and buses are clean (mostly) and comfortable (unless crowded) and provide for passengers with bicycles and those in wheel chairs or strollers.
There are rides everywhere! One is never far from a bus stop or rail station and there is usually a bus to take you to your next destination, rather than having to backtrack to downtown and start out in a new direction.
Metro is well used. We almost never saw near-empty trains or buses, at any hour of the day or night.
The website, www.metro.net, has a wealth of useful information including a user friendly and effective trip planner tool.
The Great Irony
In years past, LA had an extensive transit system (map below). Pacific Electric operated a fleet of 900 trolleys, providing service all over LA.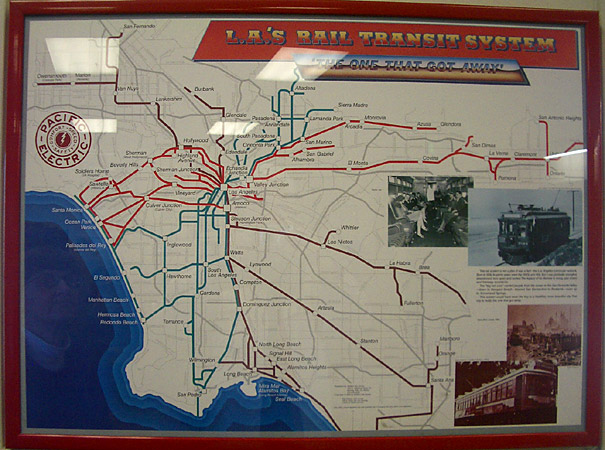 But in the years after World War II, the efforts of the Oil, tire, and automobile companies along with the infatuation with the car, caused this system to be shut down and dismantled. It was replaced with freeways! Gradually more and more cars have made roads overly crowded and increased congestion so that driving is no longer the fun it once was.
Now the Metro folks are realizing the magnitude of this mistake and are trying to re-create a workable rail system. Will they ever regain the convenient and easy mobility folks had back then? Only time will tell, we hope they succeed !!
Click here to return to Our 'Searching the World for Superior Urban Living' page