London, Dover and Greenwich


After our rather idyllic visit to Harlow, we waved goodbye to Richard at the Harlow International Hostel and walked to the train station to catch a train into Liverpool Station, our entry to London. The crowds and bustle were our first indication that we had hit the BIG city. After a short stop to purchase Oyster Cards for London Transport, we took the London Underground (or the Tube), to Borough High Street, following Blair's directions, and soon found St. Christopher's Hostel (St C). We were a bit early - the room wouldn't be ready until 14:00 (that's 2PM for all you chronographically challenged folks) so we ate lunch in the St. Christopher's Pub, a noisy but exciting place populated mostly by people under 25.
At 14:00, we checked back, received our key cards and checked out our new London home. It was a tiny room with bunk beds and windows facing on the alley below. Bathrooms were down the hall, but that's normal for Hostels. Towels were not included so we stashed our stuff and headed out to buy one. But there were no towels to be had in our neighborhood so we had to make do with the hand-towel size one we always carry, following the "Never travel without your towel !" admonition from the movie 'Hitchhiker's Guide to the Galaxy'.
Neither of us had visited London since the '70s (Blair) and '80s (Susan) so we set out to reacquaint ourselves with the City. The Boroughs Market was just up the block (left below), reminding us of the Spanish markets we had frequented in Barcelona and Madrid. We walked on, across the new (1973) London Bridge, savoring the views of the Thames and the old Tower Bridge (right below), the new Thames riverside walkways, and the centuries-old financial quarter.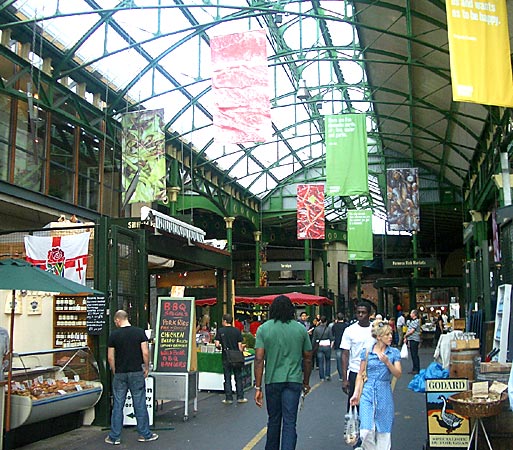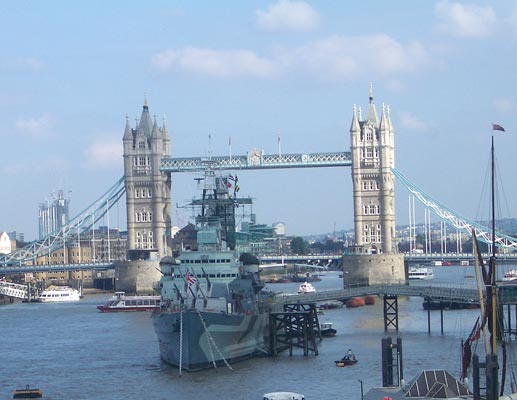 After a dinner with pints of ale in the St C Pub, we were ready to call it a day. We easily slept through the cheers of rugby fans in the pub below us.
Next morning, we experienced our first St C breakfast - cereal, toast, tea - OK when supplemented with food from the Sainsbury's market across the street. Then we walked a few blocks to the London Bridge Hotel to wait for Hilarie and Terry. Around noon, they arrived - hugs and smiles all around - it was super to see them! Their room would not be ready until 14:00 (must be magic hour for London hotels) so we found a nearby cafe for lunch. After, Terry wanted see the Thames so we all walked across London Bridge and shared the sights we had experienced yesterday. By now, they could now check into their hotel and retired for a nap, leaving us to resume towel shopping.
We took the Tube to Harrod's to buy a real English towel. We both remembered past visits to this grand and venerable store and recalled its role as epitomy of British merchandising. Once inside, we were impressed by aisle after aisle of classy, mostly rather expensive items. We bought one of their less expensive towels and then looked at antique maps (true historic editions), wandered through the toy department, and into the cafe where we shared a milk shake. After this small and quite sufficient taste of British shopping, we took the Tube back to London Bridge to meet Hilarie and Terry, now rested up.
We all boarded a red bus to ride to Covent Garden. We walked past the Piazza, an old 1830 iron market building, now classy shops, and through the old streets in search of a place to eat. The Cambridge, a classic pub, was just what we wanted. We enjoyed a nice dinner washed down with ale, wine or hard cider, sharing news and views (picture below).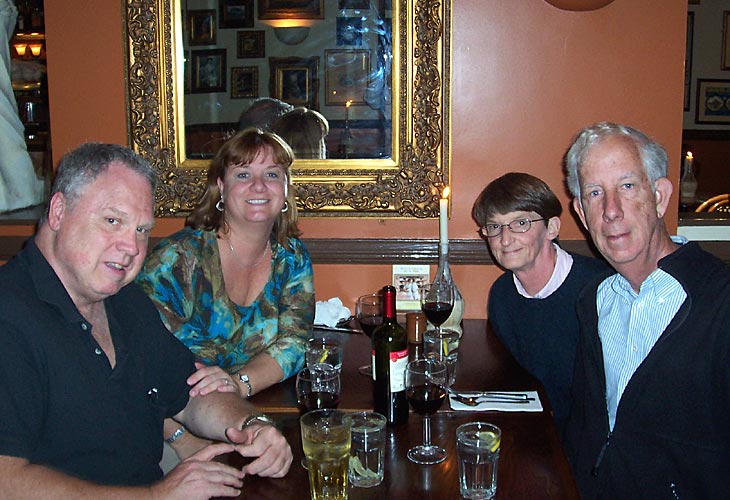 We realized that we'd need to just get over any concern about the HIGH cost of everything! Walking back to catch the bus, we joined throngs of folks out strolling on this lovely September evening.
Next morning, the London Eye was our first stop - we all had agreed that this was a MUST DO ride! This giant Ferris wheel rises across the Thames (below left) from the Houses of Parliament. We queued up and jumped aboard the giant transparent capsule as it rose slowly into the air as the huge wheel turned. The views of London were spectacular in all directions (below right). Before long, we had made the whole circuit and would have gone around again, if we could.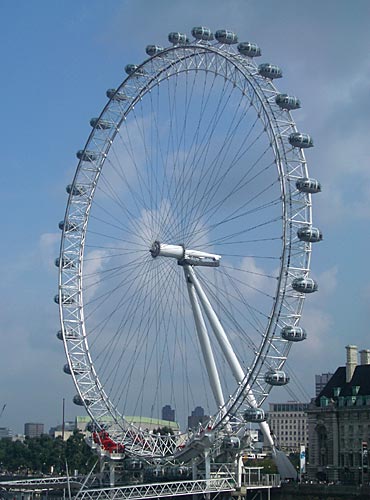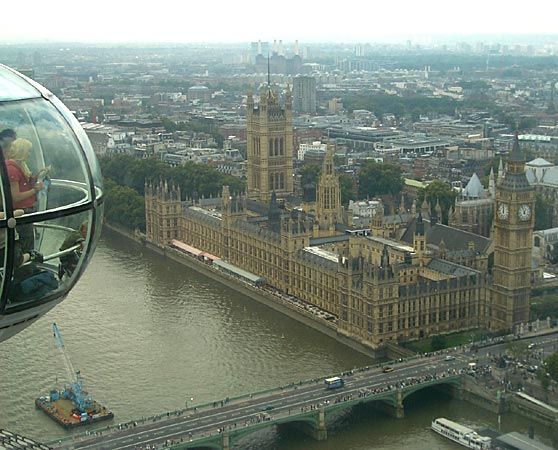 Instead, we walked past Royal Festival Hall and caught a bus to the British Museum. This regal building (top left) houses an astounding array of treasures and artifacts from the world over. In the few hours we spent, we focused on just a tiny fraction - the Rosetta Stone (top right), wonderful Ancient Egyptian items (bottom left), and a wonderful exhibit that traced the history of Islam (bottom right).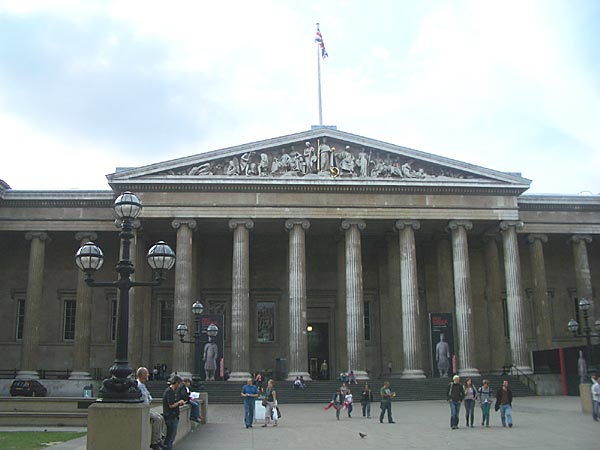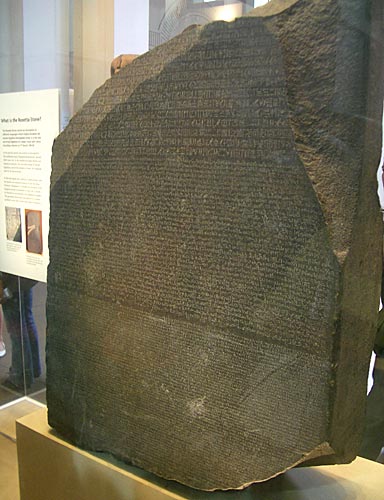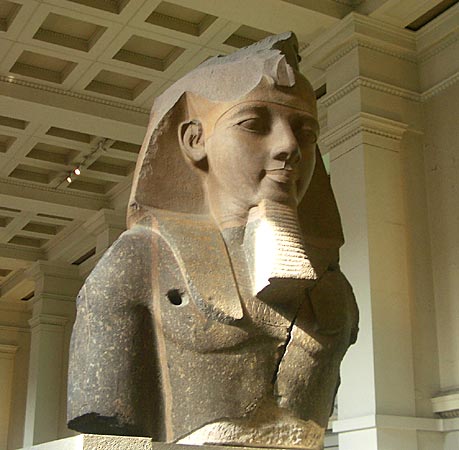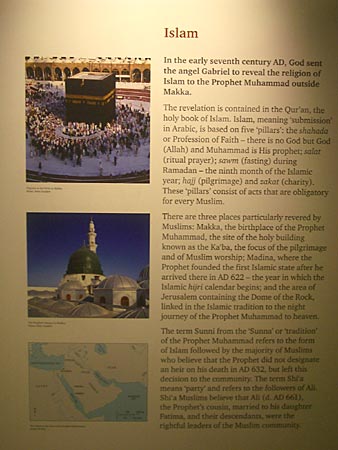 In the evening, we hung out at The George, an ancient pub, sharing more news and views over pints.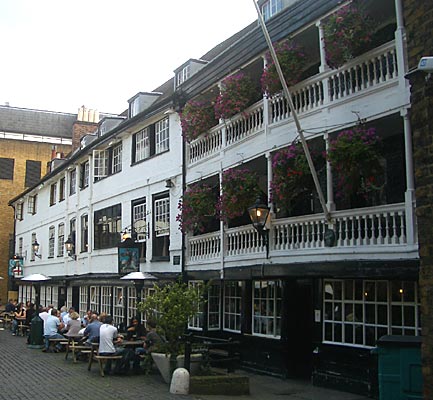 Dover was our destination the next day. We rode a train from nearby London Bridge station, out through the suburbs of London, and on through green rolling country with grazing sheep. The train stopped at the station where the Chunnel trains arrive, then Folkestone, a charming town of red roofed houses nestled in the valley.
Once in Dover, it was a short walk into the town centre where we stopped for directions at the visitor center and then for tea and scones in a small tea shop on main street. The views of the white cliffs and deep blue ocean beyond were breathtaking.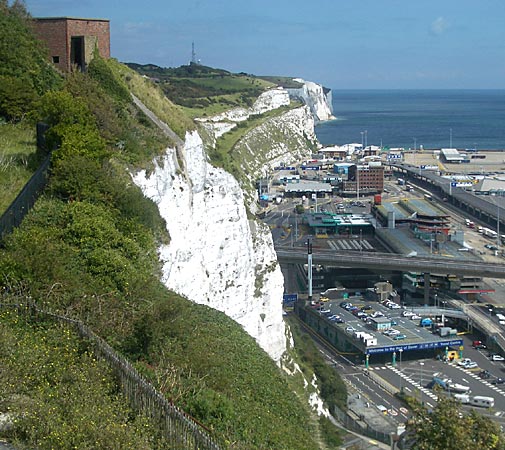 Dover Castle sits atop a high cliff overlooking the town (top left) and it was a climb up steep streets and steps to the entrance (top right). Inside, we stopped for a few quiet moments in the chapel (bottom left) before climbing up, through the massive gates into the castle keep (bottom right). The central mighty edifice was begun in 1200 and through various additions, reached its present state. Seeing it required climbing up and down an amazing number of stairsways but it was well worth the exertion to experience the power of the stone walls, heavy beamed ceilings, great halls, and views from the narrow windows designed for shooting out.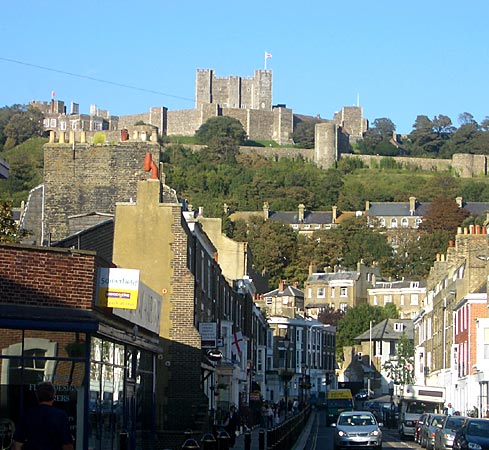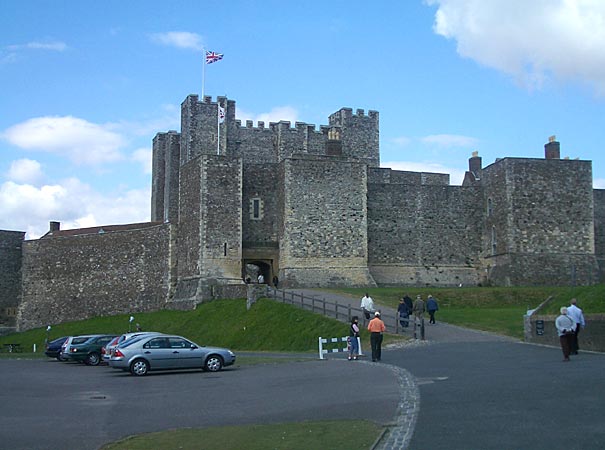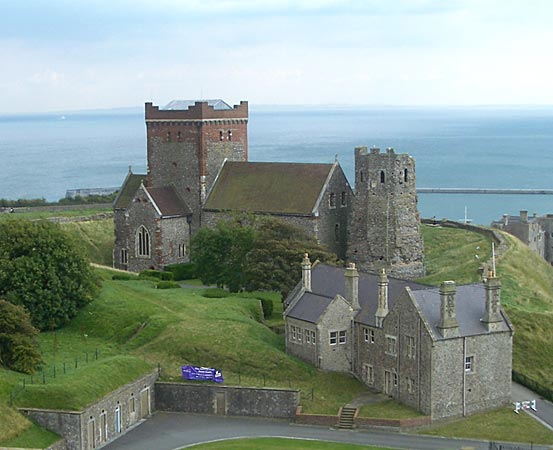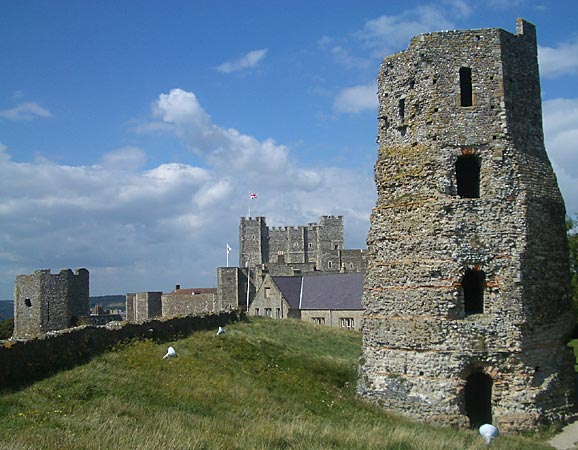 History lies heavy in this place. In the late 1700s, these walls, defended by the British army, defeated Napoleon's attempt to conquer England. During World War II, tunnels beneath the castle were expanded to house the command centre for the operation to rescue British troops from Dunkirk. Ghosts of great people, so significant to world history, were all around us.
We walked back to town with visions of knights in armor, pennants flying, cannons firing, rockets sailing overhead in our heads. The train ride back to London passed quickly and we finished our day of British history with a good pub meal (you may have noticed a trend here).
Next morning, we rode the bus across Tower Bridge to the Tower of London, now looking rather small and quaint surrounded by modern glass walled office towers. Once inside, we traveled back in time to the 11th century as we contemplated the stone walls. The viewing of the crown jewels has had a make over, now with videos to tell the stories of each jeweled crown, chalice, septre and sword. Dramatic lighting and lots of velvet set off these amazing articles. After this, the White Tower offers a view of castle life, collections of armor and ghosts. Outside, there was the site where special people were beheaded - more ghosts here! The Bloody Tower must have the most ghosts in residence. Here Sir Walter Raleigh was imprisoned for 13 years, Sir Thomas More was imprisoned for a year and then beheaded. The young Prince Edward V and his younger brother Richard were held here and both died in their sleep within these walls - killed by whom? History remains uncertain.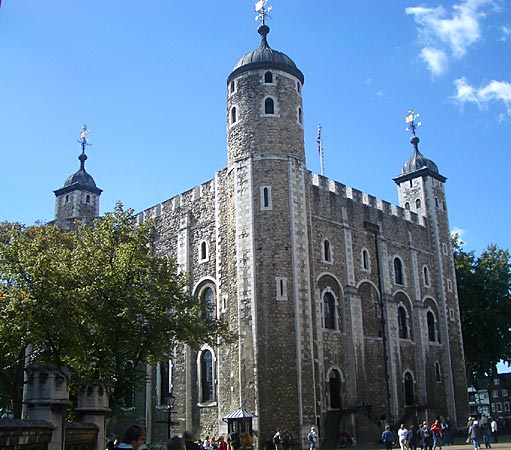 With visions of these ghosts in our heads, we took the bus to Sir Christopher Wren's St. Paul's Cathedral to enter this awesome structure and walk under the high arches between massive pillars, looking at the many stones and memorials commemorating the heroes and warriors now gone.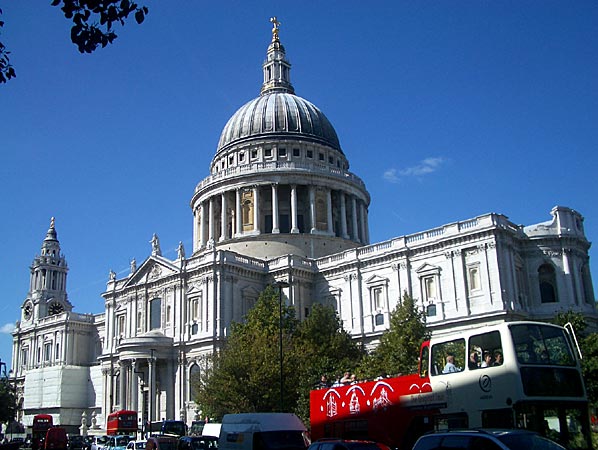 Another bus ride took us through Trafalgar Square, around Picadilly and out to Hyde Park. By now we were hungry so we found a nice Italian restaurant where we shared a yummy dinner with wine, thinking about all the history we had experienced.
Next day, Hilarie and Terry had made arrangements for an all-day tour to Bath, Windsor and Stonehenge. We decided to visit Greenwich and the Royal Observatory, which years ago became the location of the 0th or base meridian, marking the starting point for all navigation on our earth. We took a city bus that traveled through the neighborhoods of London and out to the centre of this historic town on the Thames. The red signal ball at the observatory falls every day at 13:00 as a historic signal to departing ships so we walked through the observatory grounds and up a hill for a good view (left below). After this historic event, we stopped for a nice lunch at a tea shop and then visited the observatory, learning about the history of navigation and joining crowds at the Greenwich Mean Time, or GMT line (below right).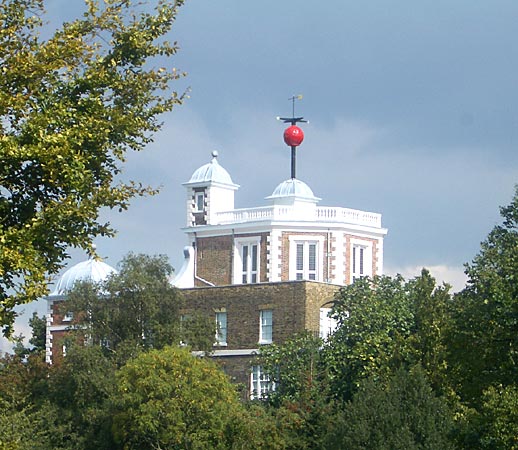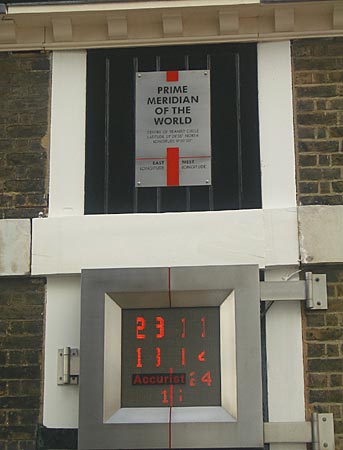 Below us was a nice view down to the famous buildings of the Naval School designed by Christopher Wren, with their elegant domes. In contrast, across the Thames loomed the modern glass towers of Docklands.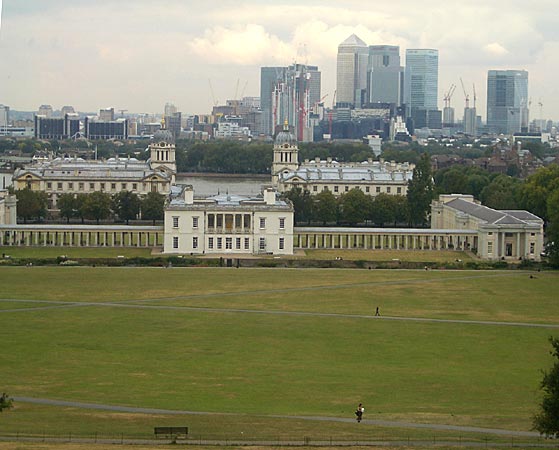 This view of Docklands piqued our curiosity, so we walked through 1902 vintage tunnel under the Thames.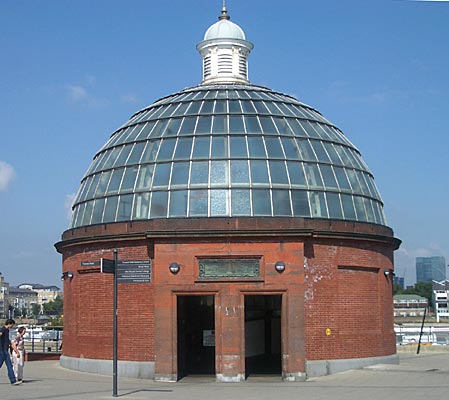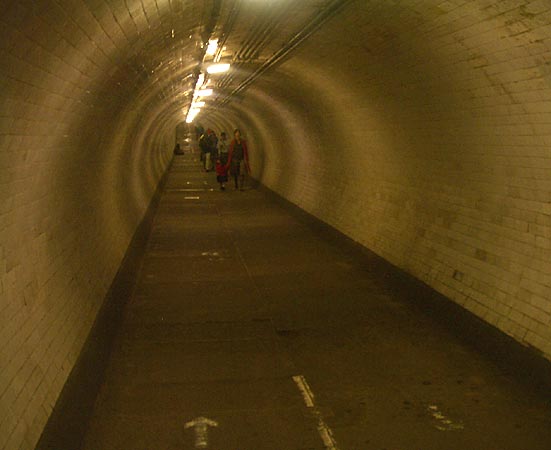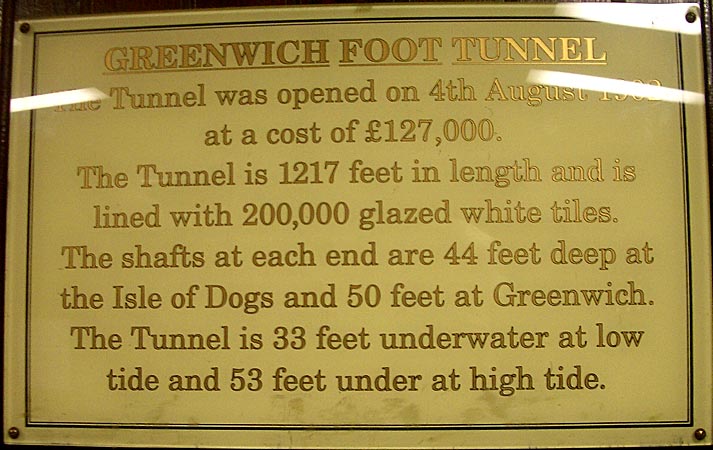 Once on the the opposite shore, we looked back across to admire this historic place.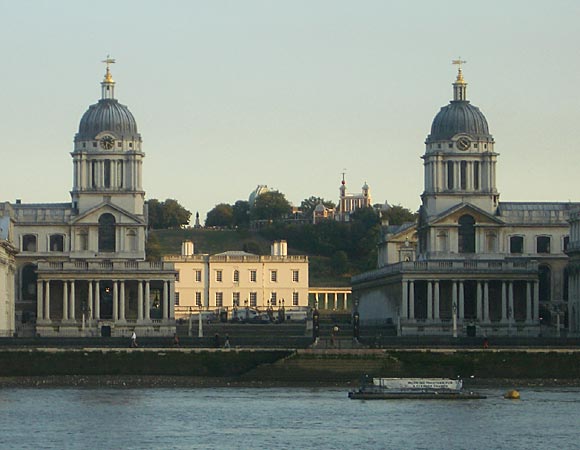 We then caught the Docklands Light Rail, London's newest addition to its transit system. As we rode back into London, we realized that someday soon, we must return to explore this major regeneration and transformation of the former steamship docks and industrial quarter into a sustainable community of residential, retail, commercial, and industrial development!
On our last day in London, we rode the Tube to Westminster Station to walk to the parade ground to watch the changing of the horse guards. The ceremony was precise, the horses were graceful and very disciplined, the riders sat perfectly (left below). From here we walked around other famous government buildings, such as Number 10 Downing Street (right below).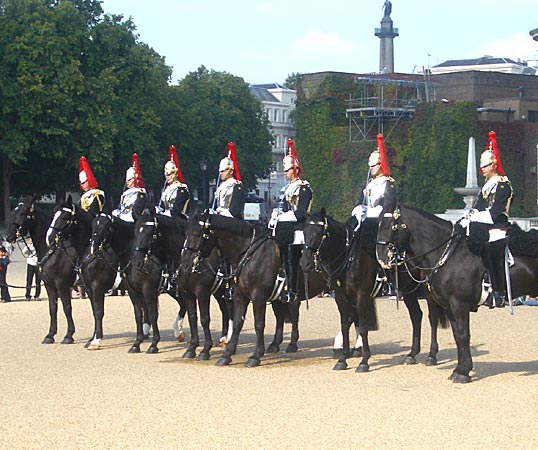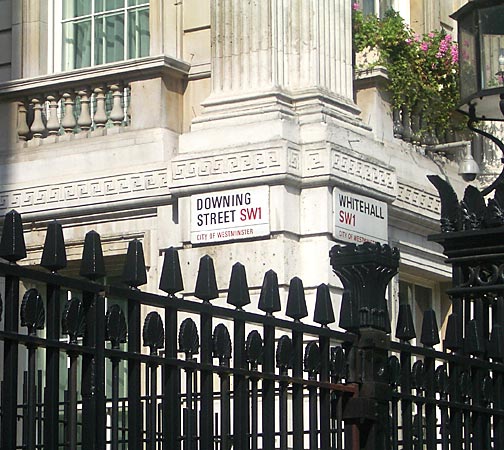 Further along were the Houses of Parliament and Big Ben (left below). Then on to Westminster Abbey (right below), so essential to British history! The bones of great men (many) and great women (few) lie here under the stones of this grand old cathedral.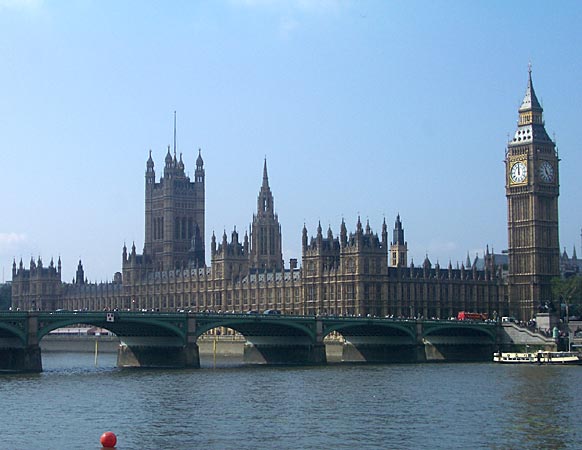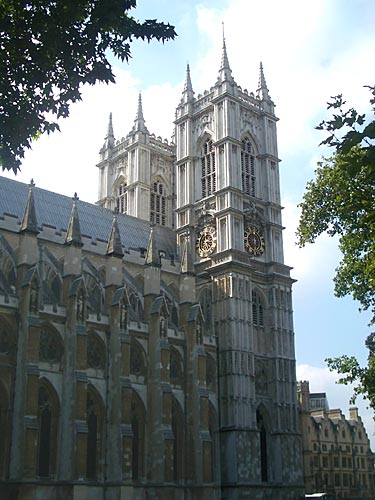 Continuing our exploration, we walked past Buckingham Palace, and then on to Picadilly Circus (left below), and Trafalgar Square where Nelson stands on his tall column (right below) in front of the National Gallery, another great place we will visit next time!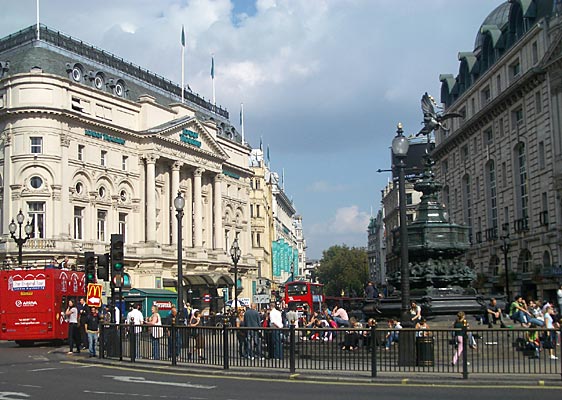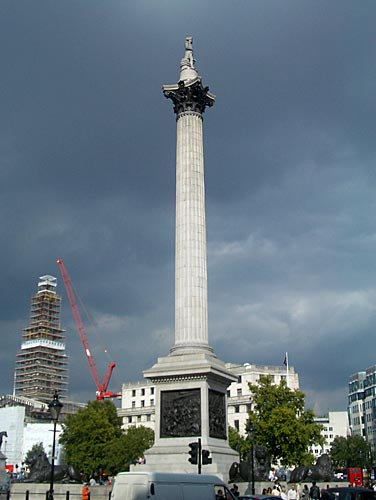 We all agreed we had done well but we were tired and had seen all we could on this visit! A Tube ride home was the right thing to do. We walked through Boroughs Market and found our way into Market Porter Pub for a pint and watched the gathering after-work crowd - quite a cultural study!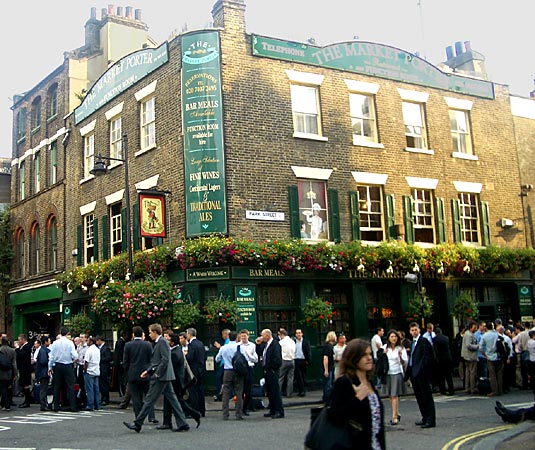 For dinner, we revisited the Royal Oaks Pub, a real neighborhood gathering place, for a real English dinner. After dinner, we shared goodbye hugs and agreed it had been a great London Exploration!
Click here to return to Our Travels in Europe - Summer of 2007 page
Click here to return to our Searching the World page