The Regeneration of Manchester


Manchester in Northwest England was our last urban exploration of the summer. We traveled there by train from London after our grand week of being tourists with Hilarie and Terry .
What drew us to Manchester is that this city and the surrounding ones formed the quintessential center of Britain's Industrial Revolution, was one end of the world's first intercity railway, and also the place where shipments of American cotton were spun into thread and woven into cloth. This highly profitable industry (for the owners) began early in the 19th century, sagged during the American Civil War when shipments of Confederate cotton were blockaded by the Union Army, picked up afterwards and was active and remained lucrative until well after World War II. In the 1950s, mills began to close and stood derelict, bearing witness to that earlier time of great prosperity, waiting for the time to come when new uses could be found for these great buildings of dark red brick.
For the next 40 years, Manchester and the surrounding cities of Lancastershire struggled to reinvent themselves, finding prosperity in shipping and food manufacturing. Then on June 15, 1996, the day before Father's Day, a massive IRA bomb exploded in the city's main shopping centre, injuring over 200 people and turning a swath of retail and office buildings into rubble. In response, the people of Manchester rallied and in just one month after the bombing, a design competition was launched which provided a creative and cohesive plan for rebuilding. Reconstruction began soon after with financial support from Central Government and formation of a new City Centre Task Force, Millennium Manchester Organization.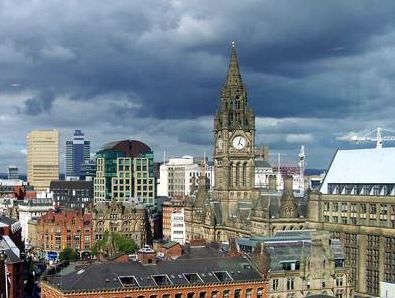 Four years later, the devastation had been transformed; the heritage buildings have been rebuilt or restored. The old Corn Exchange was reborn as the Triangle, with shops and cafes. Shambles Square including the Old Wellington Inn and Sinclair's Oyster Bar - the two oldest buildings in the city of Manchester - were physically moved some 100 yards to a new Shambles Square location opposite Marks and Spencer. Marks and Spencer was rebuilt completely on the original site, the largest M&S store in the world.
Intrigued by the stories of this transformation and of the continuing regeneration that has taken place in the decade since the explosion, we planned our exploration of Manchester. Our train from London pulled into the modern Picadilly station just in time for lunch so we stopped at a station cafe before venturing out to find the bus to our hotel. We then walked to Picadilly Gardens, a large green square with the bus and Metrolink tram transit center along one side (pictures below).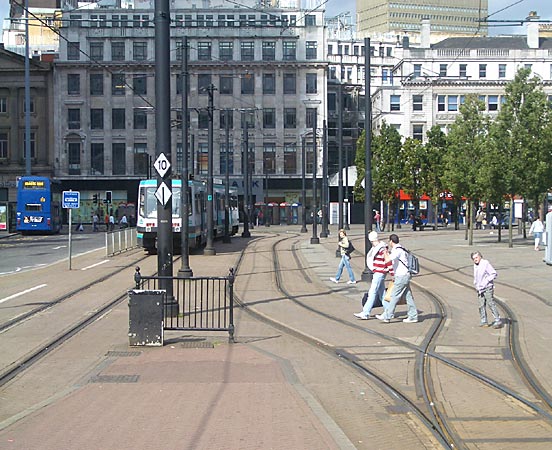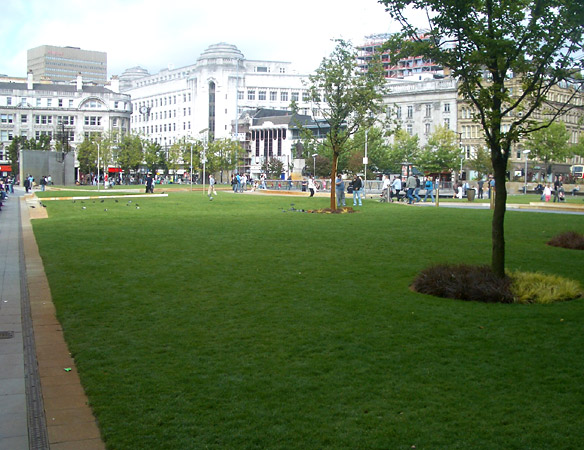 We caught the #43 bus and rode down Oxford Road to the stop for the Elton Bank Hotel. We were welcomed by the owners, a Chinese couple, and checked into our pleasant room - very luxurious after the rather spartan St. Christopher's Hostel, and complete with WiFi!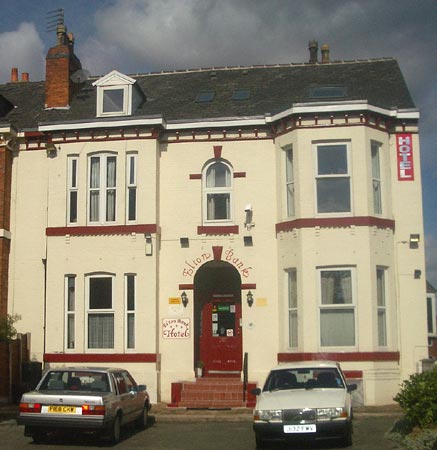 We spent the rest of the afternoon reading about Manchester and planning our exploration. That evening we walked to Oxford Road and discovered we were at the south end of about a mile of Middle Eastern, Indian and Asian restaurants (left below)! We walked past shop windows featuring saris in rainbow colors and other Indian and Middle Eastern goods (right below) and picked a restaurant, Punjab, where we feasted on the best Indian food we had eaten since our time in India, last year.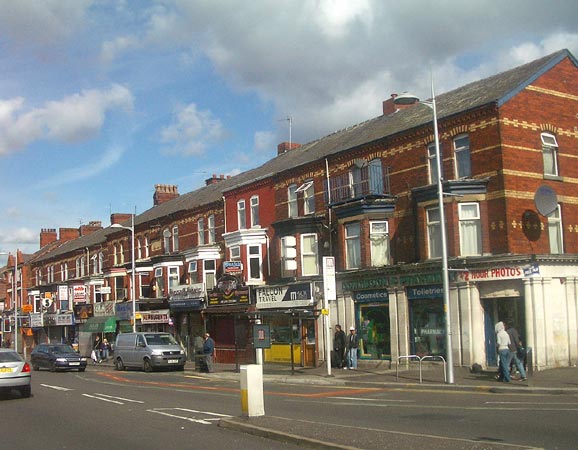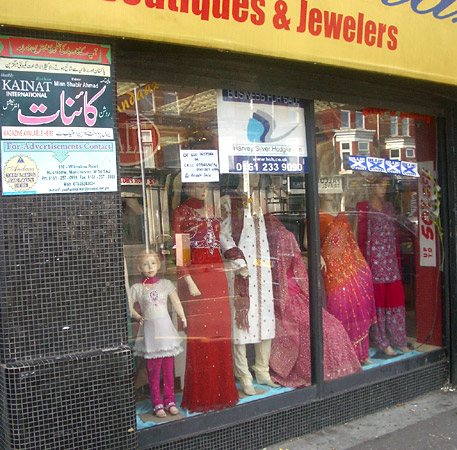 The next morning, after a good English breakfast, we walked out to explore. We caught a bus into the city center and headed to the Visitors Centre where we were given maps and other information.
First stop was the Bridgewater Hall (left below) where we bought tickets for the opening concert of season that evening. What luck ! Next, we rode the free Metro central-city Shuttle to the Rylands Library, a grand gothic-style building of dark red stone that houses the Rylands Collection of rare and ancient manuscripts and books. We were enchanted by the structure (right below) and their wonderful collection and also enjoyed a yummy lunch in their cafe.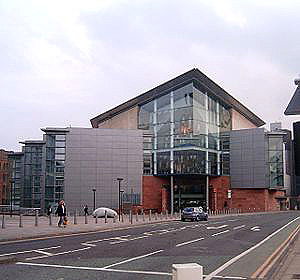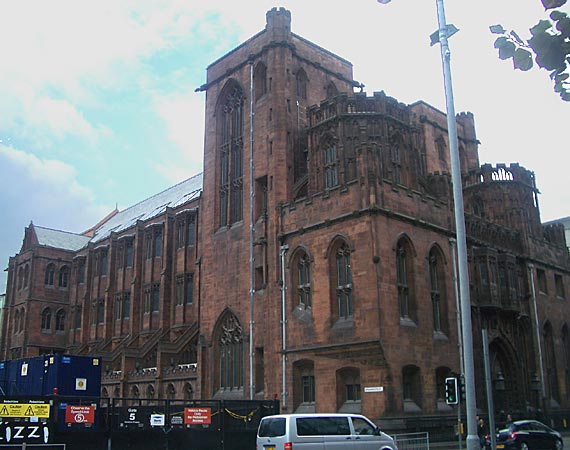 Nearby was Lincoln Square, which celebrated the apology our 16th President had sent to the people of Manchester for causing economic hardship resulting from the blockade of Confederate cotton destined for their mills.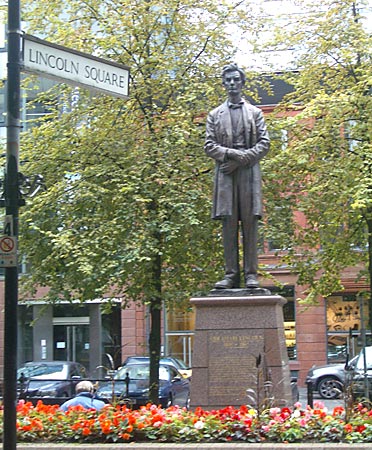 Our exploring took us to the Midland Hotel, a wonderful reminder of the affluent days of the late 1800's.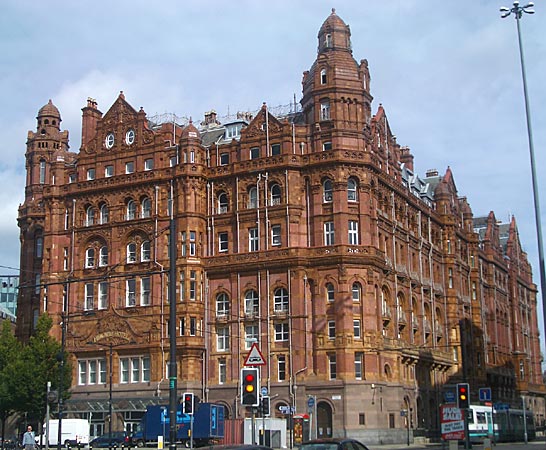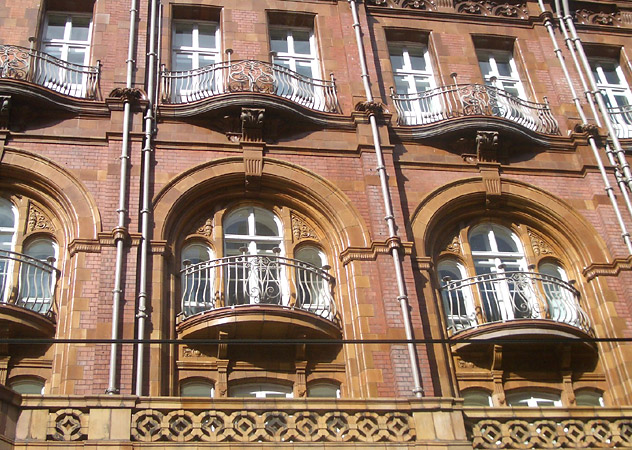 Walking and riding the Shuttle, we discovered the expansive city centre sporting a surprising array of retail shops and department stores: Selfridges, Marks and Spencer, designer stores, and more, especially along pedestrian Market Street. The older buildings were dark red brick and these were interspersed with glass walled towers, creating an eclectic, pleasant urbanity (pictures below).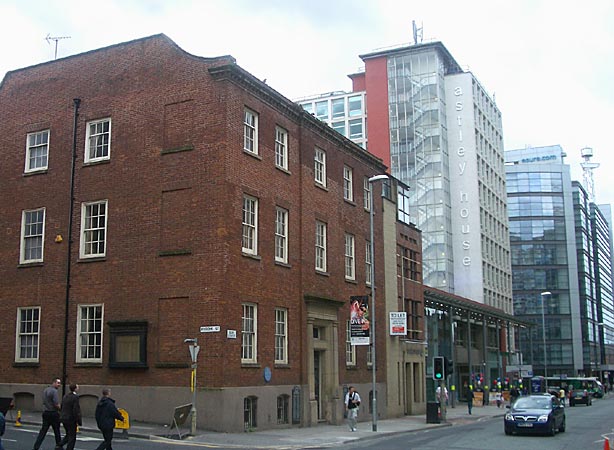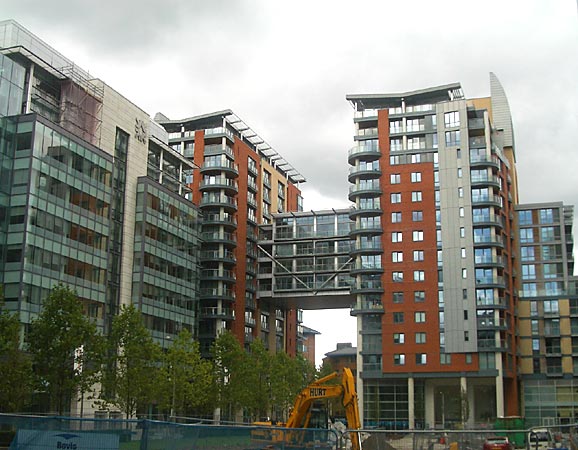 The phenomenal number of people out strolling, eating ice creams, shopping and hanging out in outdoor cafes on this sunny day was phenomenal, reminding us of the 'cafe life' that we had enjoyed in Madrid and Brussels.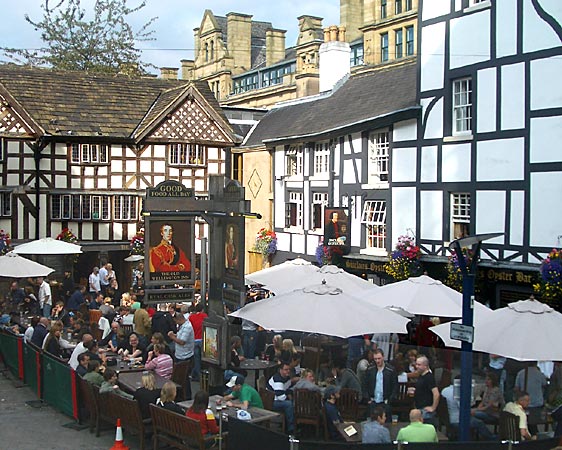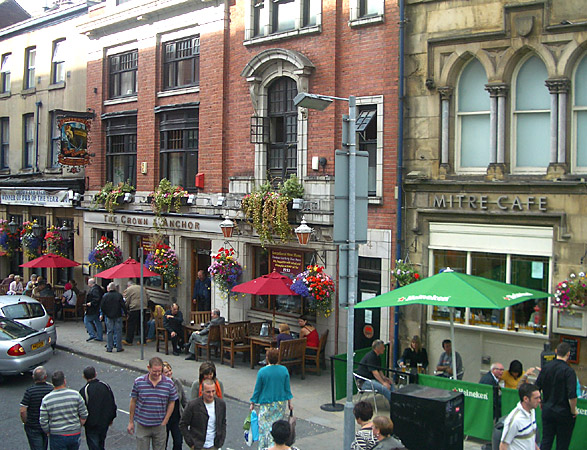 Late in the afternoon, we headed back to the Bridgewater Hall area, ate dinner in an Italian Cafe filled with other concert goers and then proceeded to the stunning concert hall where we heard an equally stunning concert. After, we joined the crowds on the streets to catch a bus to the hotel.
Next day, we visited Urbis, an exhibition centre of city life, housed in a striking shimmering green glass structure (pictures below). It is one of the few stand-alone buildings in Manchester's centre, set in Cathedral Gardens, a new green space in Manchester's Millennium Quarter. The exhibits explored aspects of urban culture and Manchester's (loud) music scene.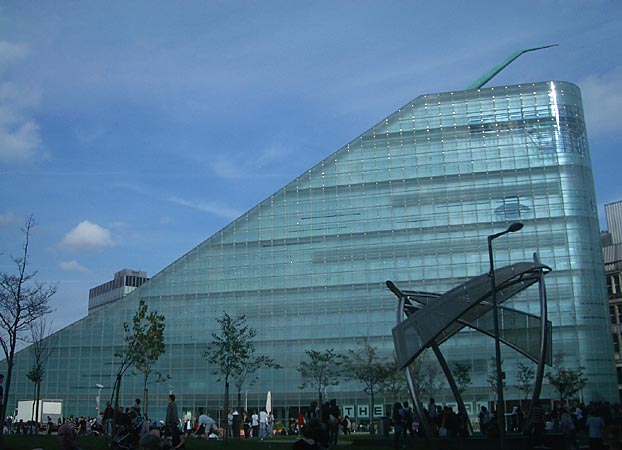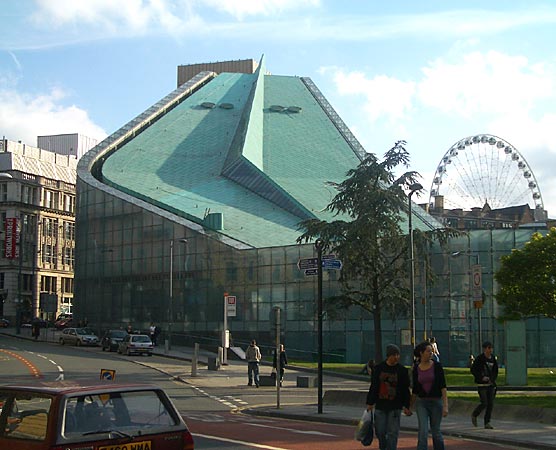 Rain drove us back to our neighborhood to find refuge in a friendly pub, followed by a falafel dinner in a small nearby cafe, enjoying watching families come in for a Sunday meal together.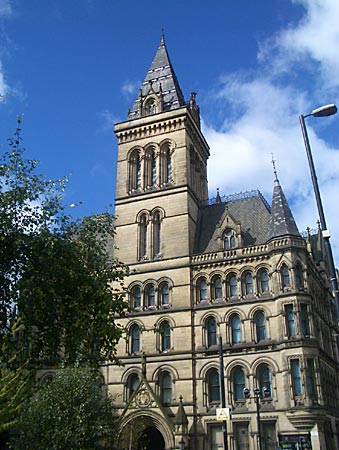 We returned to the city centre the next day, a Monday, to visit Town Hall (picture at right) and the City's Planning Department.
Dave Robinson of their Central Planning Team told us more about Manchester's transformation. He reported that demand for residential spaces, apartments and lofts, was high. The current population of 12 to 15 thousand is expected to grow to 25 thousand in the next few years.
'So many want to live in city center, it is becoming an urban suburb', he said. He went on explain that the 'Ring Road' tends to discourage people from walking from the centre to the parks and green areas just outside the urban core. Pedestrian friendly crossings are the key to connecting the City Centre with the greenways, parks and schools in outlying neighborhoods. He suggested we visit Hulme, a neighborhood of workforce homes just beyond the Ring Road.

Hulme's story goes back to the Industrial Revolution when the smoking chimneys of mills blended with the rainy weather to produce continuous gloom. During the first half of the 19th century, the population increased 50 times! Houses were crammed into limited space and living conditions were appalling. Conditions in Hulme drew world attention to Manchester, to the Industrial Revolution and to the implications of uncontrolled industrialization. One bright spot in this dismal state occurred in 1904 when Henry Rolls and Charles Royce set up their Rolls Royce motor car factory here.
Manchester began slum clearance In the 1960s; Victorian Hulme was demolished and replaced with concrete tower blocks "of such ugliness and severity that they soon became universally unpopular as places to live." We recalled similar experiments in Chicago and St. Louis that failed dismally as well. These towers, in turn, were demolished in the early 1990s to make way for row houses and gardens, shops and cafes, schools and parks which have been much more popular. We followed the pedestrian walkway under the ring road to Hulme (top left) where we found a pleasant neighborhood reminiscent of those in Harlow (other pictures below).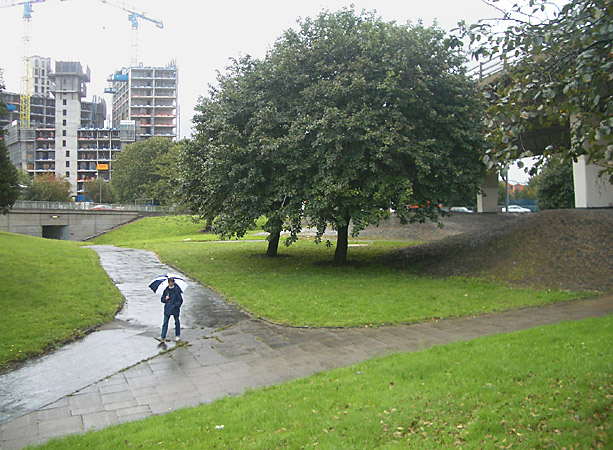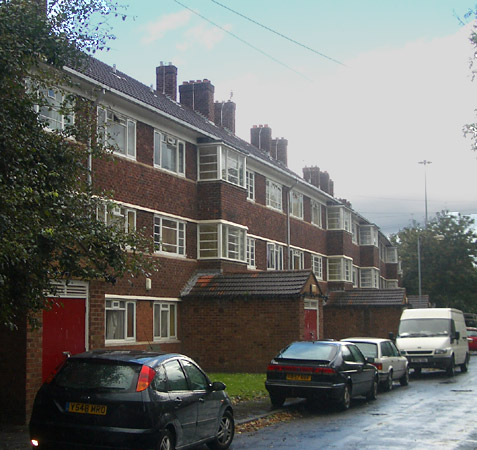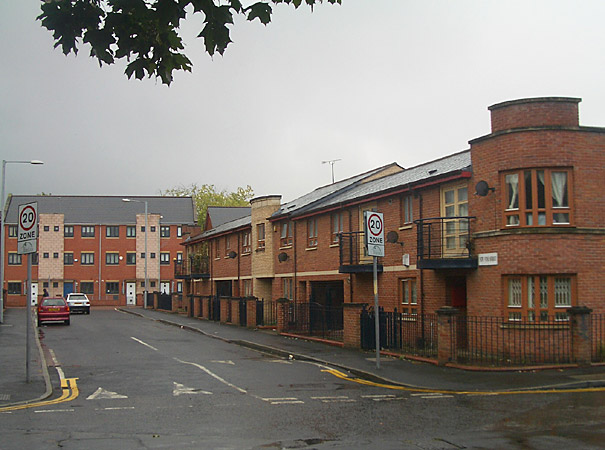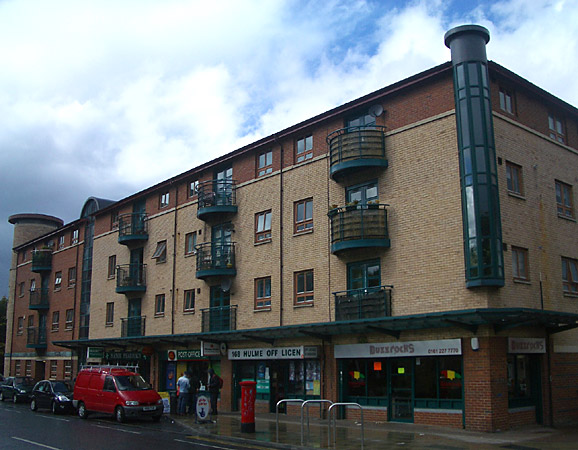 Returning to the centre, we took the Metrolink tram (top left) to Salford Quays, a vast new development of high rise apartments and corporate office towers, an outlet mall, a grand gallery and theatre (other pictures).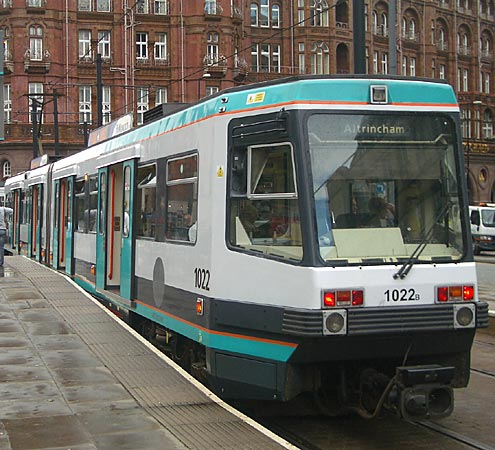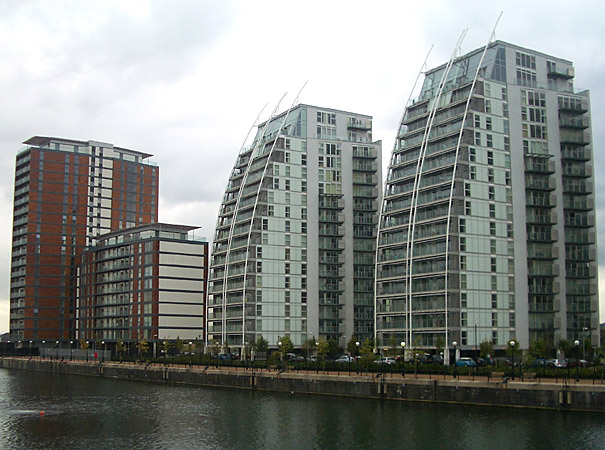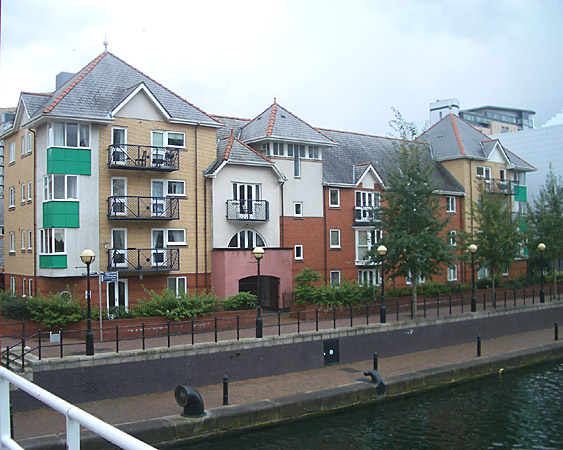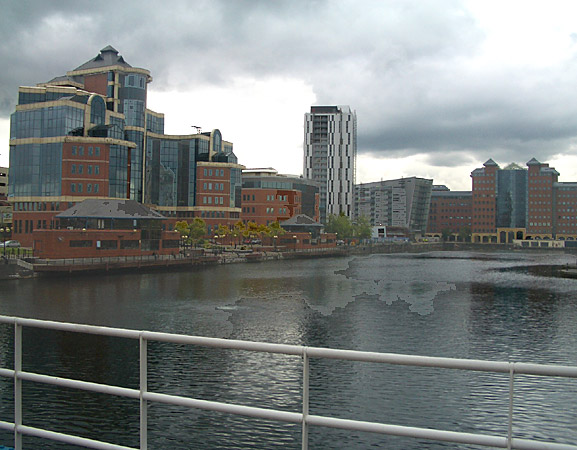 Across the harbor loomed the Imperial War Museum (below left), and the Manchester United football stadium (below right).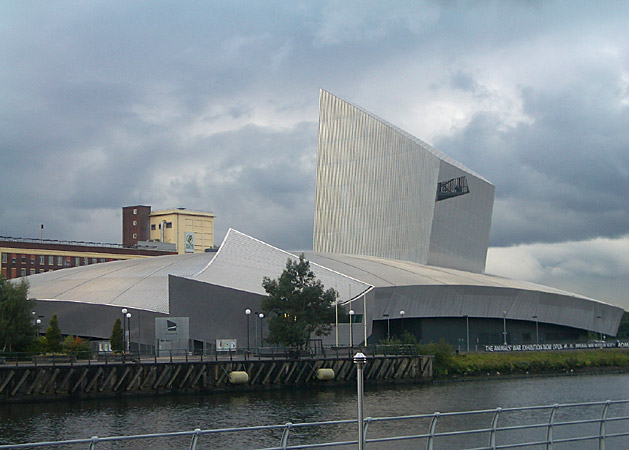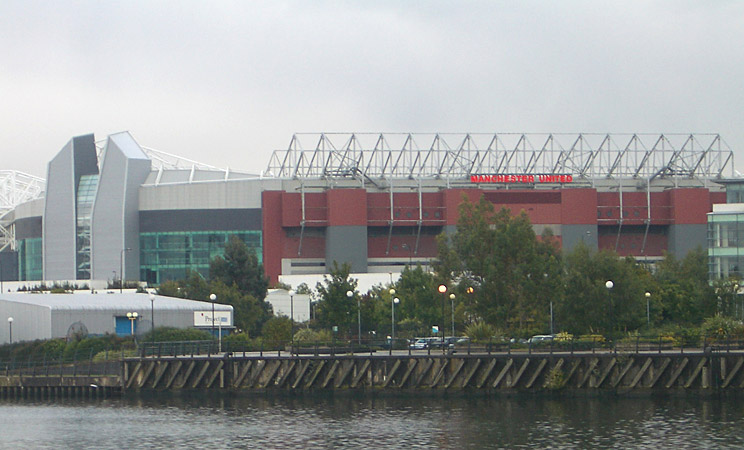 All of this was built where once deserted quays (docks) along canals bustled with shipping activity. We found the scale of this development to be too large to be walkable and the feeling is charmless and sterile and not very 'people friendly' after Manchester's lively streets. We wondered where the residents would go to find a food store?
We rode the tram back to Manchester and the bus to our neighborhood to hang out at the pub for pints and a pub meal of pizza and jacket potatoes.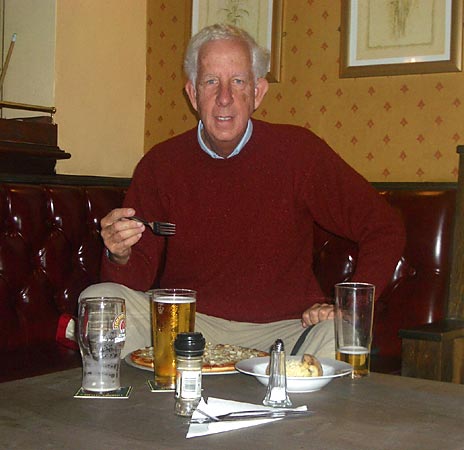 On our final day, a chilly, windy one, we explored Ancoats, the area to the north and east of Picadilly Gardens, where mammoth red brick buildings, formerly mills, and smaller industrial buildings sit along the historic canals waiting to be regenerated into residential lofts, offices and retail spaces. The stock of these solid structures is amazing to us and we wonder if there is enough demand for all of this space. So far, there are only a few retail shops for pioneer residents who might move into the new lofts and piles of trash, grunge and broken sidewalks create a challenging environment for pedestrians. Who lives here, we wonder. How long will it take for the clean up, for shops and cafes to arrive to make this area livable?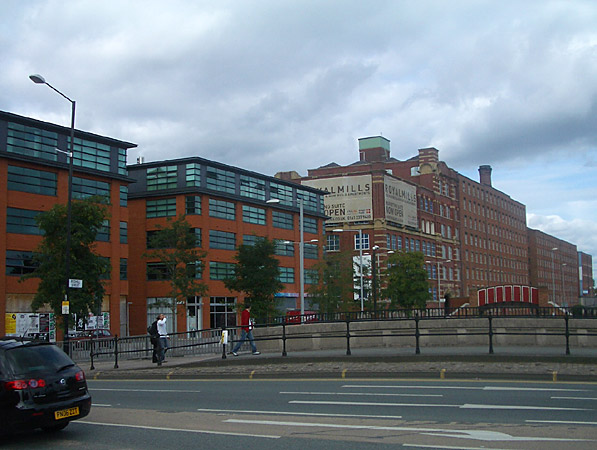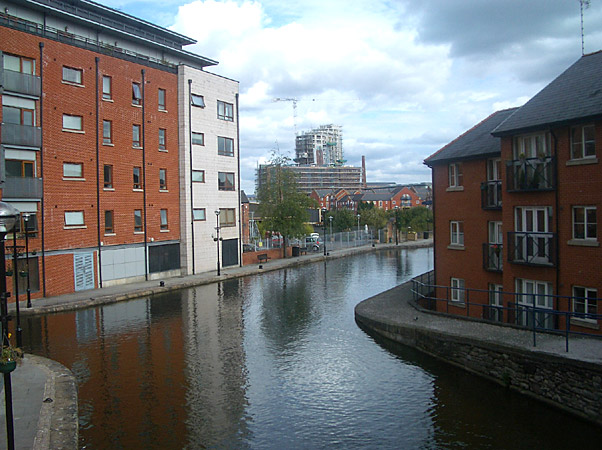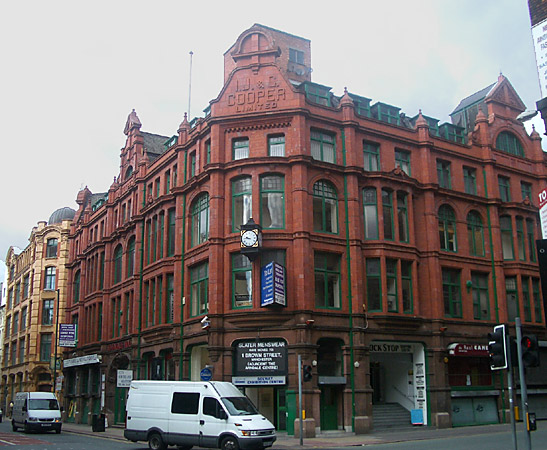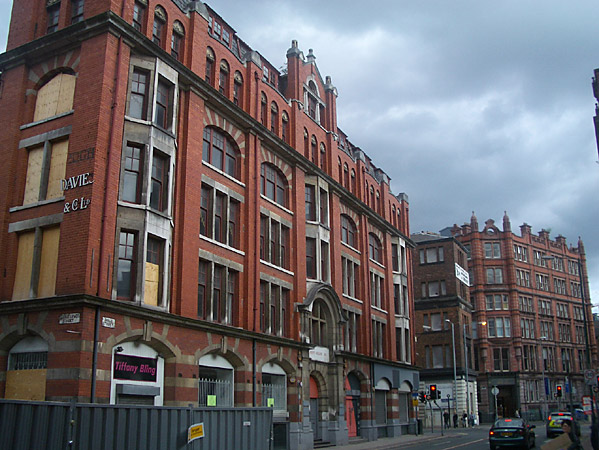 Beyond this area was another world: the Ancoats Retail Park, a megacentre of modern big box stores serving shoppers who arrive by car. As we stood on the edge of Great Ancoats Street we could see the historic brick mills on one side and the great signs and expansive parking lots of the Retail Park. Manchester has a split personality!
Riding back to our hotel, we puzzled over how to interpret Manchester. The City Centre retail seemed to be competing successfully with the retail park box stores. The movement into the urban residential lofts and apartments proves that demand for urban life is high. Yet, transit, except for the Metrolink tram, is primarily buses, so many buses on some routes such as Oxford Road, that there is bus congestion! Clearly, it will take more research to comprehend the process toward creating livable urban neighborhoods here. Much has been accomplished but there is still more to do.
The next morning, we began our journey back to the USA, feeling more than a bit reluctant. Our summer in Europe had been transformative for both of us. Back in the USA, we looked forward to processing all we had learned and communicating with family, friends and, we hoped, a greater audience. Europe has much to teach America!
Click here to return to Our Travels in Europe - Summer of 2007 page
Click here to return to our Searching the World page