Ciudad de Mexico - Living in the Midst of 18.8 Million People


Susan: "How does it feel to be pretty much in the epicenter of 18.8 million people?"
Blair: "It's hard to know - I can't see them all!"
Silly? Not really. The nice urban neighborhood in the Colonia Tabacalera of Ciudad de Mexico (Mexico City), where we had just rented a studio apartment, seemed much like the ones where we had lived in smaller cities - Madrid, Brussels, Rome, and Budapest. Perhaps the traffic along nearby Avenida Insurgentes was a bit busier and more congested but the walkability in the area was similar and Metrobus, a bus rapid transit line, was just up at the end of our block.
Yet, this question had a bigger answer. We knew we were now living in a metropolitan area of 18.8 million and although we would never 'see' them all, we hoped we could visit the places where many of the 18.8 million spend their lives.
The apartment, itself was small, functional, clean, furnished with Internet, kitchen gear, towels, bedding and house cleaning every day - very comfy. We even had a view.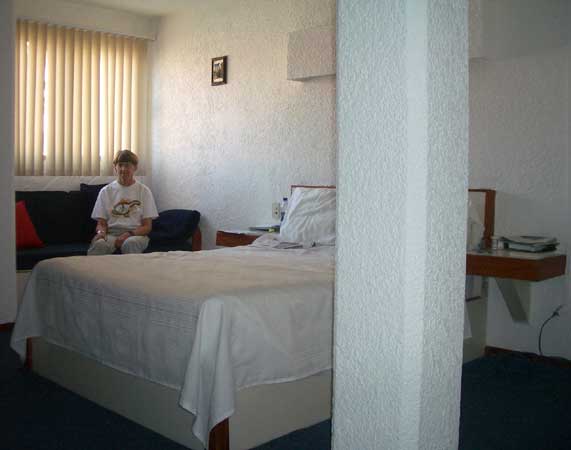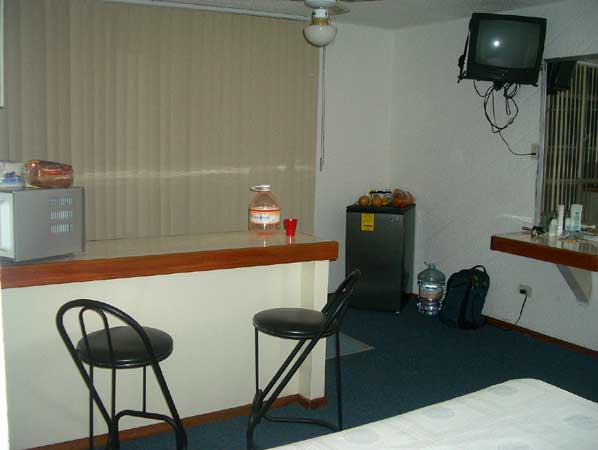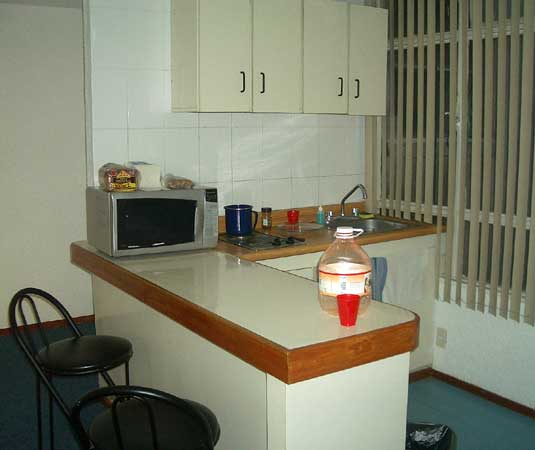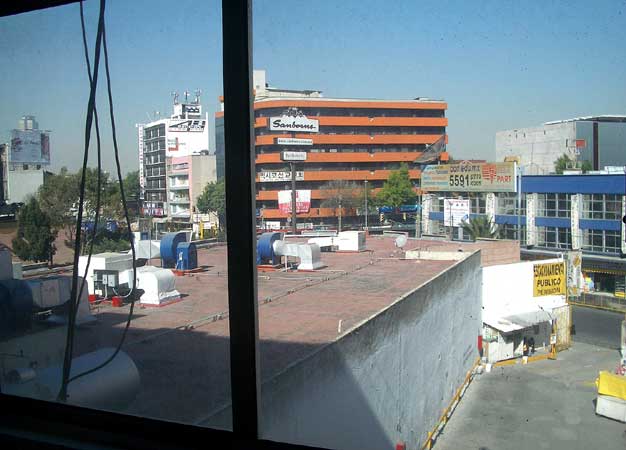 The building security was a bit over the top! We entered the building on the planta baja (ground floor), through 2 locked gates (left below), then rode the elevator to the 3rd planta, passed through another locked gate (right below) to the apartment door with two locks! Plus there was a live-in security man. We felt exceptionally safe en casa.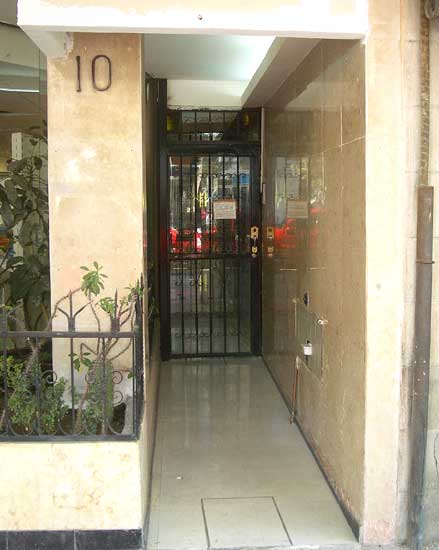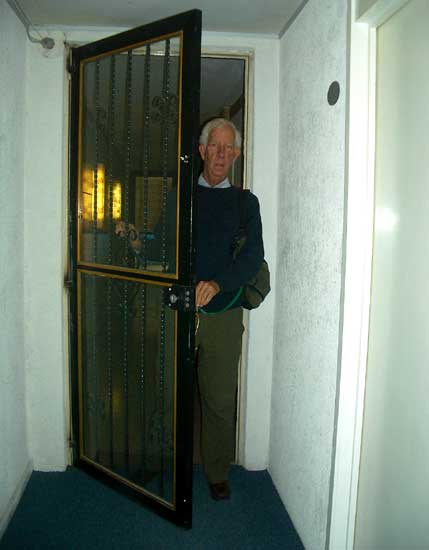 Then there was the issue of drinking water. "Don't drink the water", everyone warned and Internet research confirmed that the drinking water supply here was undependable if not totally unsafe. So, we hauled water in 10 liter bottles, filled a 4 liter bottle for easier handling, carried smaller bottles whenever we were out exploring.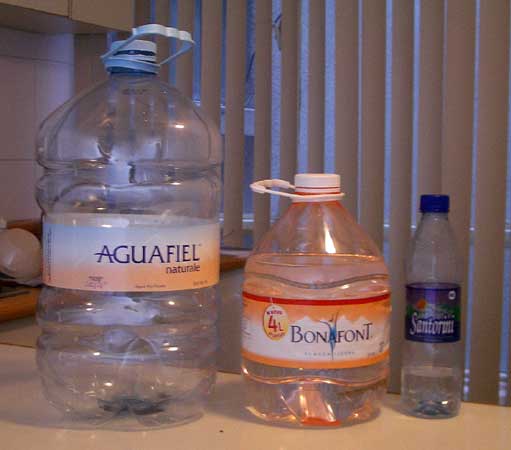 Soon after we moved in, we began to explore the neighborhood. The planta baja (ground floor) of our building had a small shop that sold a variety of drinks and snacks and, most essentially, the 10 liter bottles of agua!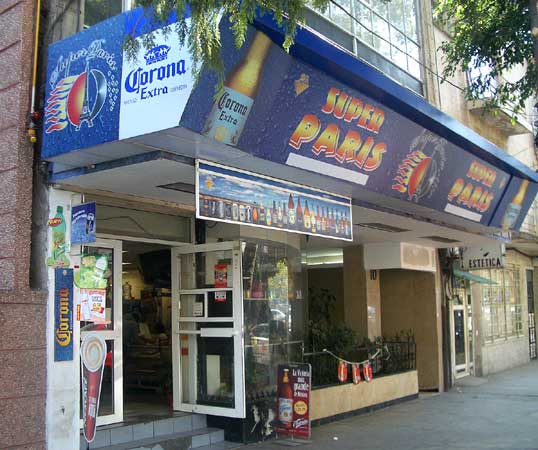 We soon found a good supermarcado (pictures below), a panaderia (bread and pastry shop), a lavenderia (where we leave our laundry to be washed and dried), and farmacias.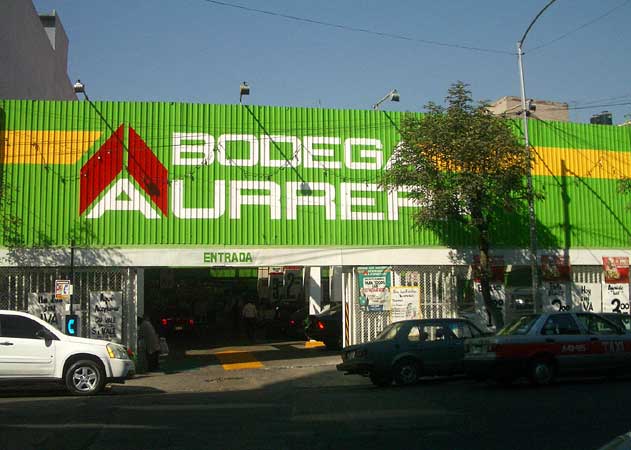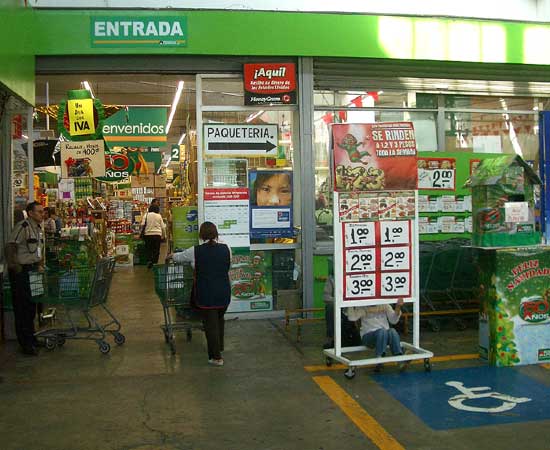 Cafes and restaurantes, from stalls on the street to small places offering comida del dia,(meal of the day), to larger establishments like Sanborn's were all within a radius of a few blocks.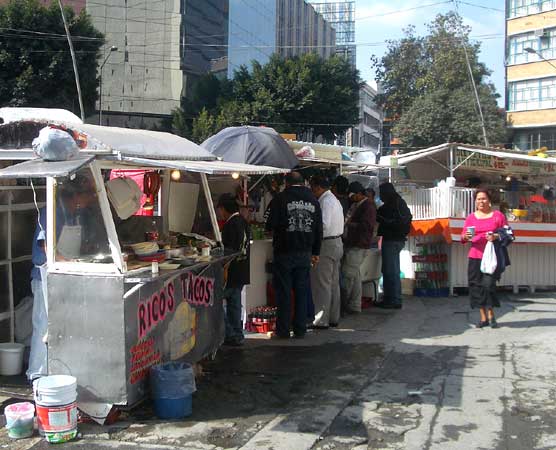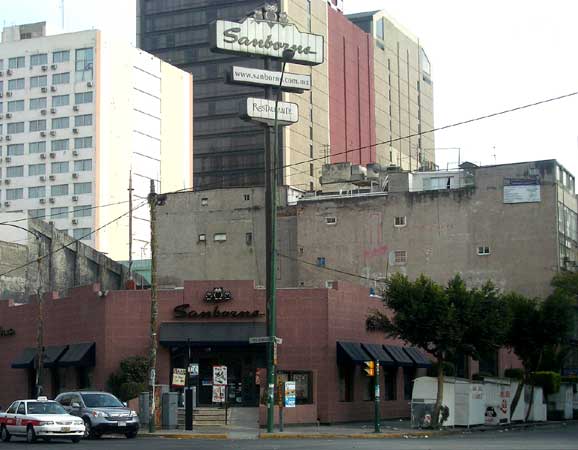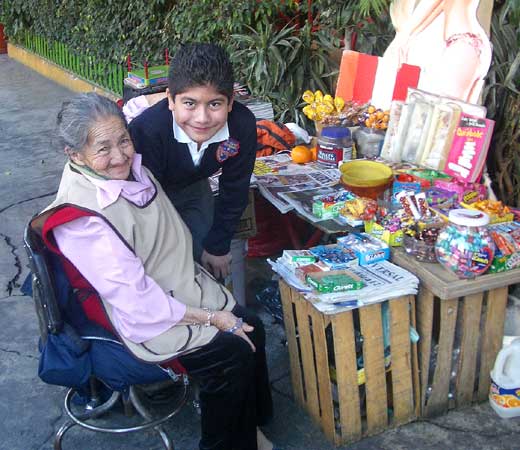 Across the street, a mayor senora (elderly lady) minded a sidewalk news shop that we visit each morning to buy The News, a local daily newspaper in Ingles that covers local, regional, national and International news and includes features on living and a sports section. This is the only local English language paper we have found in all of the cites where we have lived outside the US, with the exception of those in India (and England, of course). Her son and grandson (in the picture at the right) help her out.
Not far away was Casa de los Amigos, the local Friends Meeting House; we had learned about them as we searched for places to stay in Mexico. We hoped to learn more about their work on migration and economic solidarity; another element of our quest to become global citizens. We paid them a visit and they invited us to join them on Christmas Eve for a potluck supper. We made a pot of lentil soup and walked to the Casa where we met new friends, shared great home cooked food, sang carols in Ingles and Espanol, and talked with other American expatriates about living in Mexico, including the possibility of becoming a resident and buying into the National Healthcare System - Hmmmm!
After a few days, we were feeling very comfortable in our little part of this megacity. Life was good as we spent days studying the extensive transit system and joined thousands of other folks at the Zocalo, Chapultepec Park, Avenida de la Reforma and other Colonias (neighborhoods).
We will be adding stories about what we've seen and learned in the near future, so check back now and then.
Click here to return to Our Moving on to Mexico - Winter 2008-2009 page