Our Escape to Mexico Extends From Winter into Spring
December 2016 to April 2017

Late September, with autumn approaching in northwestern England, the weather was turning a bit chilly and damp. Time to head to warmer places for these wimpy Nomads!
After 18 weeks away from the US, we returned in time to witness the drama of American politics and the approach of election day. We began our stay in Charleston, SC, to stay in the home of Blair's brother and sister-in-law, Tom and Nancy while they were cruising the Atlantic from London to Barcelona. We were left to house and dog sit. All was well until it became clear that Hurricane Matthew was heading our way, so we decided to evacuate. We packed up the car and Tilly, their dog, and headed north and west well away from the expected path of the wind and water!
After this unexpected, but quite pleasant, road trip through rural south Carolina and Georgia, we headed back to Charleston to see what damage the storm had caused and thankfully found the house and the neighborhood totally unscathed! Other coastal areas suffered more and our hearts go out to everyone affected.
When Tom and Nancy returned, we headed to Albuquerque for our regular visits with doctors and friends. Next, on to Scottsdale for a brief visit with Hilarie and the final days before the election.
Election Day arrived, Americans voted, the votes were counted, and Donald Trump won, becoming President-elect even though Hillary Clinton won more popular votes. We were jarred into the realization that the world now faces a totally uncertain future, and find it disturbing that many Americans do not share our world view at all.
Puerto Vallarta
A week later, we escaped to Puerto Vallarta, where people are so friendly, and where we are able to be selective about the news and information we read and the work we do. The weather is balmy and the living is easy. We were able to think more clearly, gain perspective, regain hope, share ideas about the future, write stories, and go for nice walks along the Malecon.
PV has been our winter time Home Base for many years and we're very much at home there. Amigos welcome us there and we find great delight in morning playa walks, and strolls along the Malecon, with stops for a cervesa on many occasions. Further along, the Rio Cuale offers verdant riverside strolls, highlighted by iguana spotting. A short bus ride away, we always take the boat ride through the mangroves of the Estero Salado to spot wildlife including crocodiles! We find great joy in these natural world connections!
Click on the following links to read our earlier stories about life in Puerto Vallarta: 2013 and 2008 (open in a new window)
Mazatlan
This year we decided to experience another Mexican Pacific Coastal City, Mazatlan. Just before Navidad, we packed up, said Adios to our PV amigos, and boarded a bus to head north through the mountains, past the agave fields, and on up the coast. We arrived in the evening, met our new host, Elizabeth, and checked into her roomy apartment.
We celebrated Feliz Ano Nuevo and spent the month of January discovering this delightful city!
From our comfy and pleasant apartment in the Centro Historico, a short walk took us to Plaza Machado, ablaze with holiday lights and poinsettias for the holidays.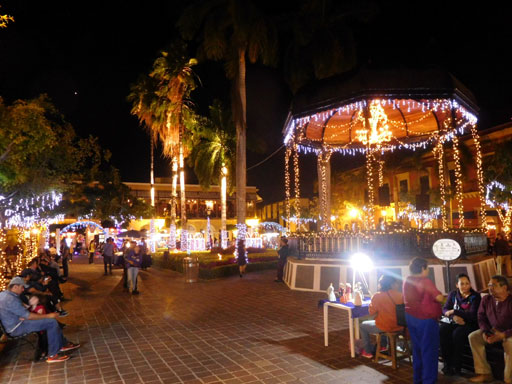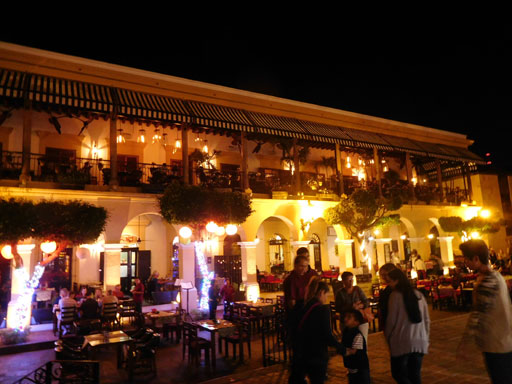 Returning frequently, we enjoyed the classic buildings, surrounded by restaurants, and often filled with music and crowded with people - locals, expats, and visitors.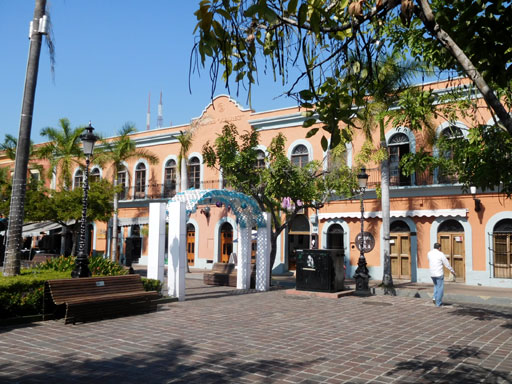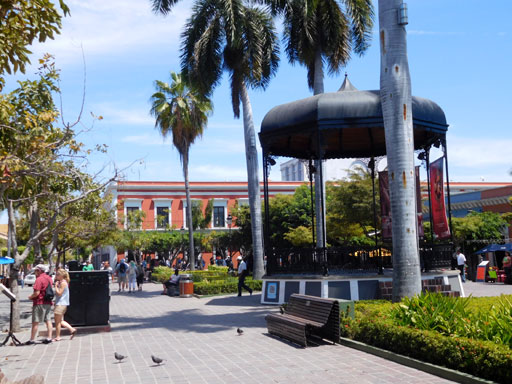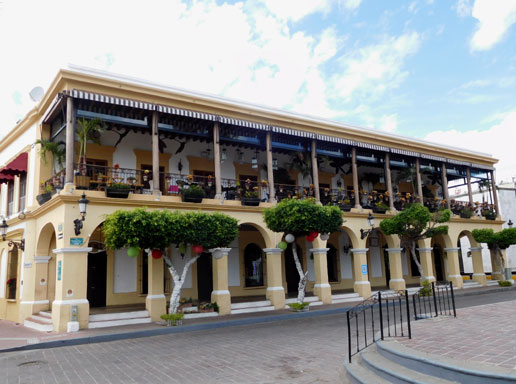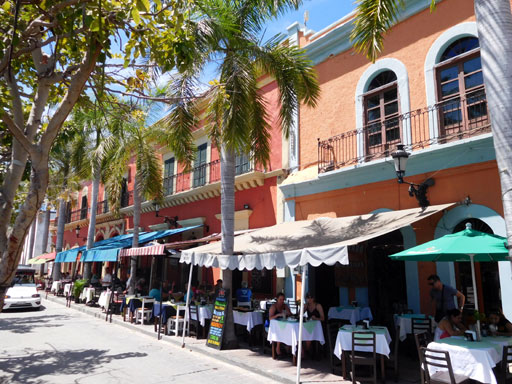 A short stroll away in another direction, is the busy and verdant Plaza Republica with plenty of shady benches excellent for people watching, overlooked on one side by the Cathedral and on another side by Ayuntamiento (City Hall). There's a gazebo in the plaza's center where musicians, singers and dancers perform often.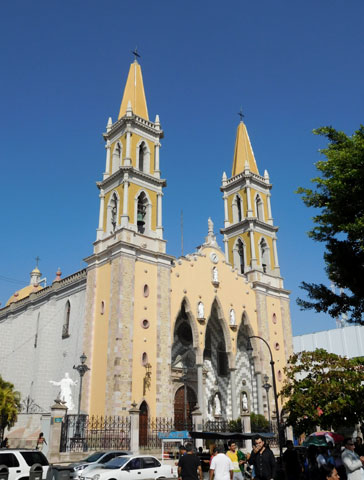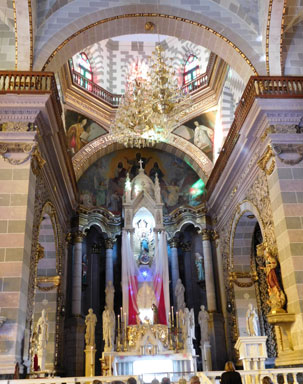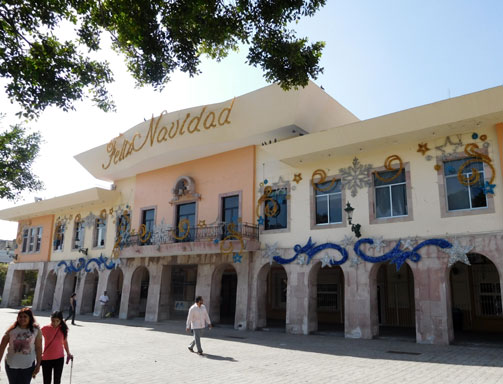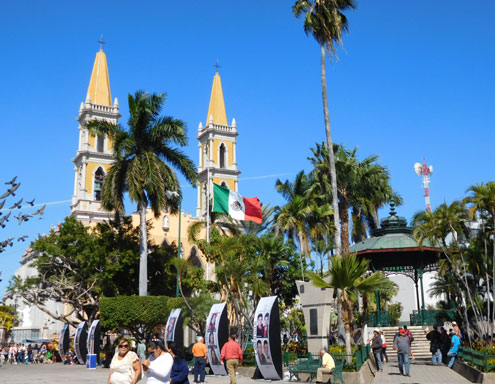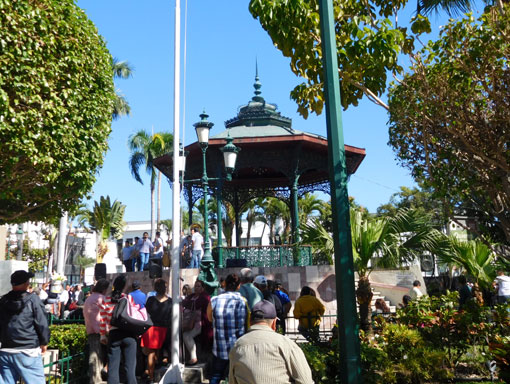 Then on Sundays a big stage appears, big crowds gather, and music, dancing, and comedy entertain the folks. One Sunday, there were flying bicyclistas!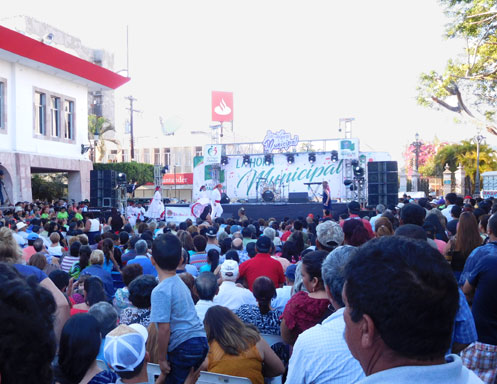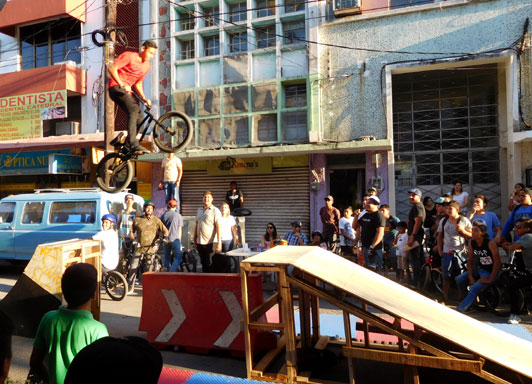 Just two blocks further was the Mercado Central, a maze of stalls, selling frutas y verduras, carne and fish of every sort, plus an amazing range of other comida, clothes, trinkets, phones..... The mercado is surrounded by a multitude of additional stores and shops just in case you did not yet find what you were looking for in the Mercado.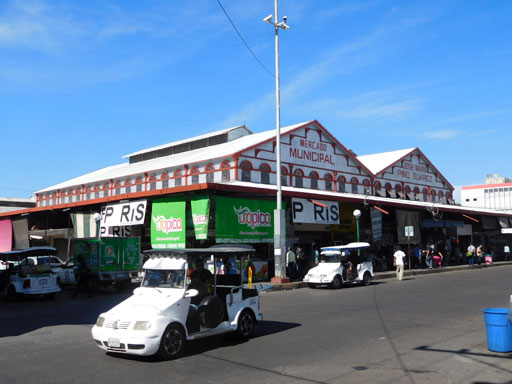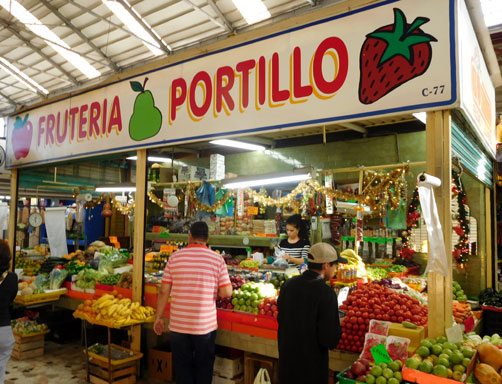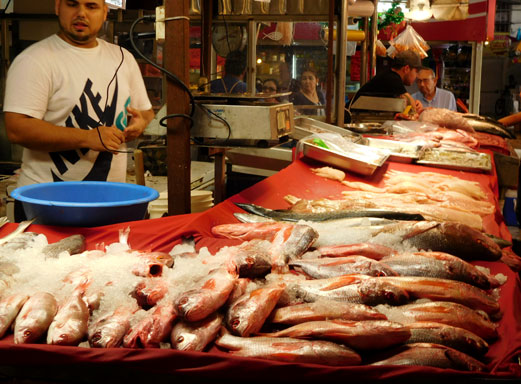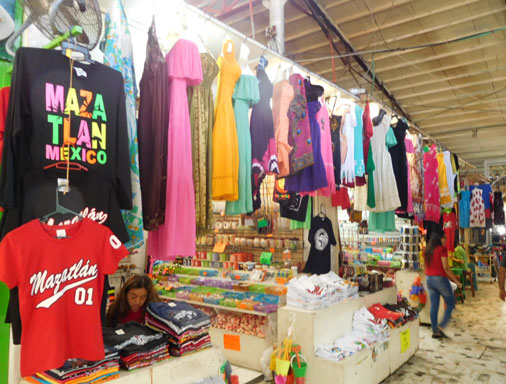 A short walk west is Playa Olas Altas and the Pacific Ocean with a broad sandy beach (but cold water)! From here, the Malecon, a broad beachfront walkway, continues north for nearly 20 kilometers ...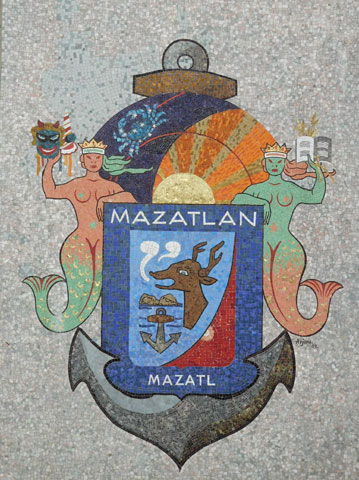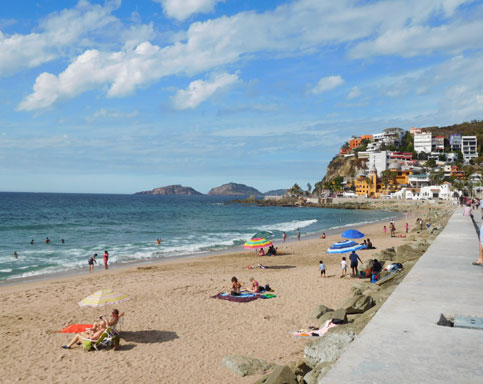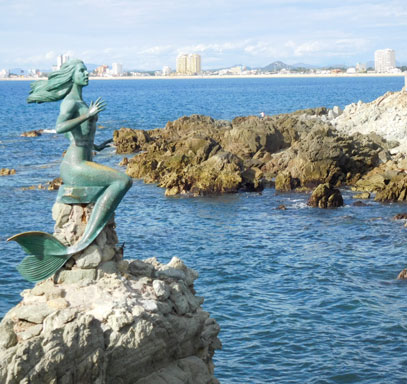 ... passing Playa Norte where fishing boats go out every morning to catch the fish that are served in palapa roofed cafes nearby and the restaurants throughout the city.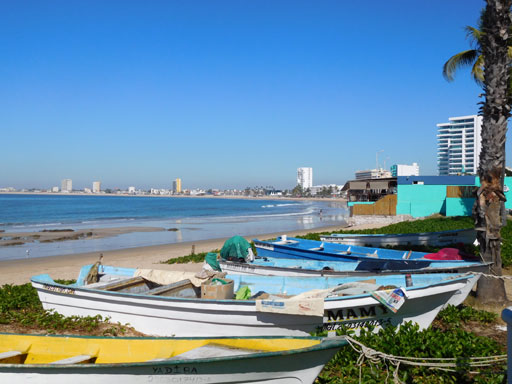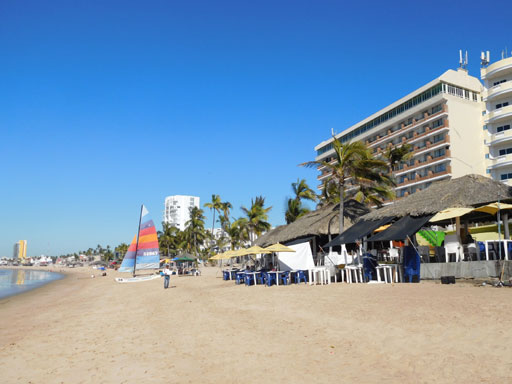 Farther north is the Zona Dorado lined with beach front high rise hotels and mostly touristy restaurants. While we found we preferred to hang out in the Centro Historico, we did explore this area on occasional bus rides.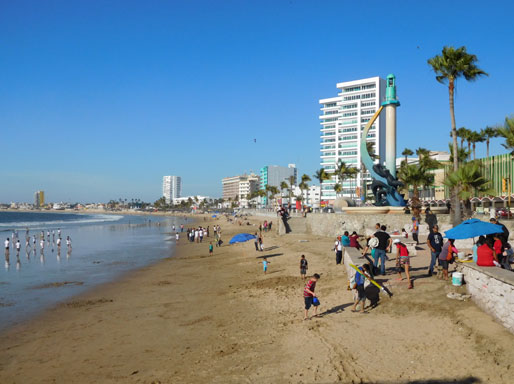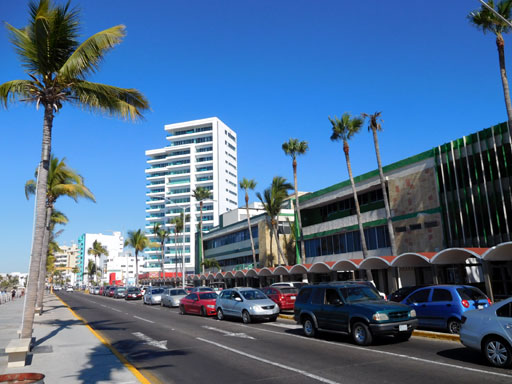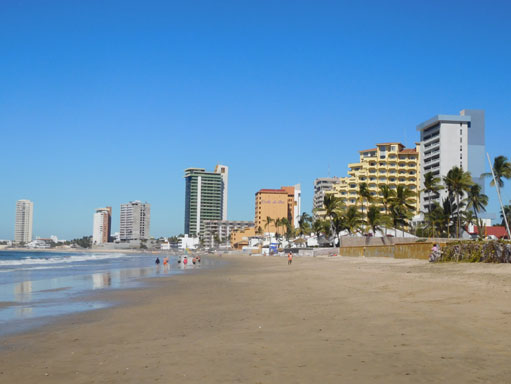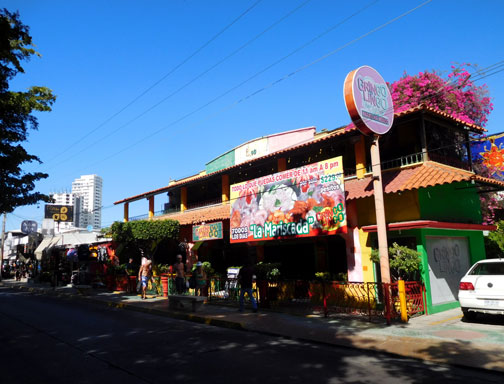 When a day to relax and hang out seemed appropriate, a short boat ride took us to Stone Island for a nice walk on the beach and a stop for a lunch of fresh fish at one of the low-key waterfront cafes.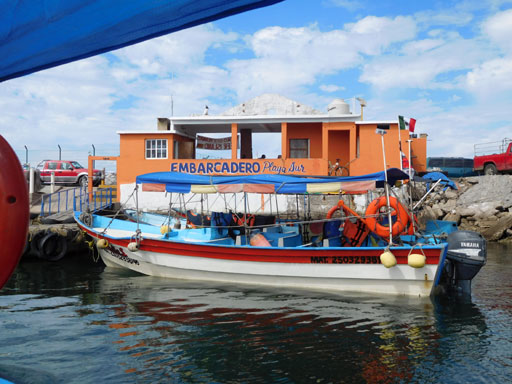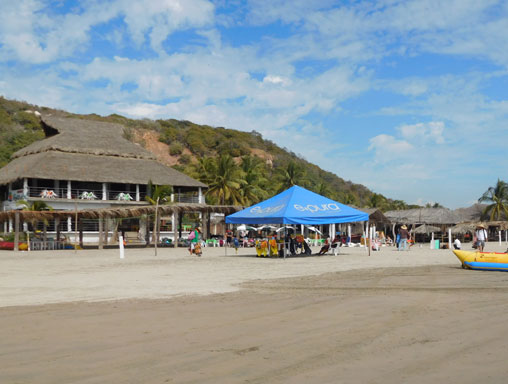 We found that Mazatlan's cultural scene was extensive with performances in the historic and lovingly restored Teatro Angela Peralta, abundant music on Plaza Machado on weekend evenings, and a range of performances in spaces around the city.
During our pleasant stay in Mazatlan, we had experienced guides to assist us as we settled into life in this city. Alana and Richard, friends from Albuquerque, have been spending winters in Mazatlan for 15 years or so! They introduced us to their amigos, great places to eat, music venues, the Organic Mercado every Saturday, the long playa on Isla de Piedras lined with shady cafes for just hanging out, Art Walk and so much more. In no time, we felt like we were part of the place. Muchas Gracias, buenos amigos!
Our host, Elizabeth, also guided us on our Mazatlan discovery beginning with her invitation to a very lavish, grand, and yummy Navidad Fiesta! We became buenos amigos and were pleased to accept her invitation to house and dog sit for her while she took a trip!
Returning to Mazatlan after a sojourn in Los Angeles, Scottsdale, and San Diego, we found that primavera (spring) had arrived with warmer days and balmy nights. Totalmente maravilloso!
Now With Two Places to Choose From
Since we had spent an earlier month in Puerto Vallarta, it was natural to compare these two Pacific coast cities. Both cities have rather large populations of expats - mostly from the US and Canada. Many are snowbirds, while others stay year round. Both cities have plenty of tourism but PV is more dependent on this source for work and economic vitality. In comparison, Mazatlan's economy is more diverse due to its major port and related businesses.
We continue to ponder the aspects of each city that enchant us, knowing that next winter, we will again need to decide where to escape the chill. Each city has so much to offer so we believe we just can't go wrong, no matter which one lures us back!
Click here to return to Our Searching the World page