Ostend, Beach Resort on the North Sea


Ostend is on the Belgian coast about an hour's train ride west of Brussels. It is a seaport and has held strategic importance over the years, most recently during WWI and WWII. It also had significant commercial importance back when the 'boat trains' from Britain arrived carrying passengers that had taken the train from London to Dover, and the ferry across the Channel.
Each of us had visited Ostend once long ago, arriving on ferries back before the Channel Tunnel made ferry travel obsolete. We recalled the ferry's arrival and our disembarkation, perhaps time to visit a tavern for a quick beer before heading on by train to other European adventures.
Ostend has also been a beach resort since the days of Leopold II in the late 1800's. Following our personal policy to visit the beach whenever possible, one morning we rode the bus to Brussels Gare Central and bought the tickets for our trip.
It was a nice ride through the Belgium countryside, very green with fields of tall corn and pastures with brown and white cows. The slight roll of Brussels gave way to the flat coastal plains as we rolled through Aalst, Ghent and Bruges to arrive in Ostend in about 70 minutes. Everyone speaks Flemish (Dutch) here and signs are only in Flemish, not the bilingual French and Flemish of Brussels. Suzie still recalled some Dutch from her days of working for Akzo, so we managed fairly well.
We walked from the station along the waterfront toward the beach with a stop to enjoy coffee and sunshine. A promenade parallels the broad beach so we joined crowds of folks to walk along, watching the beach activity, the waves edging the cold blue sea (below left). People have developed inventive measures to be able to enjoy the beach here where a cold wind often blows in from the sea even on warm summer days! Rows of small cabins line the beach just below the promenade and bright striped canvas fences run at right angles to the water's edge to form wind breaks where people can lie in the sun and kids can play in the sand (below right). Some brave folks even swam!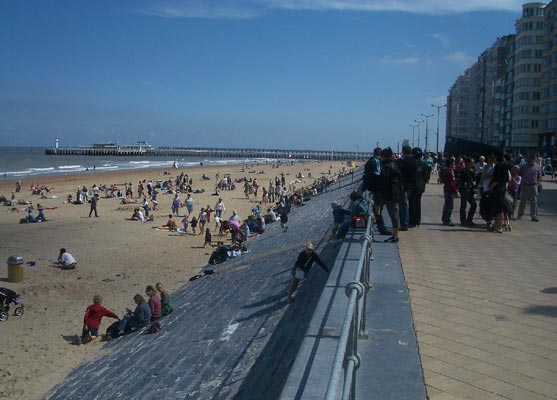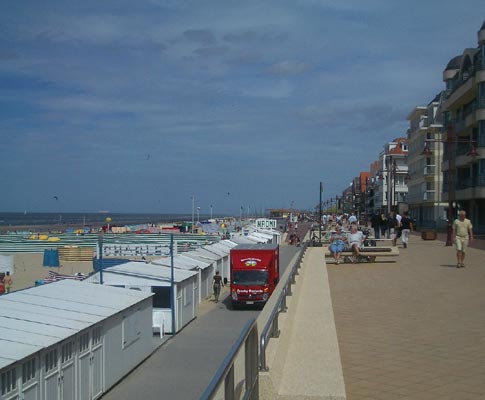 King Leopold II decided that Ostend should be an elegant stately place and he built a long arched walkway with columns and sculpture (of himself, of course), missing the concept of people scale development (below left)! Of course, all this construction is historic and Ostend is obliged to preserve it. Burdened with this responsibility, they have added a surplus of high rise apartments all along the promenade, (below right) an outsize casino/spa and a swimming pool complex that is probably a good idea since swimming in the North Sea is not pleasant very many days each year!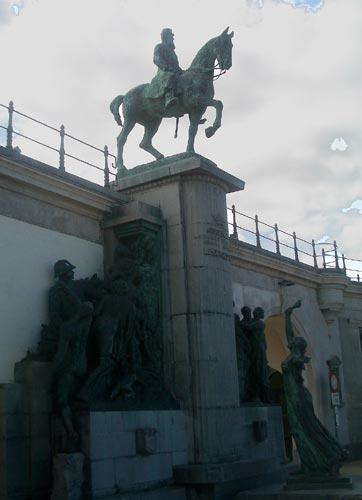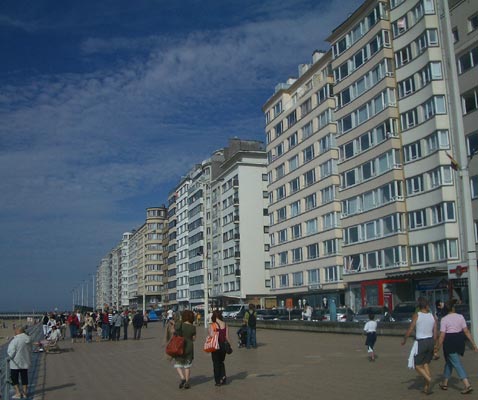 After our walk through Ostend, we boarded the tram (below left) that runs the whole length of the Belgium coast and rode to De Haan. This delightful village has retained its charm and small town feeling, avoiding high rises and casino/spas, and encouraging small hotels, cottages, shops and a lovely park to augment the beach experience (below right). We were not sure how they have avoided the high rise development prevalent elsewhere but we were pleased that they had succeeded!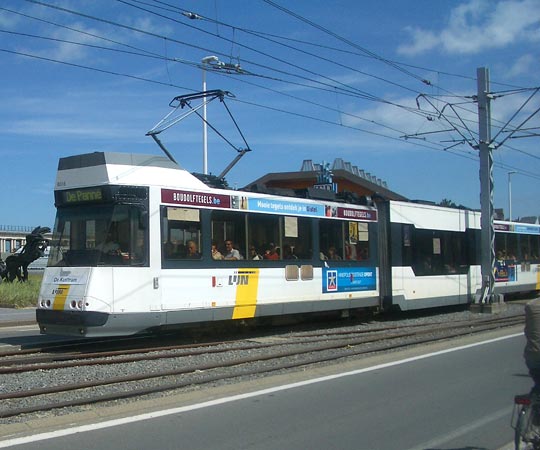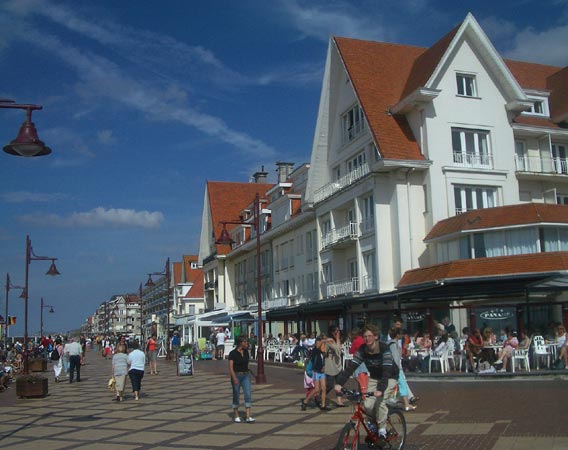 After a windy walk on the beach and a stop for a beer, we returned to Ostend on the tram, and rode the train home to Brussels, feeling pleased that it is so easy to travel here.
Click here to return to Our Travels in Europe - Summer of 2007 page