Our Travels in Peru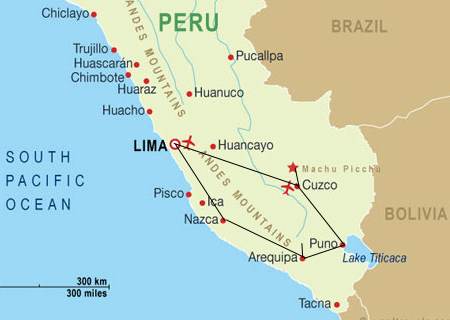 Arrive in Lima by plane from Buenos Aires. Stay in the historic downtown near the Cathedral and Plaza San Martin.
Travel by bus from Lima to Nasca. Take a small plane ride over the Nasca Lines (it's the only way to really see them). We then visit the Museo Antonini and planetarium show which gives us some of the thinking about who constructed the Lines and why.
Travel by overnight bus to Arequipa, Peru's second largest city. We enjoy the many historic buildings, plus an evening meal overlooking the classic Plaza de Armas.
Take public buses on a three day/two night side trip to Colca Canyon; stay in Cabanaconde and hike to overlooks of the river gorge.
Move on by bus to Puno. Visit the Uros Floating Islands on Lake Titicaca.
Take all day 'tourist' bus to Cuzco, with stops at a 4300 meter (14,100 feet) La Raya Pass, the Raqchi Inca archaeological site and wonderful churches in smaller towns.
Travel by bus and train to Aguas Caliente in the Urubamba Valley, known as the Sacred Valley of the Incas. Spend a whole day at the Machu Picchu site, before returning to Cuzco (see story).
Fly from Cuzco back to Lima. Stay another ten days in Miraflores area.
Leave from Lima by plane for the US.
Click here to return to our Central and South America - Spring 2010 page