Pompeii - A Great City in a Dangerous Location


Pompeii was a large and important city in the Roman Empire, a commercial centre for the wines and fish products of Campania and home to many wealthy patricians. The city had a large forum surrounded by government buildings and significant temples.
But this city had bad luck! In 63 AD a severe earthquake destroyed large sections of the city and then one day in 79 AD, Mount Vesuvius awoke and erupted, spewing toxic gases, ash and pumice over the city leaving the inhabitants homeless and the city buried.
We traveled by Circumvesuviana train adorned with the 'volunteer decoration' typical in Naples. We followed the same route that we had taken to Herculaneum and on to the station near the site. By now this was a familiar ride but still interesting.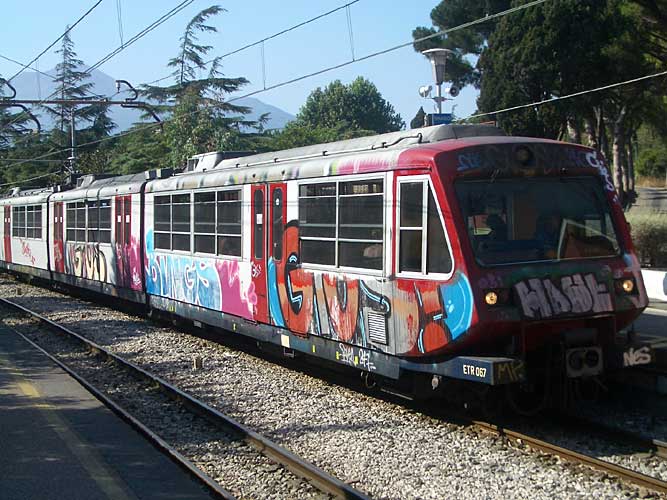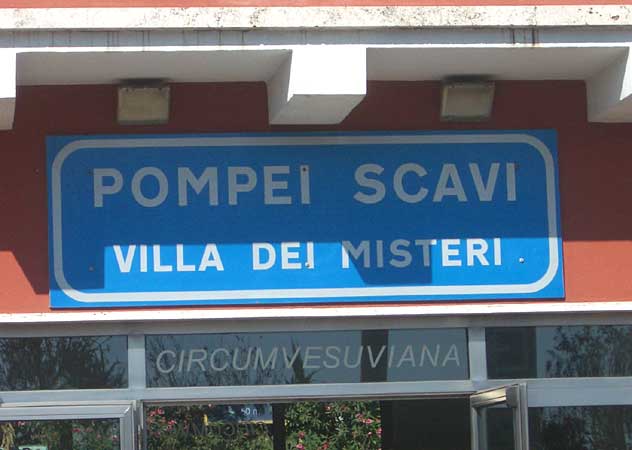 We arrived at Pompeii and walked toward the entrance, past a row of cafes and souvenir shops. Once through the entrance, we followed a rock paved road like the ones in Herculaneum and continued to the Basilika, an array of columns, now stumps, with buildings at each end.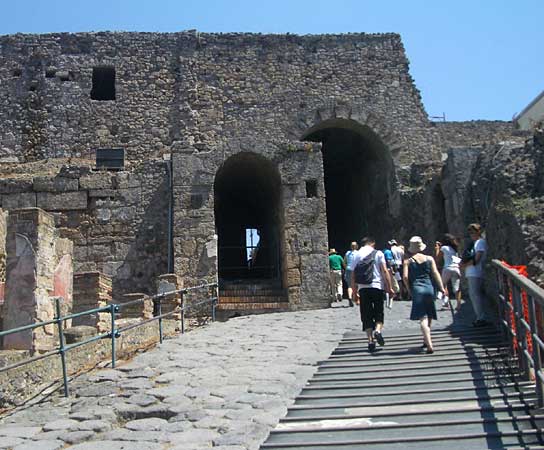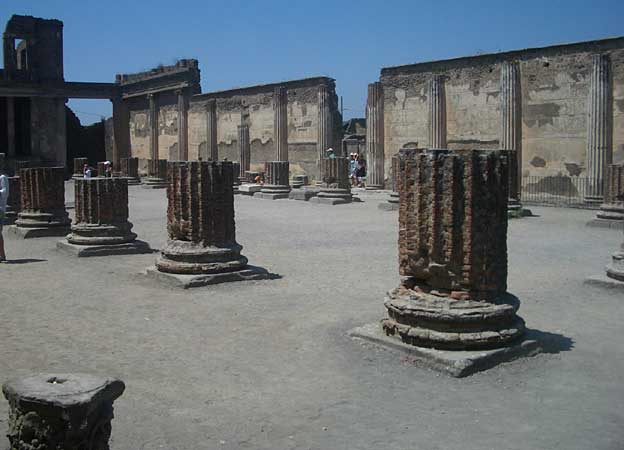 Just adjacent to the Basilika was the Forum, now a large green area surrounded by columns, mostly intact, with buildings at each end. Vesuvius stood ominously or perhaps prophetically in the distance.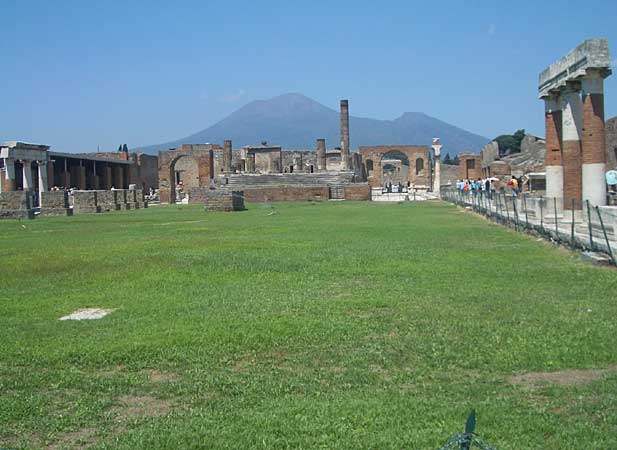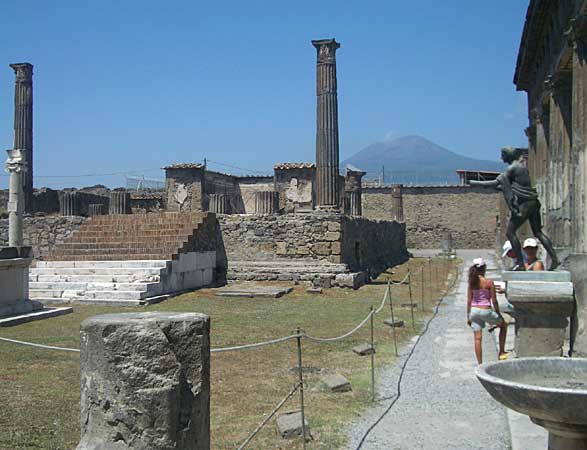 Along one side was a temple and a market building, now the storehouse for artifacts. In addition to numerous wine vases and chunks of buildings, were the plaster casts of victims, a dog and 3 people. Seeing these made the horror of the volcanic event very real!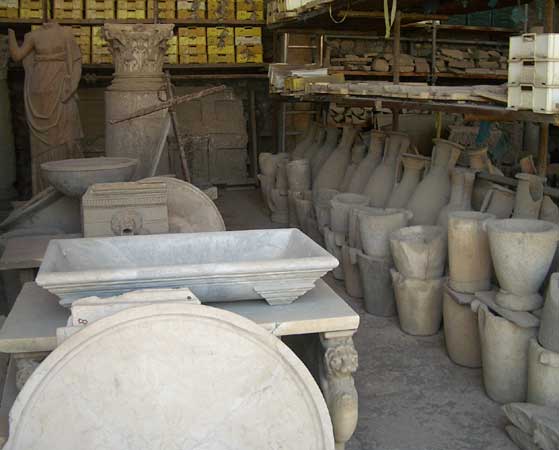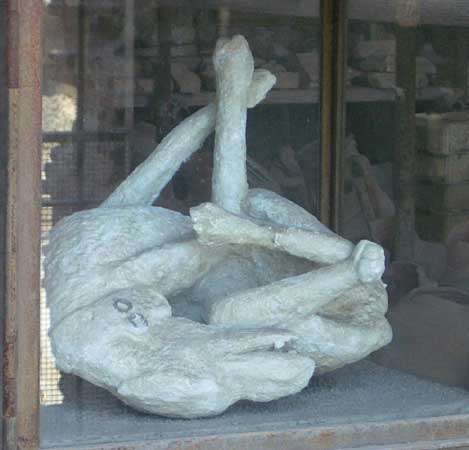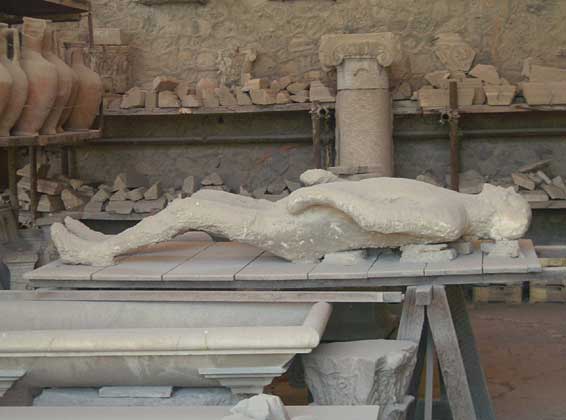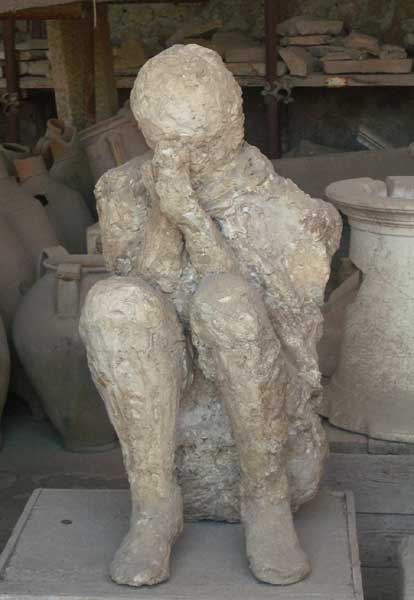 We visited the baths, similar to Herculaneum's and even more luxurious.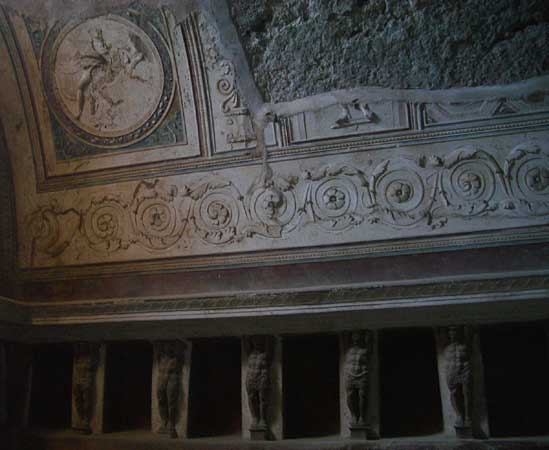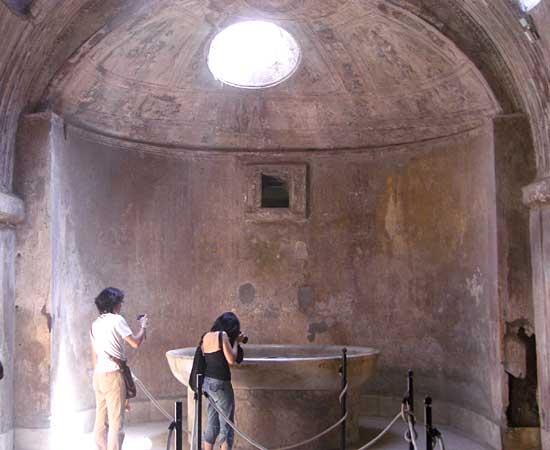 Continuing our walk along the vias, we visited several casas and villas, some with wall paintings and floor mosaics. The elegant Casa del Fauno with its bronze dancing faun statue (the original was moved to the Archaeological Museo in Napoli) had large rooms with lovely floor mosaics.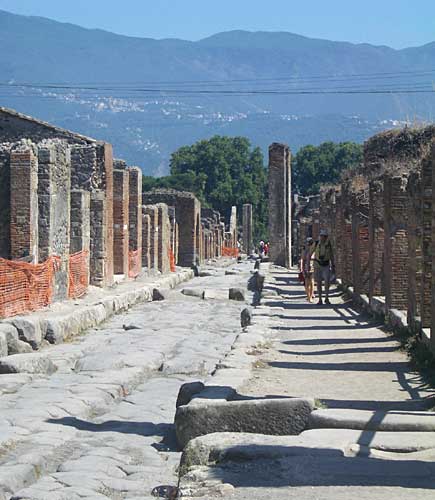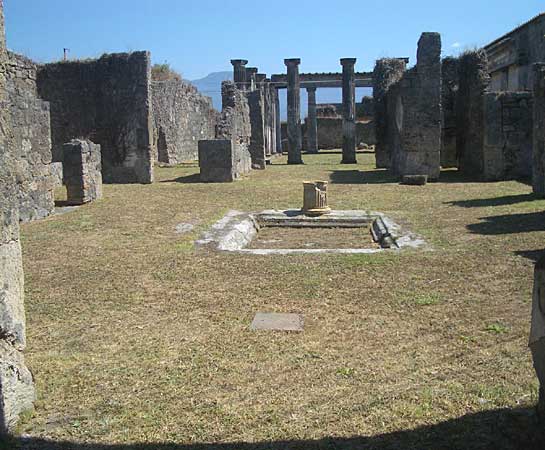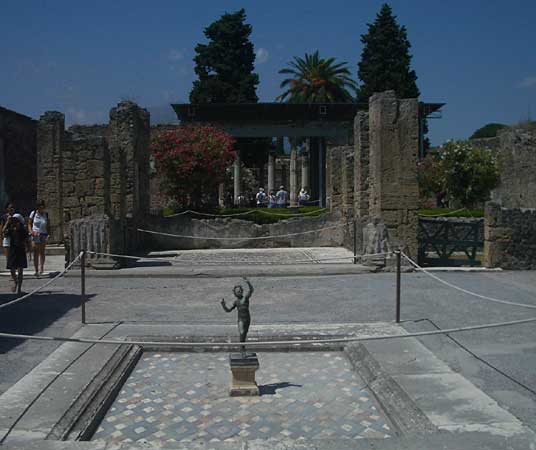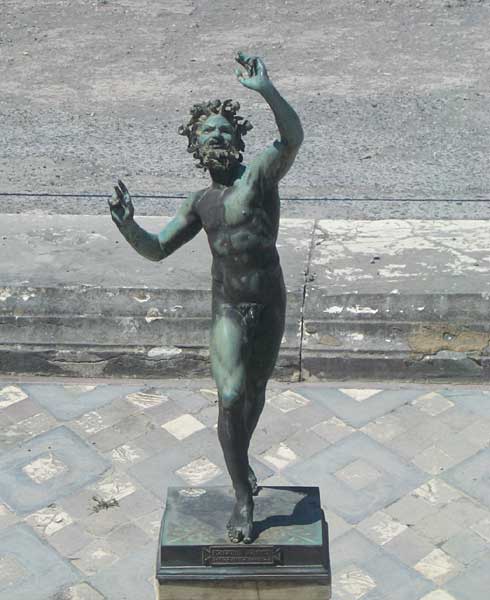 The Casa del Poetica Tragico had a wonderfully scary Cave Canem (Beware of the Dog) mosaic by the door. Shops with counters and storage jars, similar to those at Herculeum, enabled residents to buy food in their neighborhoods.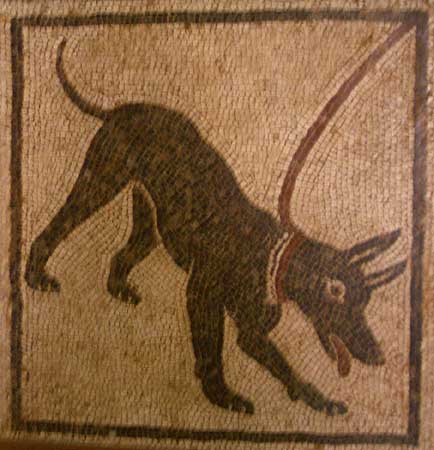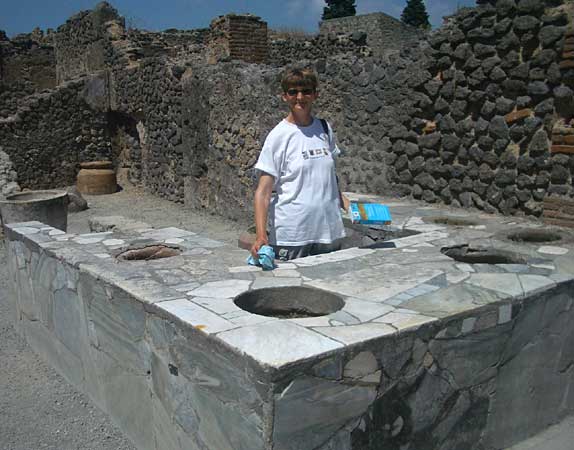 Pompeii had two theatres, the Grand Theatre, now with modern supports for seats for live performances (top left). The adjacent grassy column-fringed square provided spectators a place to gather and perhaps enjoy refreshments during intermissions (top right). The smaller theatre, for more intimate performances, still contained some of the original seats and the stage (bottom).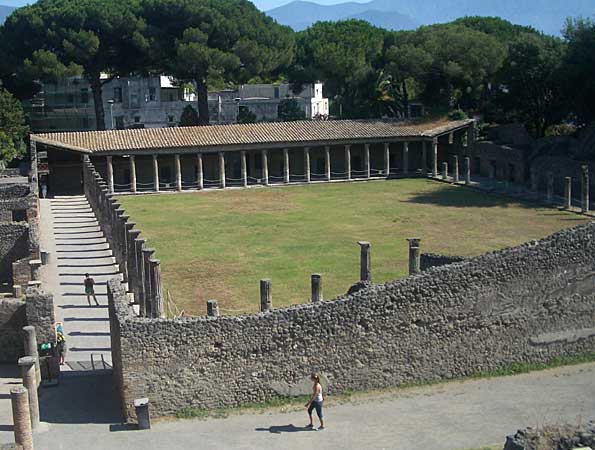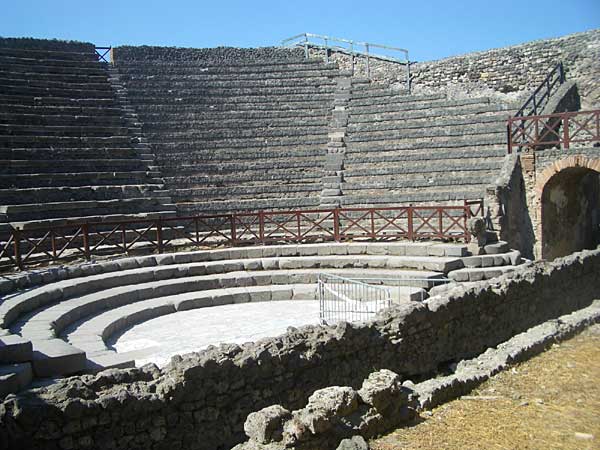 After a wonderful but tiring day, we made our way out through a green park to return to the station and catch the train home.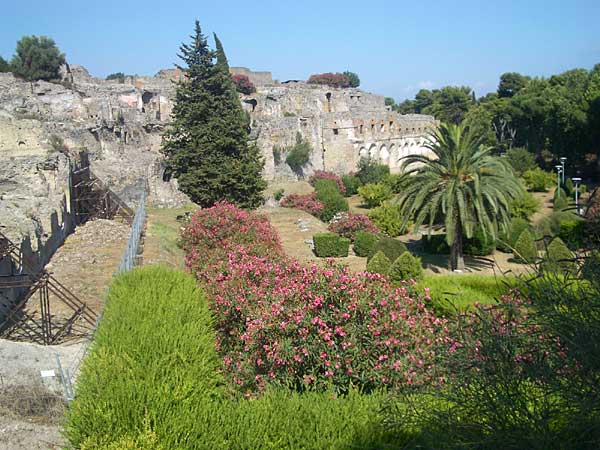 Like Herculaneum, Pompeii offered us a wonderful view back to that time and the finds from this city prove that the people were skilled artisans, artists, craftspeople, architects and builders.
But they chose to build in a dangerous place and were ultimately destroyed. A cautionary tale: Pompeii - A Great City in a Dangerous Location
Click here to return to More Travels in Europe - Summer 2008 page