Stapleton, Ten Years On


In 2012, the Denver neighborhood of Stapleton celebrated its tenth anniversary and, in our view, a celebration is definitely in order.
Once upon a time, Stapleton was Denver's airport. Then in 1995, it was replaced by Denver International Airport. The old airport was decommissioned and the infrastructure was removed except for the control tower, which remains as the lone icon of the area's past. The 4,700 acre (19km2) site just 15 minutes from downtown Denver became the neighborhood of Stapleton.
From the beginning, the master developers, Forest City Enterprises, following the guidance of the Stapleton Development Foundation, designed a community for people, not cars. In front, porches, not garage doors, create pleasing streetscapes where wide sidewalks make walkers welcome. Garage doors open onto alleys in the back and that's where the trash and recycling collection happens, too. Everyone recycles.
When we visited back in the autumn of 2004, the community was coming along according to plan.
Click here to read our 2004 story.
We returned to Stapleton to spend a month living in a comfy well equipped studio apartment above the garage of a large house.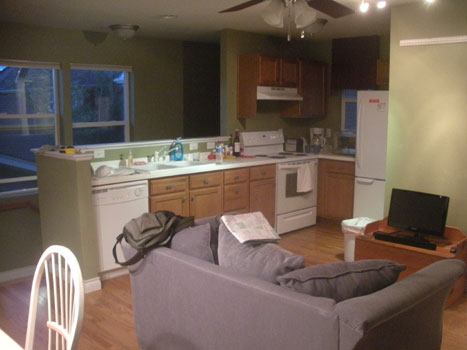 We discovered that the trees had grown along with the population! More than 12,000 folks live here now, including some of our family members. There are nine schools and 80% of Stapleton students walk to school. Four community swimming pools offer relief on hot summer days, while the Village Green enabled the folks to gather for farmers markets, concerts, movies, and other fun events. Residents can shop for many daily needs and dine at the cafes and pubs of the Town Center stores.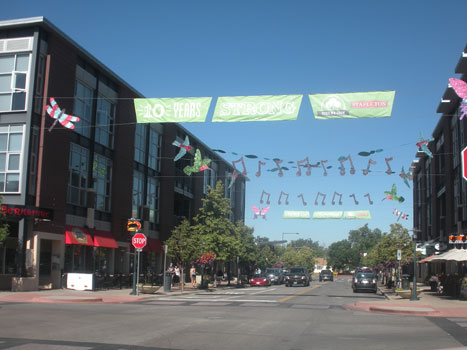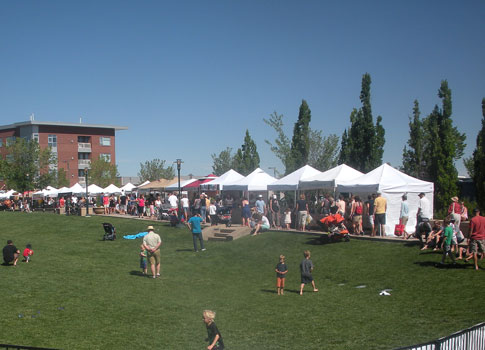 The variety of homes is amazing! There are single family homes of various sizes, rowhouses, townhomes, mansion homes (large mansion-like buildings with six apartments), above garage apartments like ours, and apartment complexes.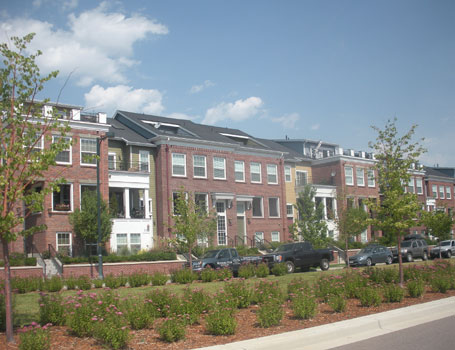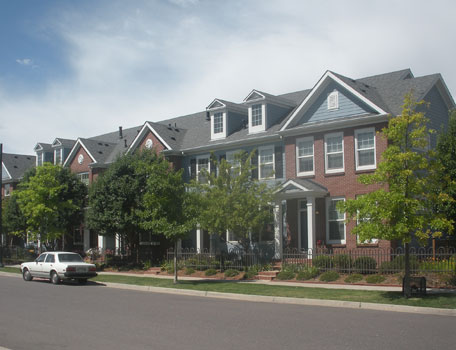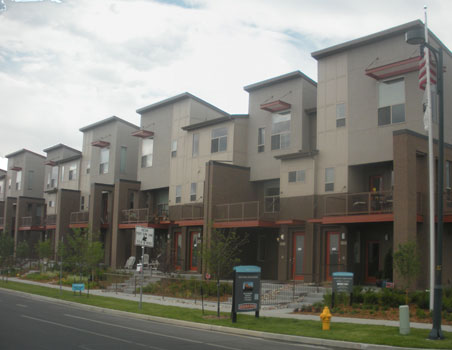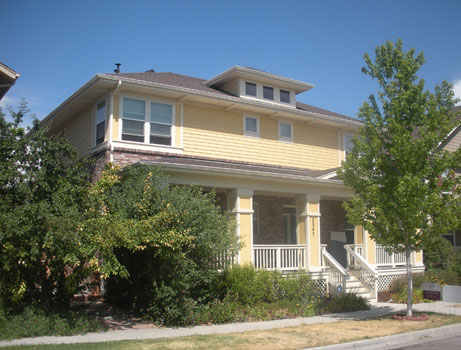 Walking along the sidewalks, past compact front lawns and porches, under the shade of the maturing street trees, greeting neighbors was so much more enjoyable than walking in most typical suburban developments where only driveways and garage doors face the street.
The 36 miles of greenway trails offer walkers, bikers, and skate boarders safe alternative transport with connections to Denver's 850 mile trail system. These lush green spaces also provide habitat for birds, small critters and the occasional coyote. Central Park and a bevy of other parks, large and small, enable residents to get outdoors within minutes of their front doors.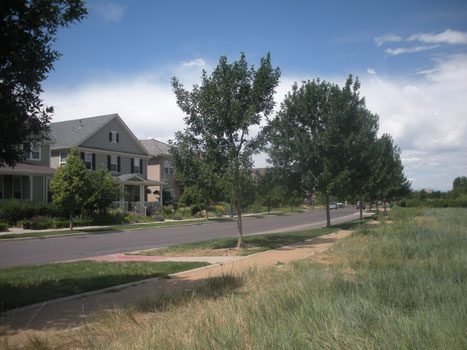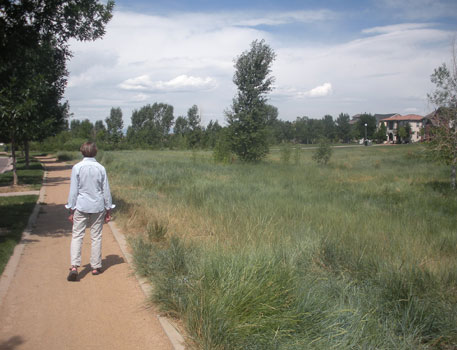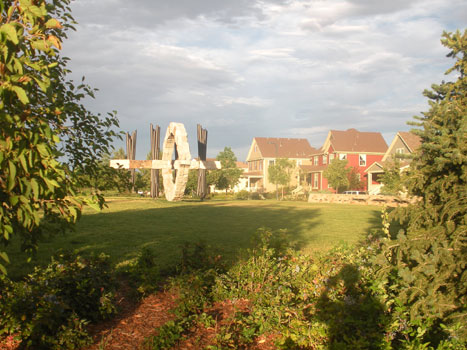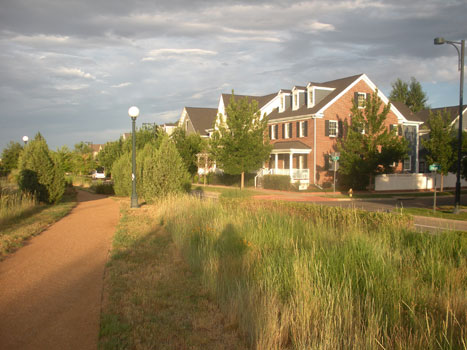 Other non-car transport options include city buses and soon the Light Rail. These offer riders access to the whole Denver Regional Transport District, a vast area that extends over the whole Denver vicinity and connects to Boulder and Colorado Springs. We discovered that we could walk to the bus stop and catch a bus downtown, passing City Park and several of Denver's nicer urban neighborhoods on the way. Many days our truck sat unneeded in the driveway.
Yet, with so much open space and the fact that many homes at Stapleton are single family, we discovered that it is not as walkable as we had hoped. From our apartment the King Sooper market was about a mile, a bit too far to return carrying bags of food. Sure, we could walk there and also to the nearby pubs and cafes, but we often drove, but usually as part of a longer trip. When there is a vehicle in the driveway its always easy to rationalize driving! A bike with carrying capacity would have been great alternative, and for a longer stay we would definitely have one.
What Stapleton has achieved what we might call 'suburban urbanism', not really urban and yet significantly People Friendly and, in our view, a very attractive alternative to the car oriented neighborhoods so prevalent today.
Click here to return to our 'Summer 2012 - Nomads with Wings Clipped' page.
Click here to return to our 'Searching the World for People Friendly cities' page