Summer 2014 - Switzerland and More Time in Brussels


Our journey through South Africa was continuously amazing. But, after six weeks of mind expanding, sensory stimulating amazement, we were ready to just perch to consider all that we had experienced there.
Brussels
We setttled in Brussels, one of the world's most People Friendly Cities, moving into a nice apartment in the Quartier European. For the next six weeks, we spent days thinking, doing research, writing and creating web pages and Flickr albums.
During our stay in Brussels, we also took days off to wander this lovely city and to take day-trips to Leuven, Liege, and the coast. We learned more about what the Belgians suffered during the Great War which began 100 years ago in 1914. We also visited the site of the Battle of Waterloo where Napoleon was finally defeated in 1815.
By the end of July, we were ready to be on the road again! After some consideration, we decided that our next destination should be Switzerland! Our research and good advice from our friends, Urs and Hella, enabled us to make some plans and on July 31, we left Brussels to travel through Luxembourg and France to Basel in the northwest of the country, just across the Rhein River from Germany and a stones throw from France.
Switzerland
Other countries may have great mountain ranges, but the Swiss have an amazing collection of funiculars, cable cars and cog railways that enable everyone to travel easily and quickly into the furthest reaches and highest heights of their Alps, and offer you a drink and some fine food while you are up there. If you are so inclined, you can often sleep there, too, in a luxury hotel! If you wish to hike, ride a mountain bike, ski, snow board or have any other transit wishes, they try hard to make those options accessible, too.
If what you want is to travel comfortably from one city to another, they also offer more conventional rail service through amazing panoramas of verdant countryside, charming dorfs (villages), snowy mountains even in August, great rushing rivers, and blue-green lakes. Never mind that there are mountains in between, as they have employed bridges, tunnels, cog railways and other methods to provide fast and efficient rail service to every corner of the country at reasonable prices. We found these trains to be frequent, fast and quite comfortable.
Follow our travels on the map below.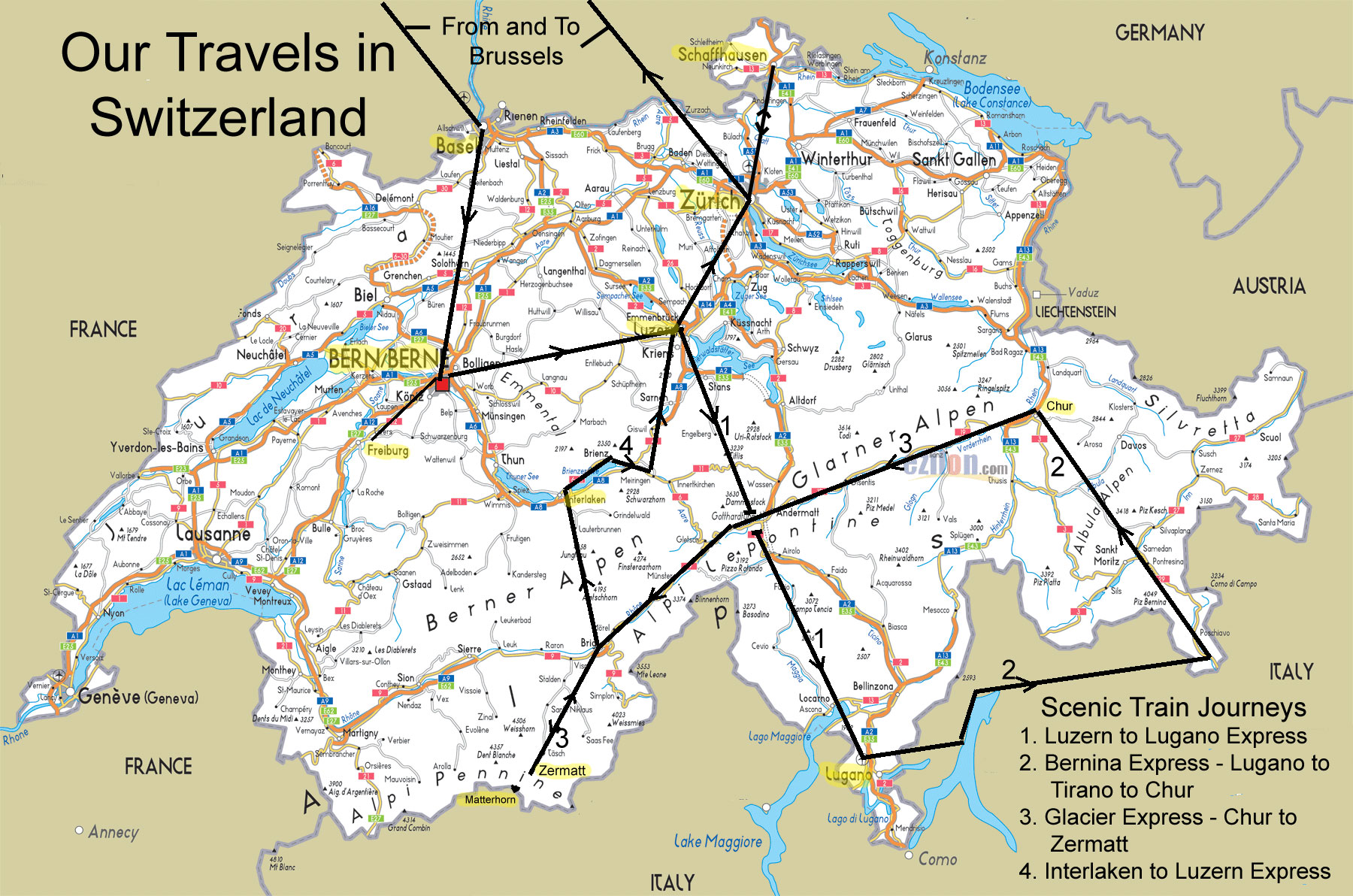 Our Swiss Journey began in Basel, a modern city with a fine medieval centre perched on the Rhein river. We visited the History Museum in an old church building and the Kunst (Fine Arts) Museum, rode by cable ferry across the river flowing fast and furious due to mountain rain, visited the great Munster (church), and walked and rode trams all over the city.
On to Bern, federal capital, home of the Bern bears. The city's medieval centre has evolved into the "longest covered promenade in the world". We savored the medieval architecture, fountains, riverside walks, imposing munster, and the Historisches Museum, including an indepth view of the life of Albert Einstein. Using the trains that run everywhere, we traveled to the Emmental region, where happy brown cows grazed on bright green grass mingled with herbs and wild flowers to produce the milk that is made into yummy cheese. Another day, we rode to the old city of Fribourg/Freiberg perched above the river Sarine/Saarn and still surrounded by walls and watch towers.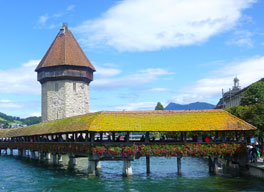 From Bern, we continued on to Lucerne (Luzern) on the shore of Vierwaldstattersee, Lake of the Four Forest Cantons, better known as Lake Lucerne and location of the iconic wooden bridges over the River Reuss (picture at right). From here, we day-tripped to the summit of Mount Rigi (1798 meters) by boat, cable car, and cog railway. The views from here were fabulous - the lake spread out below, Lucerne perched on one edge, green rolling hills interspersed with patches of forest and luminous, snowy peaks in the distance. Now we were hooked on this Alpine environment!
Click here to read our 'Lucerne - City of the Sad Lion, Blue Water, and Snowy White Peaks' story
Then, we traveled by train, through the Gotthard Tunnel, a 15 kilometer miracle of engineering and construction skill and determination under Gotthard Pass. We emerged in the canton of Ticino and contined to Lugano, where folks speak Italian and the pizza is almost as good as in Naples! Lugano sits on the edge of another lake offering lovely rides to charming small villages plus a centre offering piazzas for cafe life and two peaks with funiculars to whisk us to the surrounding heights.
A combination bus and rail journey, the Bernina Express, took us from Lugano through more incredible terrain via bridge, tunnel and cog railway, to Chur in the mountains of eastern Switzerland. Here we had a delightful and stimulating reunion with Urs and Hella, our friends whom we had met in Argentina. We also visited Davos to see where the world's financial titans meet each January for the Economic Forum.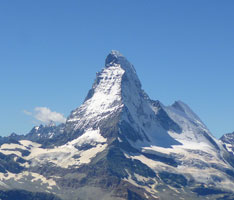 Perhaps the most stunning and fun rail journey was the Glacier Express from Chur across the Alps and on to Zermatt, going through 91 tunnels, across 291 bridges, with panoramas of snowy peaks, rushing rivers, rolling verdant pastures, charming dorfs.....the usual and typically Swiss scenery! In Zermatt, we experienced a mountain village where cars are banned, but horse drawn carriages and electric vehicles like oversized golf carts take their place, and where people are drawn for views of the iconic Matterhorn. This was our base for trips to the nearby Alpine heights for stunning views of the Matterhorn and 36 more snow capped mountains over 4000 meters high (about 15,000 feet).
Click here to view our Flickr photo album.
Another train took us to Interlaken, our base for more Alpine explorations.
Click here to view the story of our travels in Interlaken region.
A highlight of our travels around Interlaken was our trip by cable cars and cog railway to reach Piz Gloria on the Schilthorn. At 2,970 meters and above the clouds, we felt truly on top of the world! And yet all around us were snow covered peaks higher still! The Big Three, Eiger, Monk, and Jungfrau stand above the rest and were the last to be subsumed in the building clouds as we watched.
Click here to view our Flickr photo album.
After all this, Zurich was a bit of a return to reality! We strolled through the Niederdorf, the old centre, visited the historic churches with their classic Swiss clock faced towers, and finally enjoyed a leisurely boat ride on Lake Zurich. On our last day we visited the National Museum, which helped us better understand the history of this amazing country. A day trip took us to Schaffhausen to view the Rhine Falls.
Return to Brussels
After these weeks of constant travel, beautiful cities and incredible scenic wonders we were again ready for some 'down time'. The next day, we boarded a train and headed back to Brussels where we will stay for a month and work on picture shows and stories for this website.
Links to our Flickr albums and stories are repeated below.
Lucerne - City of the Sad Lion, Blue Water, and Snowy White Peaks
Zermatt and the Matterhorn (Flickr photo album)
Story of our travels in Interlaken region
Jungfrau Views from Stilthorne (Flickr photo album)
Click here to return to our 'Searching the World for People Friendly Cities' page