Toledo - Experience and Impressions

Everyone told us we must go to Toledo!
For Susan, this visit was something of a pilgrimage to visit the city that El Greco called home and the place where he developed his formidable talents. She has been an admirer since college days.
So we again packed up our day packs and headed to Atocha Estacion by bus. After buying round trip tickets on the train, we passed through security and walked down to the Via. This modern high speed train was quite luxurious compared with the Cercanias (Regional) train we had taken to Segovia. We settled into comfy seats and soon, the train pulled out of the station, heading south. By the time we reached the outskirts of Madrid, the train was picking up speed, rushing through the rocky, rolling hills past olive groves and villages so rapidly that it made sightseeing a challenge!
In only 30 minutes we traveled the 90 kilometers from Madrid and were pulling into the estacion at Toledo. It was a transition walking from the modern high speed train through the 100 year old station to get a glimpse of the old city and the Alcazar sitting up on a high hill ahead of us. We began our climb, marveling at the great stone medieval gates, red tile roofs, cathedral spires and the walls and towers of the Alcazar high above us. Toledo sits on hills above a great bend of the Rio Tajo, an obvious site for a city! It was an important place even before the Romans came to settle there in 192 BC and it has remained illustrious ever since.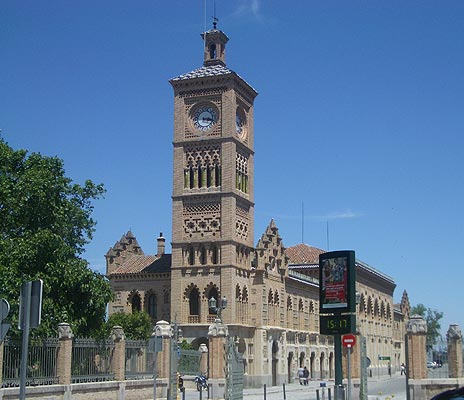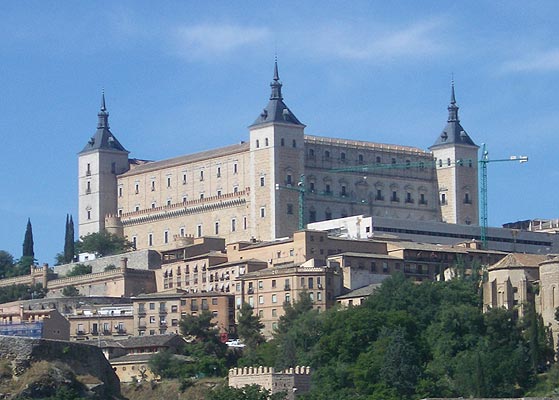 Walking up into town, through the Puerta de Bisagra (left below), we discovered narrow streets lined with shops. Soon we found Zocodover Plaza (below right)lined with cafes and nearby, the Hostal Centro where they had a room for us. We checked in and then went back out to explore the city.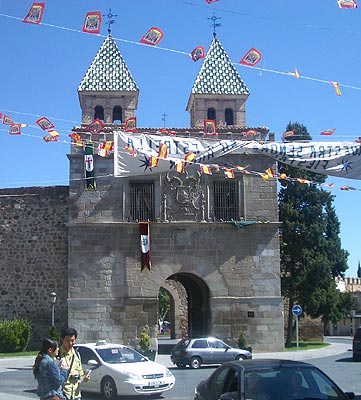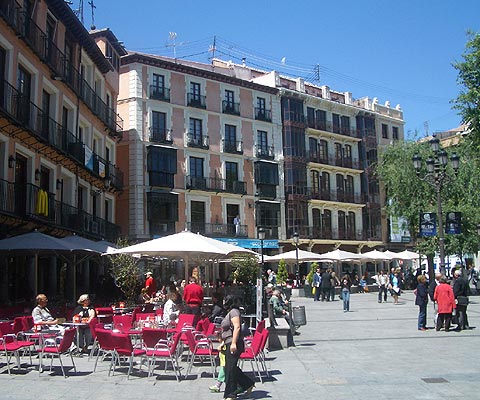 Walking up the main shopping street, we enjoyed the shop windows filled with first tourist junk, next house wares, then shoes and clothes, and next lamps, and other wares. We arrived suddenly in a plaza in front of the imposing doors of the Iglesia de Santo Tome. Just inside, El Greco's great work, Burial of Count Orgaz, hangs on a wall in the vestibule. The scene is grim yet joyful. The dead man is in the arms of two clergymen being placed in his tomb! Looking on are a large number of men, some sad, others in prayer. But above is an angel seemingly ready to deliver Count Orgaz up to heaven!
Back outside in the bright sunlight, we walked on, now looking for food! We found a cafe, sat outside to enjoy lunch and then we continued our walk. Toledo is a city of hills! First we walked up, then down steep hills along charming old cobblestone streets, past homes with black iron balconies bright with flowers in pots or drying laundry. We found our way back to Zocodover Plaza and from there to Museo de Santa Cruz, under renovation but open. The visit began with history of the Visigoths who had taken over after the Romans left. Then, there was a great exhibit of paintings including more El Grecos; medieval armor; old tapestries including an amazing and intricate one of the astrolabe, a 1st Century BC invention of the Muslims to predict the movement of the planets and the stars, brought to Europe when the Moors conquered Spain; and finally an exhibit of archaeology with a collection of mammoth bones and Roman sculpture.
By now, we were saturated with visual information! A stop for cerveza was in order! Refreshed, we boarded a city bus that took us on a ride around the city to a park dedicated to El Greco, with great views over the river to high cliffs beyond and the 14th Century Puente de San Martin (pictures below). The vistas were a wonderful antidote to museum exhibit saturation! In addition it was compelling to realize that we were in El Greco's Barrio, the place where he had lived and worked on the amazing paintings we had seen. We walked back toward the hostal, stopping for a delicious dinner on the way, feeling charmed by this old city.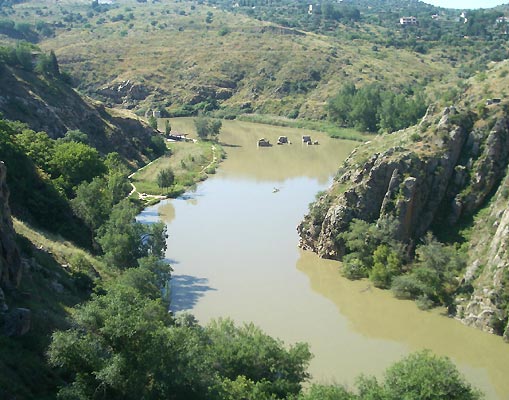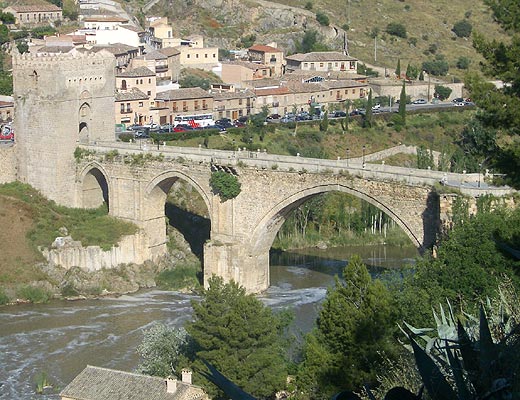 Next morning we were up and out to find breakfast and board the bus back to El Greco's barrio. Our plan was to visit his casa but we found it was closed for renovation. But, good news! Some of the paintings had been moved to an exhibit space at the Real Fundacion de Toledo near by, perched on the cliffs above the Rio, and free today! We entered a small hall to see View and Map of Toledo, an amazing, precise view of the city in 1610 (below). On one side is a youth holding a plan of Toledo. Is he an urban planner? The scene is watched over by San Ildefonso, while below is a nymph enjoying the plentiful water of the Rio Tajo. We learned this was a marketing picture for Toledo, painted to entice the Spanish monarchs to return the capital to Toledo. It is historically significant because it has the most precise map of the city at that time.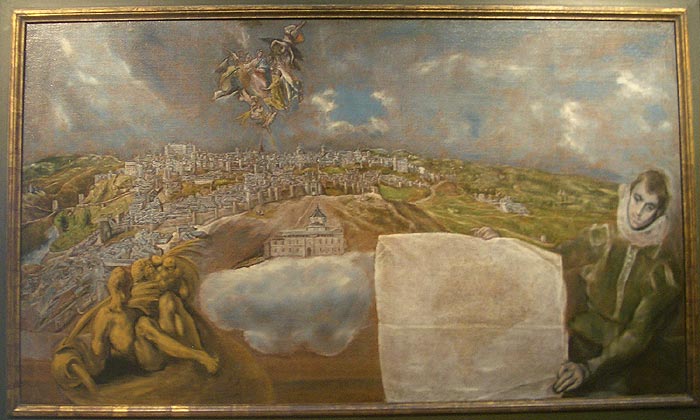 In addition, we viewed El Greco's portraits of Jesus and Saint Peter (below) and the rest of the Apostles, all exuding real human qualities with life and personality.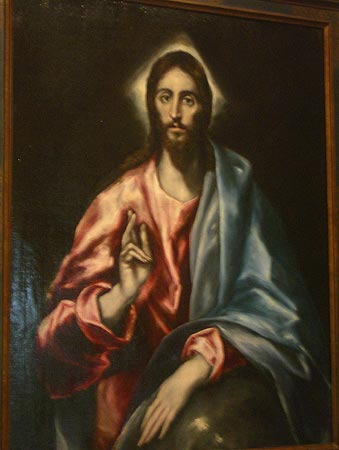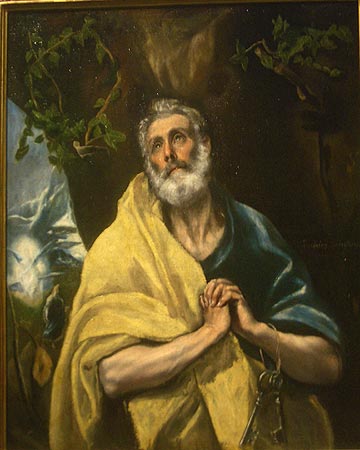 From here, we walked back toward the town center to visit the great Cathedral, truly awesome inside. In the sacristy was a real museum of paintings but they are all dark and not well lighted, and a bit difficult to appreciate. We wondered if a church has the expertise to keep such valuable paintings in good condition.
We also concluded that after visits to wonderful cathedrals in Barcelona, Madrid, Segovia and now Toledo, that our capacity to appreciate these places was somewhat overwhelmed. We therefore resolved to more selectively choose the cathedrals we visit so we can more fully appreciate these wonderful and exquisite structures.
The final place we wanted to visit was the Alcazar but it too was closed for renovation. We had discovered a theme for Toledo - renovations are everywhere! In addition, the town was filling up with tourists, groups of school kids, buses, honking cars. So, we decided to end our visit and took a bus back to the train station where we found a quiet cafe, sipped cerveza and wrote in our journals until train time. This was great visit to a wonderful old city.
Click here to return to our Summer of 2007 page
Click here to return to our Searching the World page