Log of our 2006 - 2007 trip to the Midwest, the Southeast and Florida

Back in mid-August 2006, we left Albuquerque and headed north. We spent a few days in Chama to ride the Cumbres and Toltec railroad, the narrow gauge steam train (we're old trains buffs) and just hang out. We returned to Santa Fe for the Santa Fe Bluegrass festival (lots of good notes).
We then headed north into Colorado, past Denver and into Wyoming, through Cheyenne and on to South Dakota. We found a great campground in Custer, SD that was right in town and had deer roaming through it. We spent a number of days exploring the Black Hills - Mt. Rushmore, herds of bison and antelope, rolling prairie.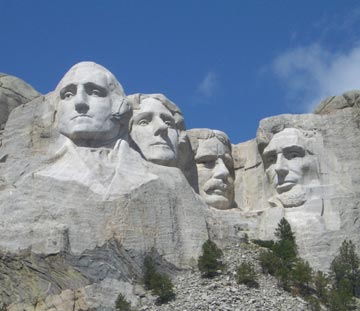 From there, we then turned east on I-80, through the Badlands National Park, and on into Iowa. We visited a bunch of Susan's relatives, first in Ames, then in Spirit Lake and finally in Des Moines. Most of our traveling in Iowa was on local roads through fields of corn and soybeans followed by fields of soybeans and corn, with occasional breaks in small towns.
We continued east, stopping in West Branch, Iowa to visit Herbert Hoover's home and museum, and on to Davenport, Iowa, where we did some urban research, exploring their downtown and visiting with planners there. We visited some of the dams and locks that make navigation possible on that stretch of the Mississippi River. We still marvel at the size of eastern rivers!
We crossed the Mississippi and traveled on to Springfield, Illinois, to visit the house where Abe and Mary Lincoln lived (picture below) and to experience an awesome Museum that brought Abe Lincoln's life and times to life in a way you just have to experience to imagine!
From there, we continued on to Evansville, Indiana for a couple of slower days to catch up on some email and other correspondence.
Then, we were back on the road to Nashville, just in time to catch a great and special exhibit of Egyptian artifacts and then a day of all kinds of free music to celebrate the opening of their new Symphony Hall. There's also a huge country music scene here, with music opportunities everywhere - we spent an afternoon enjoying bluegrass music at a local festival.
In Chattanooga, Tennessee, we toured a some of the redevelopment efforts in their downtown riverfront. We are also visited some of the TVA facilities on the Tennessee River and enjoying the dramatic country of high ridges, deep river gorges and dense woods.
A short day took us to Knoxville, Tennessee. This is another old city on the Tennessee river and is the home of the University of Tennessee (they have a large campus with many classic brick buildings as well as newer ones including a huge Medical Center). We were pleased to see there is alot of redevelopment of their downtown underway with many of the old buildings being turned into businesses and residences.
We also spent a day in the Great Smokey Mountains National Park, with views of wonderful tree covered hills. It was prime fall leaf-viewing time there so it was jammed with tourists.
We then headed east on I-40 through the Smokies and into the Carolinas. This drive was awesome - mostly through river valleys with steep hills covered with brighly colored trees on both sides.
We spent a couple of nights in Joanna (a small town 25 miles south of Greenville, along I-26), catching up, and then moved on to Lake Greenwood State Park where we had a lakefront spot.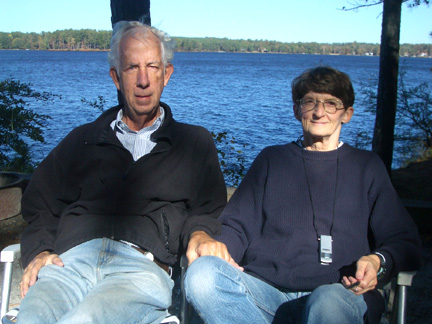 Finding South Carolina's State Parks very pleasant, we moved on to Givhans State Park, on the Edisto River, the longest 'black water' river in the east (black water rivers are those that start in forests or swamps so the water contains high levels of tannin, causing the water to look black, but creating wonderfully clear reflections of bankside trees).
The beach was our next destination - Edisto Beach State Park, on a barrier island south of Charleston, SC. It is a very quiet and relaxing place with only one market and few restaurants. We enjoyed strolling it's long stretches of white sand beach with vistas out to sea, occasionally interrrupted by bottlenose dolphins surfacing nearby.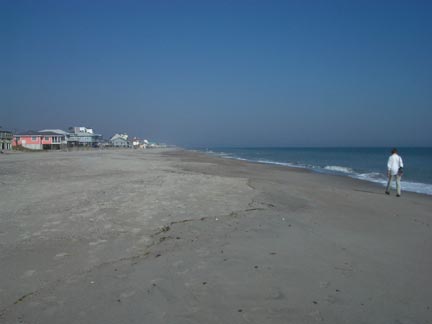 Then on to Charleston with it's wonderful historical sites and waterfront vistas. In between our sightseeing, we spent time with Blair's brother and sister-in-law, who we last saw 4 years ago. Our daytrips took us to the Caw Caw Wildlife Refuge on an old rice plantation, Beidler Forest Swamp and a walk half way across the new Charleston Harbor Bridge.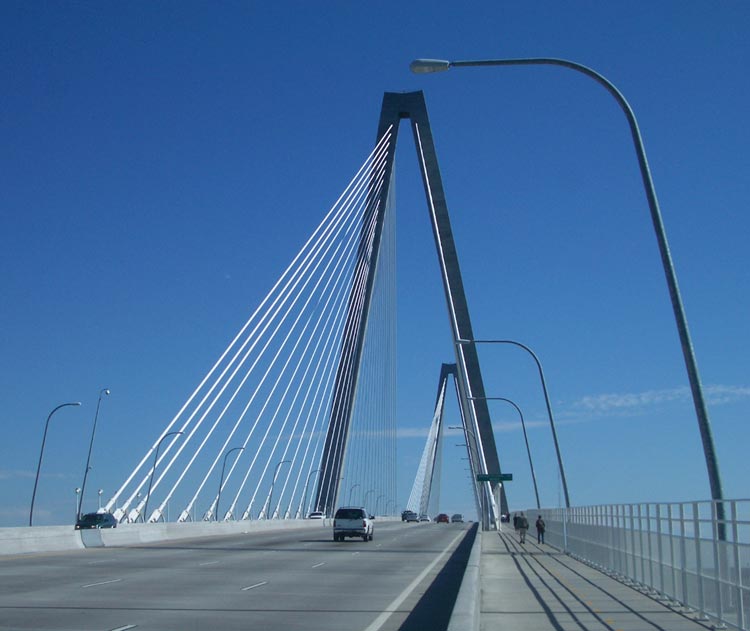 Charleston is an amazingly scenic place with its historic buildings and wonderful views over the everpresent expanses of water.
A short trip took us the Yemassee, SC. We daytripped to Beaufort, SC, another very picturesque historic city with huge oak trees covered in spanish moss. Our afternoon walking tour took us past many gorgeous colonial mansions including the one featured in the movie 'The Big Chill'.
Then on south Into Georgia. We first stopped at the Visitor Center for Sapelo Island, a barrier island and Estuarine Research Center. It is only assessible by boat and we were sorry we missed the opportunity to go on a guided tour. Then on to Brunswick, Georgia where we rested for a day and caught up on our email. This area is mostly islands separated by marshes and waterways so there are expanses of water almost everywhere you look. Some of the islands are connected by roads, but some are not and remain wildlife refuges or homes for the very wealthy. It's so very different from New Mexico.
A long day took us first to the beach road east of Jacksonville, with great views of sand and the ocean. Then on south to St. Augustine and then back to the beach road to Ormond Beach. That stretch has so far escaped high rise development and still has the feel of 'old Florida'. We stopped for a few days at Tomoka State Park, right on the inland waterway.
Then on to the Jetty Park RV Park in Cape Canaveral which is right next to the ship channel to the cruise ship port. The huge ships loom above you as they pass in and out.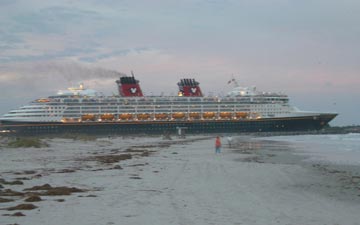 It is also right on a wonderful beach for long walks and views of the Kennedy Space Center. We spent some time with an old friend of Blair's from Eastern who now lives in a beachfront condo nearby. We had a grand view of the shuttle launch from his balcony.
A short day took us on a waterfront RV park at Sebastian Inlet. It's so nice to be able to live at such wonderful places. We had a gang of wood storks and a great white heron to keep us company.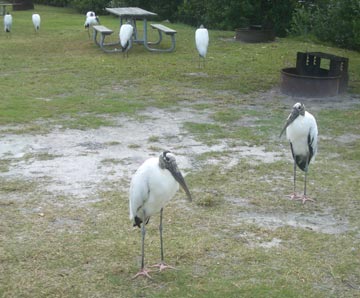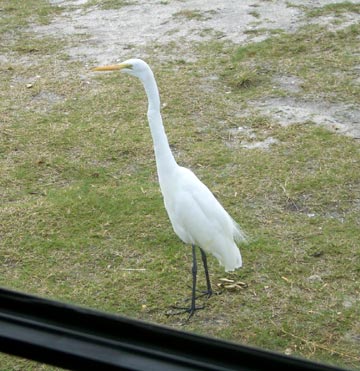 A day of traveling through some very heavy rain took us to Miami. We spent alot of the next two weeks visiting with an old friend from Albuquerque. In between long conversations, we explored Coral Gables, Coconut Grove and many of the other places Blair remembers from when he lived here, such as cuban bakeries and a 50's era drug store and luncheonette. We are quickly getting used to the wonderful weather - mid 60's at night and low 80's during the day - a very nice way to spend 'winter'.
We say goodbye to our friend and head to Everglades National Park. With no hookups in the campground, we only stayed for two nights, but had a wonderful time at the visitor areas viewing alligators, crocodiles, turtles and all kinds of birds. Fortunately none of the alligators visited us in the campground.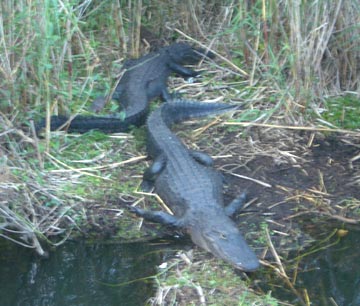 This place is such a change from Miami city pace of life - things move in a very slow and relaxing pace; it's very enchanting!
With some regret we leave the Everglades and head north to Tamiami Trail and then west to Chokoloskee, FL, a small, out of the way town on an island in Florida Bay, southeast of Naples. We stayed here for a week enjoying the waterfront life (our view below), watching great sunsets, and catching up a bit. We celebrated New Year's here, but fairly quietly as this is definitely a 'low key place'.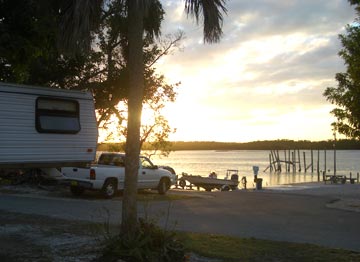 This place is another vote for our chosen lifestyle that allows us to stay in such great places. Most of our stays, while most often only about a week, are long enough and we're usually ready to be moving on to our next 'home'. For us, it doesn't get any better than this.
A short drive took us to Fort Myers, where we stayed for a month, as it's still too early to head north as yet. It's a friendly place, with an interesting downtown on the Caloosahatchee River and great beaches (Ft Myers Beach and Sanibel Island), but is otherwise a mass of suburban sprawl. Sanibel Island is a bit more developed (according to Suzie), but one can still escape to the 'Ding' Darling National Wildlife Refuge' (right below). Fort Myers Beach is still a wonderful place for beach walks and great sunsets (left below). We spent some time with another of Blair's friends from Eastern, who now lives in a condo on Fort Myers Beach (with great views of white sand beaches and the Gulf of Mexico).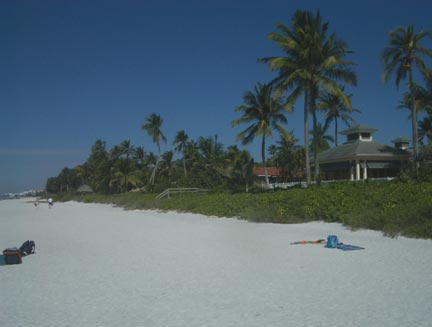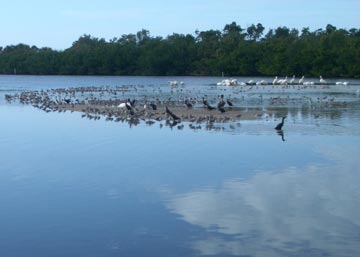 We were interested to find that downtown Ft. Myers is undergoing a revitalization, with many of the historic buildings being renovated.
Click here to read our thoughts.
We then headed north through Florida, but in no big hurry to get even close to cold weather, which we are heard there was alot of. We stayed in Florida State Parks, which we found to be very nice.
Rainbow Springs SP, near Dunnellon, FL., one of the amazing springs in this part of Florida where huge volumes (4 million gallons/day) of water flow out of the ground. Suzie remembers visiting here, when this place was still a tourist attraction (before Disneyworld).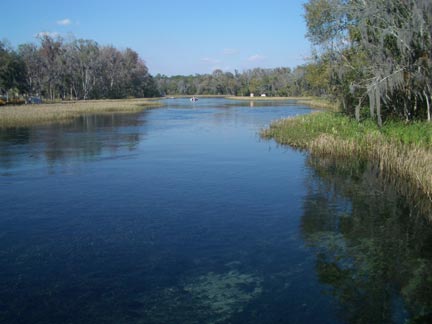 Manatee Springs SP, near Chiefland, FL. We viewed manatees relaxing in the warm (72 degree) water that flows from this spring. The shapes in the water in the middle of the picture are manatees.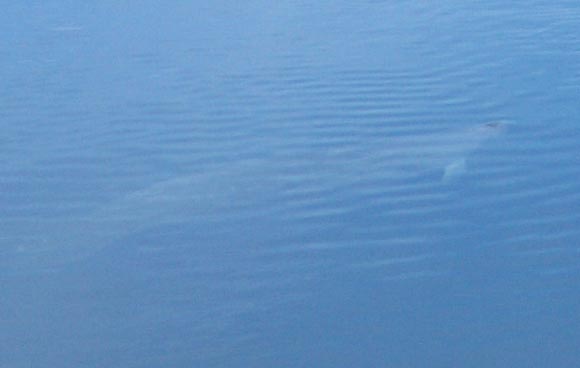 Ochlockonee River SP, near Sopchopy, FL, a place with wide expanses of pine forest with a carpet of saw palmetto and wire grass on the banks of a wide river.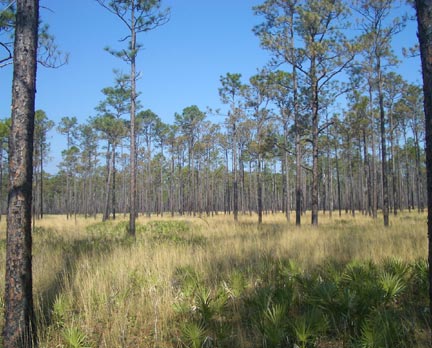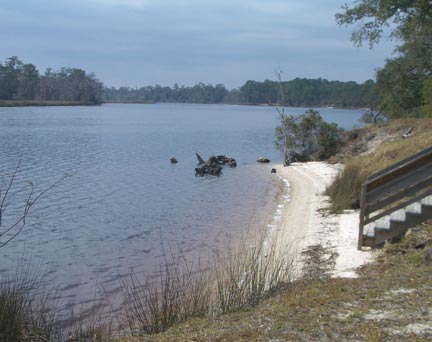 St. Joseph Peninsula SP near St. Joe, FL, on a long peninsula out in the Gulf of Mexico. We enjoyed long expanses of white sandy beaches, pristine sand dunes and gorgeous sunsets over the Gulf.
We continued across the coast of the Gulf of Mexico, stopping at Henderson State Park, an oasis of natural tranquility in a sea of commercial glitz and rising condos called Destin, FL. We explore nearby Seaside, one of the original 'new urban' developments. (below).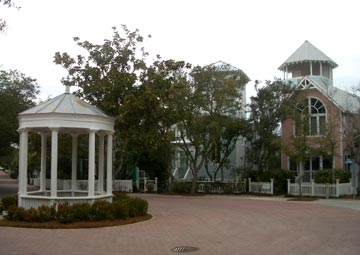 Continuing into Alabama and Mississippi, We begin to see evidence of the damage from hurricane Katrina. We marvel at the amount of destruction along the coast of Biloxi and Gulfport, MS where damaged structures or building foundations are all you see for 3 or 4 blocks back from the ocean. In the left picture below, note the now gone Bombay Bicycle Club in the foreground and the still closed Hard Rock Hotel in the background. In the right picture is the route 90 bridge across Biloxi Bay with the roadway still gone.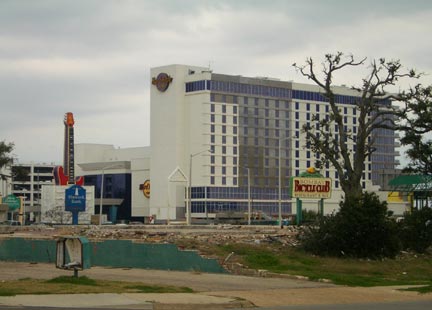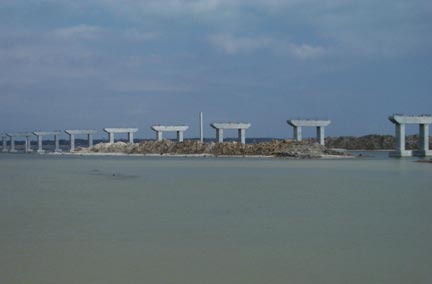 Our next stop is Lafayette, LA, where we enjoy an evening of Cajun food and dancing to Zydeco music. We also find a downtown with many historical buildings wonderfully refurbished and in use.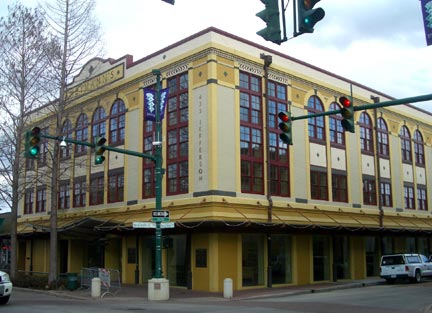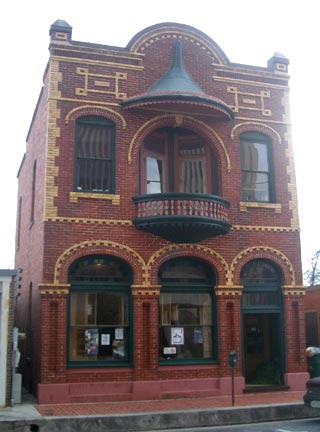 A day of travel on a terribly rough stretch of I-10 takes us to Houston, where we visit with old friends Jack and Brigid. We explore downtown where we view the newly refurbished Rice Hotel (below left) and some of the new condo projects. We ride the new Metro (below right) which provides a transportation alternative for traveling to Houston's Medical Center and Astrodome. Houston needs much more mass transit, but their Metro is a start.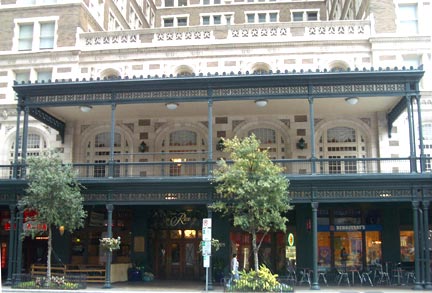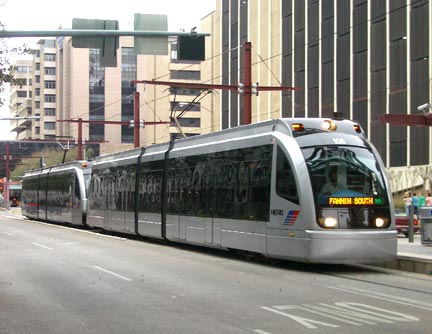 The last leg of our trip takes us across Texas on I-10 and north into New Mexico, and through Carlsbad and Roswell on our way to Albuquerque. We again park our trailer in our friend Lora's side yard, which will be our 'home' for the next few weeks.
Reflecting on our trip, we realize that we have been 'gone' for over six months, as incredible as that sounds. We really enjoyed ourselves and found we were quite comfortable traveling at our own pace and stopping wherever we wished and staying as long as we wanted. Maybe we have more 'Nomad' genes than we thought.
Our next adventure is a return to Europe, beginning in April 2007. We intend to write a journal like this, so look for links to it on our www.pioneerwest.net/nomad site beginning in mid-April.
Click here to return to our Searching the World opening page