Veracruz - 490 Years after Cortes, Some Lessons for Urbanists


On a spring day in 1519, Montezuma's watchmen posted along the Gulf coast sent him word that the 'water houses' filled with strangers had returned. These 'strangers', were Hernan Cortes and his crew of soldiers and sailors. The landing place was a stretch of dunes and marshes and the Spaniards began to draw up plans and articles for the founding of a city, Villa Rica de la Vera Cruz.
490 years later, we arrived by bus from Oaxaca to visit the modern Puerto Veracruz and discovered a charming port city with its centro historico surrounding the colonial Zocalo lovingly cared for. We also discovered that its edges had been surrendered to malls, big box stores, high rise condos and office complexes.
Our bus ride had taken us from Mexico's high central plateau down, past fields of sugar cane and the towering, snow-capped Mount Orizaba (picture below) to the coast and through the outskirts of Veracruz to the bus station.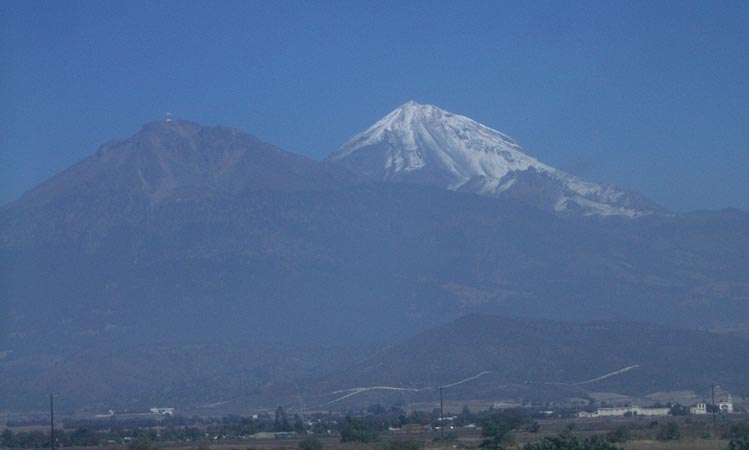 A taxi took us to our hotel, a comfy, modest place, and after checking in, we walked to the Zocalo. The elegant, stately Palacio Municipal, built in the 17th century and modified in the 18th century, filled one side while another side was occupied by the slightly battered but lovely Cathedral. Another side featured several cafes where one could sip a cerveza, listen to local musicians, and shop as ambulantes with folk arts, sunglasses, cigars and lottery tickets came by.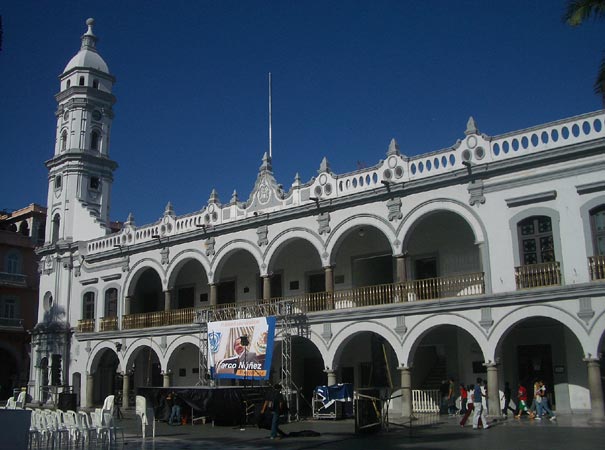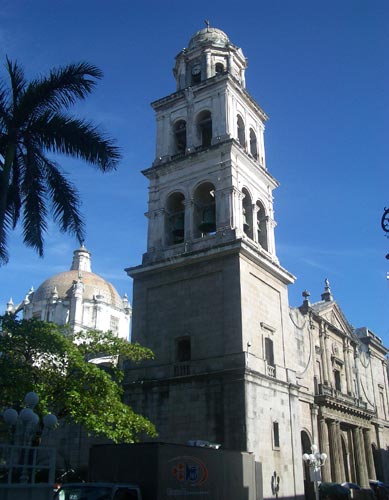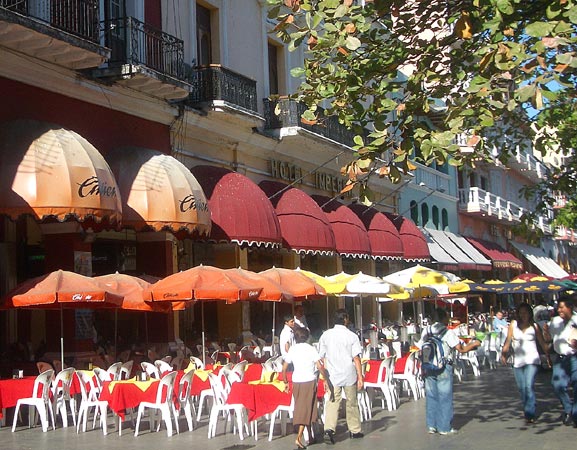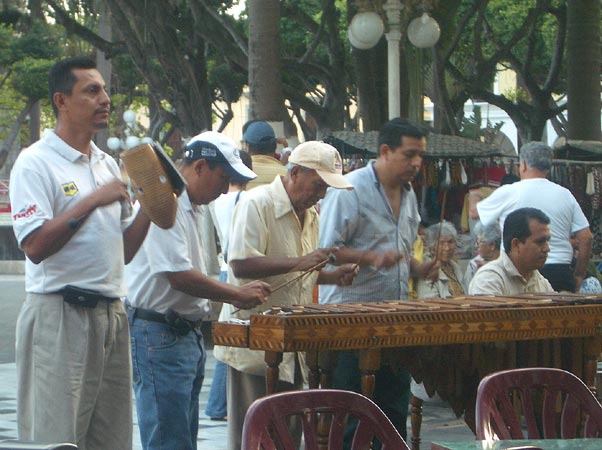 The large pavilion in the center hosted programs such as performances by folkloric dancers and even a political event during the evenings we were there.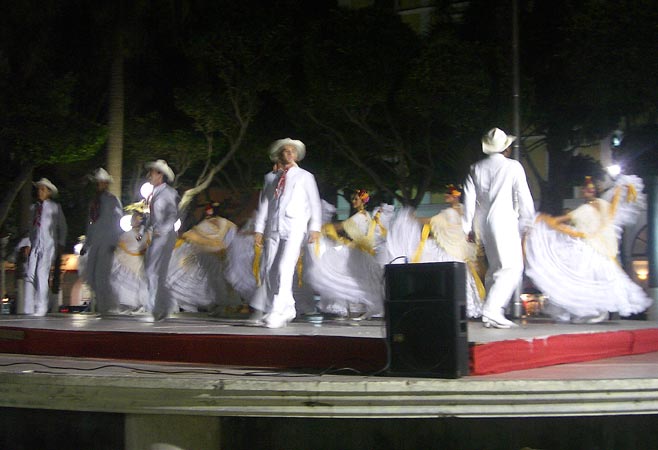 Around the nearby Plaza de la Republica, we discovered a large central parkway with fountains, surrounded by many stately civic buildings, freshly painted and maintained: the handsome Aduana (Customs Hall), the Registro Civil (Registry Office), built in the Porfiriano style, and the French neo-classical Correros (Post Office) and Estacion de Ferrocarril (Railway Station).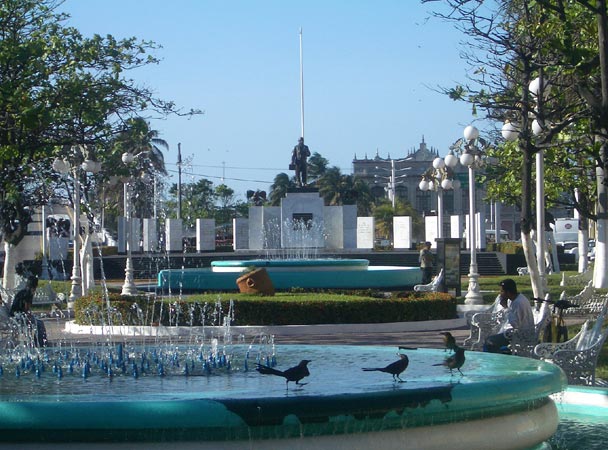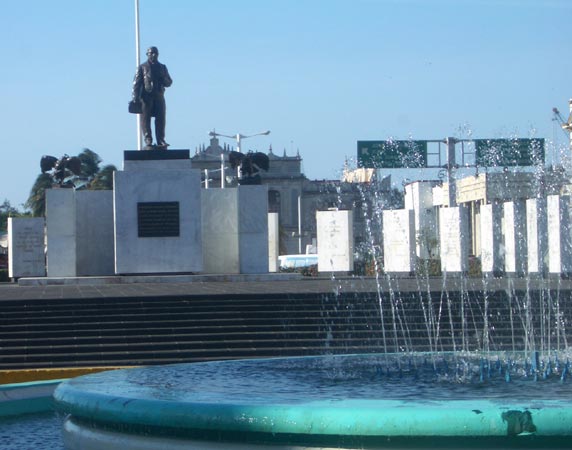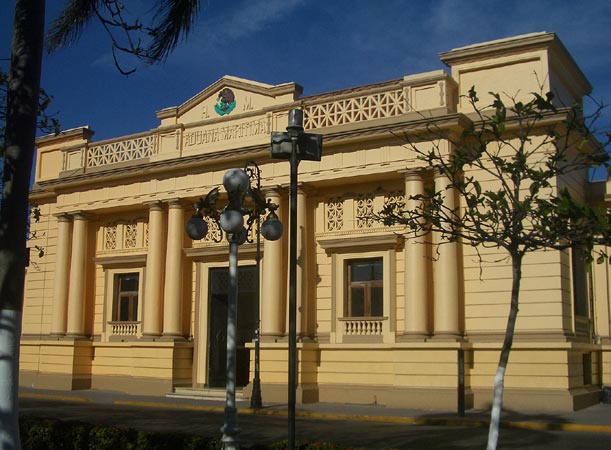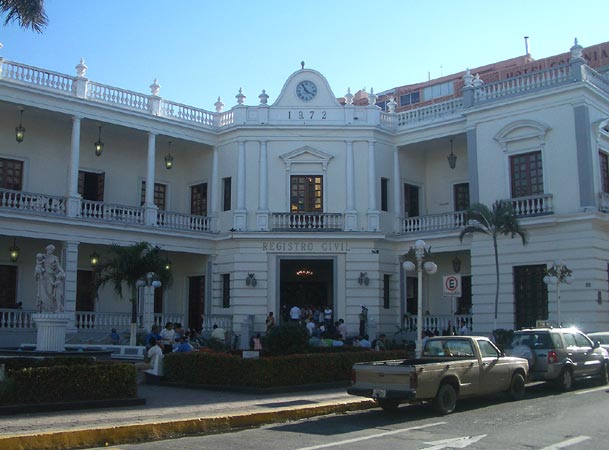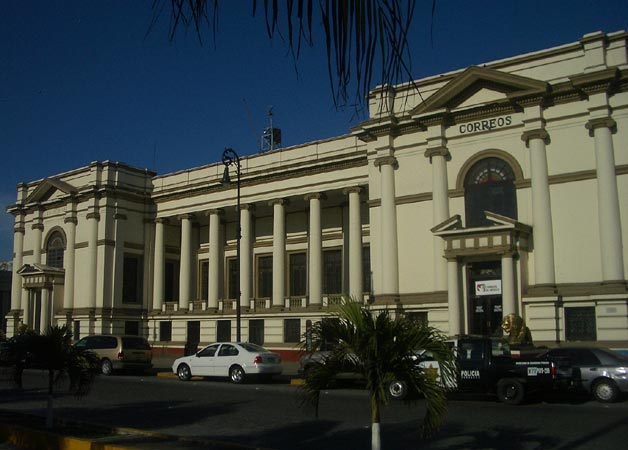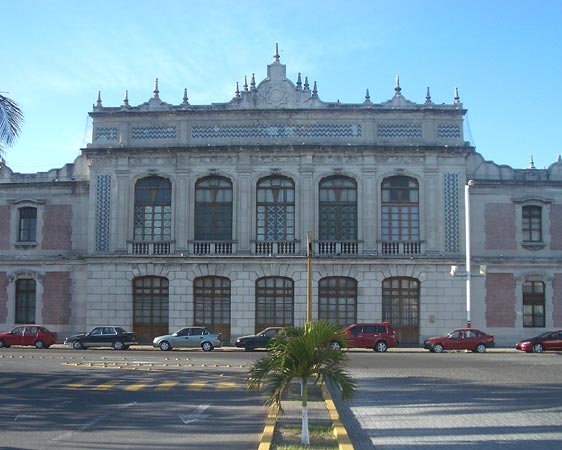 The Malecon, the waterfront boardwalk, offered a pleasant stroll past some engaging statues with views across the water to the cranes of the port and large container ships. The Faro Venustiano Carranza (old lighthouse) and a very large, contemporary building that was quite out of character, shared the plaza along the Malecon.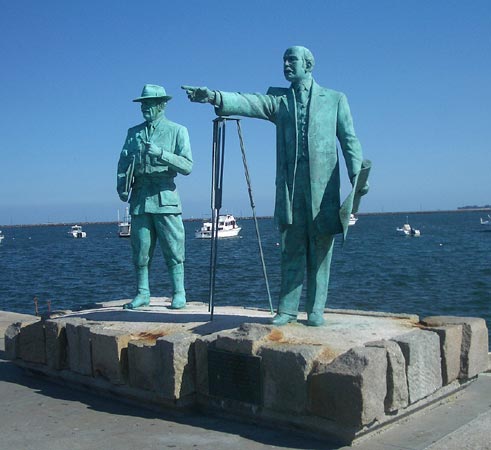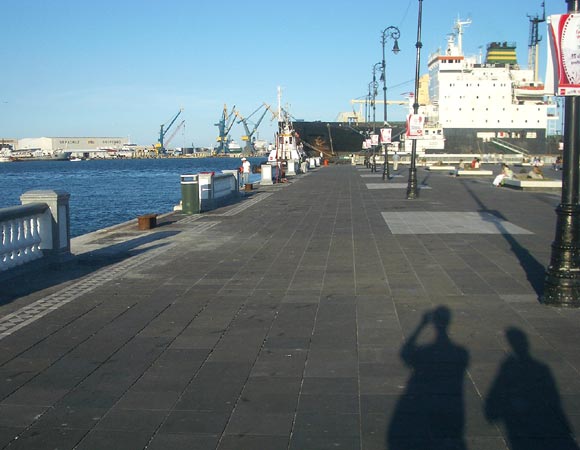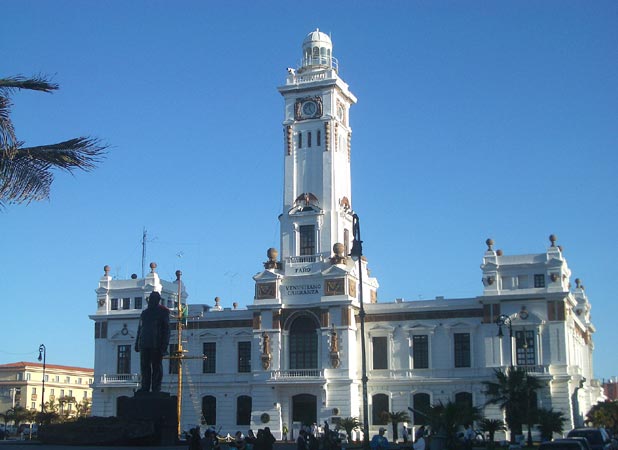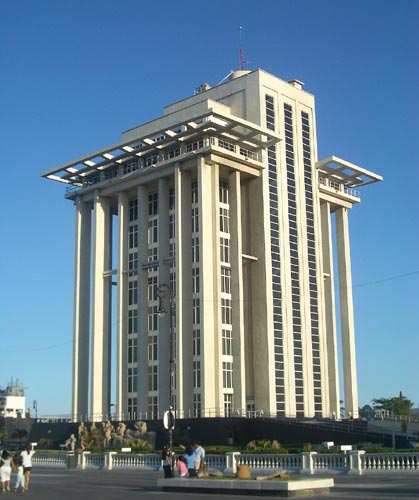 Way back in 1972, one of our writers (Susan) had traveled through Mexico and had visited Veracruz. She had stayed in the Hotel Mocambo, a grand old rambling hotel built in the 1930s. She recalled that it was away from the city on a hill above the playa in a scarcely developed location. We had learned that this vintage hotel had been recently regenerated so we were enthusiastic to visit. We took a local bus to Boca del Rio to find it. The ride took us along the waterfront until we began to see larger and larger resorts. This area was clearly a developer's dream, dominated by high rise condos and offices and the pièce de résistance, the huge Plaza Americas shopping mall.
Just beyond stood the Mocambo. We felt as if we had just stepped back into another age. Walking up the stairway into the elegant lobby, the illusion of being in another age was stronger. We wandered along the walkways past rooms with rich wood doors and window trim and terraces that looked out over the ocean, the gardens, and the coconut palms. The elegant architecture and decor from Mexico's Belle Epoque with Art Deco touches recalled an age when time passed more slowly and people enjoyed more leisure to sit and read or wander in the gardens. The old place showed it's age but still retained the elegance, and perhaps the ghosts, of that other time. We felt a little sad that the Mocambo's era and way of life has been lost.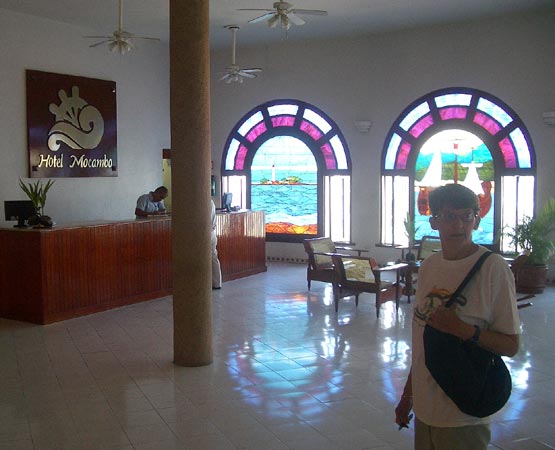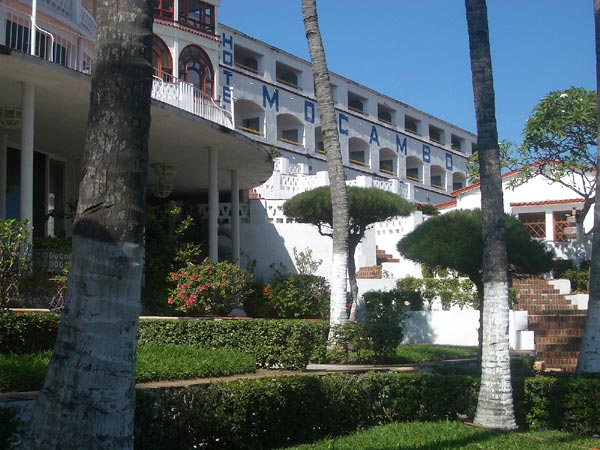 As good Urbanists, we felt compelled to visit the mall. Plenty of shoppers walked past the stores with well known names of high end, mostly European, retailers. Nearby were a Wal-Mart and an Office Depot, but we skipped those!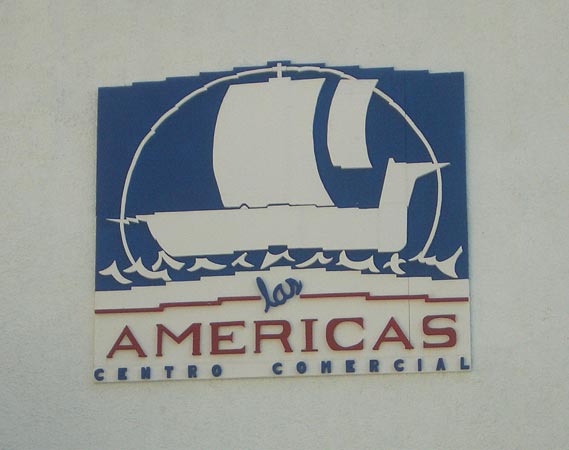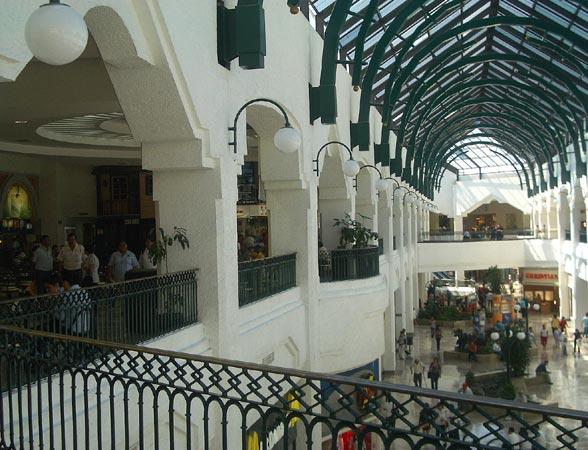 Back downtown that evening we were pleased to find an alternative - a real walkable shopping street, teaming with people - Calle Lerdo near the Zocolo.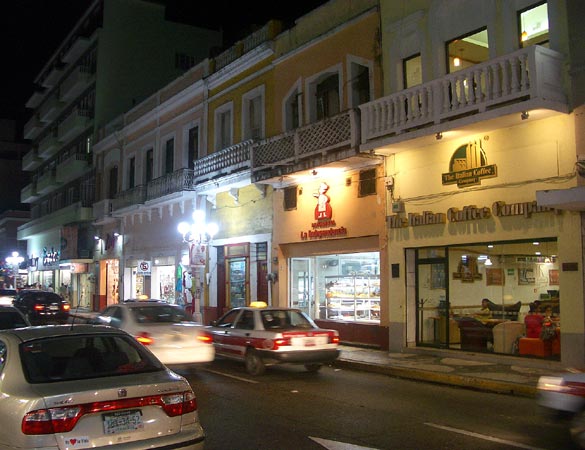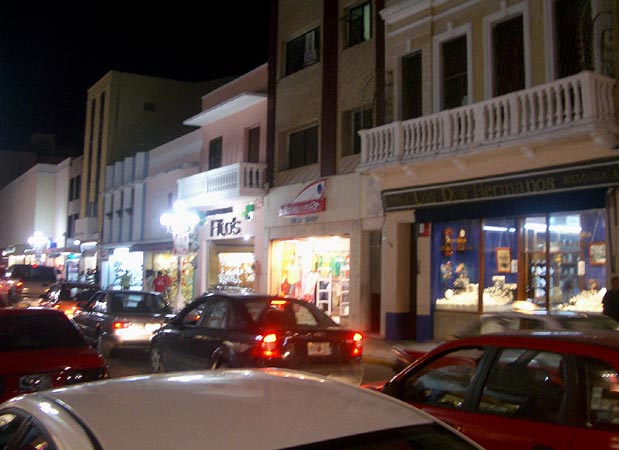 We sensed that Veracruz had found a way to offer choices - modern shopping mall as well as traditional Main Street shops; traditional small hotels and grand resorts; residences in high rise condos and apartments above the shops. Here, respect for history, tradition and culture were nicely blended with vital, contemporary, global development. Our visit had been short and yet we felt that we had learned some good lessons for Urbanists!
Click here to return to Our Moving on to Mexico - Winter 2008-2009 page