Wondering Why New Homes Are Not ALL Zero Energy Homes!


Could a New Home be a 'Zero Energy Home'...
... that is, a home that generates all the energy that it uses, so that the home's owner never pays an energy bill!
Is this really possible, we wondered?
To learn more, we visited the 'Zero Energy' models of New Town Builders at Stapleton in Denver, Colorado. From this visit, we learned that zero energy homes are definitely a reality. More importantly they are not exotic, special, one-of-a-kind demonstration models; instead they are attractive homes, built with 'off the shelf' materials and equipment generally available on the market, and are available now.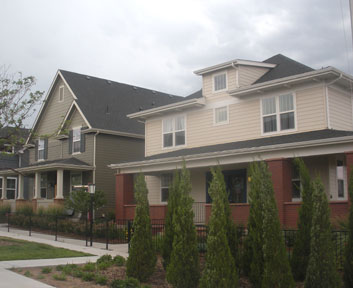 In talking with the New Town folks, we learned more about how they are able to build a truly 'zero energy home'.
We were told that:
Every New Town 'Zero Energy Home' includes building features that exceed the norm, such as:
A proprietary wall system which creates more space for insulation in the exterior wall.
An increase in the heel height of the roof's trusses to allow more space for insulation.
Spray foam at all seams providing additional insulation.
Attic, exterior walls and foundation wall all have increased insulation.
Windows with improved U-value offer greater energy efficiency.
Also, the homes include higher efficiency mechanical systems:
Tankless hot water system
96% efficient furnace
16 SEER (or better) air conditioning unit (SEER is the seasonal energy efficiency rating)
Panasonic Whisper Green continuous ventilation fan in lieu of a fresh air ventilator.
Energy Star appliances including refrigerator.
100% CFL lighting, eliminating incandescent lighting.
In addition, each Zero Energy home includes a photo voltaic (solar) electricity generating system on the roof as a standard feature, along with a state-of-the-art electronic control system that will monitor the use of energy in the home and return amounts in excess of needs back to the electric company, if local regulations allow.
Of course, all of these additions add to the total cost of the home. New Town estimates that the Zero Energy options add about $145 per month to the home's mortgage. But, they point out this increase is about the same as the savings in monthly cost of energy today, so that the overall cost to the homeowner is the same. A more important point is that over time the Zero Energy homeowner will see savings, as their monthly payments will not change, while rising energy costs will increase monthly costs for owners of non-Zero Energy homes.
Our Thoughts
With this information, we found ourselves wondering why new homes are not all Zero Energy homes!
We offer this as an example of what is possible and we applaud New Town for taking a leading role in energy efficient home-building in Denver. Most probably, New Town is not the only builder in Denver or elsewhere offering homes with similar energy saving capability. It is encouraging that more homebuyers are understanding the benefits, both financial and in reduced energy use, of Zero Energy homes, and more builders are offering them.
Disclaimer: This information is presented solely to educate and inform our readers. It does not consitutute an endorsement or approval of this or any other product.
The information presented is solely that provided by New Town Builders. PioneerWest has not verified the accuracy of these amounts or any of the assertions by New Town.
Click here to return to our 'Actions That are Making a Difference' page