Actions We Have Found That are Making a Difference


As we travel, we often encounter projects and efforts that are helping to reduce the emissions of greenhouse gases or to mitigate the expected impacts of Climate Change. Following are our stories on some we find noteworthy.
European Green Capital Award
Each year the European Commission chooses a city for their European Green Capital Award, to recognize and reward local efforts to improve the environment, the economy, and the quality of life of growing urban populations.
Hamburg, a city we visited in 2011 and again in 2016, was the winner for 2011, due, in part, to its massive energy savings program and excellent public transport system, both elements of a People Friendly city.
Nantes, France, a city we visited in 2015 was the choice in 2013.
Nijmegan, where we also spent some time in 2015 is the choice for 2018. Click here to read our story of this very people friendly city.
To learn more about all the winners, Click here.

Netherlands Actions
While traveling around the Netherlands we encountered several projects that provided firm evidence that the Dutch are making substantial financial investments to adapt to the changing climate and the risk of rising sea levels.
Click here to read our story titled 'Climate Change - Worrying about US!' which includes pictures of what we saw.

Wondering Why New Homes Are Not ALL Zero Energy Homes! - Information on a 'zero energy home' that can allow the owner to live with no net cost for energy.

Making Roofs Climate Friendly with Solar Shingles describes the DOW PowerhouseTM solar shingle systems that are an alternative to rooftop PV panel arrays for home installations.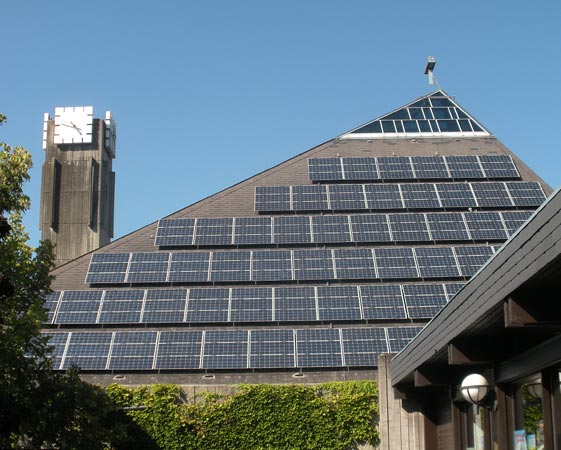 Solar Region Freiburg about the efforts of Freiburg, Germany and the surrounding region to embrace solar energy as a substiute for a proposed nuclear power plant. There were numerous solar installations - on public buildings, private homes and even a church (picture at right)
Vauban is Famous!, about the Vauban neighborhood of Frieburg's embracing of solar energy and low energy use design,
HafenCity - Hamburg's Bold New Venture in Urban Living, with modern sustainability design.
Click here to return to Climate Change portal