Christchurch Asks, "What Do We Want Our City To Look Like After the (September 2010) Earthquake?"


New Zealand, 2000 kilometers across the Pacific Ocean, was the next stop on our Winter 2010/11 trip. We flew to Christchurch on the South Island to begin our exploration.
After the three hour flight and losing two more hours to time change, we arrived very late, collected the key to our hostel room at Old Country House and promptly slept.
Next morning, Sunday, we walked along the quiet streets to the Centre, searching for brekkie. As we munched our toast and sipped our flat whites (coffee with milk), sitting outside, we watched tourists stroll by, taking pictures, and the tourist trolley roll past. After boisterous Sydney, the calm was palpable.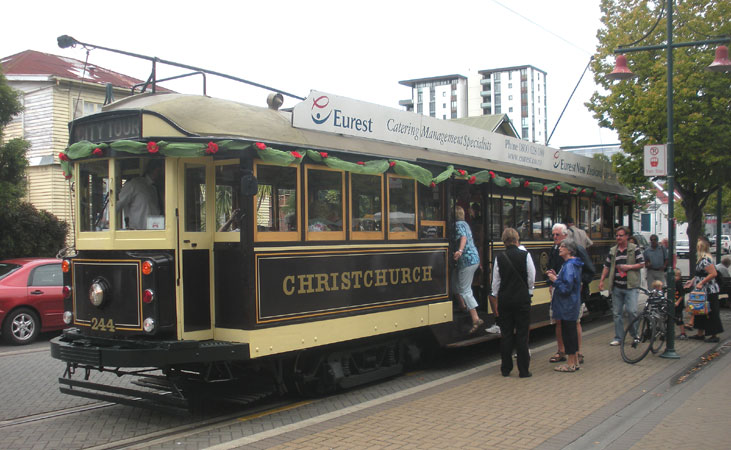 We spent the day walking along pleasant streets lined with shops and cafes, strolling through green and flowery Victoria Square and along the treelined River Avon,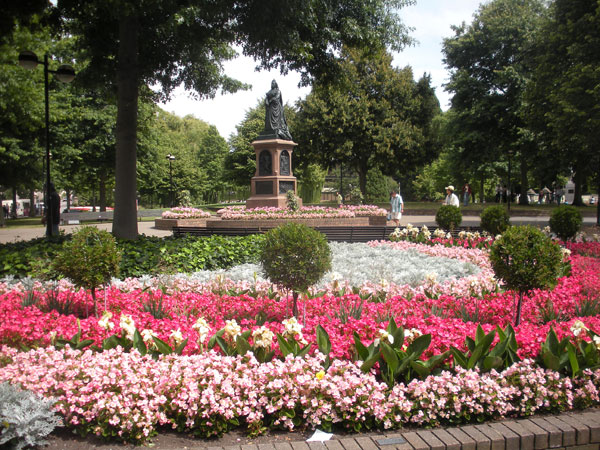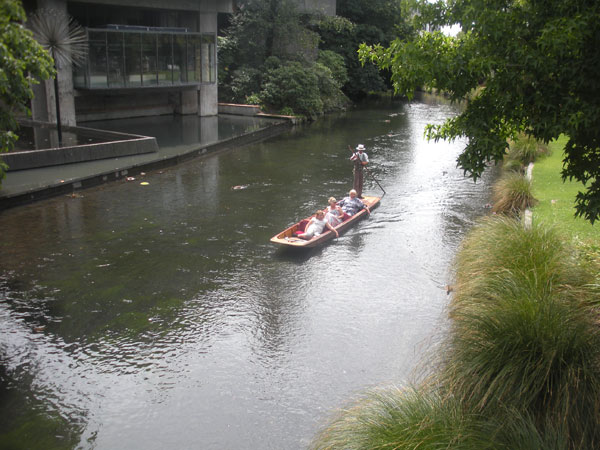 ... and continuing on to Cathedral Square to admire the Cathedral (2 views), the Chalice better known by many as the 'ice cream cone' sculpture, and surrounding buildings while being entertained by buskers.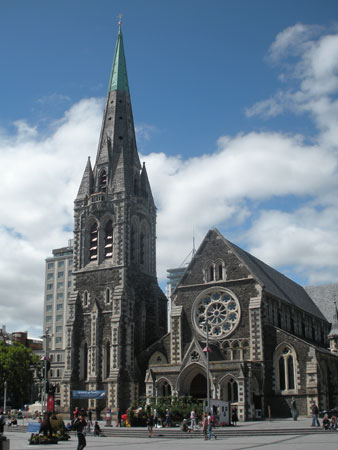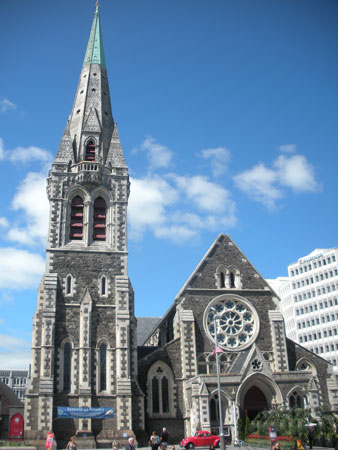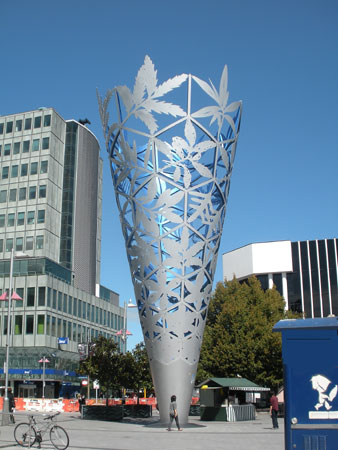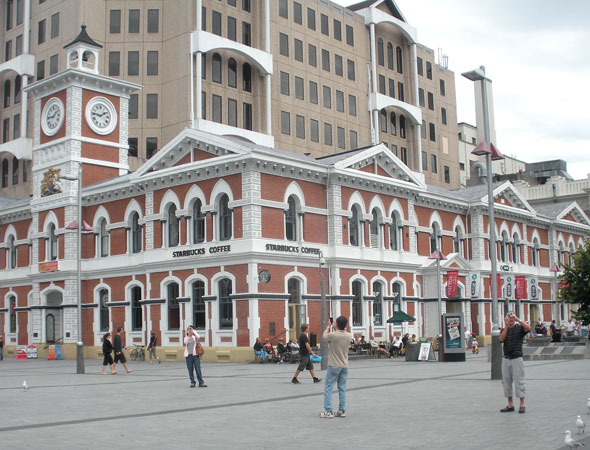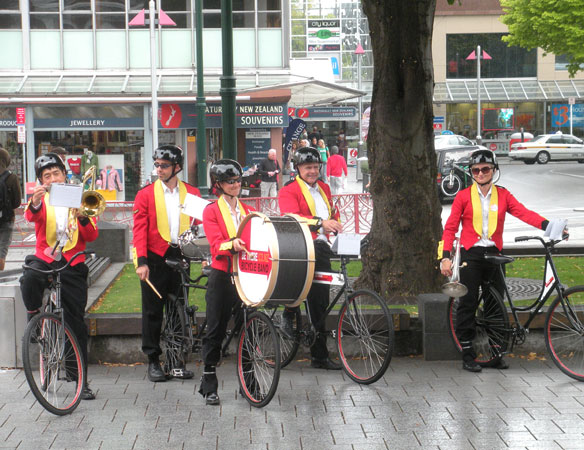 Later we visited the lively craft market that filled the Market Square of the Arts Centre. This complex of gothic buildings, originally the home of the University of Canterbury and the Girls and Boys High Schools, became the heart of Christchurch culture when the university moved to a modern new suburban campus in 1975.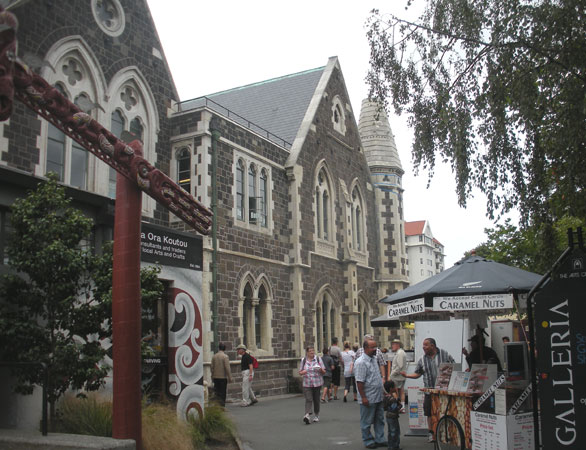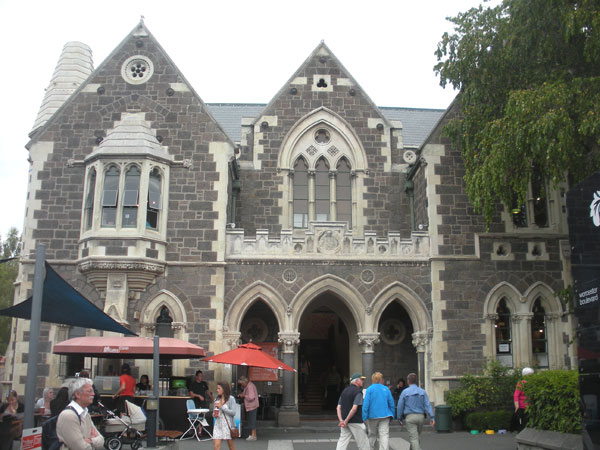 Heading back toward home, we discovered that a cluster of shops very nearby included a small food store, a somewhat larger food store, several fish & chips shops, a Subway store, a couple of pubs (not so inviting), and the Memphis Belle, a pizza cafe. Interspersed with these, were several fenced areas surrounding damaged buildings that had been shops before the earthquakes in September, 2010.
The central business district (CBD), a rather large area enclosed within four avenues, featured Cathedral Square in the very center as well as several pedestrian shopping streets and a free shuttle that followed two routes around the CBD. There were plenty of cafes, pubs and restaurants, shops for everything, plus a nice library. The city offered an impressive range of historic buildings alongside more recent additions housing corporate offices and urban apartments.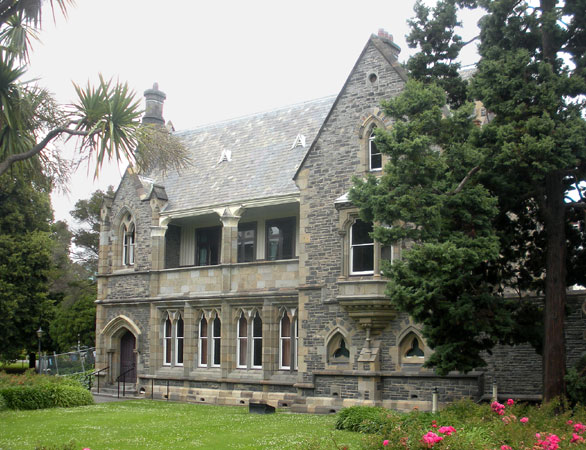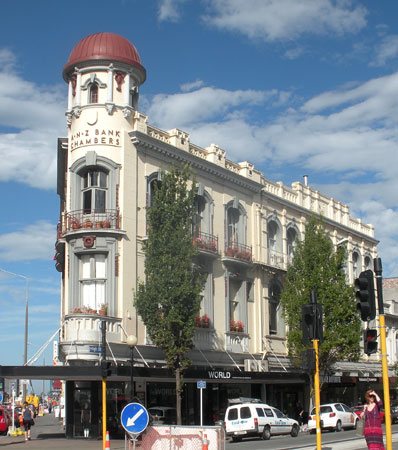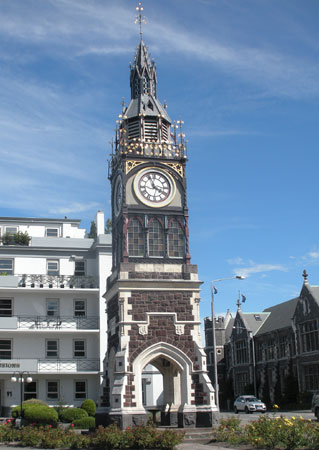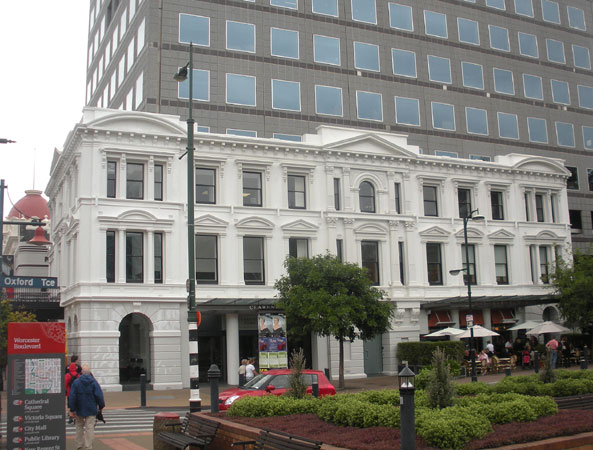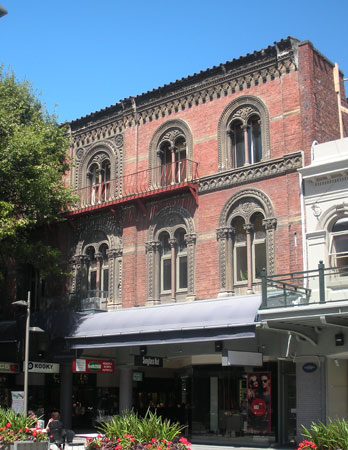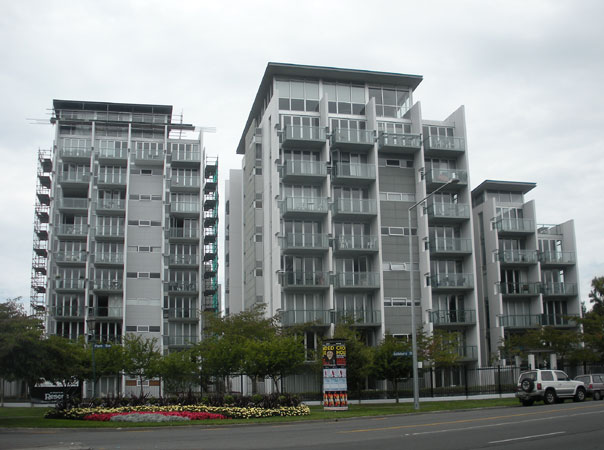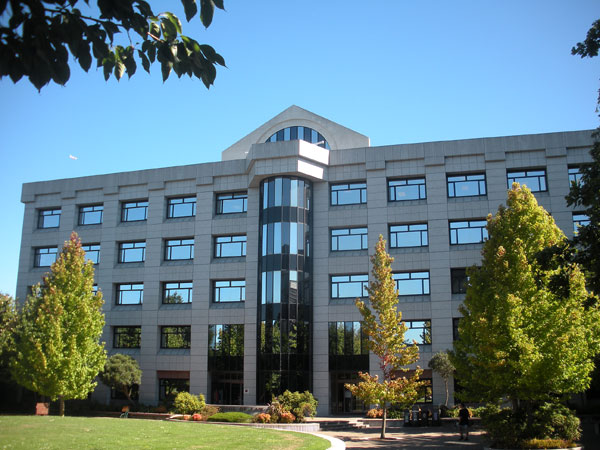 The neo-gothic buildings that made Christchurch so attractive to visitors and residents alike were built in the second half of the 19th century using dark volcanic bluestone and white Oamaru limestone or red brick and limestone. As we walked around, we noted that many were still being stabilized and restored after having been damaged in the September, 2010 quakes..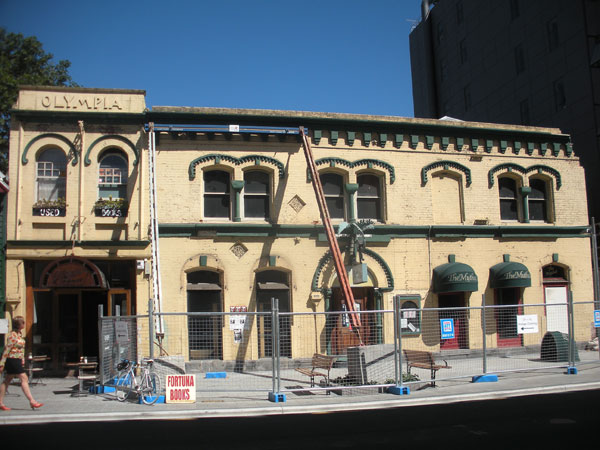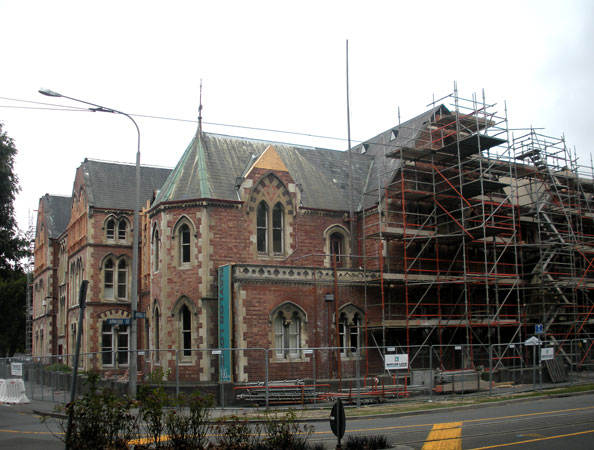 The refreshingly modern Art Gallery with its curving, soaring glass facade and dangling aerial sculptures provided a pleasant contrast.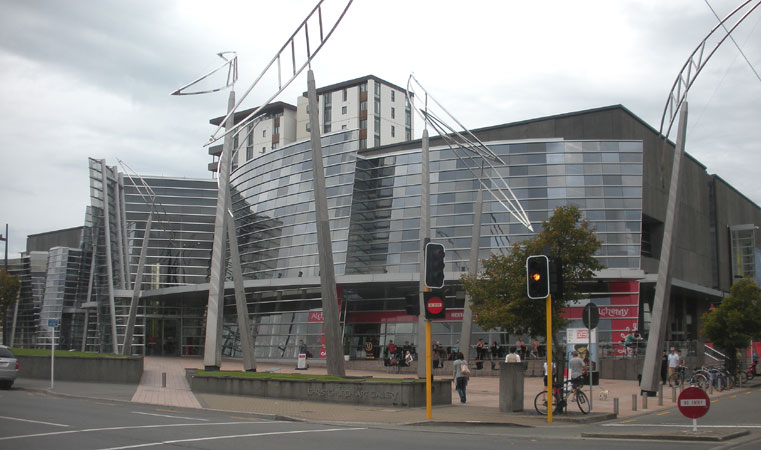 Inside, we discovered an exhibit, Before After, that challenged Christchurch residents to consider "What do we want our city to look like after the earthquakes?" We learned that a series of programs on the topics of Environmental Planning, Urban Design, Heritage and Character, Residential, and Transport and Infrastructure, were being held over successive weeks to offer opportunities for the community to express their thoughts and ideas. We attended the first of these programs and were pleased to learn they were taking a careful and long term view.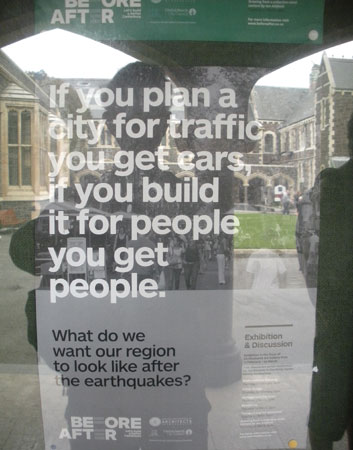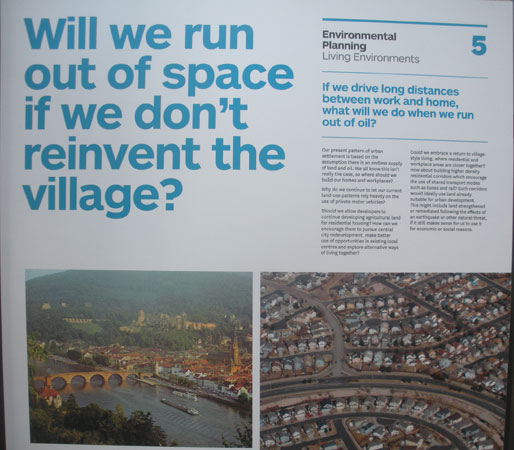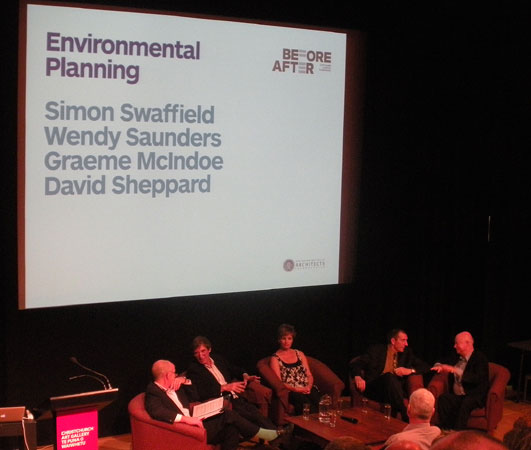 Another exhibit about the Canterbury district's water supply urged residents to conserve water and protect water quality! Concerns were raised about the increasing concentration of dairy farms and dairies in the region and the impact of their effluents on water supplies. We looked at each other and said "We know a lot about this. Perhaps they need a Children's Water Festival!"
One evening, we attended a showing of a documentary film that documented the realities of water pollution throughout the South Island, somewhat debunking our belief in New Zealand's pristine environment.
The vast green lawns, sports fields, a golf course and, best of all, the spectacular Botanic Gardens of Hagley Park offered natural world connections and recreation opportunities galore. We strolled through the gardens, past a myriad of flowering plants and shrubs, native and exotic trees and plants, conservatories packed with cacti and begonias, and riparian vegetation transformed into topiary.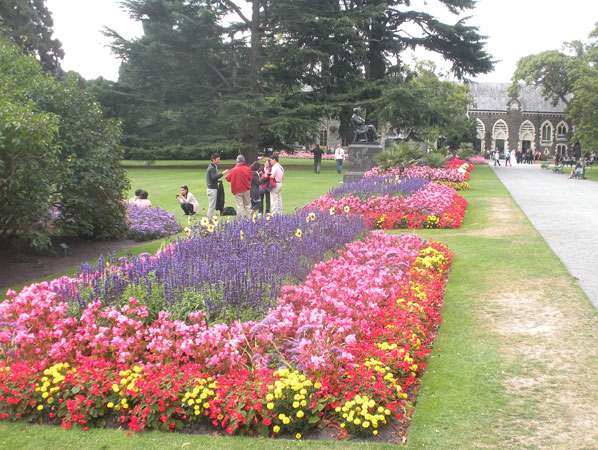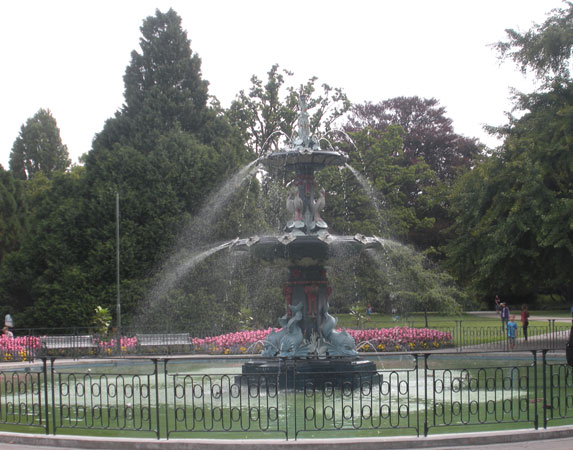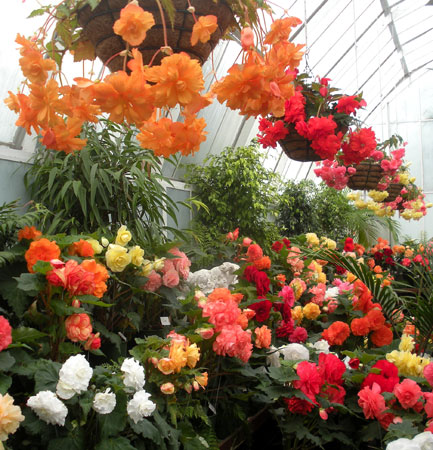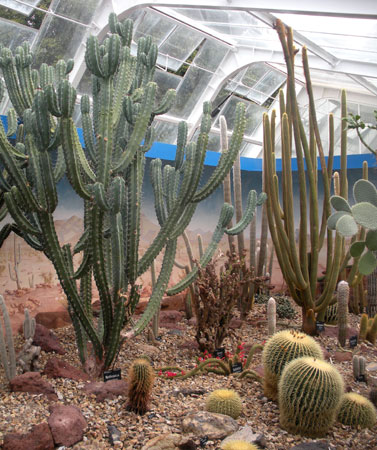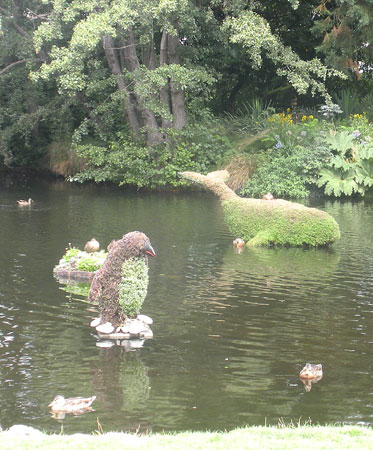 Our friends, Bob and Pat, who we had met last spring in Chanakale, Turkey, invited us to visit them so, we spent an evening enjoying the awesome views from the windows of their lovely home perched on a hill high above the estuary. This was our opportunity to travel beyond the four avenues and showed us the extent to which this city had spread over almost all of the hills and valleys of this very topographically convoluted region!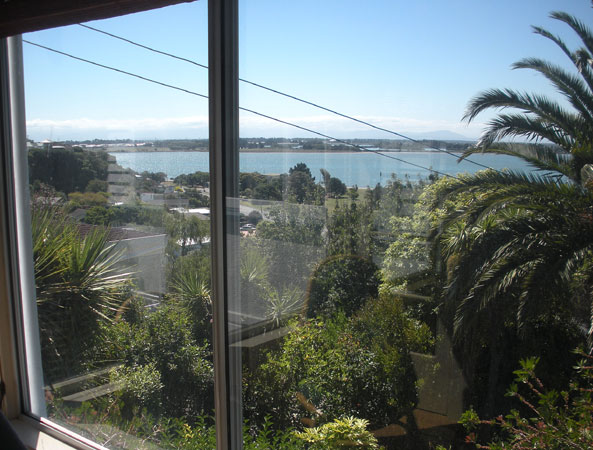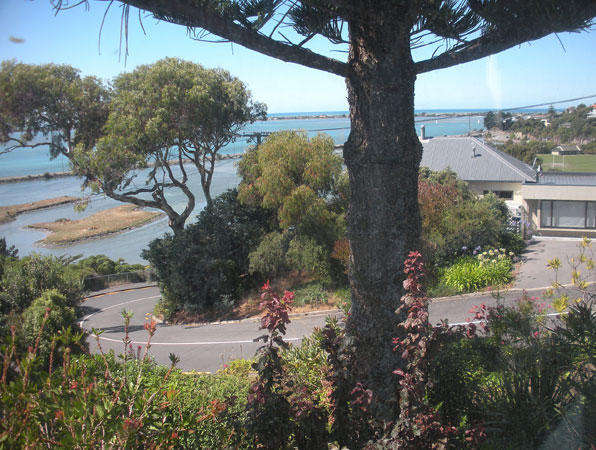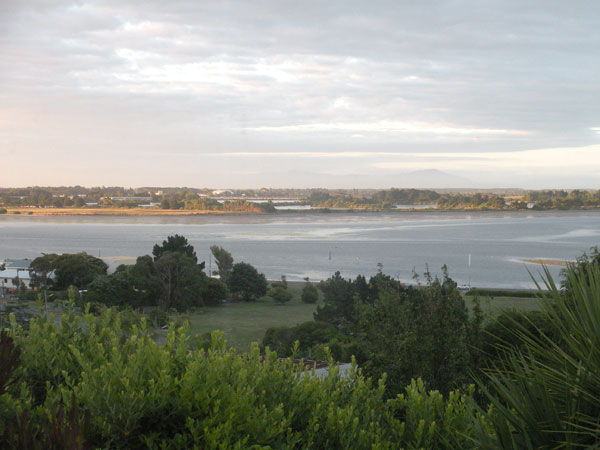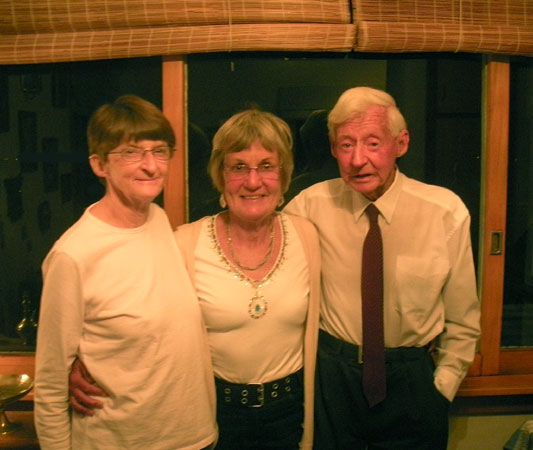 In the days that followed, trips by MetroLink bus and on foot, to some of the suburbs of this sprawling city offered another face of Christchurch:
The historic port of Lyttleton, where cruise ships stop, container ships deliver goods, and shipments of logs leave for Asian destinations. Remnants of the past still existed in their time ball tower and historic buildings in the town.






Brighton Beach with its houses sheltered behind windswept dunes, its wide beaches, an esplanade and long pier jutting from a bright white civic center.




With its population of 390,000, Christchurch is the largest city in the South Island and the major port. It seemed to us to be a city with a past history of urban design that had been overrun by population growth and random and probably unplanned development. It became clear that the city must face up to the need to provide alternatives to car transport and car dependent development, that also reflects the future risk of another earthquake. We were pleased to see the Before After planning process proceeding and we wish the city well as residents decide what they want their city to look like!
Epilogue
On February 22, 2011, 12:51 PM local time, Christchurch was hit with another earthquake of 6.3 magnitude. Many buildings, especially in the CBD were damaged and many lives were lost and people injured. Now, months later the beleagured city continues the recovery process with great courage. We wish them well.
We returned to Christchurch on March 20, 2011. While the CBD was still off-limits, we explored the area around the hostel and were pleased to find that recovery was underway. Of the shops mentioned above, the small food store had reopened in only a few days; the larger food store reopened on March 21st; the fish and chips shops were still damaged beyond use; the pubs were open; the Subway store was open; but the Memphis Belle, where we had enjoyed pizza a month earlier was sadly still damaged beyond repair.
Click here to read our story about the earthquake.
Click here to return to our 'Winter 2010/11 - 'Down Under in Australia and New Zealand' page