Winter 2010/11 - 'Down Under' in Australia and New Zealand

On April 30, 2011, we returned to the US after 5 months of wonderful experiences in Australia and New Zealand. We have posted a number of stories which you can read by clicking on the links at the bottom of this page (scroll down to get there). As usual, we intend to add more as we can and will post notices on our opening page when we do. We hope you enjoy them.

October, Golden Autumn in Delft, was lovely with cool, crisp, mostly sunny days, but in the last days of October, the weather turned, giving us a taste of Northern European winter, so we returned to the USA to see friends and family, our doctors, and to prepare for our next trip - to Australia and New Zealand.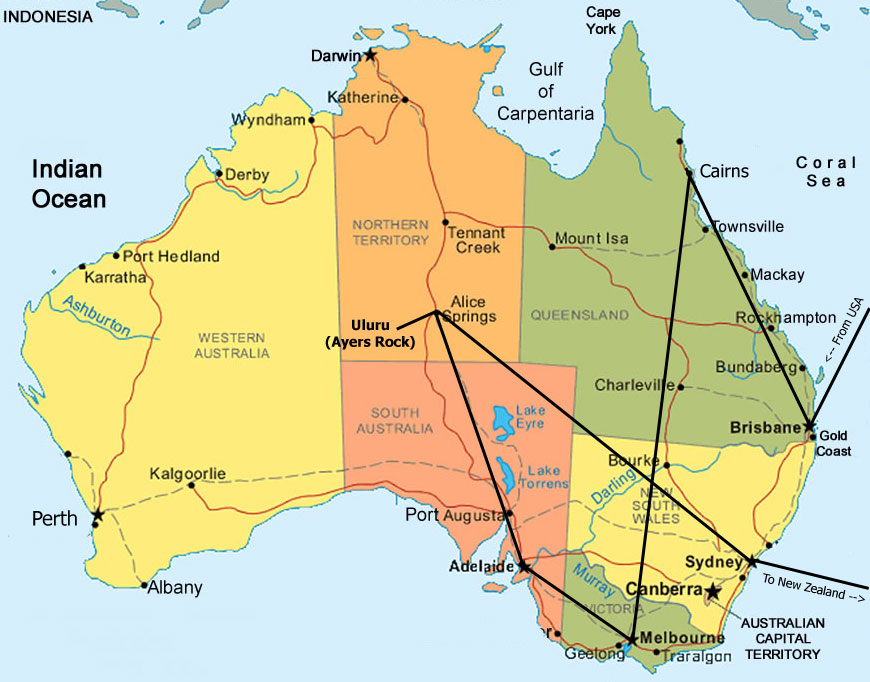 On November 23, 2010, we flew to LAX and boarded a big Qantas 747 for the LONG flight to Brisbane, arriving the morning of the 25th. We spent the first few days touring Brisbane to see if we would return for a longer stay. Unfortunately the subsequent floods have made any return impossible on this trip.
We then flew up to Cairns for a wonderful snorkle trip to the Great Barrier Reef and a visit to the tropical rain forest just inland.
Another flight took us down to Melbourne, where we spent Christmas and New Years, our first in a place where it's the middle of summer. Melbourne had a nice urban feel with good transit and much to see and do.
We traveled on to Adelaide by train and spent a very pleasant week in this smaller city.
Then it was on to the 'Outback' or the 'Red Center' of this vast continent/country. Arriving in Alice Springs, we found it to be quite green with abundant grass and verdant foliage, thanks to the unusually heavy rains in recent months.
From 'Alice' we took a day tour to the nearby MacDonnell Range, and a 3-day bus/camping trip to Uluru (Ayers Rock), one of the icons of a visit to Australia. At sunset and again at sunrise we sat enchanted by the changing light on this huge monolith.
Another flight took us to Sydney where we enjoyed the views of the famous Opera House and Harbor Bridge, while riding the ferries that criss-cross the harbor. With unusually hot temperatures forecasted, we then retreated to the Blue Mountains, west of Sydney where we mixed time enjoying the views over the mountains with some time catching up on our writing.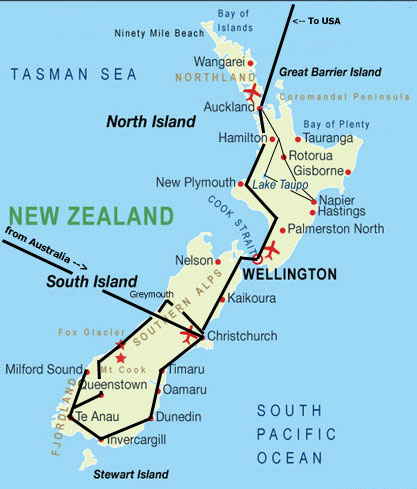 We Move on to New Zealand
On February 12th, we left Australia and flew to Christchurch, New Zealand. After 10 days enjoying this beautiful city the big EARTHQUAKE hit. We were in our hostel at that moment. The building starting shaking quite violently from side to side. We just dropped to the floor and clung to the walls to keep from falling. As the shaking subsided we quickly walked outside to find all our housemates huddled together, many quite disturbed, waiting for what might happen next. Fortunately no one was hurt. A number of aftershocks followed, one quite violent, but our hostel held up with virtually no damage.
We survived the next couple of days fairly well, considering. We had to boil the water we could find (on the barbeque), cooked our food (also on the barbeque), had no electricity for a day and a half, and no running water, but we were OK and had a safe place to be and a roof over our heads; many in the city were not so fortunate.
On February 25th (the 3rd day after the quake), we boarded a bus and traveled south to Dunedin, 400km away, where things were undisturbed by the quake. It is a great relief to be away from all the destruction. We feel apologetic about leaving Christchurch while so many are left there, but because we felt that we couldn't help, it would be better to leave and be two less tourists that would need food and possibile assistance.
Having adjusted back to more normal conditions, we continued our travels. After a nice stay in Dunedin we took a bus to Invercargill, for a few days in a calmer place less on the 'tourist track'.
Another bus took us to Te Anau, the launchpoint for most of the trips to Milford Sound. After a night to get ready we boarded a bus that took us through amazing mountain scenery, through Homer Tunnel and down into Milford Sound. After catching our breaths at the stunning views of peaks and water, we boarded the Milford Wanderer, a hearty ship, our home for an afternoon cruise on the Sound, a nice dinner, a bed for a night, and a morning cruise through the Sound to the Tasman Sea. The sheer cliffs, deep water, visits by dolphins, stories from our guide, the surges of clouds and mist created a magical experience for us.
Wishing to spend even more time in this incredibly awesome place, we checked into the nearby Milford Sound Lodge and enjoyed another day walking along the foreshore and admiring the views of the great pointed peaks, vertical rock walls and clear deep blue water as the light changed and the clouds drifted through. The following day we took the bus back to Te Anau, seeing the peaks and forest from the other direction.
Then on to Queenstown. We skipped all the 'adrenalin generating' activities that the town is known for and rode the classic steamboat across the lake and traveled by cable car to enjoy the panorama of the lake and mountains from the top of Bob's Peak.
A short bus ride took us to Fox Glacier where we viewed the face of this white glistening river of ice with towering snow covered peaks in the background. We then continued by bus to Greymouth and by the wonderful TranzAlpine train ride back to Christchurch to reunite with our friends at the Old Country House hostel where we experienced the big February 22nd earthquake. 'Welcome to Christchurch' was our response when a 4+ aftershock reminded us of our earlier experience.
Another bus ride up the east coast to Picton and a ferry ride across Cook Strait brought us to Wellington, capital of New Zealand and the start of our travels on North Island.
We explored Wellington, New Zealand's capital, for a few days and then traveled by train to Auckland where we joined Ross, a friend we met in Turkey last spring. Over the next days he showed us much of the countryside north of Auckland followed by a trip south to Lake Taupo (and the nearby still active volcanos), Napier (destroyed in an earthquake back in 1931 and rebuilt with rich and well cared for Art Deco architecture), and Rotorua (center of much geothermal activity including geysers, steam vents and bubbling mud pools).
We spent our final two weeks in Auckland, getting to know New Zealand's largest city before flying back to the US.
The links to our stories are below. We hope you enjoy them.
Australia
New Zealand
Click here to return to our 'Searching the World for People Friendly Cities' page