Travels Around New Zealand's South Island


Leaving Christchurch just after the Earthquake, we traveled south to Dunedin, 400km away, where things were undisturbed by the quake. It was a great relief to be away from all the destruction so we proceed to continue with our travels around South Island.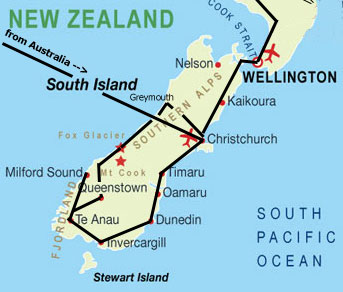 After a nice stay in Dunedin we took a bus to Invercargill, for a few days in a calmer place less on the 'tourist track'. While there we learned about the tuataras, an endangered reptile little changed since the time of the dinasaur.
Another bus took us to Te Anau, the launchpoint for most of the trips to Milford Sound.
Click here to read about that trip.
It was then on to Queenstown. We skipped all the 'adrenalin generating' activities that the town is known for and rode the classic steamboat across the lake and traveled by cable car to enjoy the panorama of the lake and mountains from the top of Bob's Peak.
A short bus ride took us to Fox Glacier where we viewed the face of this white glistening river of ice with towering snow covered peaks in the background.
We then continued by bus to Greymouth and by the wonderful TranzAlpine train ride back to Christchurch to reunite with our friends at the Old Country House hostel where we experienced the big February 22nd earthquake. 'Welcome to Christchurch' was our response when a 4+ aftershock reminded us of our earlier experience.
Another bus ride up the east coast to Picton and a ferry ride across Cook Strait brought us to Wellington, and the start of our travels on North Island.
Click here to view the Flickr gallery of some photos from our travels.
Click here to return to our 'Winter 2010/11 - 'Down Under in Australia and New Zealand' page