Sydney - Beautiful, Really Australian and Fun!

Australia is BIG, really BIG! Having traveled from Brisbane to Cairns 1700 km, then on to Melbourne (2840 km), to Adelaide by train (a short run of 730 km) and on to Alice Springs (1530 km)and finally to Sydney (2790 km) the full impact of this island continent's vastness was dawning on us.
But, it was those long van rides through the Red Centre, where no villages and few other vehicles were visible, that really brought it home to us that Australia is not only big but that much of it is also empty. With its 21.8 million people scattered across an area as large as the continental US, it's more like the USA back in 1850.
From Alice Springs, we flew to Sydney and as the plane circled this metropolis of 4.6 million people, we felt the excitement of returning to urban life after our journey into the outback. And Sydney was so beautiful, spread as it was around the blue waters of Jackson Bay and Botany Bay.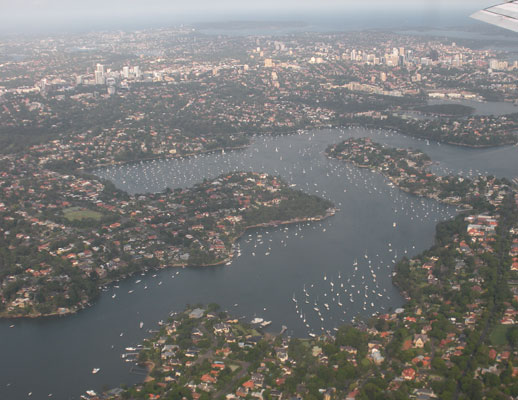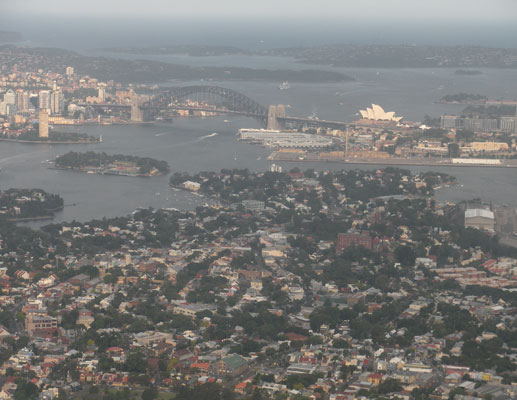 Once on the ground, there was the usual drill of collecting bags, and catching a shuttle into the city through rush hour traffic - yup, we were back to urban life! Thankfully, the temperature was a more comfortable 22oC, not 40!
Kings Cross, the district where we settled, turned out to be a strange blend of backpacker hostels, many shops and cafes, camper vans for sale parked along the street, cafes, shops and a large Coles Supermarket nearby, the classy and expensive apartments of Potts Point in one direction, and the few scuzzy clubs of Darlinghurst Road in the other. The Kings Cross railway station was just up the block and buses to the CBD stopped a bit farther on.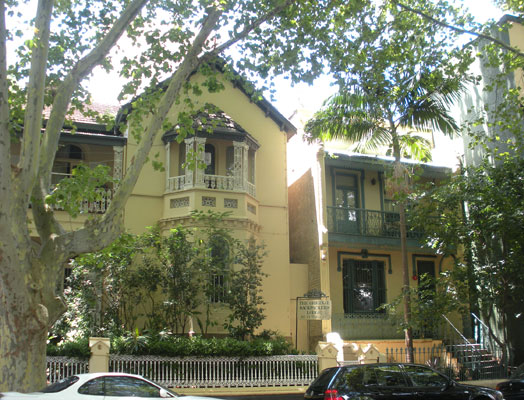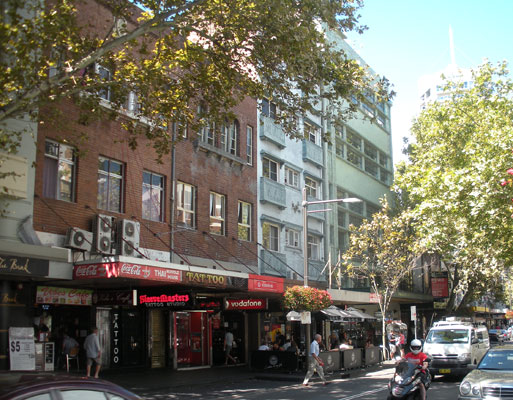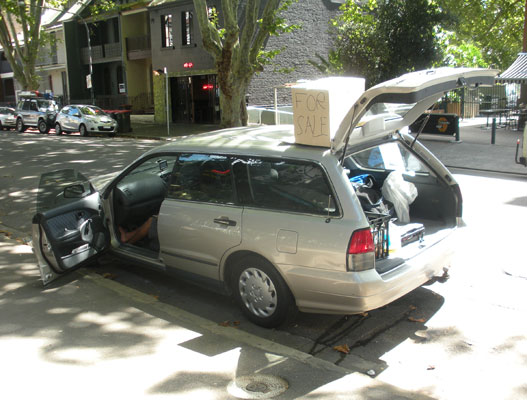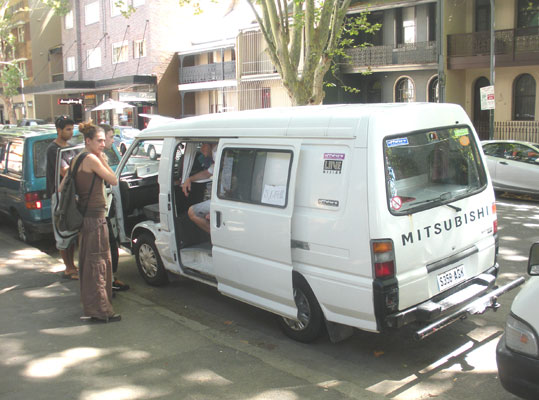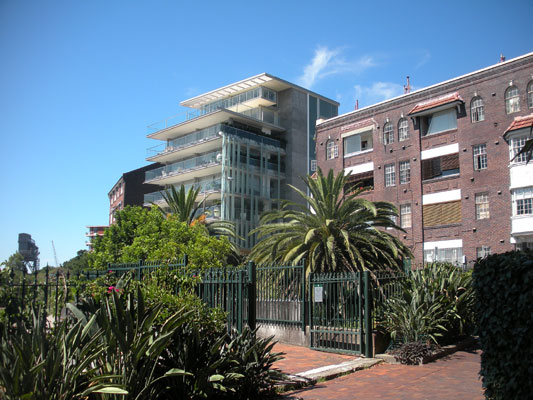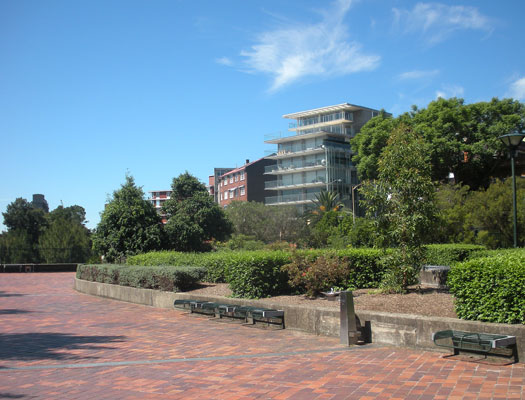 So, we had a good base of operation for exploring Sydney and we began right away. Walking through Potts Point and down a long flight of stairs, we passed the famous Harry's Cafe before arriving at Finger Wharf where old warehouses were transformed into stylish hotel where guests could stay with their yachts moored right outside!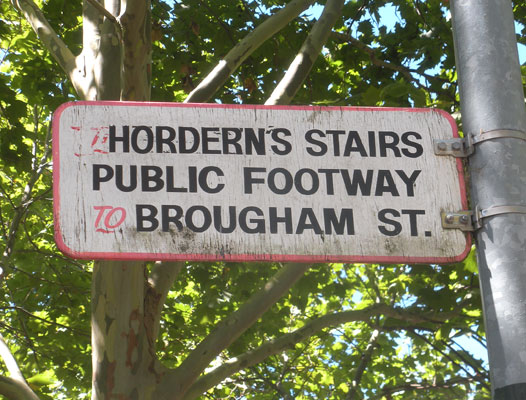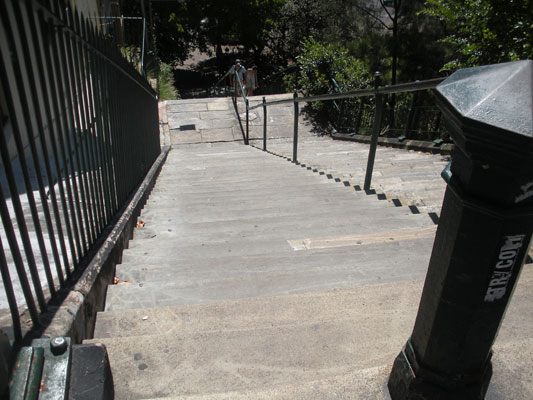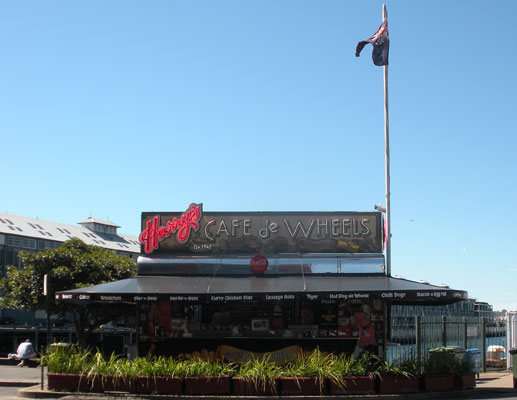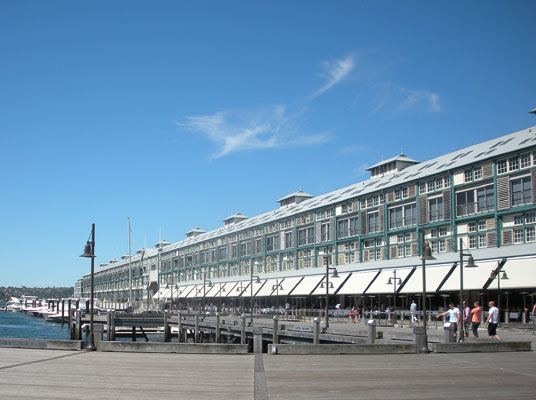 Another stairway took us up into the Domain, where we joined other walkers carrying picnic supplies. A few steps more revealed a vast lawn with a great tent with stage, jumbotron screens on either side, plus stalls selling food and drink around the edges - there was a free concert tonight. We collected a free picnic blanket and binoculars from the ANZ stand and joined the others settling on the lawn.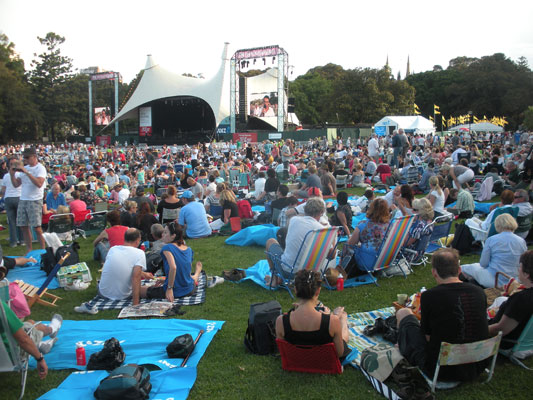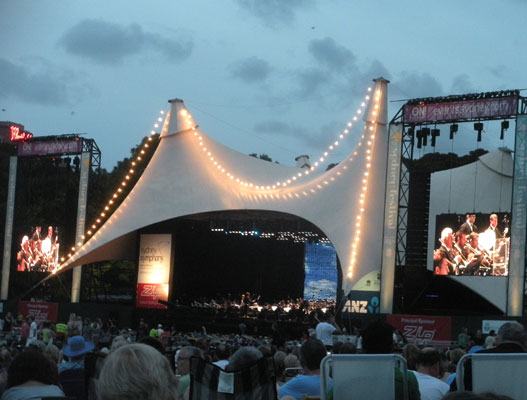 After this amazing and wonderful introduction to the city, we spent the next day walking along Circular Quay,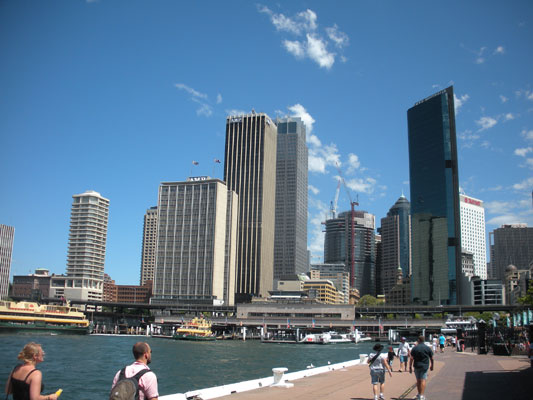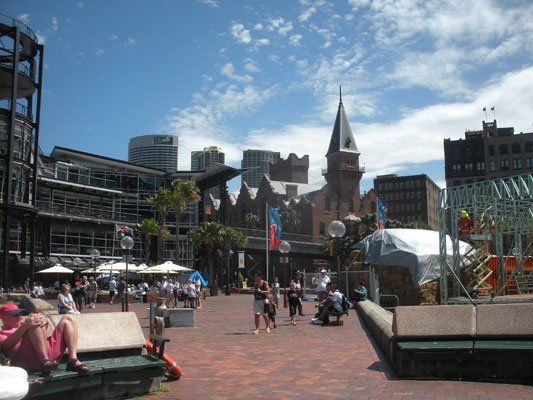 ... through The Rocks, the oldest neighborhood now beneath Harbour Bridge,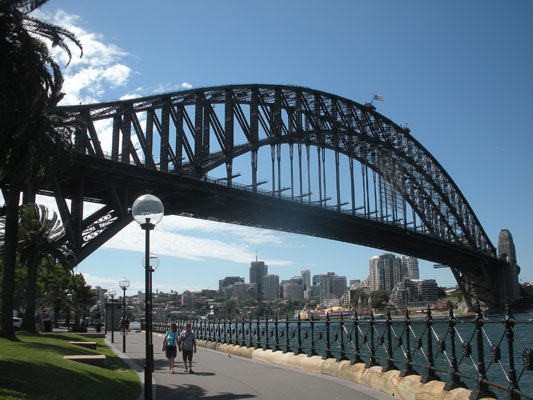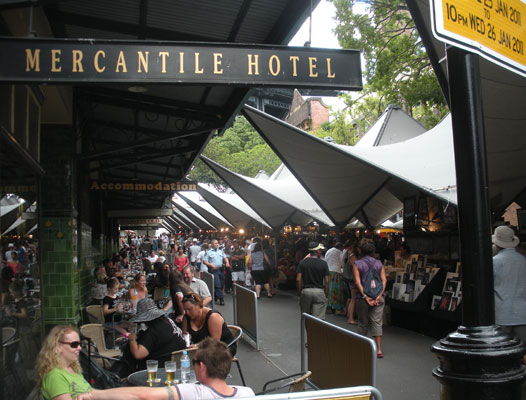 ... and up to Observatory Hill, for views up river and out to the harbour beyond the bridge.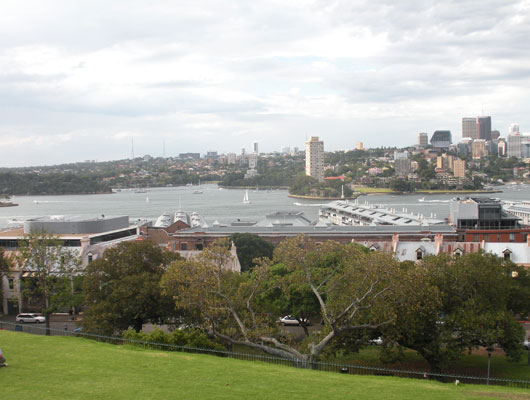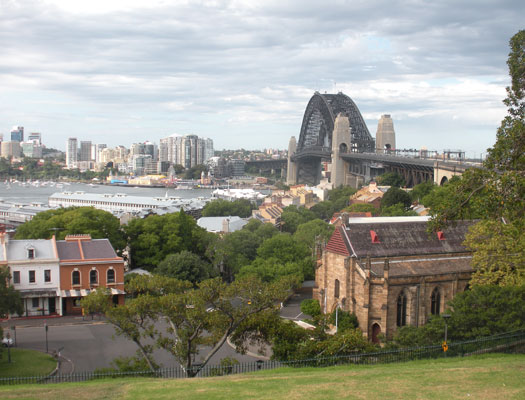 The next day was Australia Day and all over the city, there were special events. We began with a bus ride to Hyde Park, "Sydney's Backyard". We were first drawn to an incredible array of classic old cars, including a 1915 Electric Car, as well as many American and others!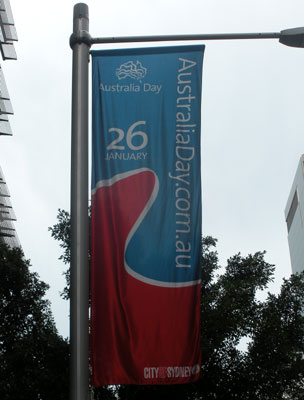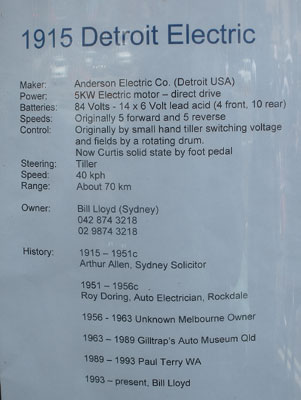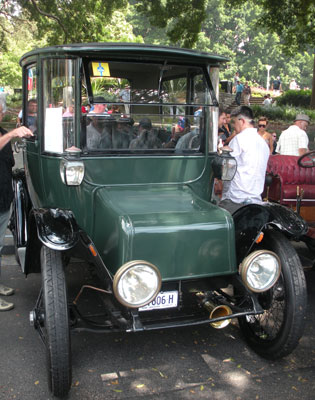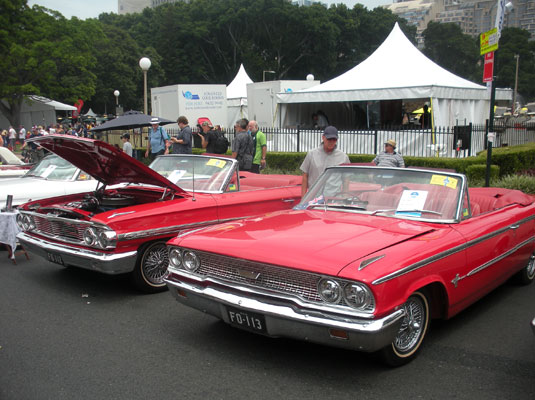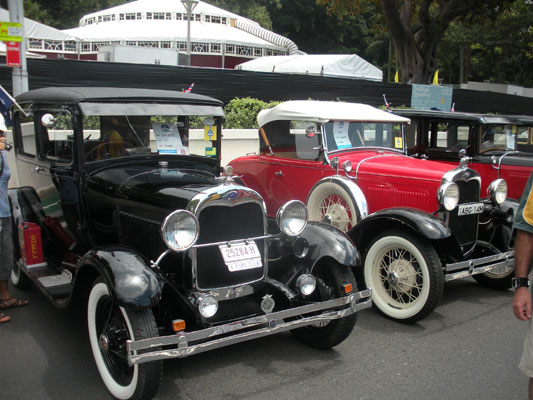 Elsewhere there were stalls offered snacks and a stage offering entertainment for kids.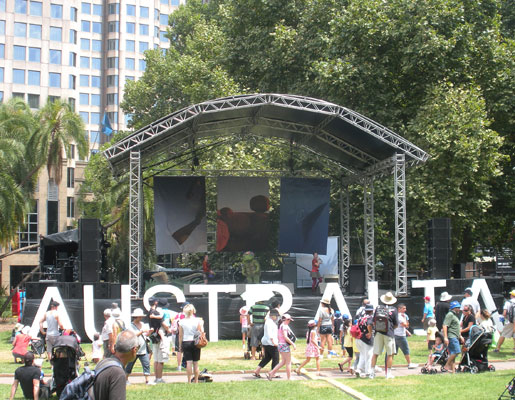 As part of this special day's activities, the City offered rides on some of their vintage double-deck buses, so we jumped on and rode downtown.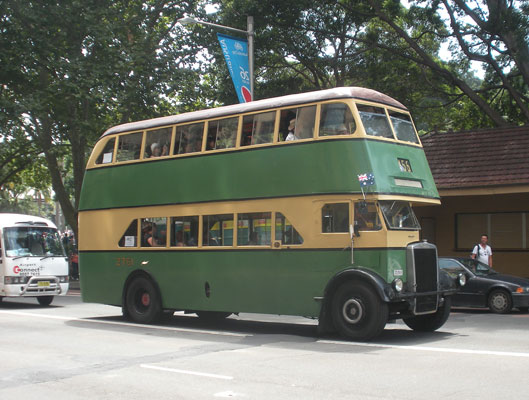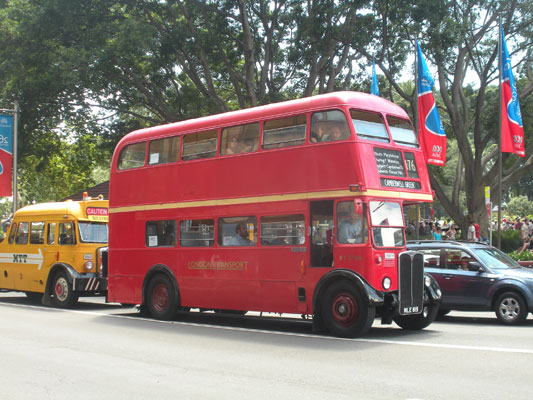 The day was really HOT! Sydney's erratic climate had arrived! Never mind, we walked around Circular Quay and on to Darling Harbour. Strolling the Esplanade, we joined crowds of Aussies, some playing in the fountains, past yachts on waterside and cafes on the landside.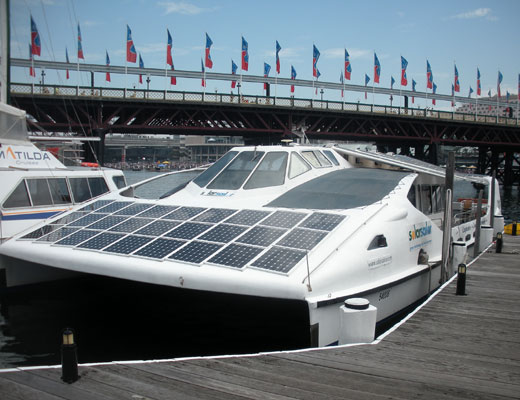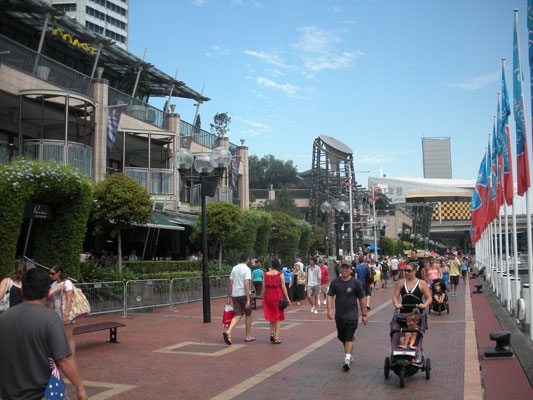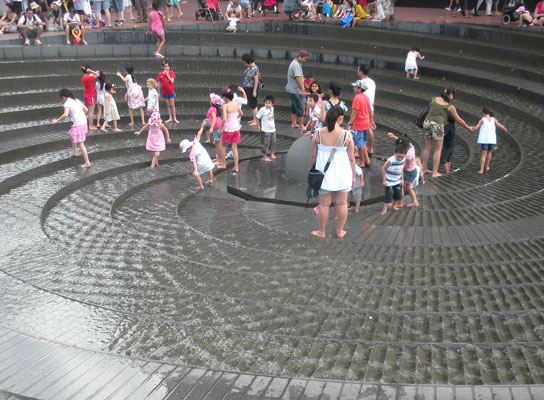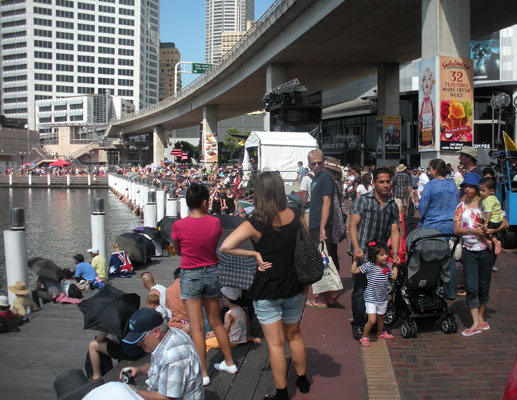 Here, we sat in the shade within view of the main stage with performances presented by Sydney's diverse cultures which were evident in the faces all around us.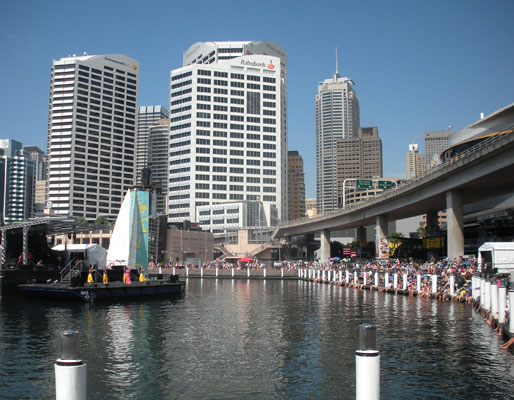 Walking on, we sampled Yellow Tail wines and enjoyed views of the city skyline before visiting the Maritime Museum's American Gallery and refuge from the heat in a cool hotel (pub) where we took a break from Australia Day celebrations with beer, dinner and football (soccer) on TV.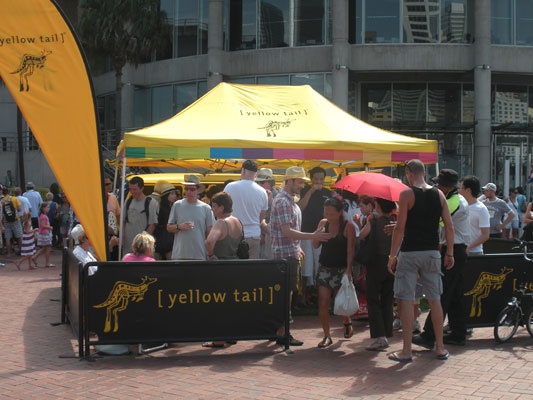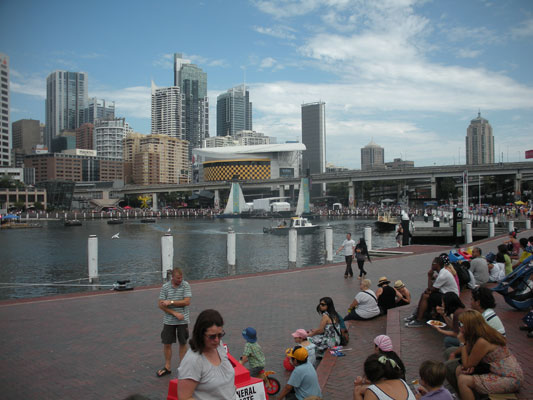 Back out, we returned to the harbour for patriotic speeches, Australians of the Year awards, a boat parade, and finally, fireworks - a stupendous, clamorous show! Wow! We were Australians for the day!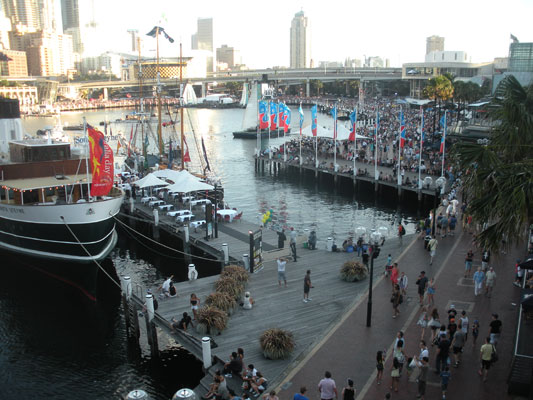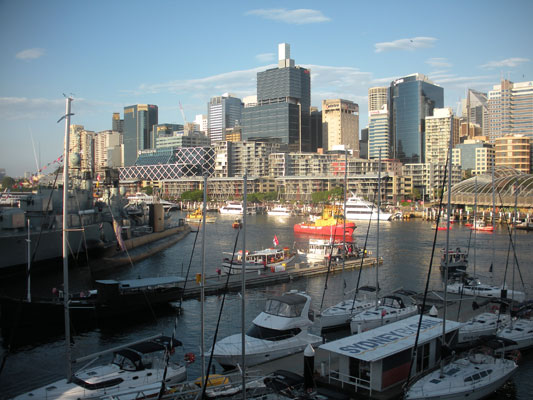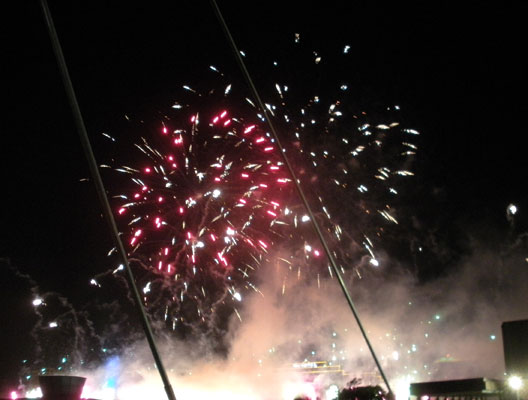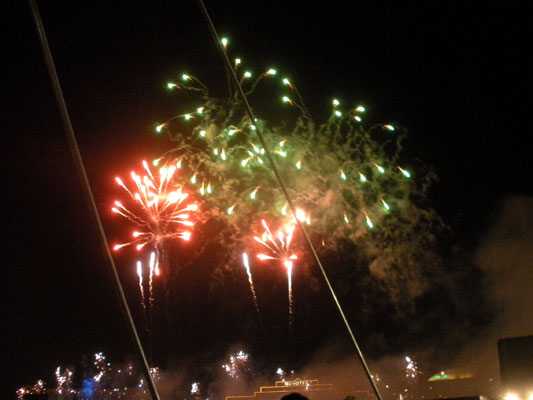 We now realized that we wanted to spend more time in Sydney but not in Kings Cross so after some searching, we found a nice (but more expensive) backpacker hostel in Newtown, an inner suburb west of downtown. Our stay enabled us to experience life in another inner suburb, also with shops for every need, a multitude of hotels (pubs) filled with locals, cafes with foods from every country, a good food market, indie book shops, and good transit connections.
On another day, an early walk took us to the nearby campus of University of Sydney.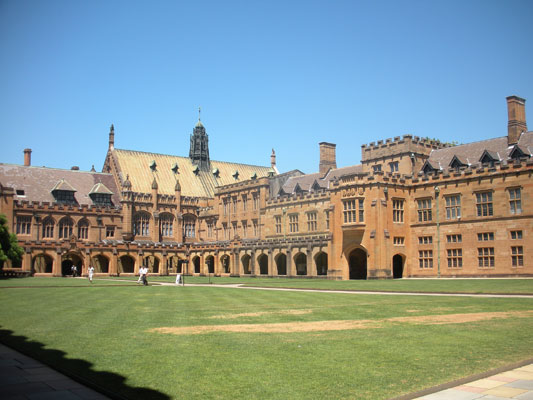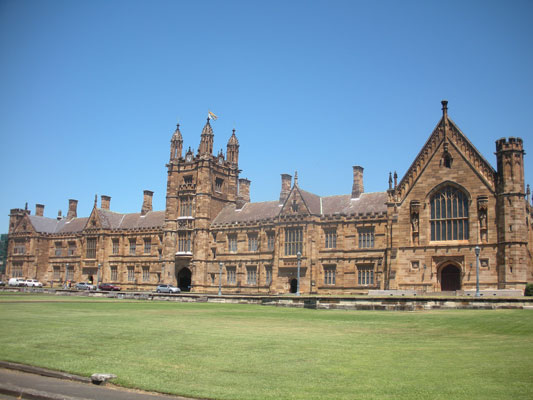 Over the next few days we enjoyed views of Harbour Bridge from many vantage points,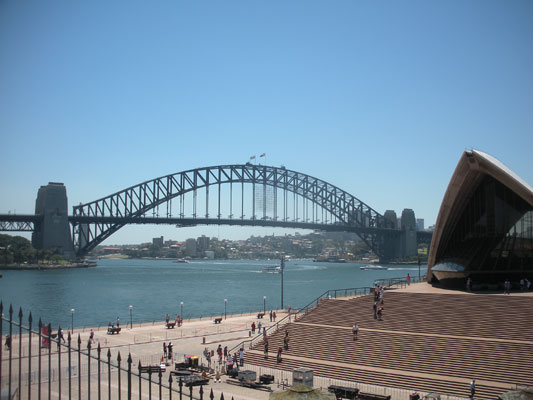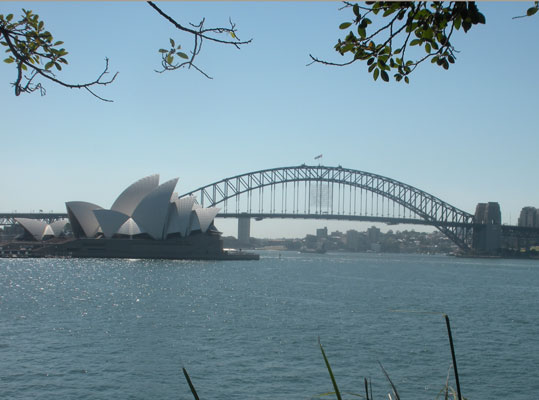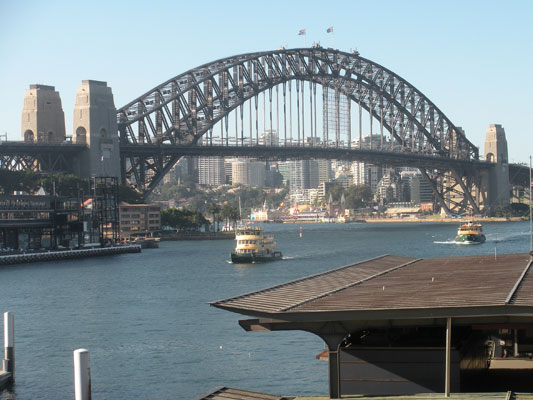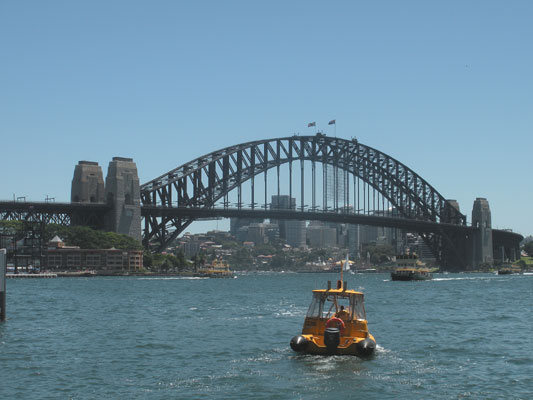 ... rode the ferries to Watson Cove to enjoy views of the rough ocean, the beaches and over the harbour back to the city,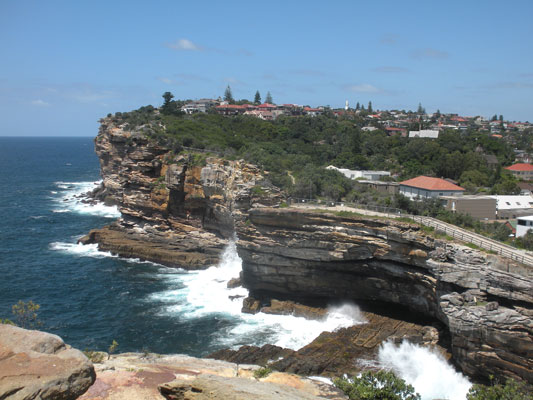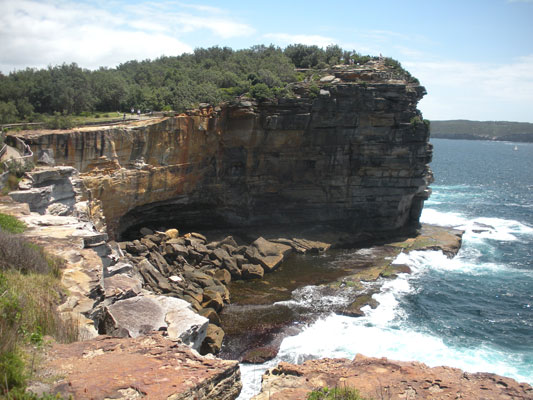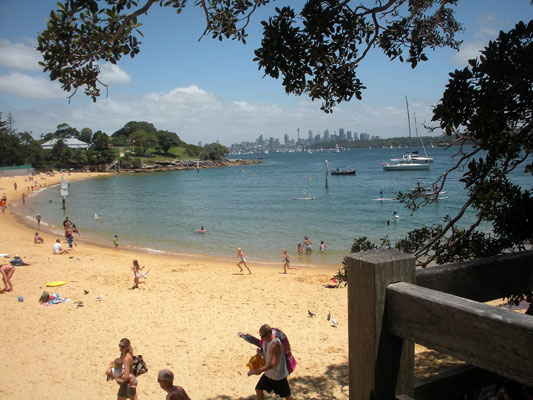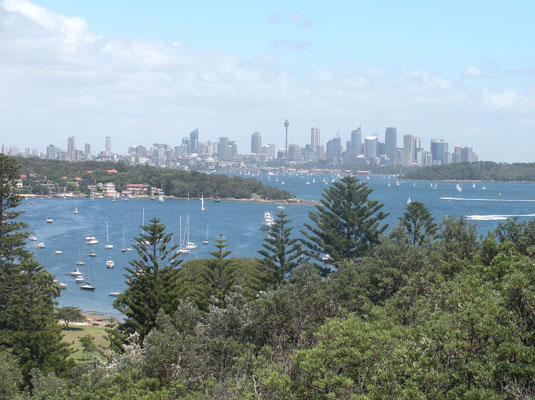 and to Manly Beach,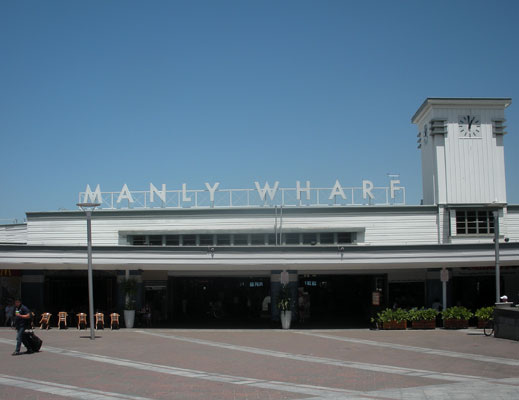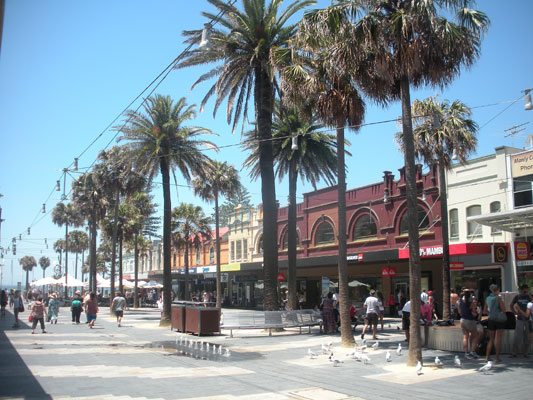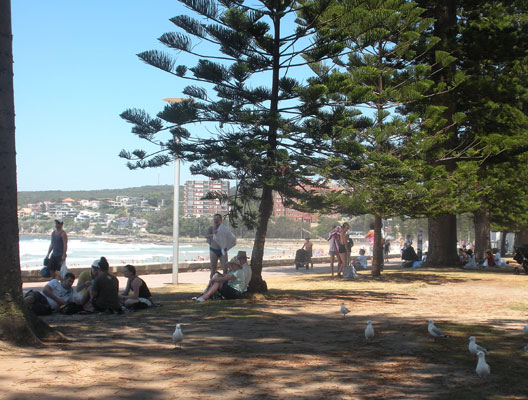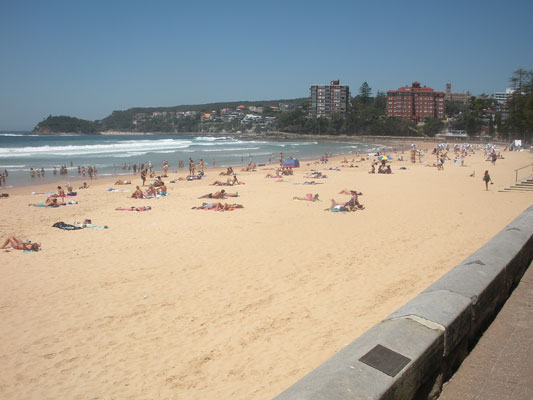 ... took a train across the Harbour Bridge to Chatswood Shopping Center,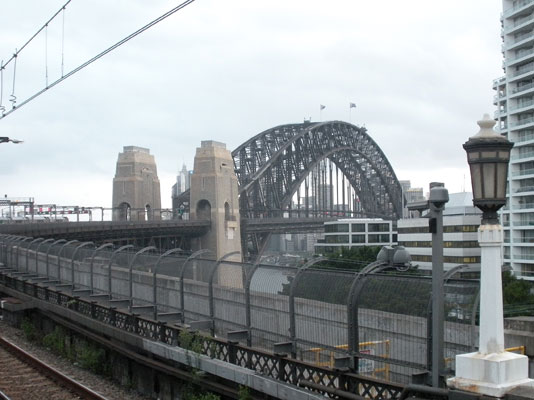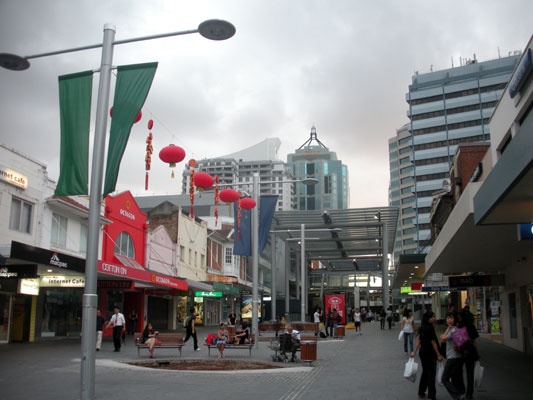 returning by way of the Luna Park amusement park and a ferry ride back to Circular Quay,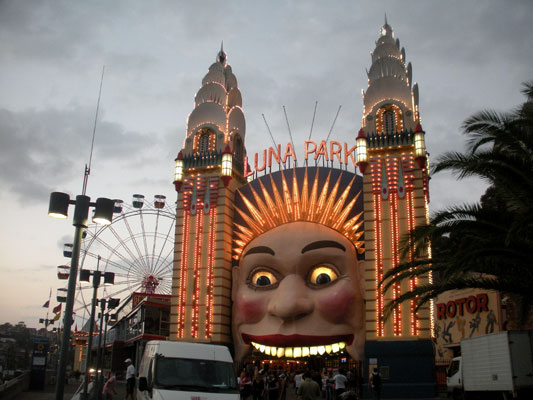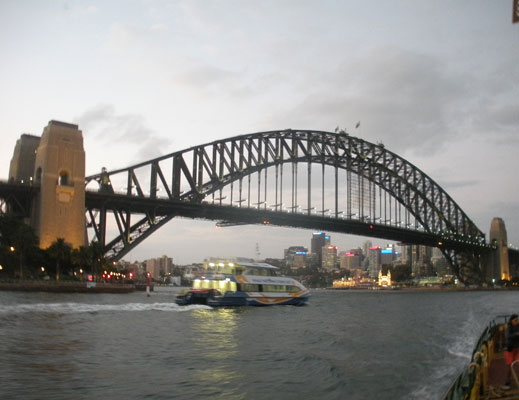 ... visited the Public Library of New South Wales with the replica of the Tasman Map on the lobby floor.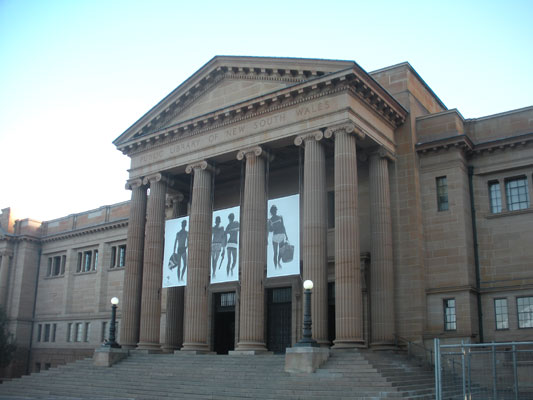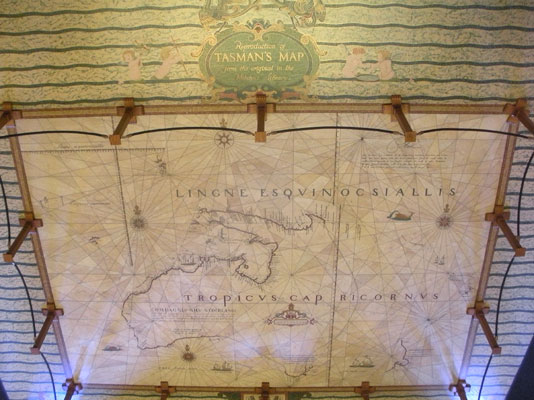 ... returned to Hyde Park to revisit St. Mary's Cathedral, Archibald Fountain, St. James Church and the ANZAC Memorial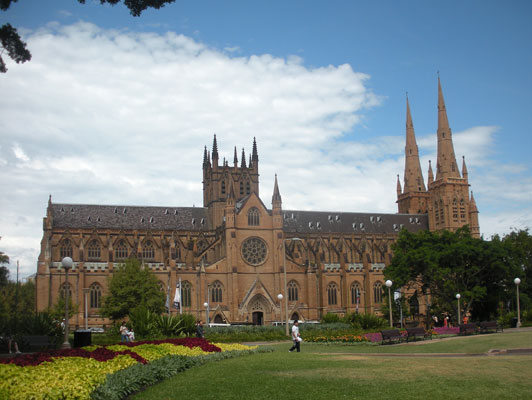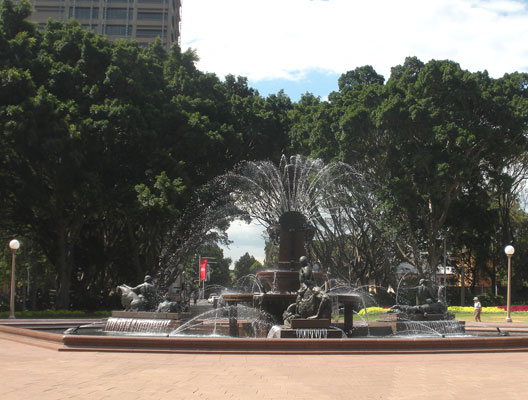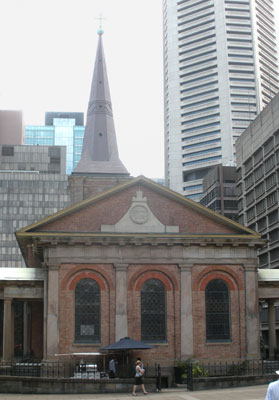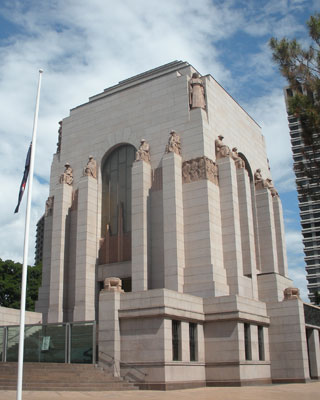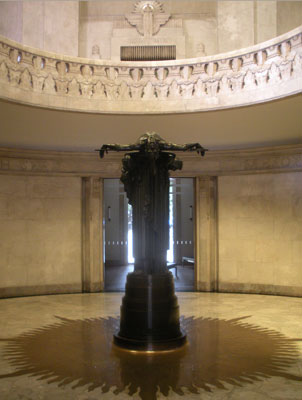 ... visited the wonderful Queen Victoria Building downtown,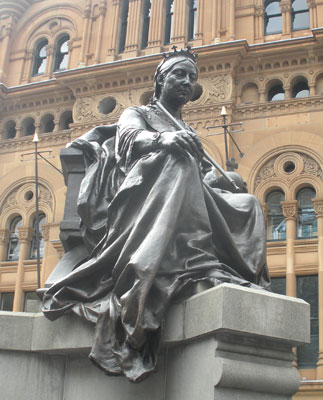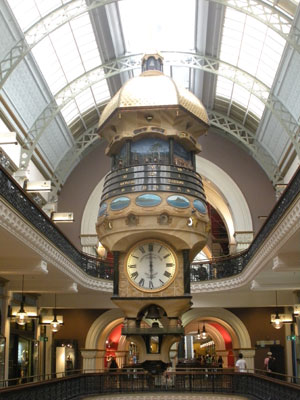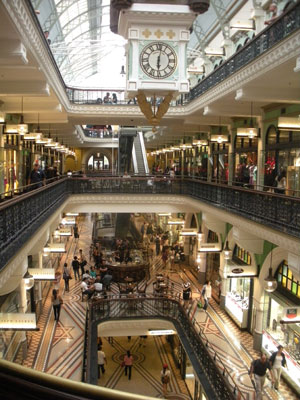 ... walked around the iconic Opera House,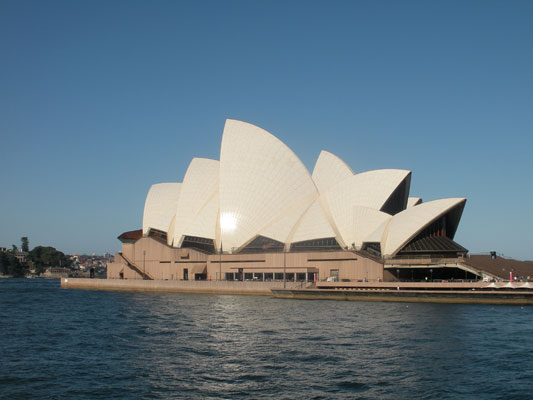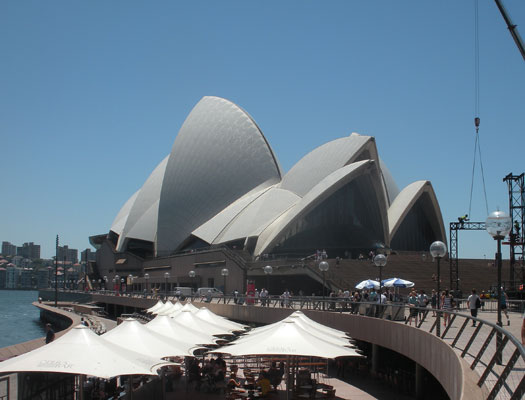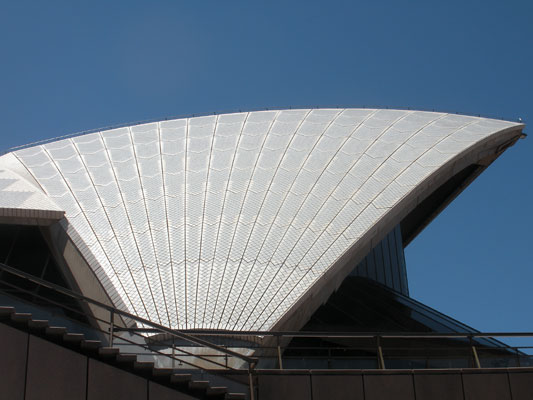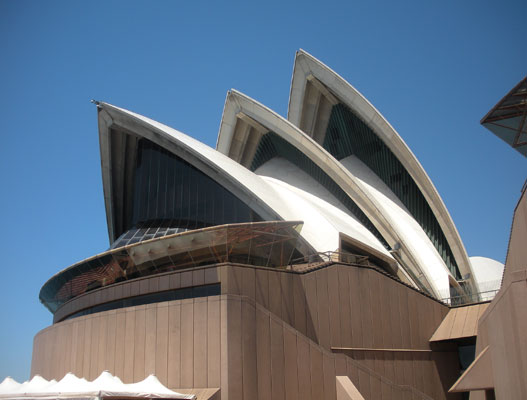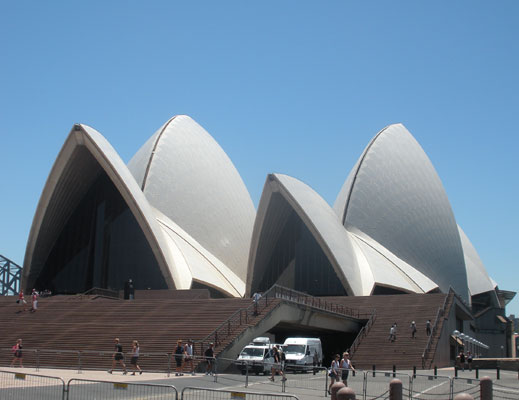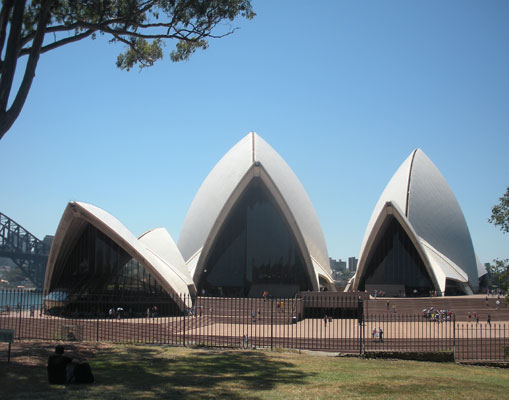 and through grounds of Government House, the official reception space of the Governor of New South Wales.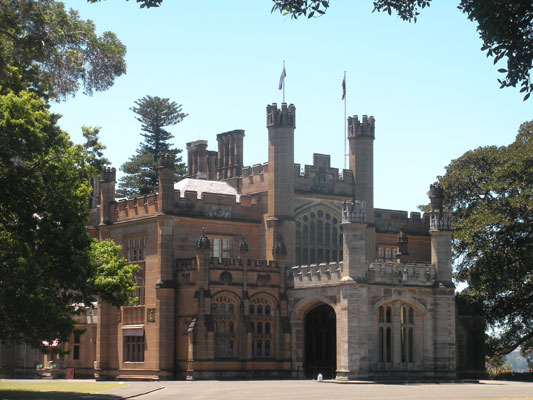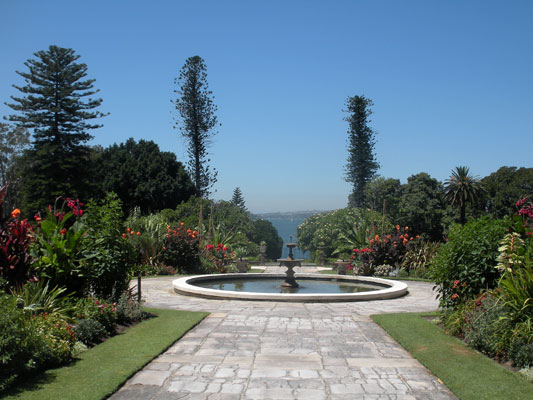 and the verdant and flowery Botanic Gardens where we were urged to walk on the grass and hug the trees, but not the Wollemi Pine (below right) that was once thought extinct, but recently discovered by a park ranger!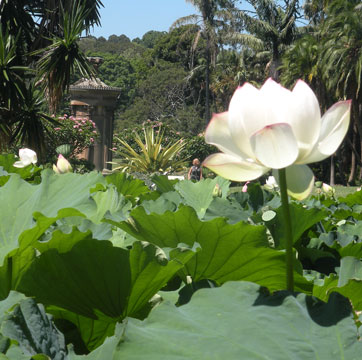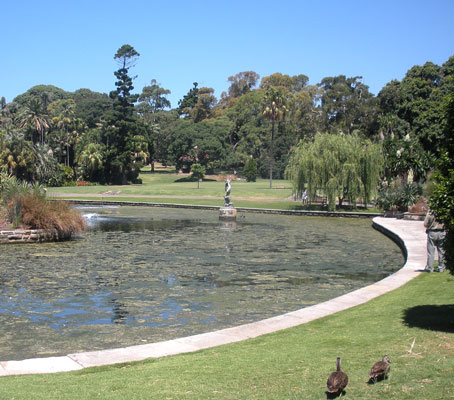 During our brief stay in the harbour city, we realized that there was much more to see and learn. At the Museum of Sydney, Boomburbs, a photo exhibition by Andrew Merry, documented with aerial photos that some of City's suburbs had experienced car dependent sprawl much like so much of the US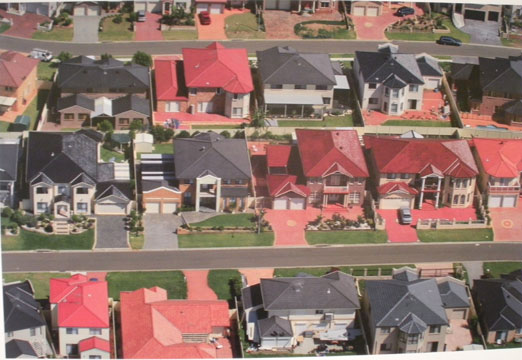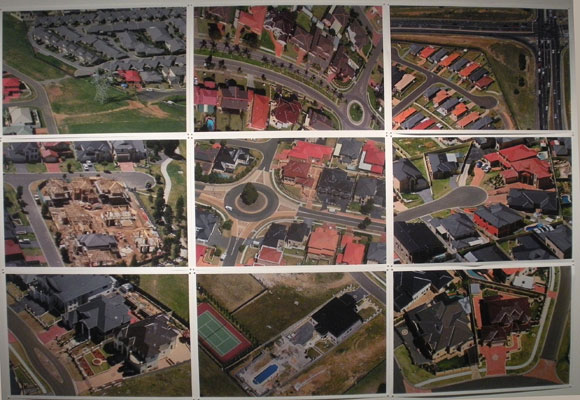 Like Melbourne, Sydney is grappling with providing shelter for its growing population in a sustainable way They too have a plan, Sustainable Sydney 2030, which you can find at http://www.cityofsydney.nsw.gov.au/2030/default.asp (Opens in a new window)
We had glimpses of Sydney's sprawl as we rode the train west into the Blue Mountains to spend our last week in Australia. Our experiences, though were positive and we'd judge Sydney to be highly People Friendly.
Click here to return to our 'Winter 2010/11 - 'Down Under in Australia and New Zealand' page