Ecuador - First Nomad Journey of 2013


After celebrating the arrival of Ano Nuevo 2013 in Puerto Vallarta with dancing and great colorful explosions of fireworks, we returned to the USA just in time for a cold snap in Phoenix. We continued on to Albuquerque for more cold weather, but the visits with friends, sharing good talk, food and pictures gave us the warmth we needed.
While still in Puerto Vallarta we began planning Nomad Travel in 2013. Examining our Places to Visit list, we realized that Galapagos should be moved to the top! So, we began a search for a cruise of discovery - our own version of Darwin's Voyage of the Beagle in 1831. Unlike Darwin, we had a wide choice of ships, some 80+, each offering an itinerary and onboard facilities with prices to match. How to select the right one was at first, mind boggling, but after many hours of searching and comparing, we selected our ship, the Galaven, for a 8 day/7 night cruise. We made all our cruise arrangements through http://www.galapagosislands.com
After an extended journey from Phoenix via Miami and Quito, we arrived in Guayaquil, Ecuador's largest city and financial capital. After three days of exploring the Centro Historico, strolling along the Malecon 2000, the riverfront along the Rio Guayas, and resting up, ...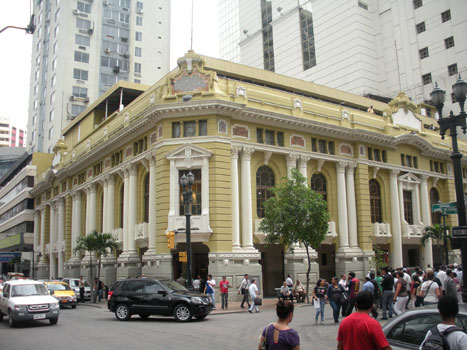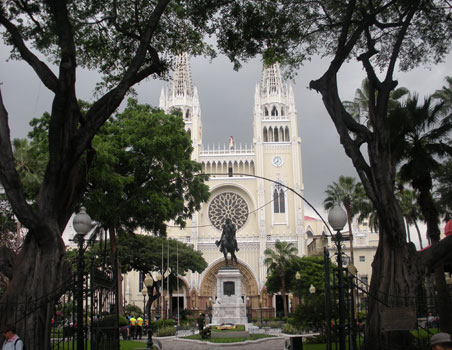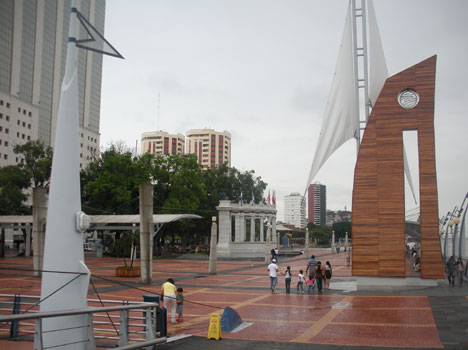 ... we flew to the aeropuerto on San Cristobal Island, our entry point for the Galapagos. After paying the entrance fee for the Parque Nacional Galapagos (US$100 each), we were met by Franklin, our Naturalist-Guide, who directed us and our fellow Galaven passengers to a bus, then into two zodiacs (small inflatable rubber motor boats) for the brief ride to the ship.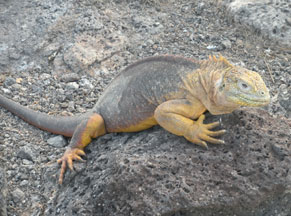 And so began our amazing Galapagos Adventure, where we met some incredible creatures like this land iguana (at right)!
Click here to view our Galapagos story, or
Click here to view our Flickr album of Galapagos photos (opens in a new window).

Returning to the Ecuador mainland, we spent a few days more in Guayaquil, including Ecuador's Election Day when they re-elected President Correa for another 4 year term.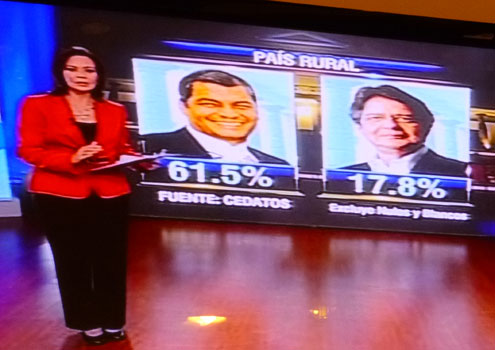 From Guayaquil, we traveled up into the Andes. A van took us across the flat coastal plain, rich with agriculture, and up a winding mountainous road, over a cloud shroulded 4,155 meter (13,700 feet) pass, ....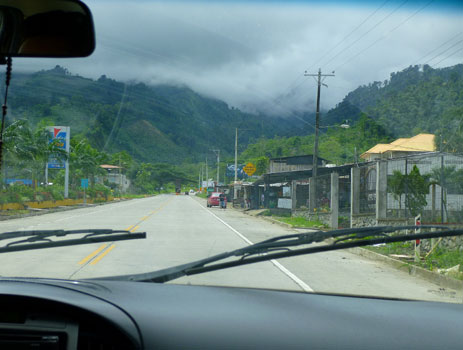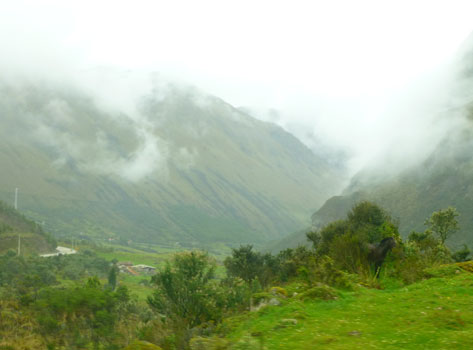 ... and down into Cuenca, a truly beautiful city in an awesome setting of green mountains, with wonderful colonial buildings and churches.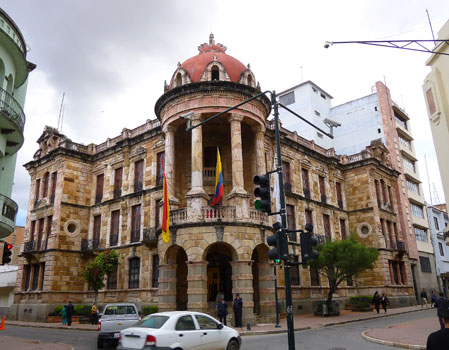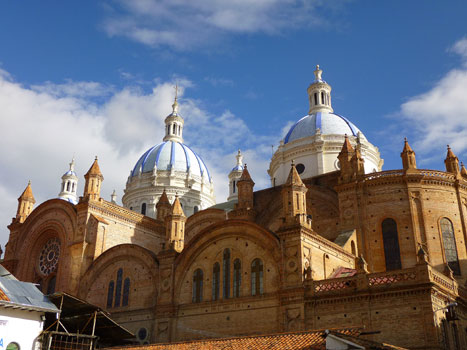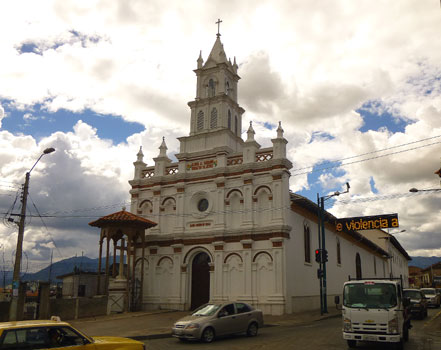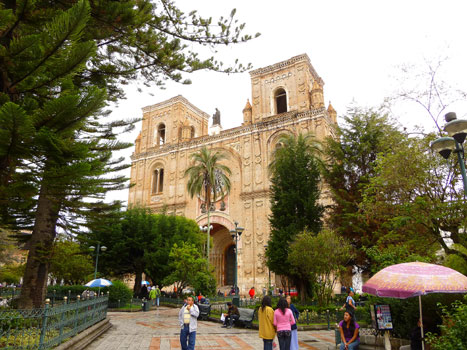 Click here to read our 'Cuenca - Ecuador's People Friendly City' story.
After a pleasant eight day stay, we headed north by bus through the Avenida del Volcanes, between towering Andean peaks along curvy roads past fields of crops on slopes that US farmers would declare impossible, through small pueblos, to Alausi. Here we enjoyed viewing life in this smaller town highly influenced by a large indigenous population making their life in traditional ways.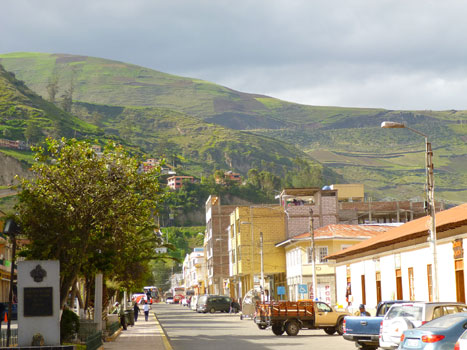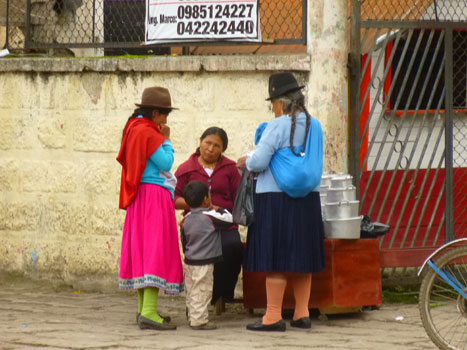 Alausi is also the departure point for a ride on one of the most brilliant examples of railway engineering, Nariz del Diablo (Devil's Nose), a winding trip dropping 500 meters in only 12 km, with switchbacks, by which the train changes direction to negotiate a sizable change in altitude in a limited space, ending at the base of the Devil's Nose, itself.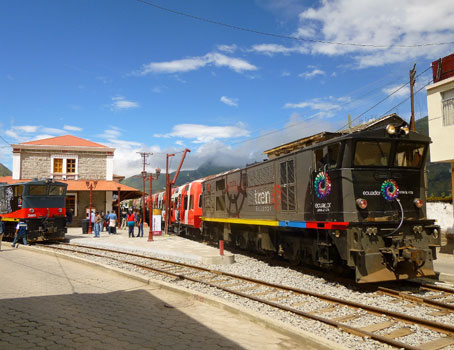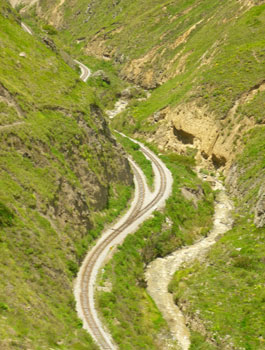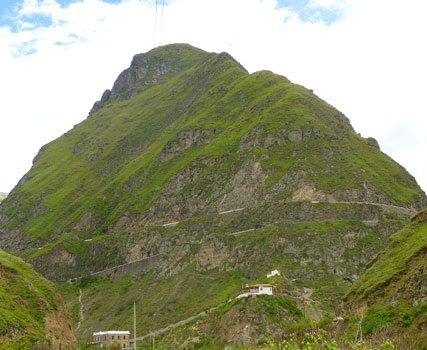 Another bus took us farther north to Riobamba the central market town for the surrounding region. It is also the departure point for another train ride to the highest point of the Ecuadorian rail system, Urbina, at an altitude of 3609 meters (11,900 feet). We braved the cold, crisp, and thin air to search for the perpetually snowy peaks of Chimborazo but only lower reaches of volcano were below the banks of clouds for our visit.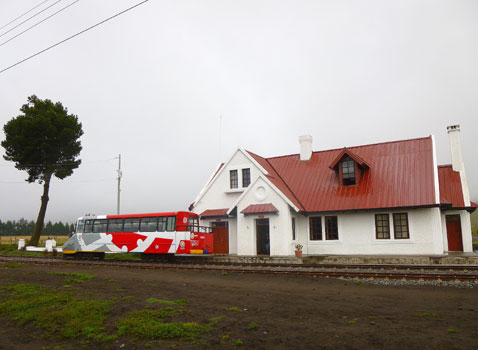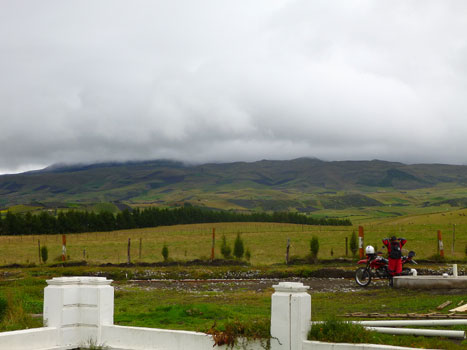 From here, we detoured to Banos for a few days of R & R before traveling to Tena for a visit to the edge of "La Selva", the Amazon jungle.
Click here to read that story.
Another bus ride took us from the jungle up a curvy mountain road to Ecuador's capital, Quito. We spent the next two weeks in this historic city, enjoying it's colonial architecture and views of the surrounding heights. Click here to read our story.
We then left Ecuador and returned to the US. We urge anyone who is considering a trip to the Galapagos Islands to take a bit more time and visit the rest of the country. You won't be sorry.
Following is a repeat of the links to all our Ecuador stories.
Galapagos Trip
- Flickr album of our Galapagos photos
Cuenca - Ecuador's People Friendly City
Banos, and then on to Tena, at the Edge of the Amazon jungle
Quito - A City Shaped by Its Geology
Click here to return to our 'Searching the World for People Friendly places' page