Kudos to Istanbul for People Friendliness!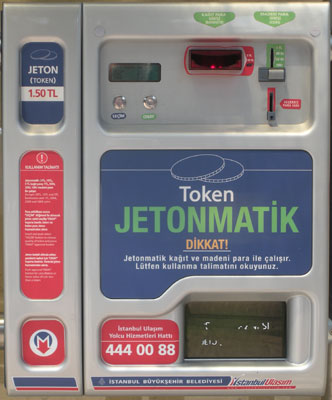 With only a few days and a megacity to explore, where to begin? The Galata Tower would provide a wonderful overview!
To reach it, we walked from the front door of our hostel-home in Sultanahmet to the tram stop a few blocks away.
A handy and easy to use vending machine provided jetons (tokens) to pay our fare ...
...and we boarded the very modern tram to ride down the hill, through the Eminonou transit complex and across the Galata Bridge over the Golden Horn.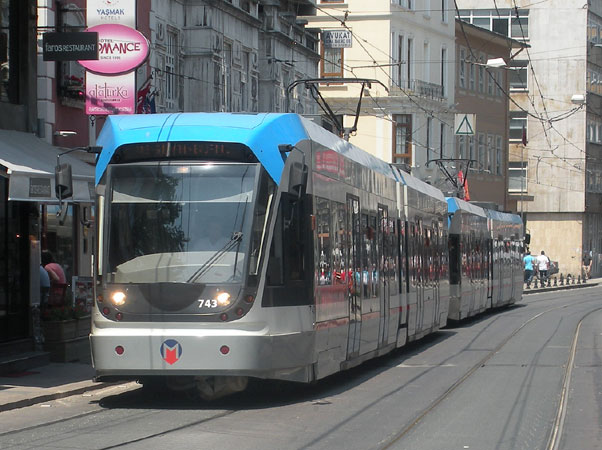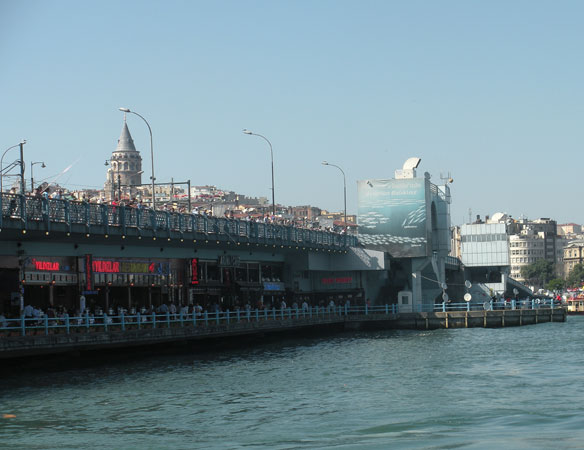 Once on the other side, we walked steeply uphill to the Galata tower (above the bridge in the right picture above) and took its elevator to the top for a panaramic view of Istanbul's hills and waters.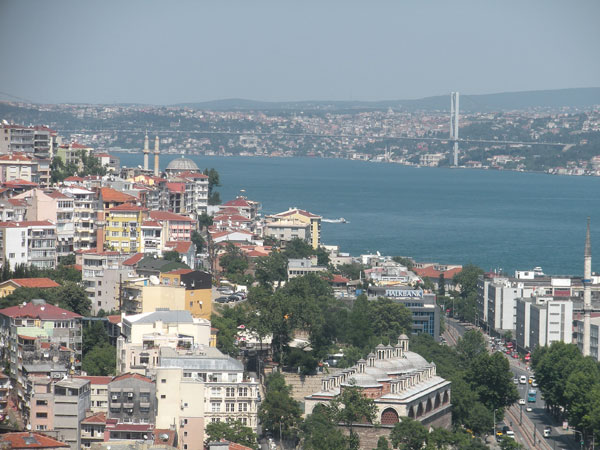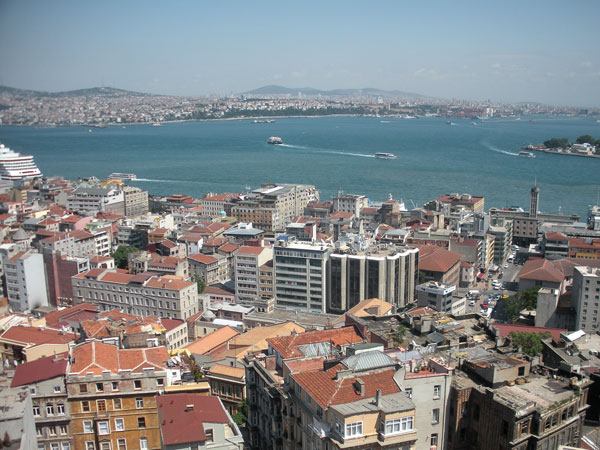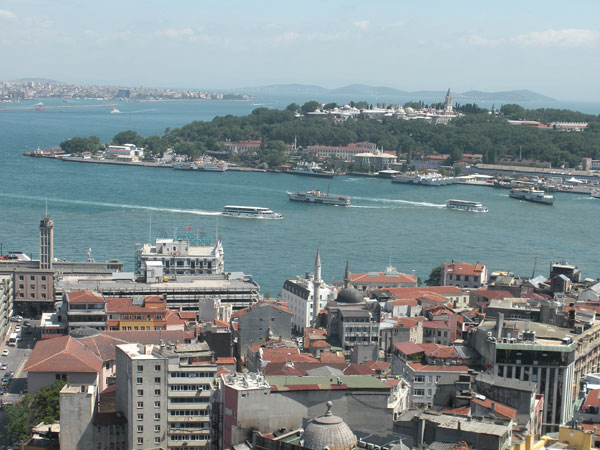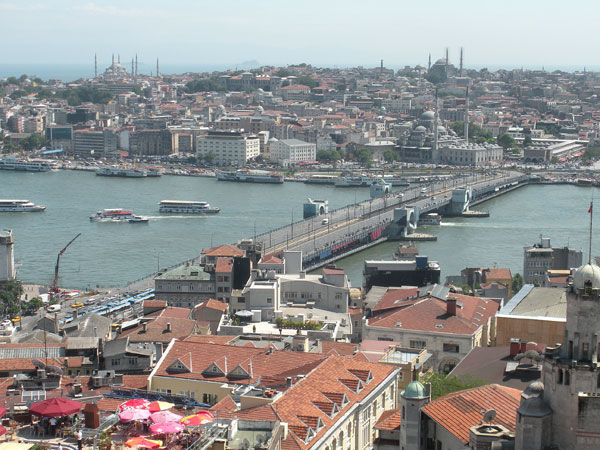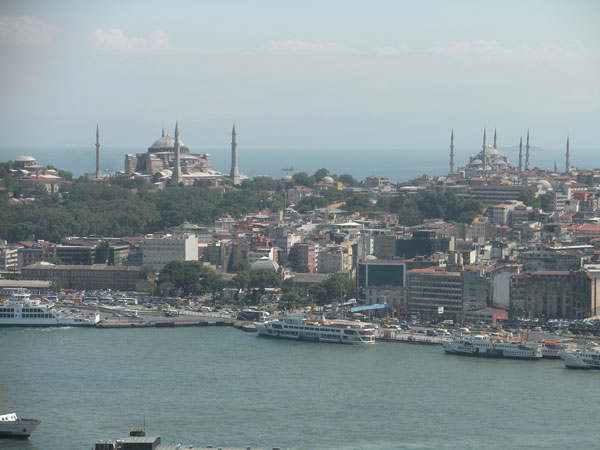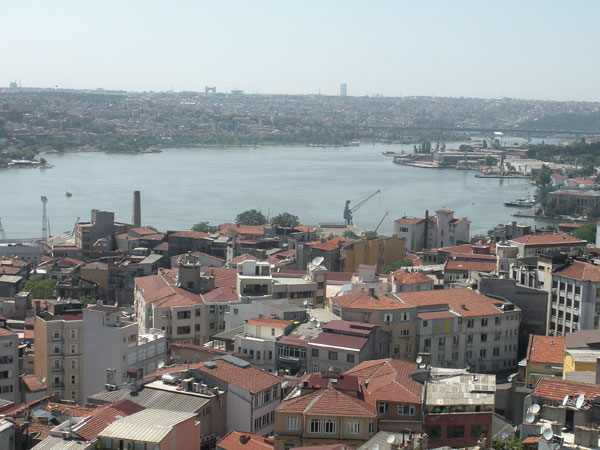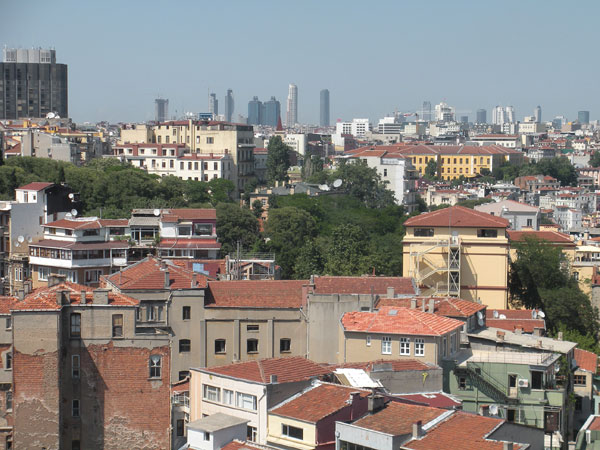 After gaining this perspective, we walked back down to the Golden Horn and across the two level Galata Bridge. Fishermen lined the top level, while fish cafes filled the lower level. Ferries traveled back and forth underneath.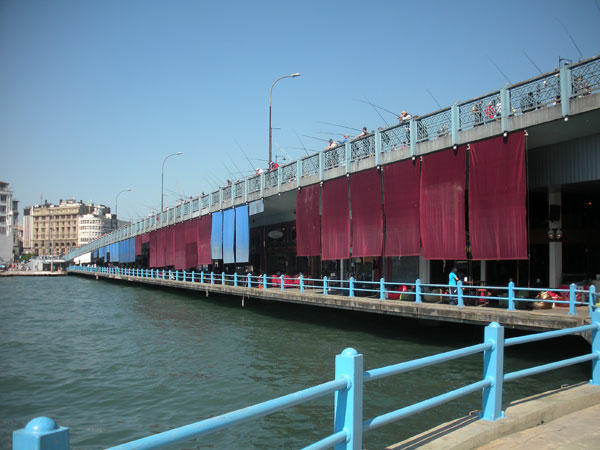 Further on, the extensive plaza at Eminonou on the Sultanahmet side was a transit center for the tram, buses to all parts of the city, and ferries to places across the Bosphorus. At 17:00, it was alive with folks commuting home.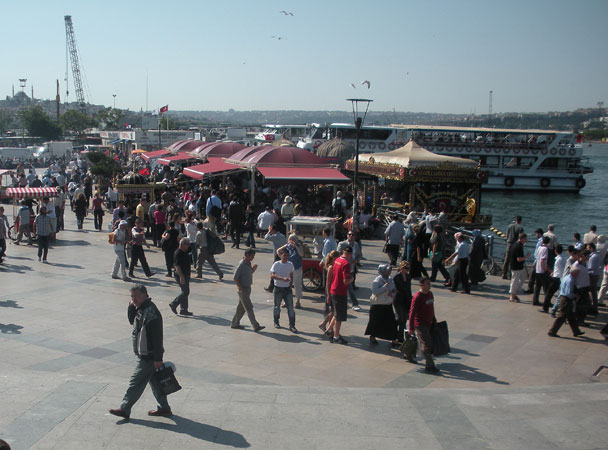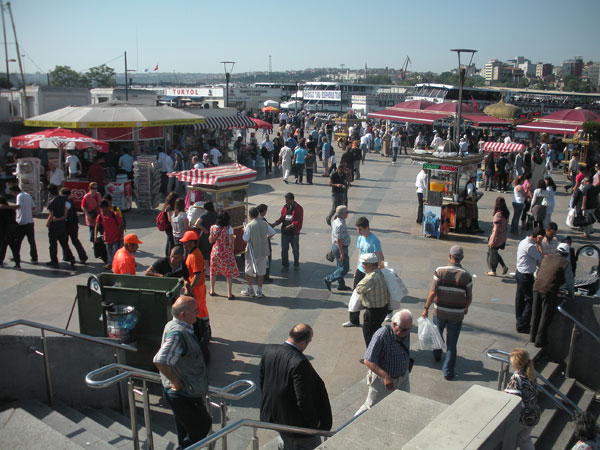 For a water side view, we took a boat tour on the Bosphorus. Floating along,, we passed:
... great mosques,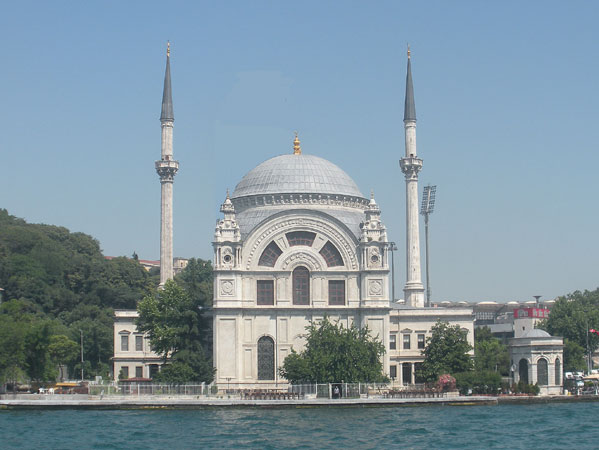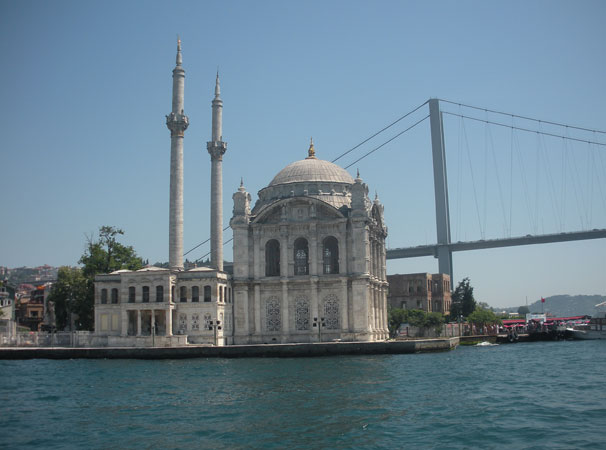 ... elegant mansions of the former well-to-do residents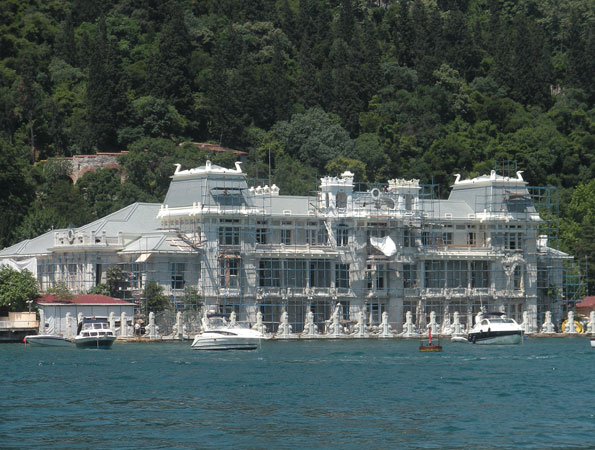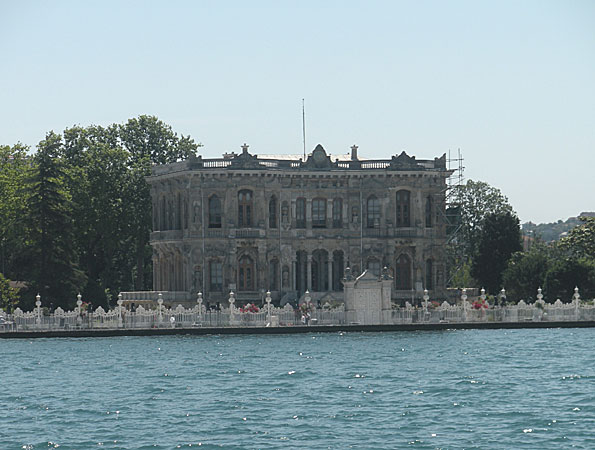 ... the palaces of the Ottoman rulers, thankfully restored and in alternative use,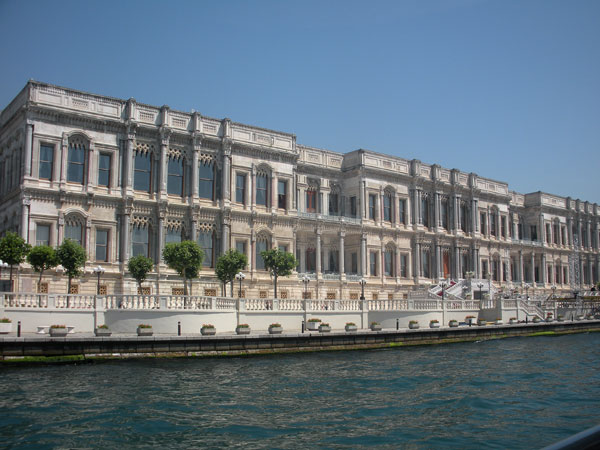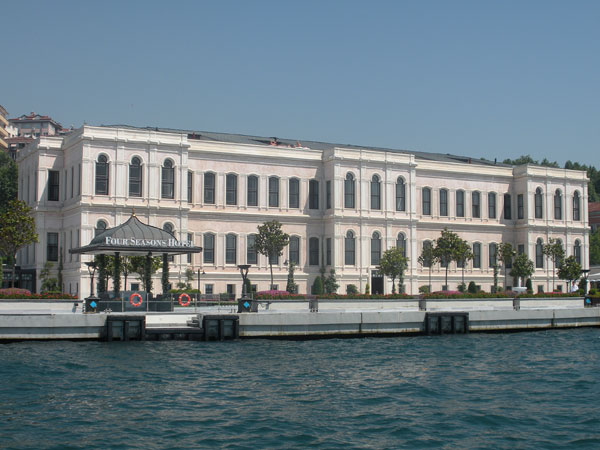 ... the great Fortress of Rumeli Hisari, bullt by Sultan Mehmet II in 1452 to control passage through this strategic waterway, and ...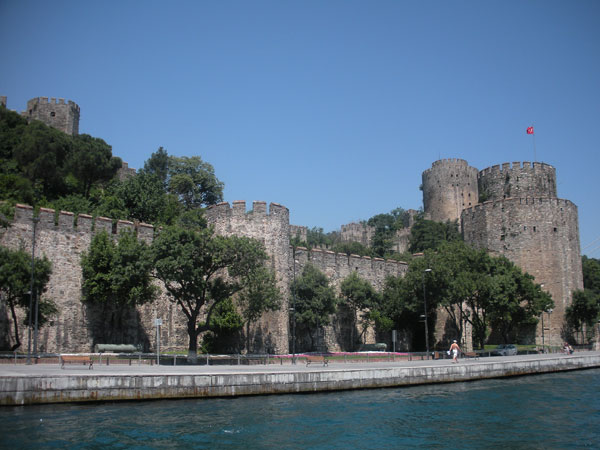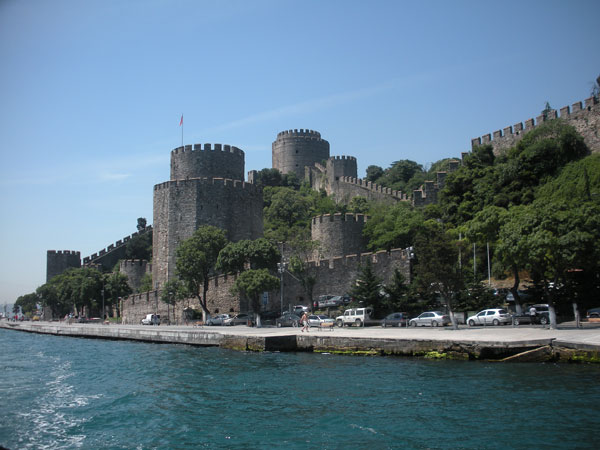 ... under the two gigantic bridges that span this narrow channel, separating Europe on one side and Asia on the other, reminding us that Istanbul has been and continues to be the ultimate crossroad city. As evidence of this, our tour boat had to give way to mighty tankers heading north to fill up with Russian petroleum or south to provide petrol for thirsty Mediterranean cities.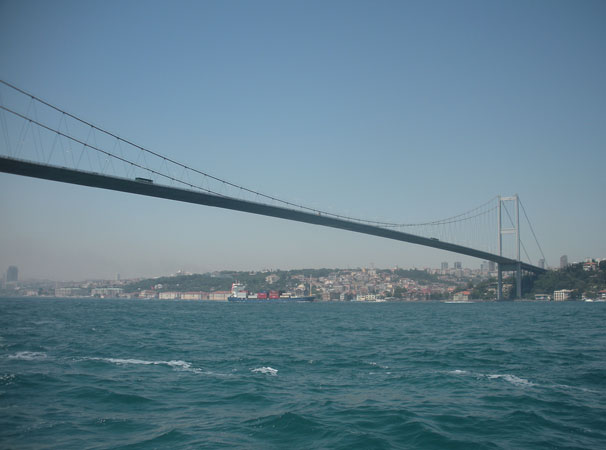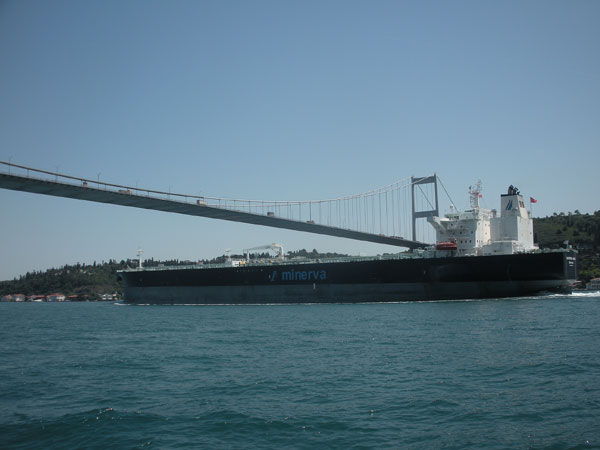 On another day we rode the tram from our neighborhood across the Galata Bridge and along the European shore to Kabatas, another ferry crossing point. Along the shore was a lovely greenway with cafes - wonderful for boat watching.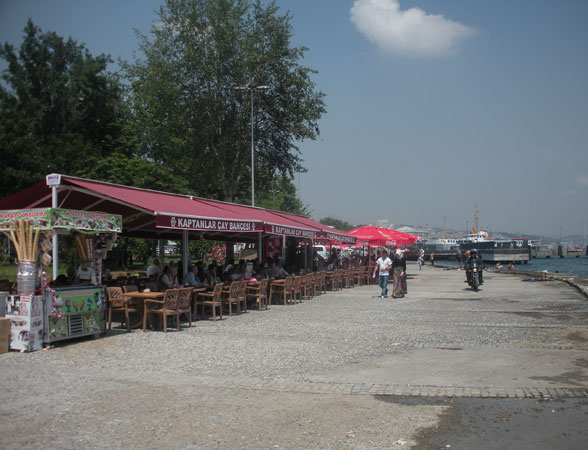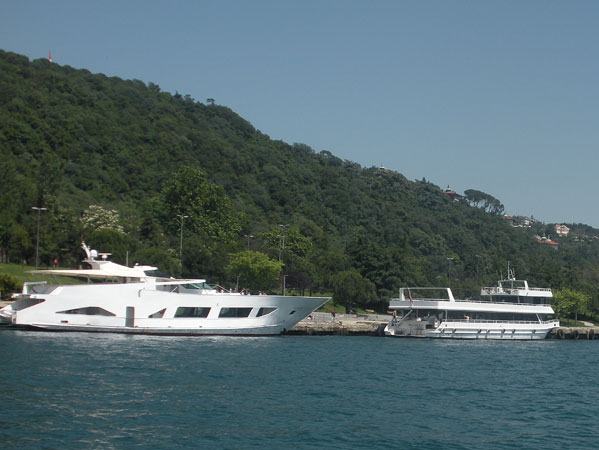 Uphill from here was Taksim Square, the business heart of Istanbul, with expanses of pavement, tall office buildings, noisy traffic, a bus transit center, lots of people and even a political rally!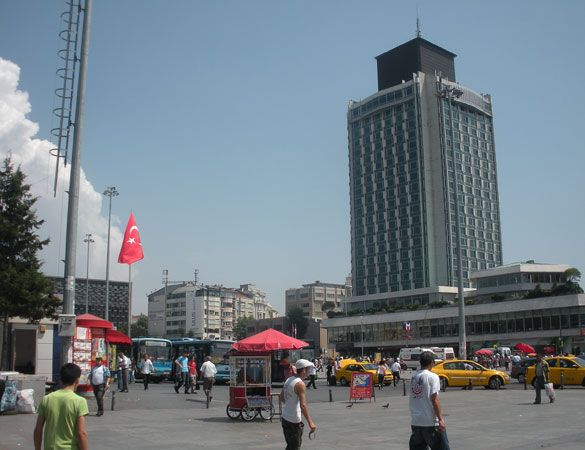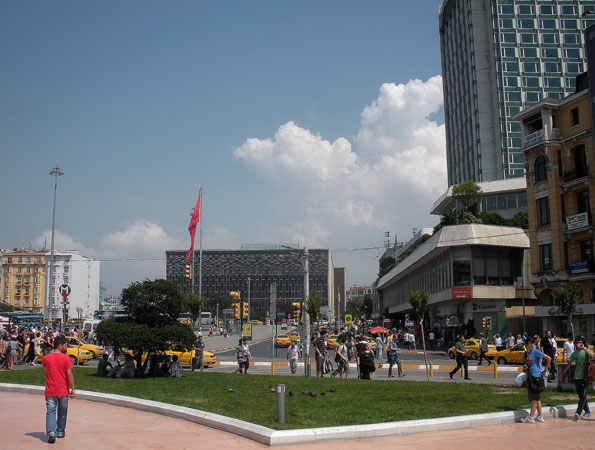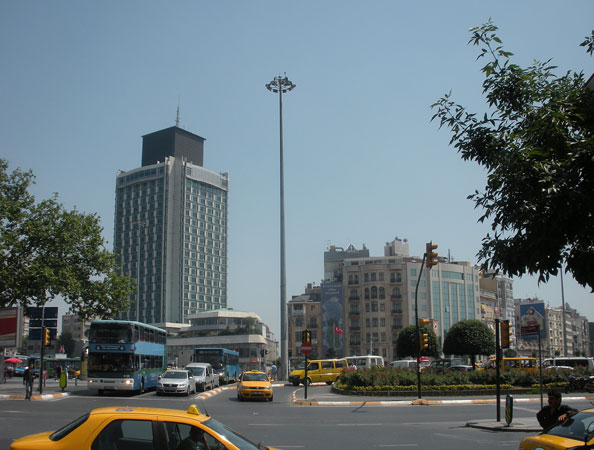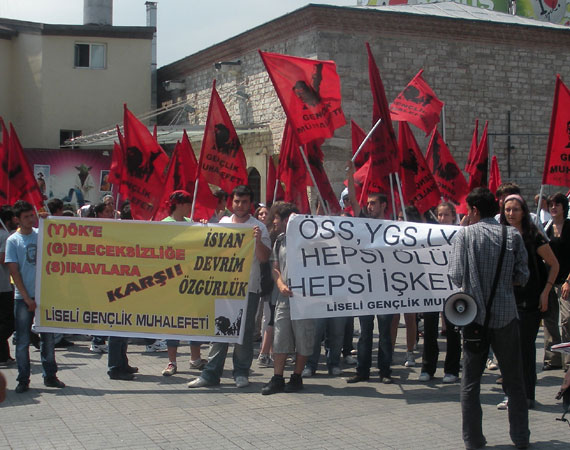 From one side, we discovered a surprisingly serene and pleasant street leading into a nice neighborhood with nice cafes.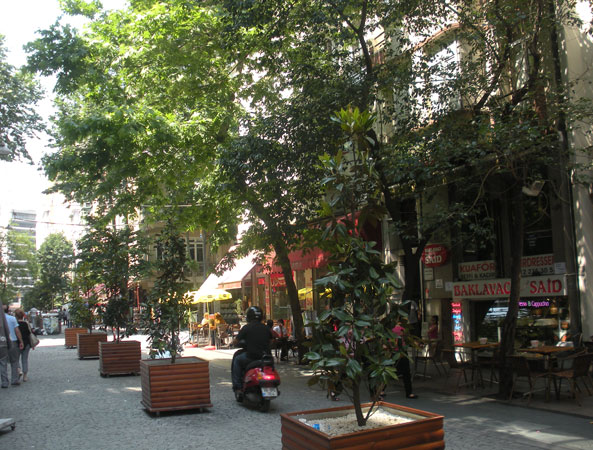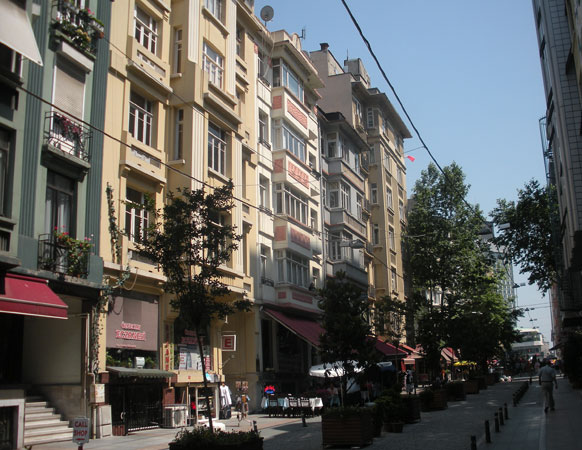 On another side, Istiklal Caddesi, a major pedestrial street, offered locals and visitors an extensive array of shopping opportunities with international stores interspersed with Turkish carpet and ice cream shops. We joined the crowds for a few blocks but soon turned off to explore a classy neighborhood where the British and Italian Consulates sat next to elegant apartments and offices.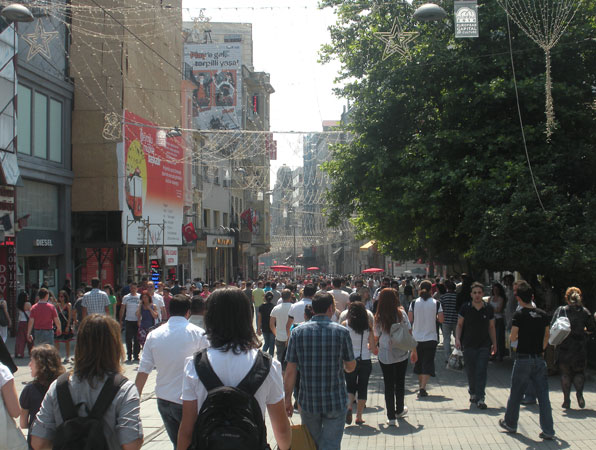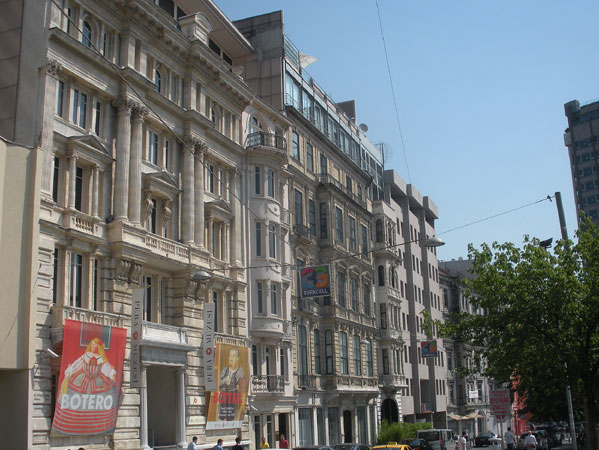 The Grand Bazaar, the famous shopping destination for locals and visitors, was a short walk away from Sultanahmet. We joined the shoppers there to stroll through the narrow lanes of this mammoth covered market, past shops overflowing with all sorts food and souvenirs, gold and diamonds, lamps and teapots, kilims and carpets, clothes and sunglasses.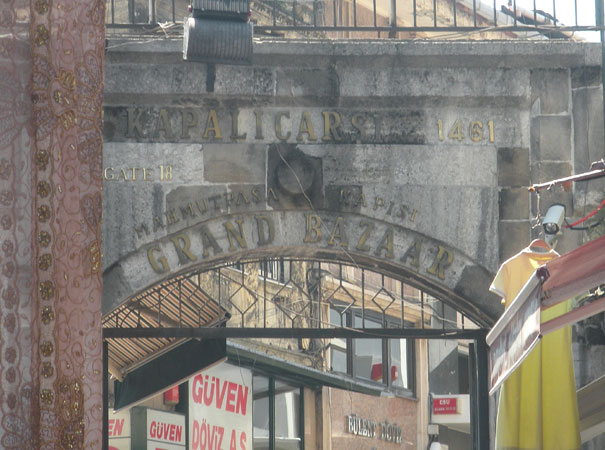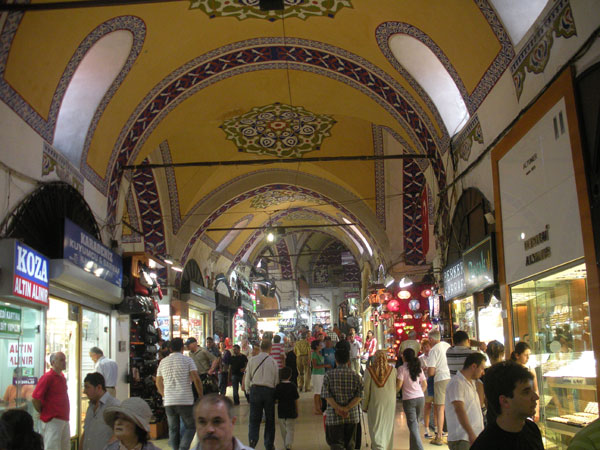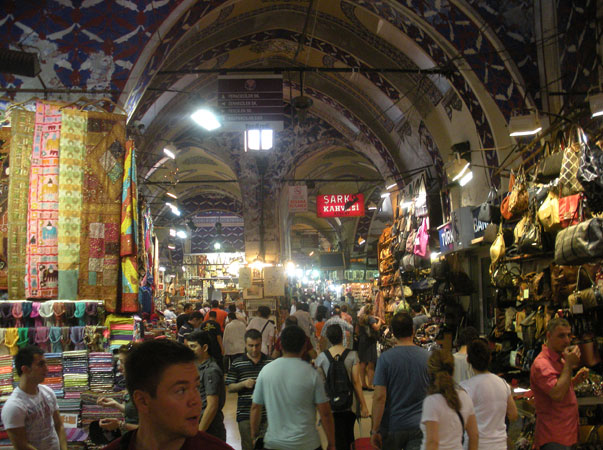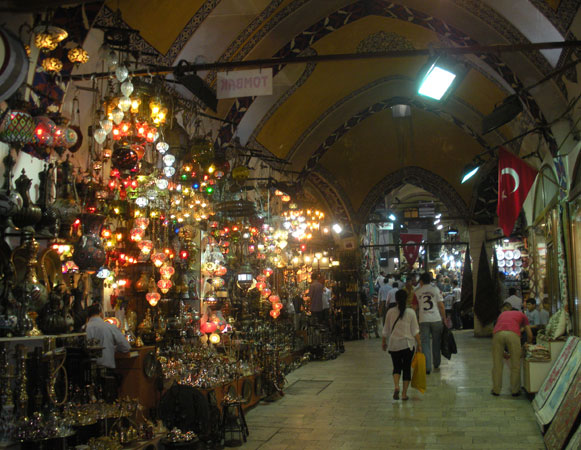 A train ride away from Sultanahmet's tourists, we explored Yedicule, a charming neighborhood once safely protected within the nearby massive Byzantine walls of Theodosius. The walls were surely built to last! In most places there were three walls, each inside the next, with watchtowers at appropriate intervals. Along the west side, in the space where the moat had been, were community gardens for urban agriculture.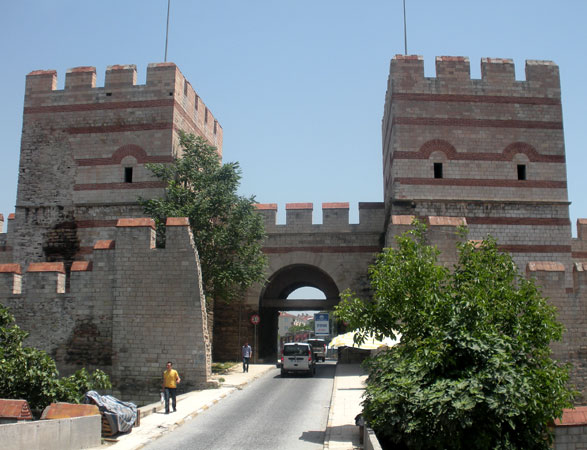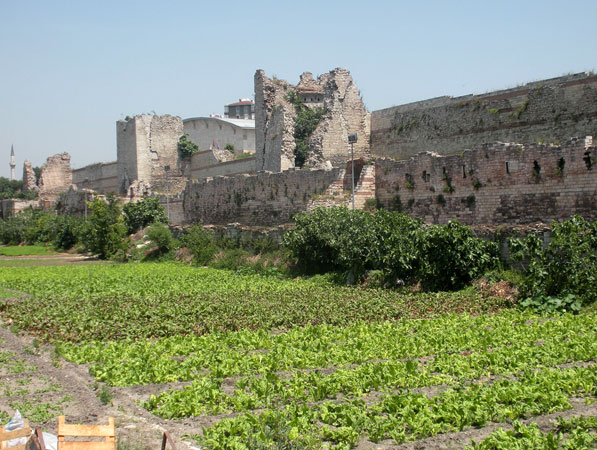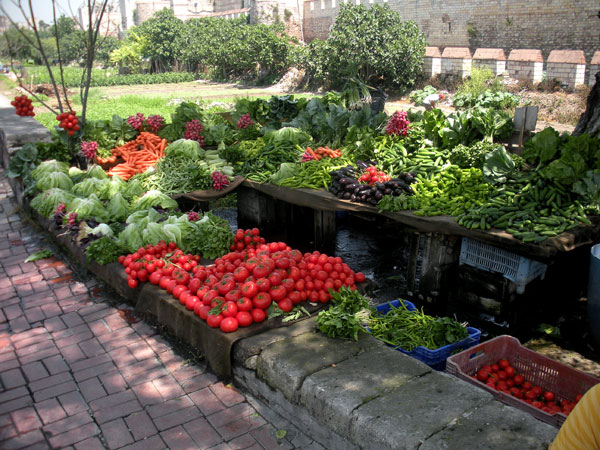 In a pleasant park, we cooled off with drinks and watched moms and small kids. Three young men greeted us with smiles and welcomed us. "Tourists don't come here much", they said.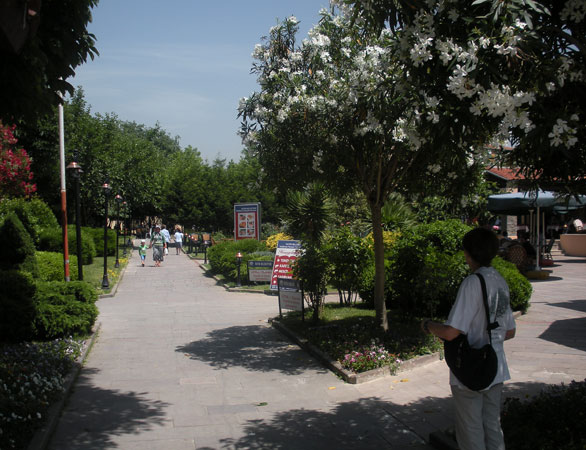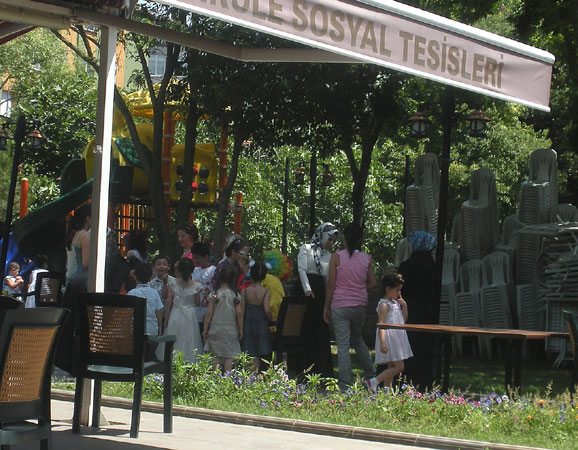 Further on we wandered through a lively retail centre and into a bazaar where colorful fruits and veggies were piled high, making us wish we lived nearby and had a kitchen! We bought food for a picnic and sat on a bench in the shadow of a mosque to eat.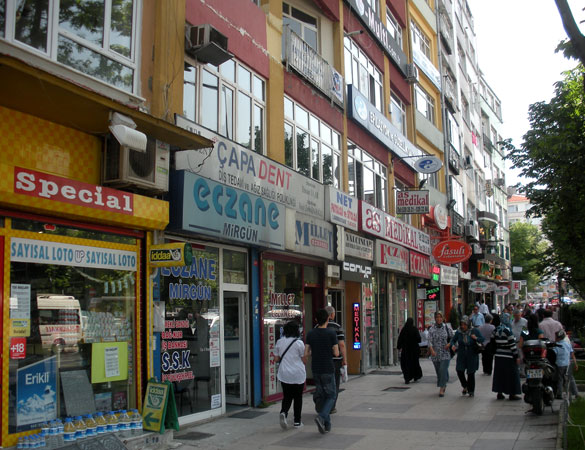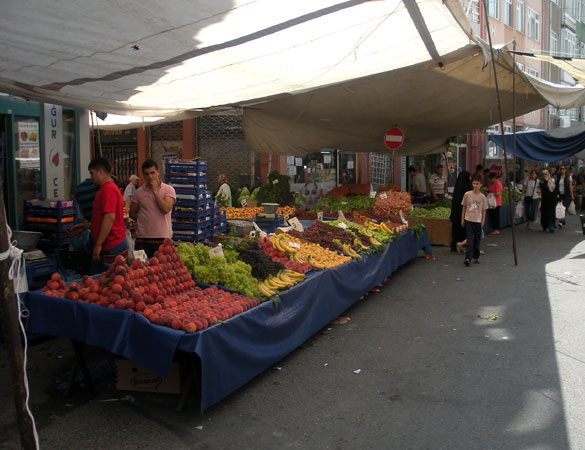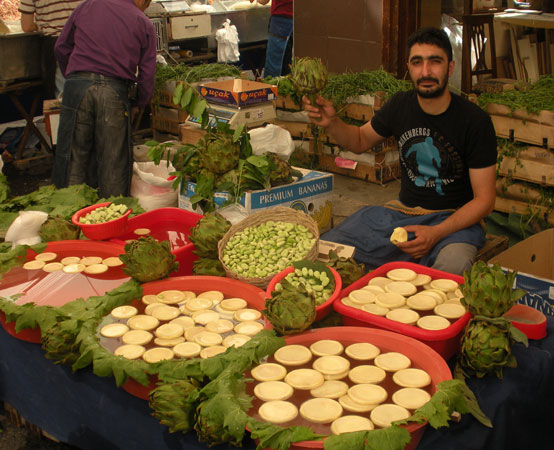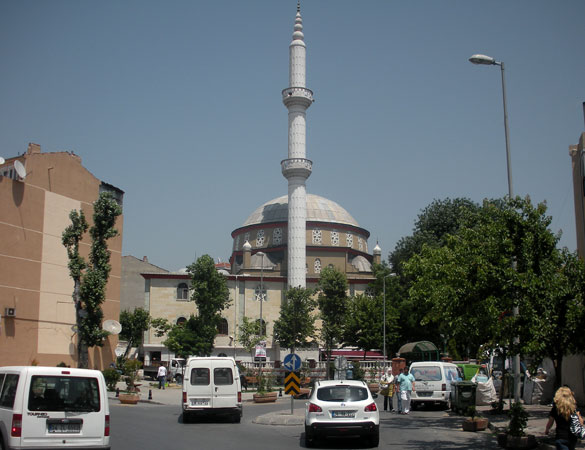 Reaching the tramline we rode west out to the far suburbs - Zeytinburnu and Bahcelievler - home of the great Efes Brewery, a Big Box mall and lines of ten story apartments stretching up the hillside. The contrast between these contemporary residences and those built earlier was stark. Throughout the world, great cities are solving the demand for housing by building 10 -12 story apartment blocks in multiples along with hipermalls, usually well served by transit at the edges of the older neighborhoods. This higher density lifestyle would seem to be resource efficient but rather lacking in charm, we think.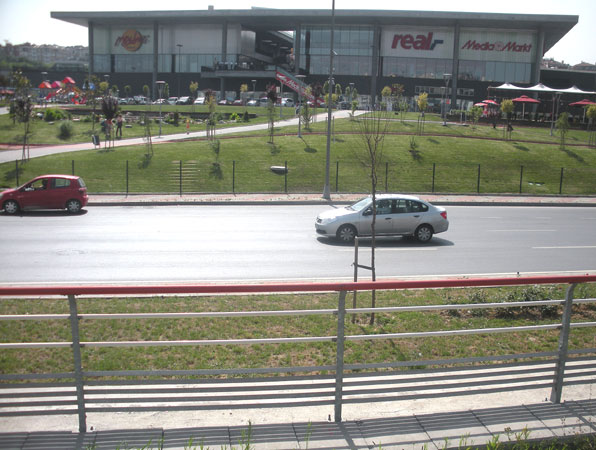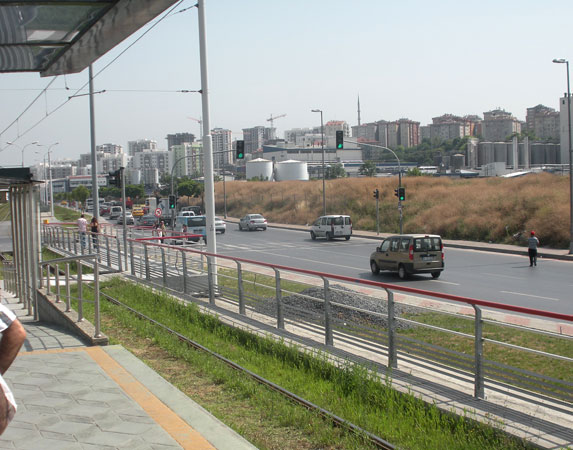 Heading back to Sultanahmet, we discovered a large crowd of commuters gathered at the tram stop. We learned that the tram had stopped running due to some accident or equipment failure. Finally, as it became clear that service wouldn't resume soon, folks left to find other ways home. We also decided to seek alternate transport and soon caught a dolmus from the nearby transit center that dropped us a block or two from the Yedicule train station where we had started this adventure. We rode the train home.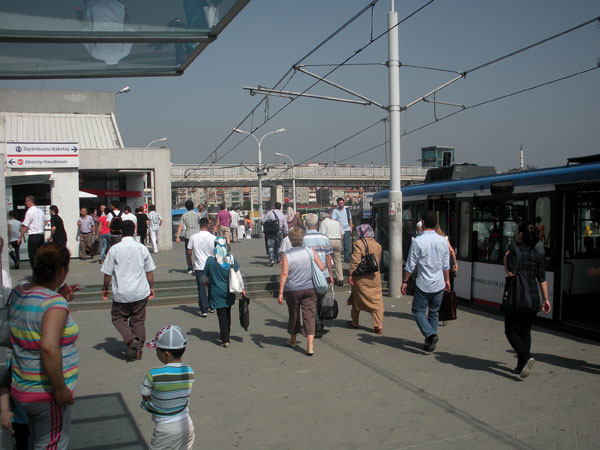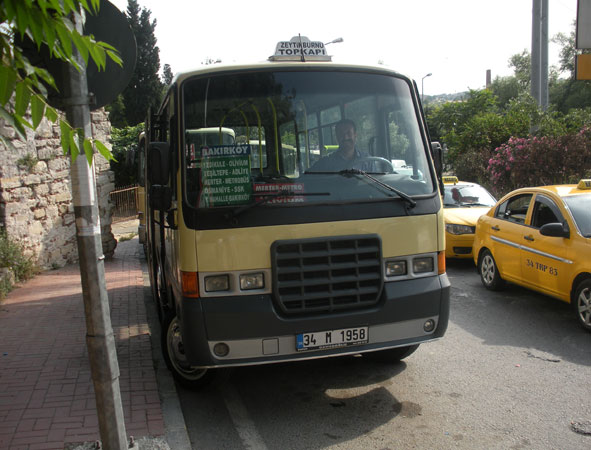 Asia still beckoned across the water. We took the tram to Eminonou and a ferry across the Bosphorus to Harem Terminal. Now we were in Asia! We walked steeply uphill, through residential streets, where residents had great views, to the busy retail centre of Uskudar, where we stopped for lunch at a nice cafe (in case you're wondering, pide is Turkish pizza, kebap is skewers of meat and corba is soup, all served in most Turkish cafes and restaurants).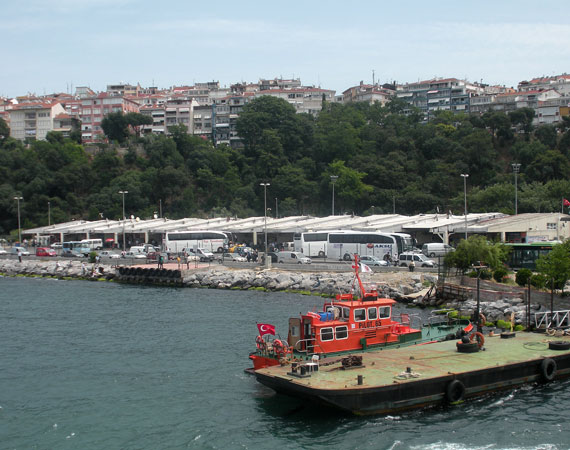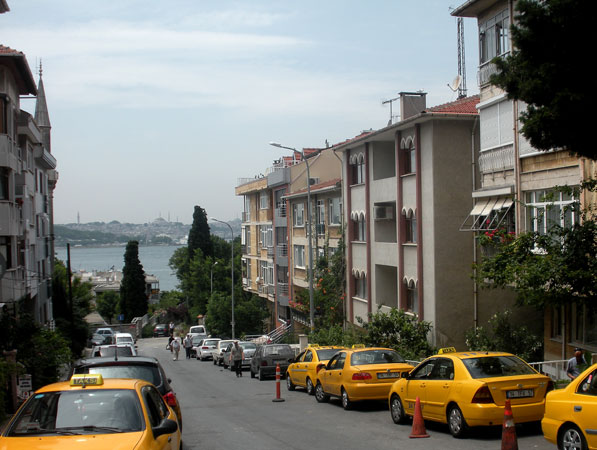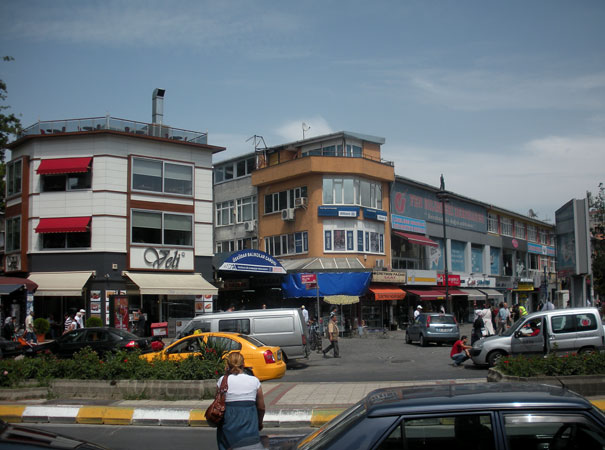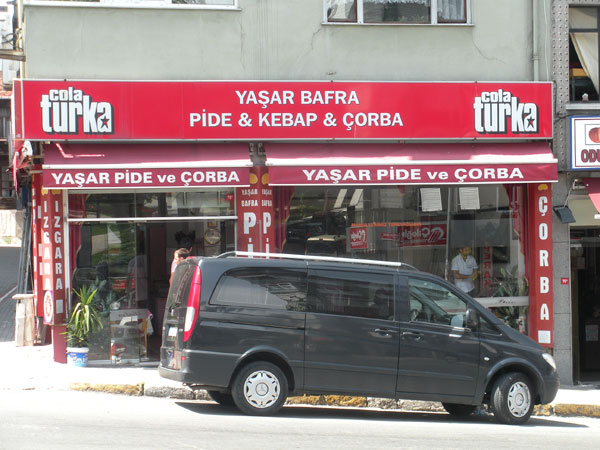 From here a bus took us further to Kuzgunchuk, a nice suburb with a waterside park. Boys were swimming and playing. Conspicuous by their absense were the girls. Do the girls swim somewhere else or just stay at home?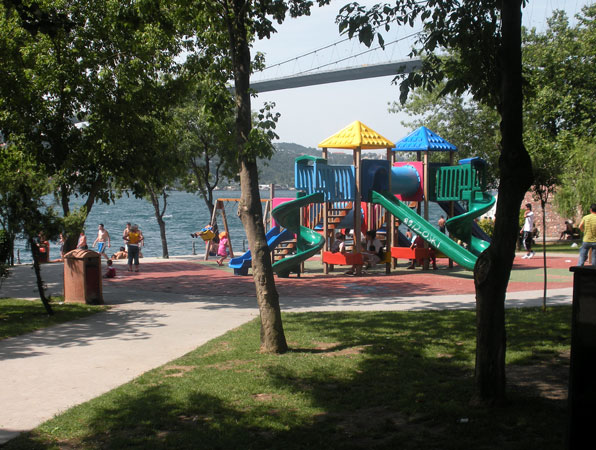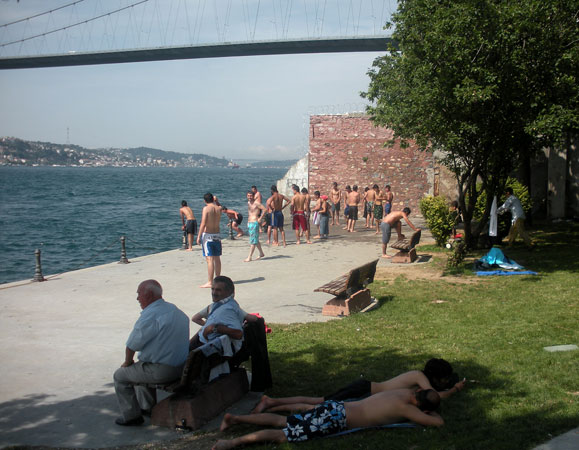 Returning home via bus, ferry and tram, we realized that Istanbul had managed admirably to provide multi-modal transit options to residents, coping with the challenges of terrain and water. From our experience, the system was user friendly (even for visitors, like us) and ridership high.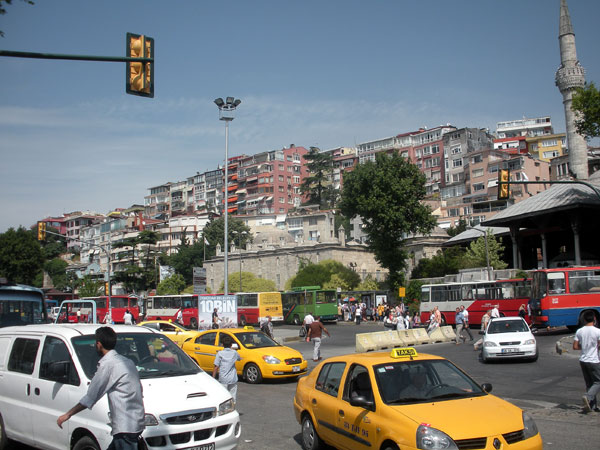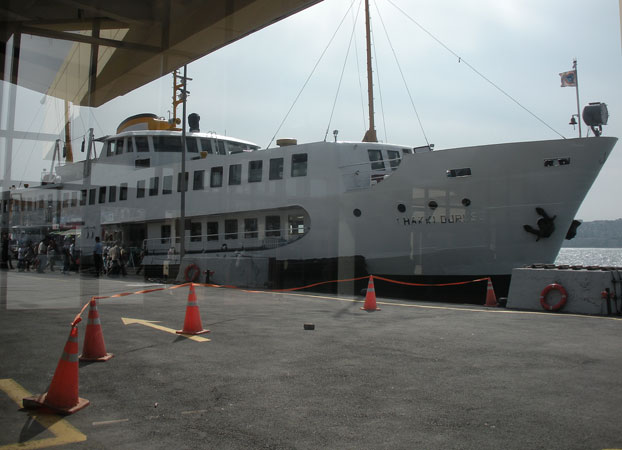 In our brief visit, we had seen enough to award Istanbul kudos for people friendliness with its combination of pleasant and efficient physical form, natural world connections and mobility options.
Click here to return to our 'Summer 2010 - Turkey and More Time in Europe' page