Summer 2010 - Turkey and More Time in Europe


In late October 2010 we returned to the US from 5 wonderful months in Turkey, the Netherlands and Berlin, Germany. Below is a brief summary of our travels followed by links to our stories.
We hope you enjoy them.


After our journey to Central and South America, we returned to the USA for renewing and fun visits with friends and family and to take care of personal business. We wrote more stories and planned our next trip.
We left Albuquerque early on June 7th and made it through Phoenix and on to Philadelphia, but didn't get on the late flight to Frankfurt and had to stay overnight in Philadelphia. On the 8th, we made the early flight to Frankfurt, and then made a fast (about an hour) connection to a Turkish Airlines flight to Istanbul.
Istanbul, perched as it is on the hills surrounded by the deep blue water of the Bosphorus and the Golden Horn with the Sea of Marmara beyond is stunning and dramatic. The graceful blend of architectures - Ottoman traditional and glass walled modern - is visually awesome. We spent eight days visiting the Blue Mosque, Aya Sophia, and Topkapi Palace; walking the narrow streets, riding the trams, ferries and buses that, along with the Metro, make up the transit system.
We were now ready to see more of this surprising, diverse country.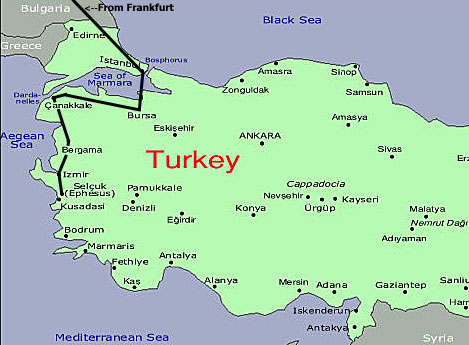 We traveled by ferry across the Sea of Marmara and then by bus through the rolling hills to Bursa. Missed by most tourists, the folks of Bursa welcomed us with smiles.

Next stop was Canakkale, from which we visited the ancient ruins of Troy and the WWI battlefield at Gallipoli, across the Dardenalles.

Then on by bus to Bergama and the ancient Pergamon acropolis overlooking the city. Click here to read our story.

Another bus ride took us to Izmir, a large and busy city on the Aegean Sea.

A short train ride then took us to Selcuk, a friendly smaller town, from which we visited the wonderful ancient site of Ephesus. Click here to read our story.
By early July it was getting so HOT (37-40C or 98-104F) that it was uncomfortable for us to enjoy our days in Turkey. We had hoped we would have more time in Turkey before this happened, and upon learning that it was just as hot in the other places we planned to visit, we decided to leave the rest of Turkey for another trip and travel to northern Europe!
We chose the Netherlands and flew to Amsterdam, and then traveled by train to Delft, where we found a comfy studio apartment to be our next home. After a very pleasant month we moved on to another studio apartment in a nice area of den Haag (The Hague).
In early September, we traveled by train across the Netherlands and northern Germany to Berlin. After a short stay with friends, we moved into a very nice apartment, our home base as we explored this very vibrant and interesting city.
After our month in Berlin we decided that instead of going to an entirely new place, we would return to the Netherlands as we thoroughly enjoyed life there. Fortunately the apartment in Delft where we had lived in July was available, so we spent most of October there.
In late October we returned to the US to see family and friends, and to check in with our doctors.
Following are links to the stories of our travels and observations. Enjoy!
Turkey