Welcome Home, Oranje! The Dutch Celebrate the Return of Their World Cup Team


As the final matches of the World Cup tournament were won and lost, we watched as the Netherlands won match after match leading up to the semifinal on July 6. We had just arrived in Delft, Netherlands having traveled from Izmir, Turkey. We checked into a hotel on the Markt, ordered beers and dinner, and settled to watch the game. All around us, fans in orange shirts, scarves, hats and shoes, sat, eyes glued to the TV's, watching the play.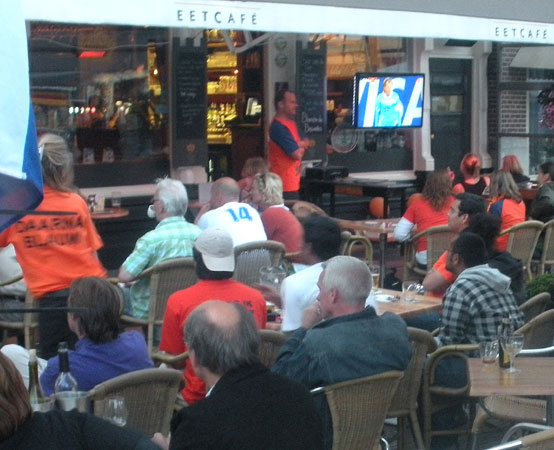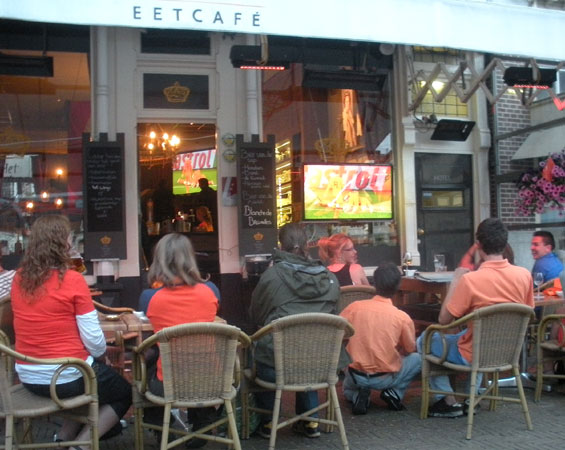 Netherlands Won and we joined the cheering, beaming, orange-clad folks in celebration.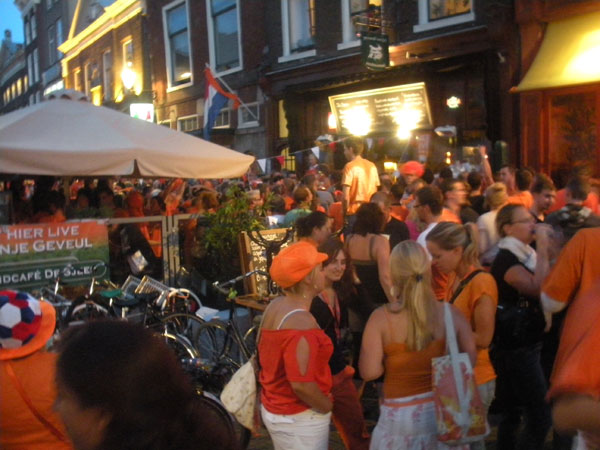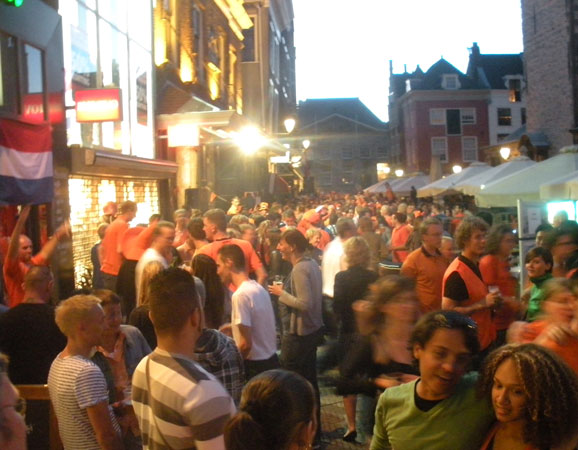 The big final match against Spain was played the following Sunday and the streets were filled with Oranje fans, dressed in even more orange than before. We found a seat in a pub and watched as Spain managed to win in overtime play.
Great sadness, disappointment, gloom, and melancholy showed on every face as we all walked home.
The following Tuesday morning, we read the Netherland News in English and learned that the Oranje Voetbal Team and Coach Bertje were returning home and there would be a celebration in Amsterdam! We had to go, of course!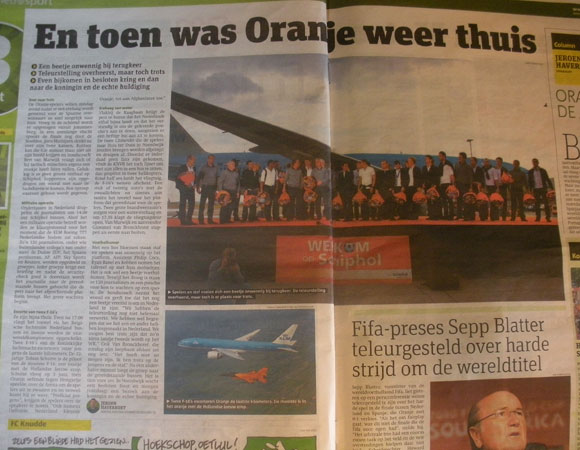 So, we grabbed our orange Holland flag and traveled by train to Amsterdam Centraal Station. It wasn't difficult to find the Herengracht where the boat parade would pass - we just followed the Oranje People!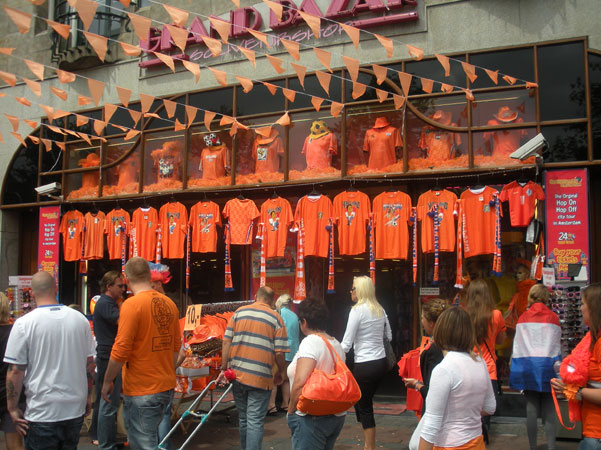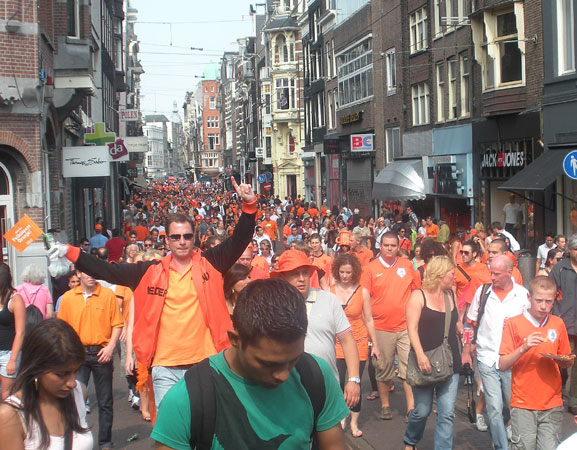 We joined the thickening crowds of folks near the edge of the canal to wait for the Team to arrive. As we all waited expectantly, we sang, cheered, waved flags, danced, smiled and drank Heineken.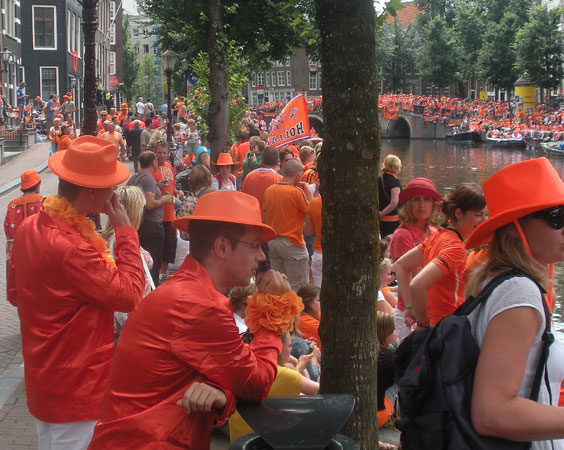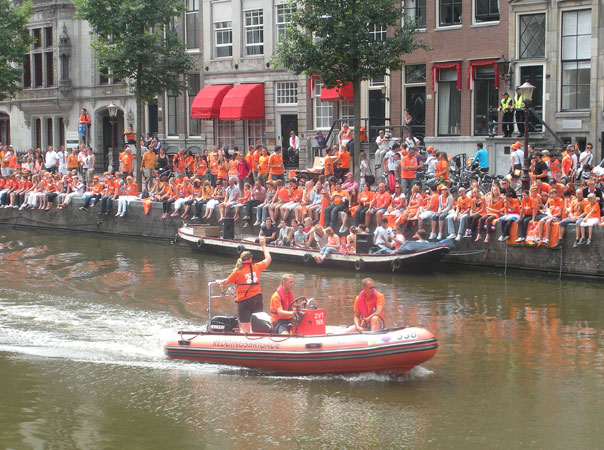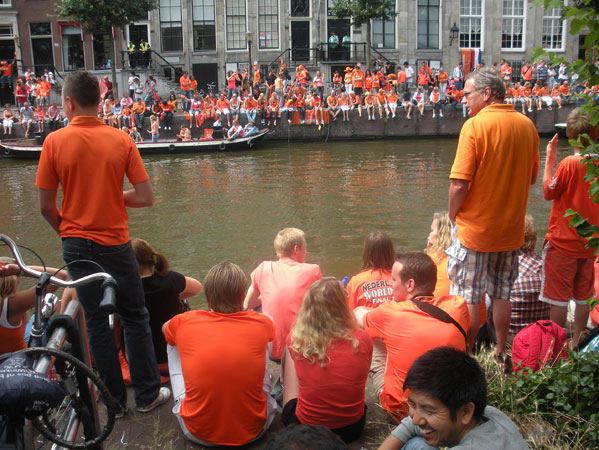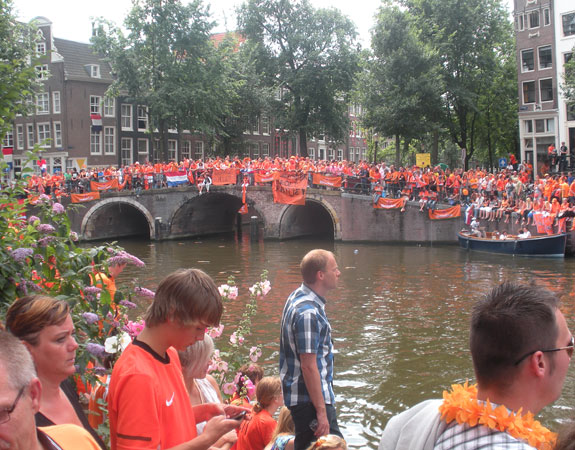 Then the parade began - the police and fire boats first, then came a large boat with the whole Oranje Team - the crowd went crazy!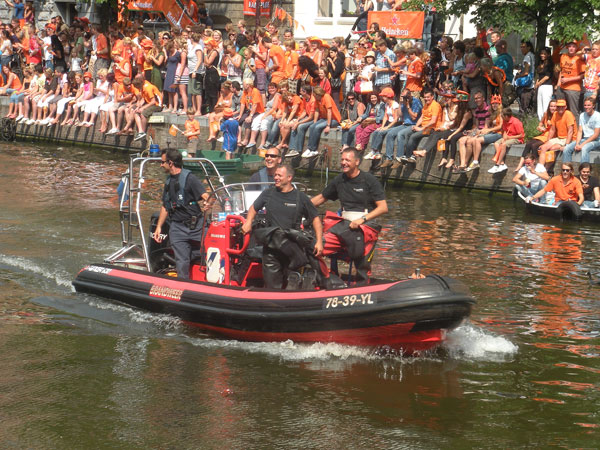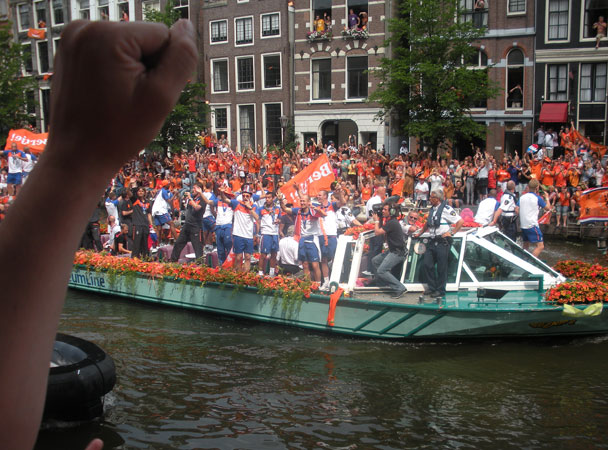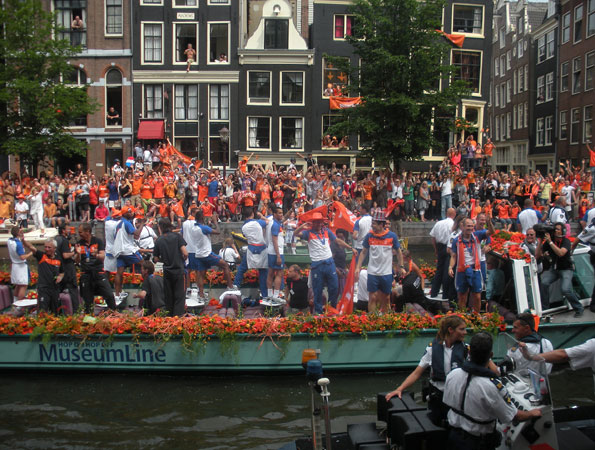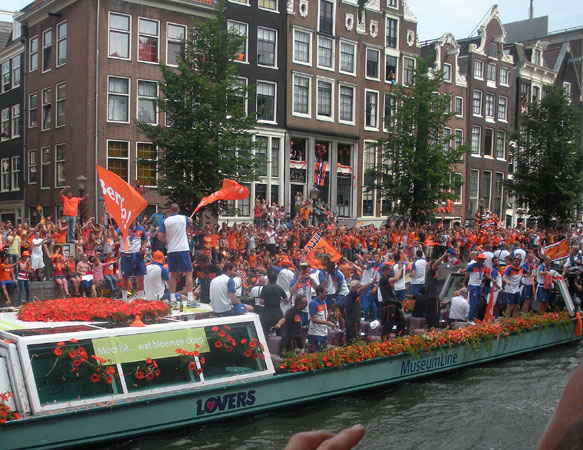 Dozens of other boats followed and the crowd began to walk along, too.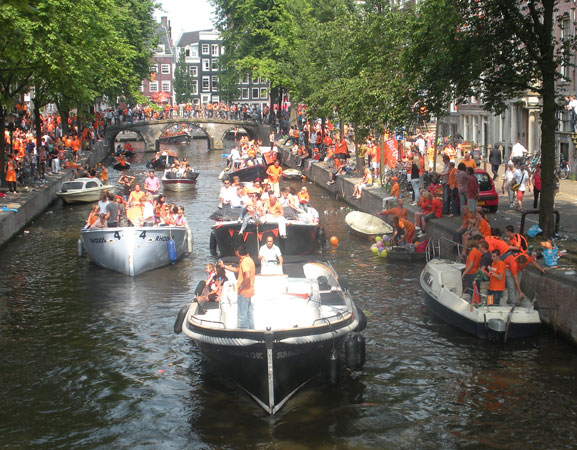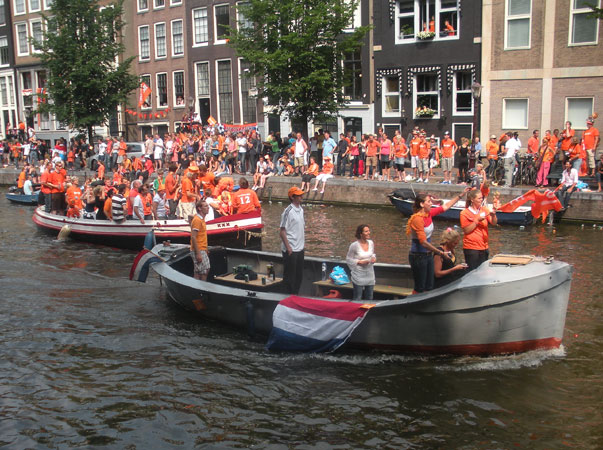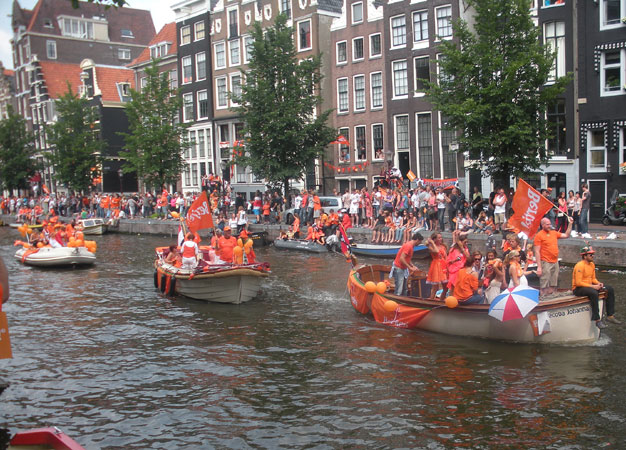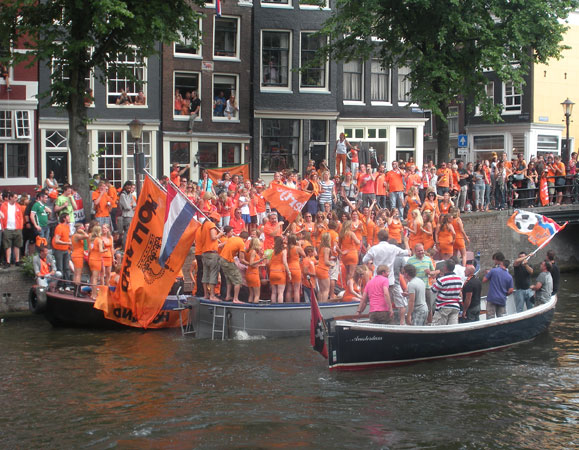 It was a long walk to Museumplein where thousands of fans gathered to watch Jumbotrons showing the players and Coach Bertje dancing to the music blaring across the large plein. What a great party!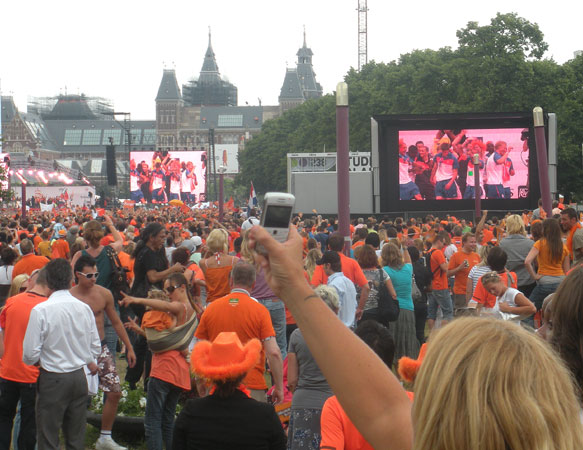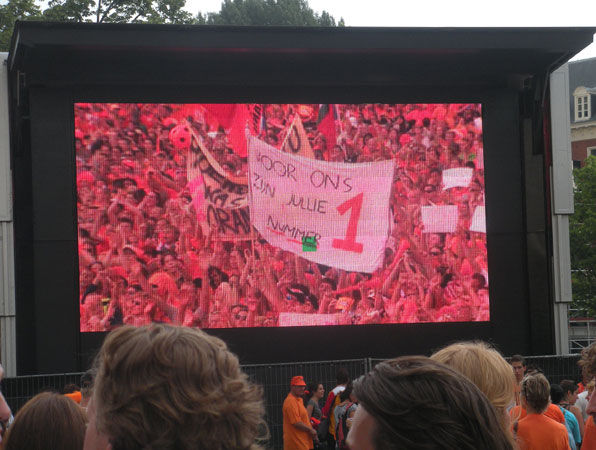 What a fun day! We felt very much a part of the celebrations - Everyone was Dutch that day!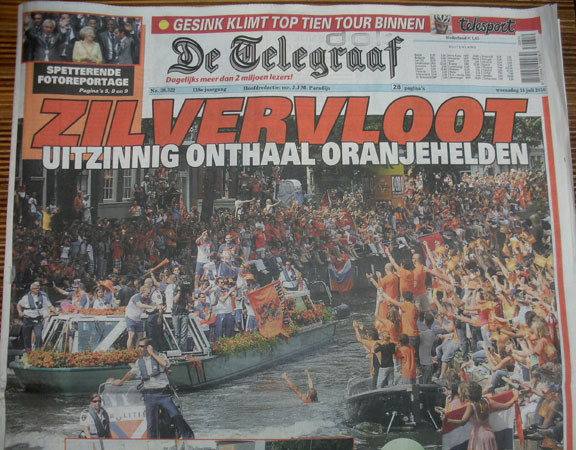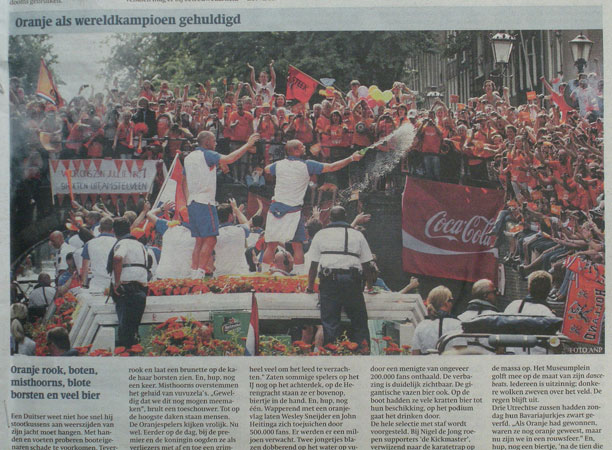 Click here to return to our 'Summer 2010 - Turkey and More Time in Europe' page