Istanbul: City of Blue Waters, Rich Past, Influential Future


Flying into Istanbul in the early morning gave us our first views of this dramatic, sprawling, spectacular metropolis. A series of hills, encrusted with buildings, sloping down to the deep blue of the Bosphorus joining the deeper blue of the Sea of Marmaris - this was Istanbul at first glance.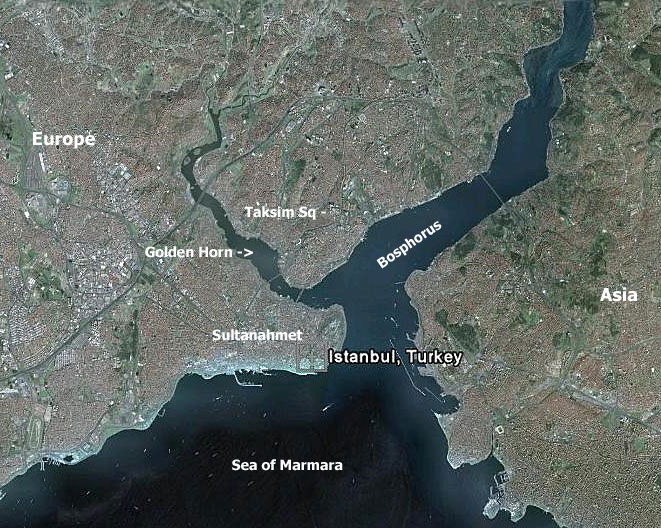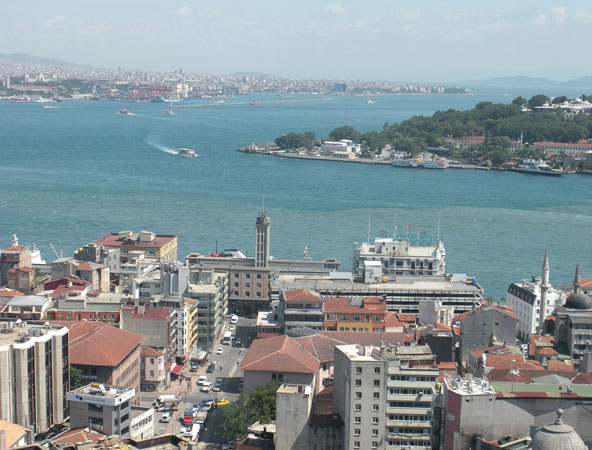 The plane landed and we were thrust into the usual arrival challenges: passing through passport control and customs; acquiring cash (Turkish Lira) and a sim card for our mobil phone; and finding the bus to take us from the airport into Taksim Square, the busy heart of this city.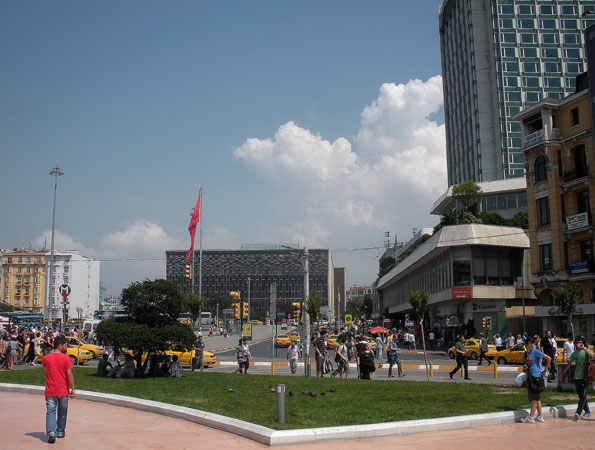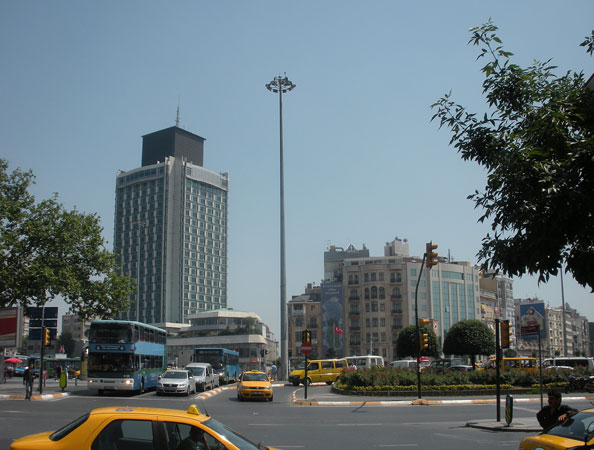 From this vantage point, we could have been in any European city except that all the signs were in Turkish, a difficult and indecipherable (to us) language.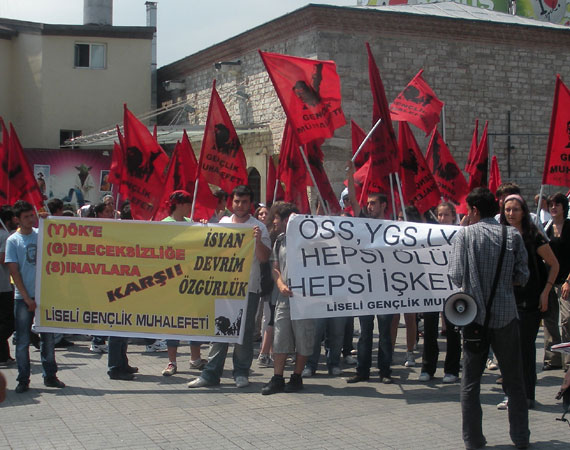 A taxi took us to Sultanahmet, on the peninsula formed by the natural harbor of the Golden Horn and the shores of the Sea of Marmara just where it joins the Bosphorus. It was here that Roman Emperor Constantine first laid out his New Rome in 324AD. As the Old Rome was overcome by Goths and Vandals, New Rome, Constantinople, became a great capital. From 395AD when the Roman Empire was divided into the West and East, it was the capital of the Byzantine Empire.
Today, Sultanahmet is the tourist centre of Istanbul, with a wealth of hotels, hostels, pansiyons, cafes and restaurants, carpet and trinket shops, water sellers, and of course, the star attractions: Aya Sofya (Hagia Sophia), Sultanahmet Camii (Blue Mosque), and Topkapi Sarayi (Palace). We selected a nice hostel, Istanbul Sydney, where we had a lovely room with views of the Bosphorus and the street.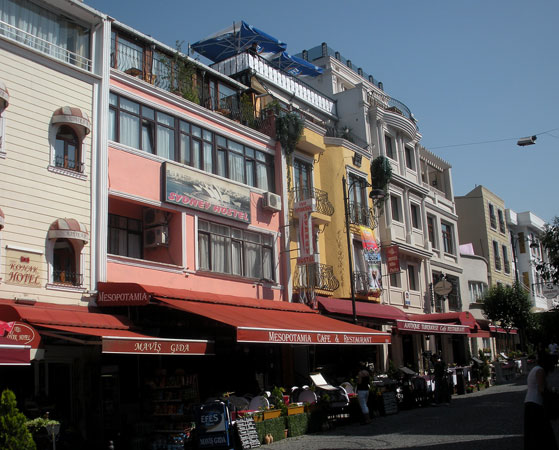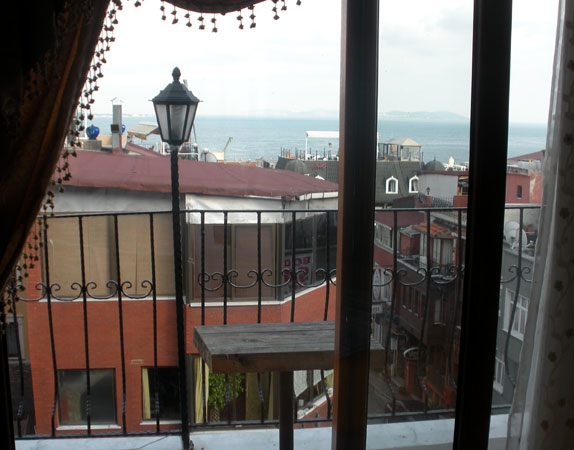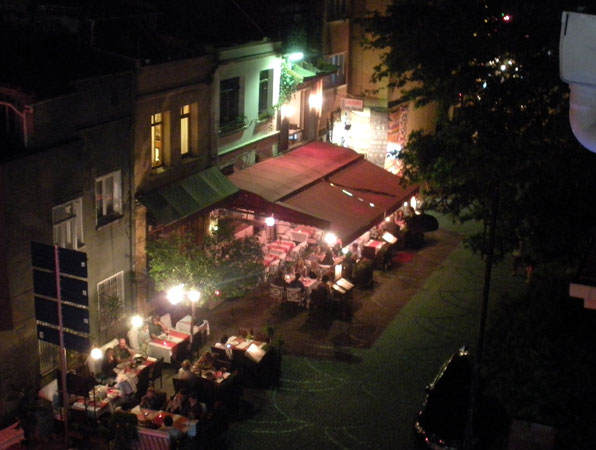 The hostel was right above two cafes, Mesopotamia on the left and Turquoise on the right. Both offered pleasant street side dining areas and menus of typical Turkish cafe food. Each had a guy whose job was to entice prospective diners to stay, as did every cafe along Akbiyik Caddesi. During our stay, we became special friends with the folks at Cafe Mesopotamia, sometimes providing testimonials to prospects as we ate yummy vegetable casserole and drank Efes Biera.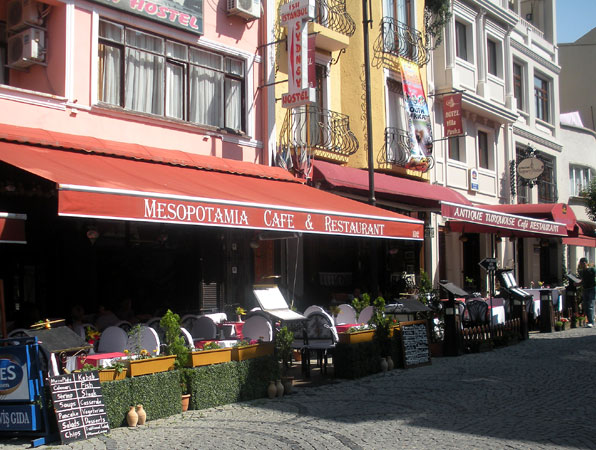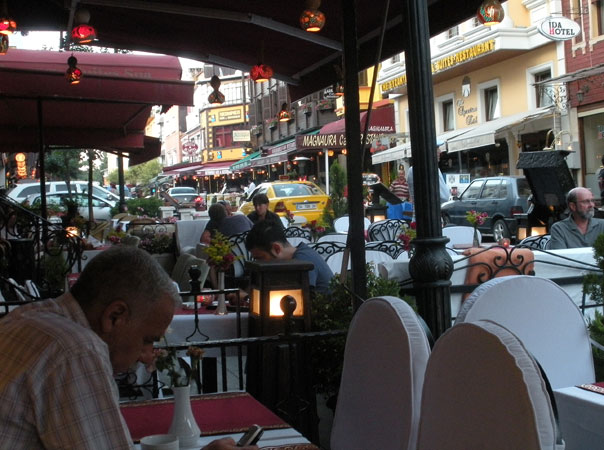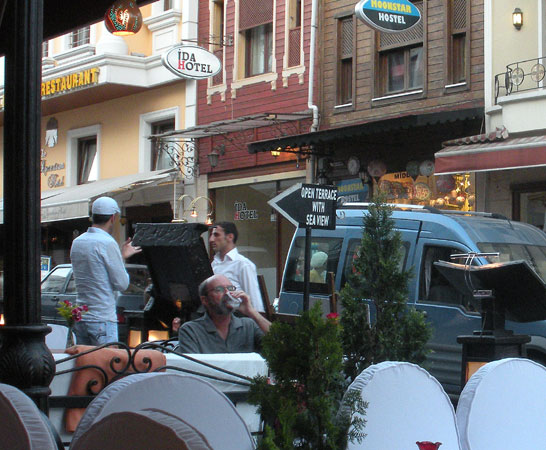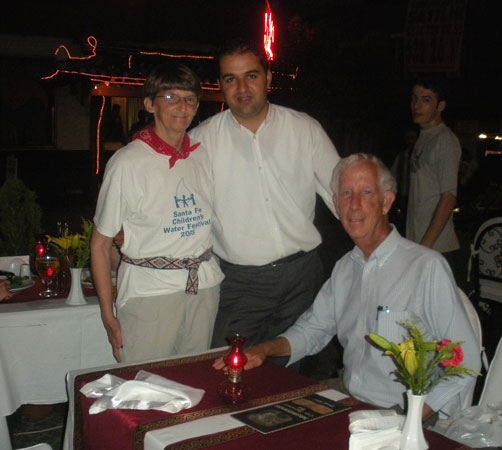 The first matches of the World Cup began just after we arrived and before long, every cafe offered viewing with large TV screens set up outside. We could stroll after dinner and not miss a play!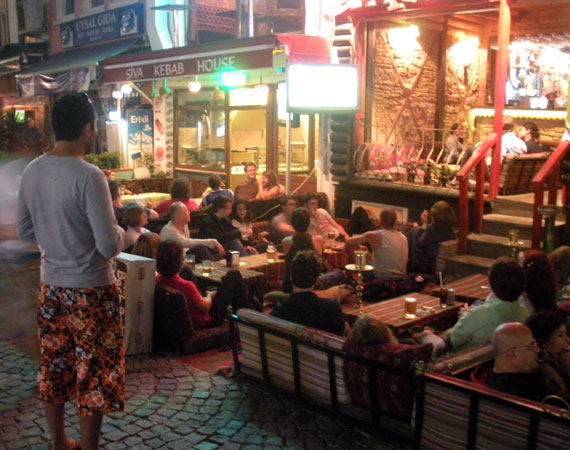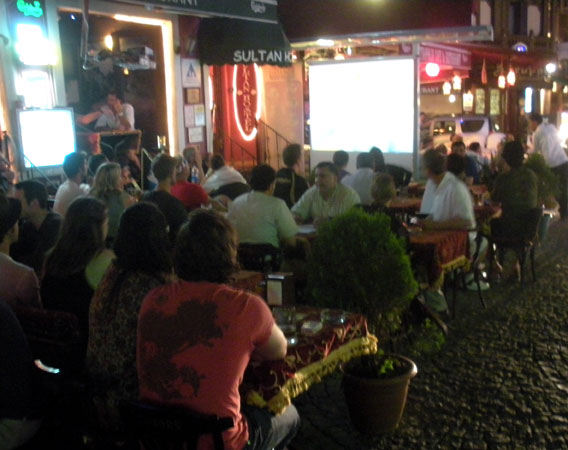 From here, it was a short walk, through a green and flowery park, to the Aya Sofya, now a museum (below left), and the Blue Mosque with its slender minarets and great domes (below right). We never tired of additional chances to stop and admire these wonderful structures.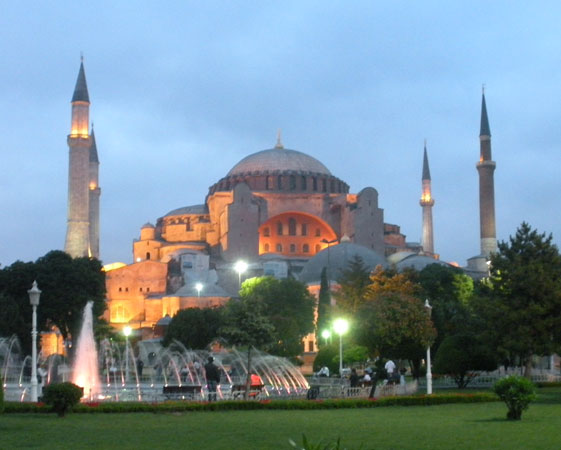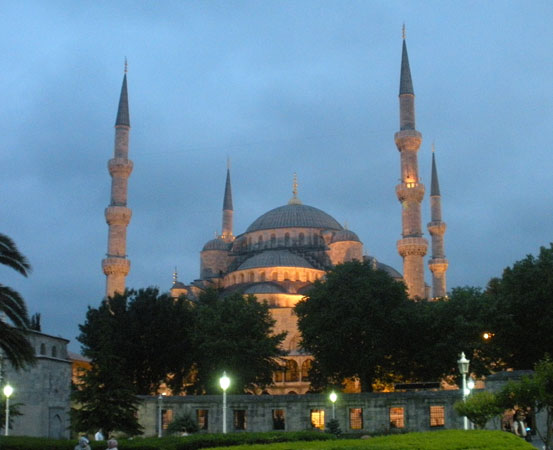 Click the pictures above to view our photo galleries of these wonderful places.
Nearby, a pleasant long oval green space, Constantine's Hippodrome, offered walkways and ancient obelisks.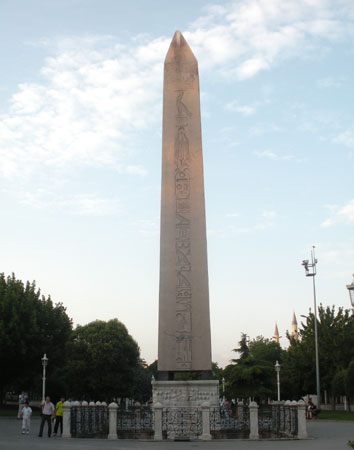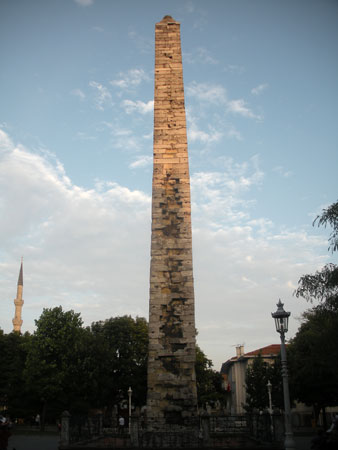 Just beyond were busy Divan Yolu Caddesi and Alemdar Caddesi where the tram ran.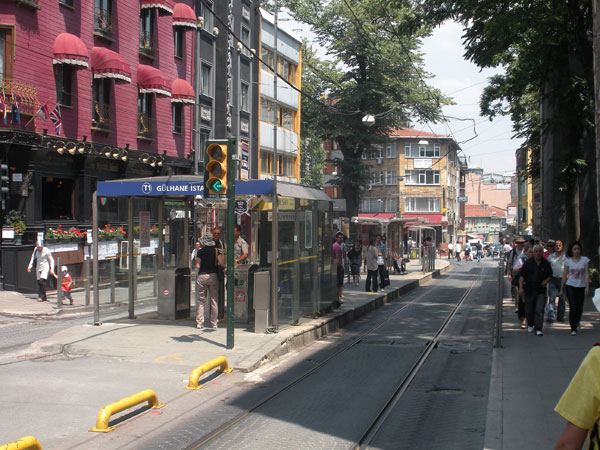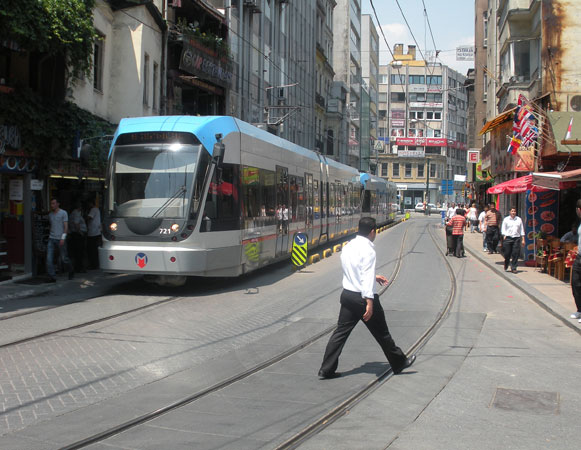 Boarding the tram, we embarked on our explorations of this great city.
Click here to return to our 'Summer 2010 - Turkey and More Time in Europe' page