Port Sunlight - The Lever Brothers Vision
Of a Village Where Their Workers Could Live a Better Life


Liverpool in 1900 was a bustling, prosperous, populous city. With its busy port and many factories providing employment for all, men, women and even children, people emigrated from Ireland and all over Europe in search of a livelihood and a better life. Industrialists planning to expand their operations looked toward Liverpool, too.
William Hesketh Lever was one of those industrialists, the founder of Lever Brothers, a soap and cleaning product firm, which has since grown into Unilever. In 1887 Lever bought 56 acres of salt march land on the Wirral Peninsula, across the Mersey River from Liverpool. Here, in 1888, he built his new manufacturing plant. The major product was Sunlight Soap.
As soon as the plant was up and running, he and his brother, James, began to carry out their dream for an industrial village, Port Sunlight, where their workers could live, shop, send their kids to school, play, participate in social and cultural events, and attend church.
Lever's vision, as voiced in a speech delivered in 1888, said,
"... it is my hope, and my brother's hope, some day to build houses in which our work-people will be able to live and be comfortable. Semi-detached houses, with gardens back and front, in which they will be able to know more about the science of life than they can in a back slum, and in which they will learn that there is more enjoyment in life than the mere going to and returning from work, and looking forward to Saturday night to draw their wages."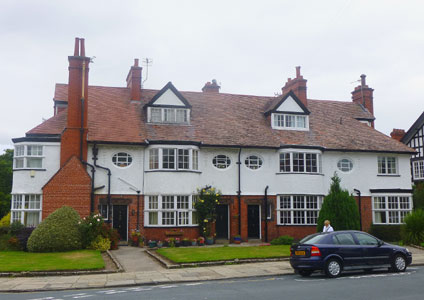 Lever drew up the spatial plan for the town himself, and then invited twenty-nine of the best architects of the time to submit designs for the housing and public buildings. Those whose designs were selected were provided with a site on which to realize their vision. By about 1910, a range of charming architectural features had resulted. The homes, detached, semidetached, and terraced (row), offered a choice of styles and featured front gardens which the residents kept green and planted with flowers. The master plan also included green parks, rose gardens, sports fields, and boulevards with trees.
The original office building along with the long red brick manufacturing plant, all still in operation today, stretched along one edge of the village. Other important civic buildings were clustered along the nearby streets: a cottage hospital that is now a hotel, schools, a library that is now a bank, a concert hall, a swimming pool that is now a garden center and cafe, a church, and a pub that originally sold no alcohol until residents voted to allow it.
As Lever envisioned, Port Sunlight provided decent living conditions for the workers and their families and also provided for the education and entertainment of his workforce, encouraging recreation and organisations which promoted art, literature, science or music. He believed that good housing with cultural activities would ensure a happy, healthy and productive workforce. His vision carries on today.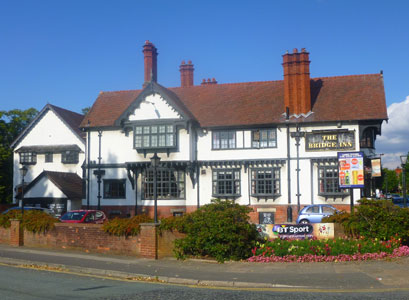 We visited Port Sunlight and found the story of the town's creation and evolution to be very engaging. At the museum we learned the story and then explored the town to find that Lever's vision was still very much alive and well, now more than 100 years later.
To view our Flickr photo gallery, click here
If you would like to learn more, we suggest you review the following:
Conservation Management Plan (published in 2007). Of special interest are the Concluding Comments, on pages 28 - 30, which give a good overview of the significance of the town, both historically and today.
History with Images
Click here to return to our 'Summer 2013 in Europe - Brussels, Vienna, England and Madrid ' page
Click here to return to our 'Searching the World for People Friendly Cities' page