Europe 2017 - Searching for Vincent Van Gogh


Vincent Van Gogh has been one of our favorite artists for decades, and we have often taken the opportunity to visit museums displaying his work. We have frequently visited the Van Gogh Museum in Amsterdam, but also sought out his work in other places such as the Art Institute in Chicago, the Musée d'Orsay in Paris, the British National Gallery in London and more recently, the Kroller Mueller Museum in Otterloo near Arnheim, in the Netherlands.,
Portions of Van Gogh's life are familiar to many. In February of 1888, he was living in Paris with his brother, Theo. During the two years he had lived there, he had been able to study and meet many of the Impressionists, forming friendships with several, including Bernard and Gauguin. However, Paris was not good for his mental and physical health and he decided he needed to move south to Arles where the climate was milder and he could live more inexpensively.
He boarded a train and arrived in Arles on February 18. In May, he moved into the "little yellow house" and embarked on his incredibly productive mature period, painting rural country scenes outdoors, portraits of friends, still lifes, and scenes of the town. In July, Paul Gauguin arrived to become his house mate and they painted together and argued. Vincent's prodigious painting, mostly outdoors when the weather permitted, stimulated him, but the intensity at which he worked had a degrading impact on his physical and mental health and he suffered epileptic seizures, hallucinations, and mood swings. His health continued to go downhill and in April, 1889, he checked himself into an asylum in nearby St. Remy, where he continued his work when he was well enough.
Being familiar with his life story, we had often thought to visit Arles, to experience the sunlight, starry night sky, and vibrant landscapes that had inspired Vincent. So, naturally, we included a stay there in our journey through the South of France.
Arriving in Arles, we settled in a nice small studio flat right in the centre, just 100 meters from the banks of the broad River Rhone. A walking tour, lead by a lively and knowledgeable guide, enabled us to visit the locations where Vincent had painted his scenes of Arles.
We stood on the spot where the "little yellow house" had stood. (It was destroyed during a bombardment during World War II, but the taller adjoining building is still in use).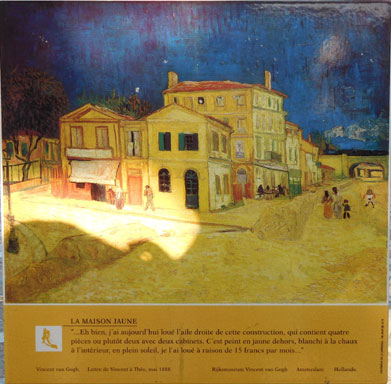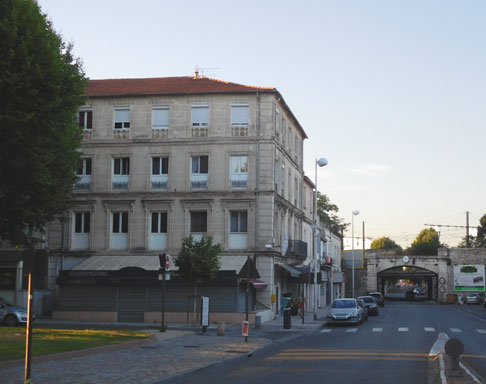 Nearby was the spot on the river bank where he painted 'Starry Night'.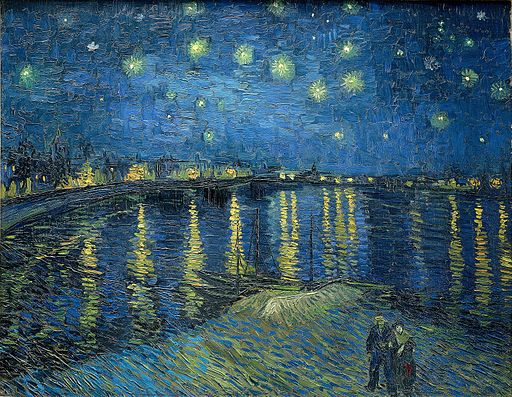 Later we had coffee in the Cafe Nuit, site of his 'Cafe Terrace on the Place du Forum'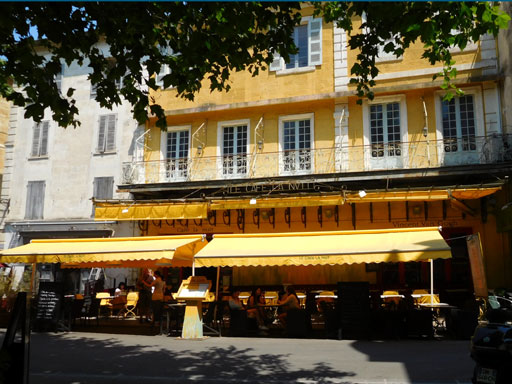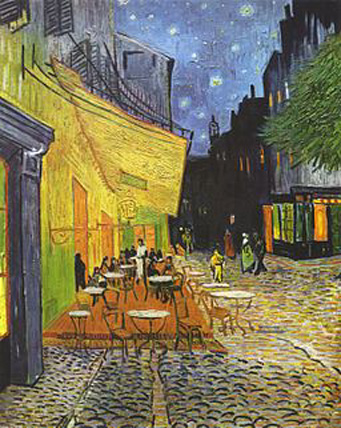 We visited Hotel Dieu (House of God, or hospital) where he was cared for after one of his depression attacks.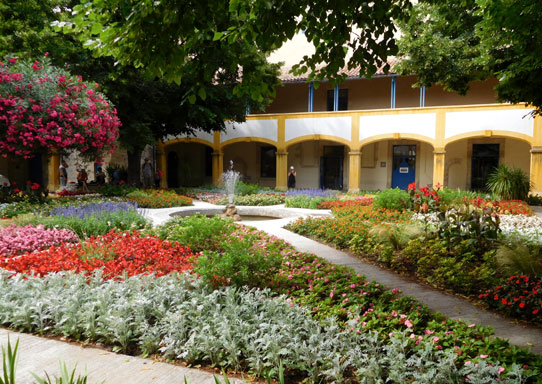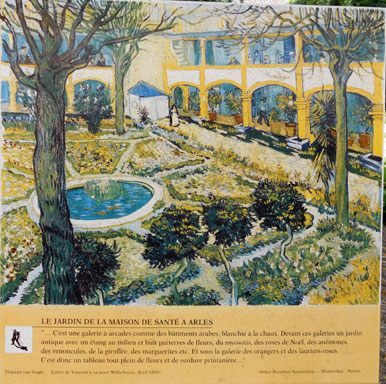 We were fortunate to view eight of his paintings at a special temporary exhibit at the Foundation Van Gogh; special for us once we learned that none of his original painting are still in Arles.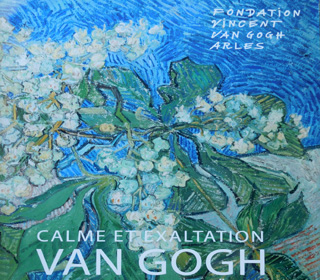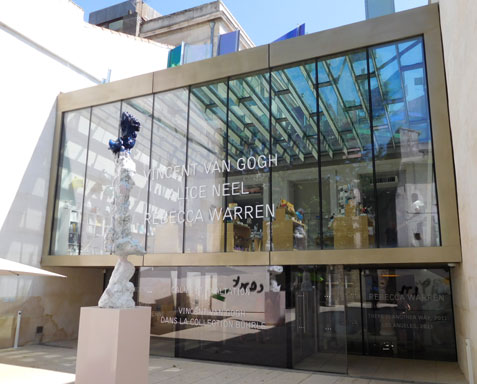 We learned that when he lived in Arles, the open countryside was just 500 meters away, but now development has pushed the fields of sunflowers and wheat farther away. Through a combination of tours and bus rides, we were able to experience the summer heat and light, the sunflowers and wheat, the riverside, and the starry night sky.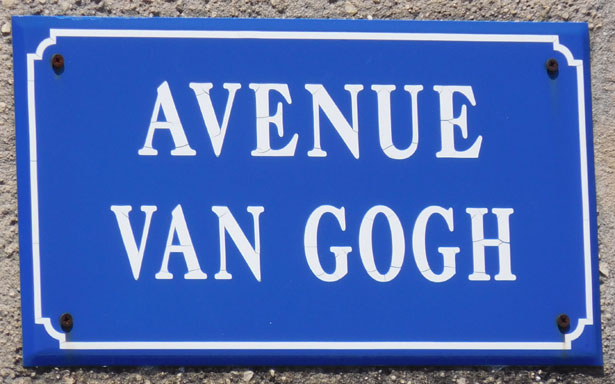 We felt closest to Vincent the day we visited St. Remy! From the center of town, we walked along Avenue Van Gogh, stopping frequently to view locations where he worked, with informative signs that included prints of a picture he had painted and quotes from letters he had written about the spot to his brother Theo and others. He was a fluent writer and expressed deep thoughts about his emotions and notes about his use of color and painting techniques. He expressed his profound love for nature and the joy he felt as he made these expressive pictures.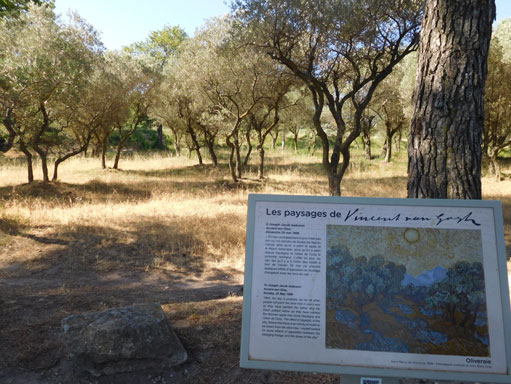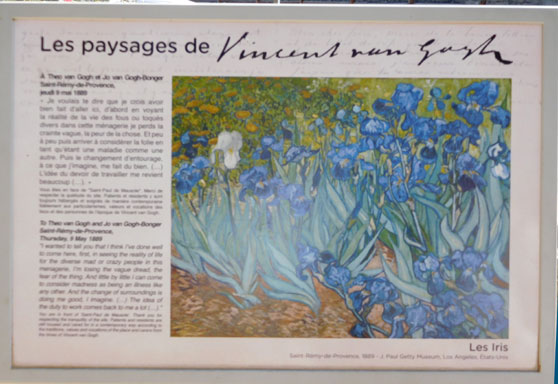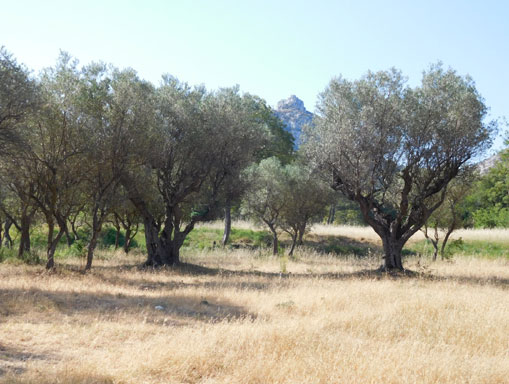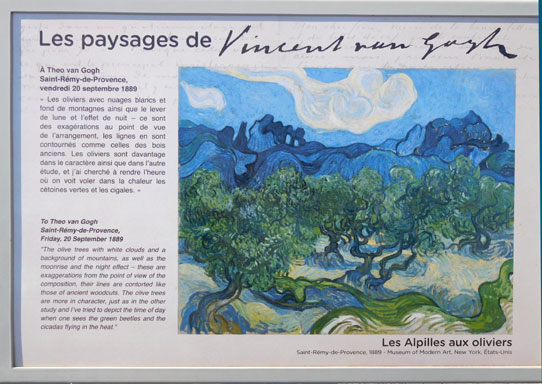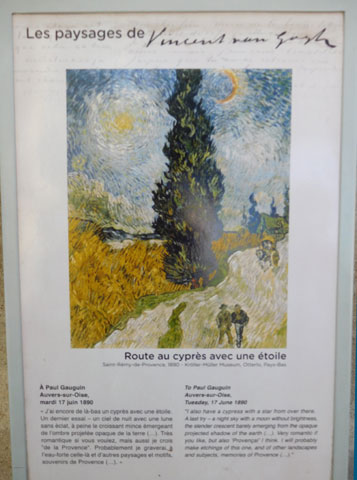 Our walk took us to 'Hopital Saint Paul - Saint Remy', the monastery and asylum where he lived.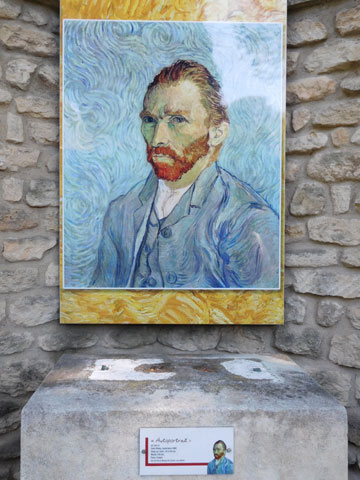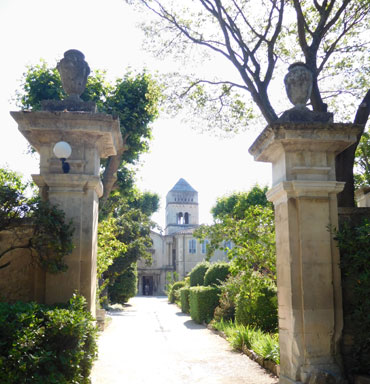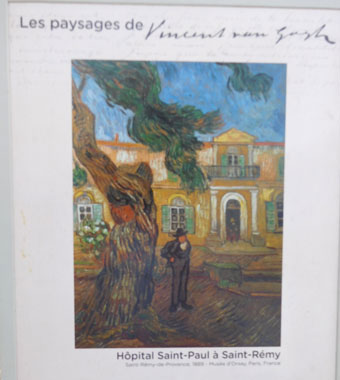 A documentation centre included a room furnished as it might have been when he stayed, perhaps little different from his room in 'the yellow house' in Arles ...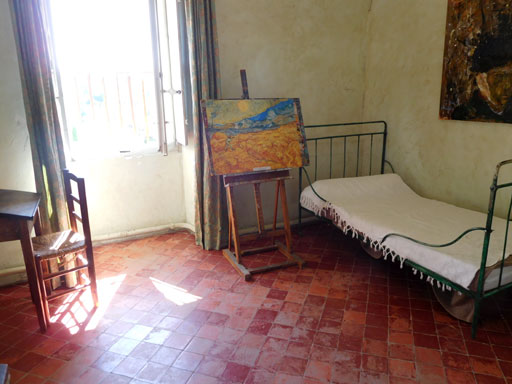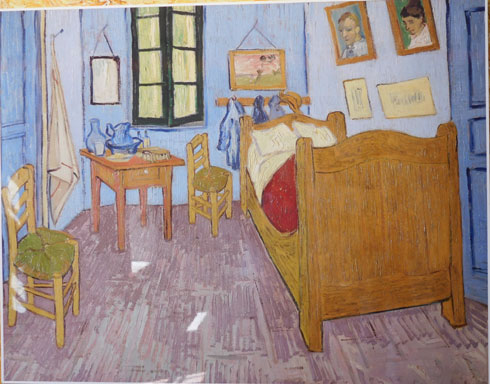 ... and the gardens with sunflowers and lavender in full bloom provided us with a deeper knowledge of his life and treatment there.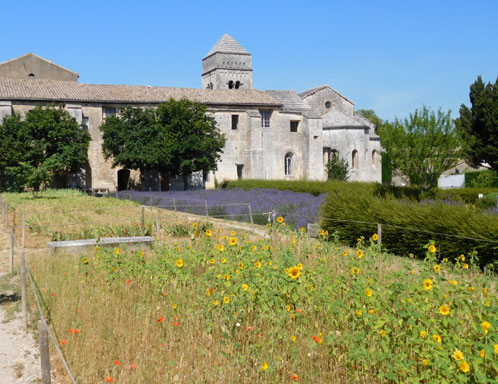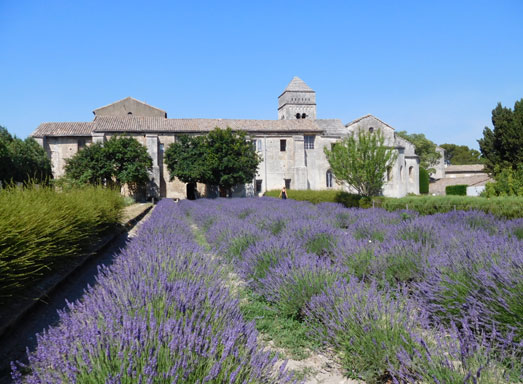 The place is very little changed over the years, but the ghostly visions of him working feverishly away were everywhere.
The village of St. Remy is a peasant place with the Alpilles Mountains rising up to the south, olive groves, vines, and wheat fields are close at hand, the village centre has cafes, fountains, and charming architecture. Feeling enchanted by our immersion in Vincent's world, we boarded our bus for our return to Arles,.
Click here to return to our 'Summer 2017 - Return to Europe' page
Click here to return to our 'Searching the World for People Friendly Cities' page