Explorations on the Sixth Continent - Africa!


After eight years of Nomad Journeys, Africa was still on our list to explore! Except for Egypt, the vast expanses of this great continent were still little known to us and offered plenty of opportunities for adventure!
Because we had so much to learn about this place we knew we needed to do more research to prepare for this journey than ever before. We started with a focus on Southern Africa, our first destination.
Since major elements of the essence of this part of the world include the great outdoors, the wild places, the flora and fauna, and the geology, significant amounts of additional planning were required for us to gain a level of comfort with the exploration that we intend to do. By early May, we felt that we had a much better understanding of what will be required and were ready to venture forth!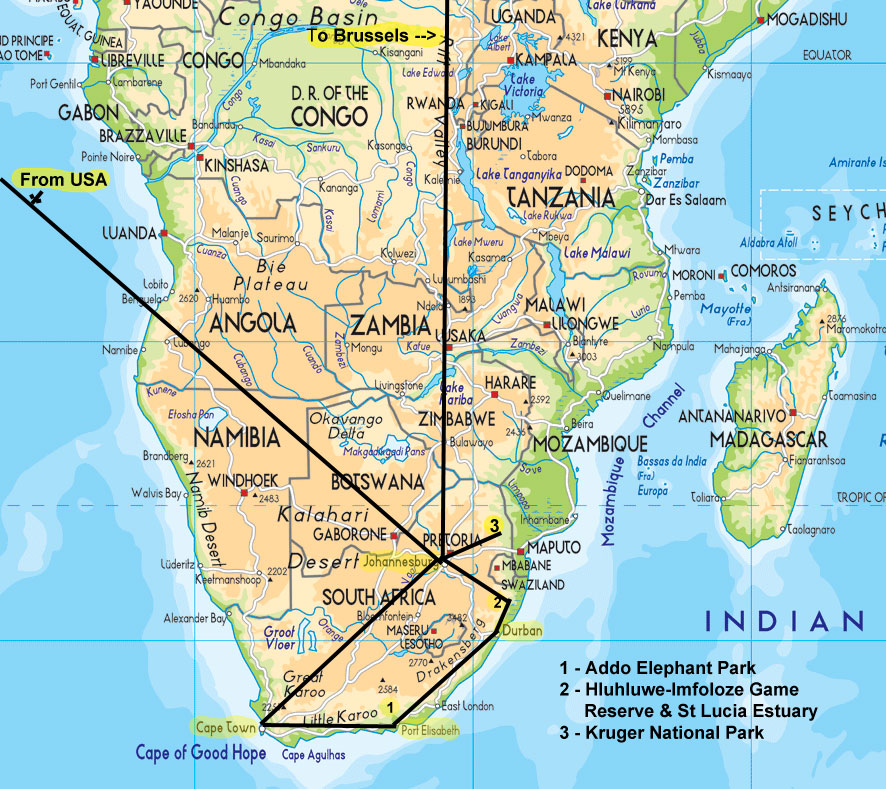 On May 7, we flew from Atlanta to Johannesburg, arriving the following afternoon, a bit weary after more than 15 hours of flying. We lingered in a comfortable guest house near the airport to catch up on sleep and to make arrangements for the flight on to Cape Town and a hostel there.
Capetown
Our flight to Capetown was quite pleasant and thankfully a lot shorter. We settled into a nice hostel in Observatory, a nice residential district with a diverse population of students, international visitors, and locals. From here we began exploring this city, perhaps the most Western of all African cities, but with the dramatic scenery of Table Mountain and Devil's Peak hovering above us.
Cape Town is the legislative capital of South Africa, so the Parliament Complex occupies several blocks of the CBD. Then there are several important museums including two, the Slave Lodge and District Six, that offered us the beginnings of an understanding of the complex cultural, racial, ethnic and geopolitical forces that have shaped this country.
Click on the following links to view the story of our Capetown visit, and our Flickr photo albums of Capetown and our Cape Point travels
Capetown story
Capetown Sights
Train to Simons Town and the African Penguins
Atlantic Coast of Cape Point
Port Elizabeth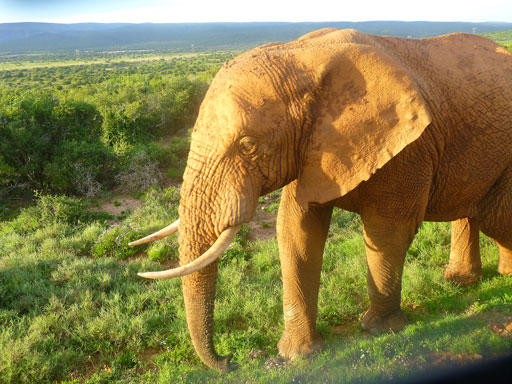 From Cape Town, we flew to Port Elizabeth, a major port and industrial center, but with a historic downtown. For us this was the starting point for our first safari - to Addo Elephant Park, not far away. In Addo Elephant Park, we took a sunset drive the first afternoon and an all day gamedrive the next day, where we had our first encounters with some of the large animals we've only seen in zoos - warthogs, cape buffalo, kudu, lions and lots of elephants. Some of our encounters were quite close, but not dangerous.
Click here to read our story, or
Click here to view our Flickr album of photos (the baby elephants are really cute).
Durban
From there, we flew to Durban, an intriguing city with its Indian culture, great beaches, a port and more. We settled into a comfortable hostel in Morningside, just north of the CBD. This is the most walkable urban area we have stayed in South Africa so it is easy to hang out and work, take breaks for meals at the many cafes within a few blocks, and meet other travelers.
Click here to read the story about our Durban experience - it was quite extraordinary
A highlight of our stay was a 2-day trip to visit Hluhluwe National Park, followed by a boat trip on the St Lucia Estuary. At the park we were fortunate to view more large animals (more warthogs and kudus, many impala, giraffes, rhinos and a pride of lions), while the Estuary introduced us to many hippos, who make this place their home (picture below).
Click here to read our Safari to Hluhluwe National Park & St Lucia Estuary story
Click here to view our Hluhluwe National Park Flickr album
Click here to view our Hippos in the St. Lucia Estuary Flickr album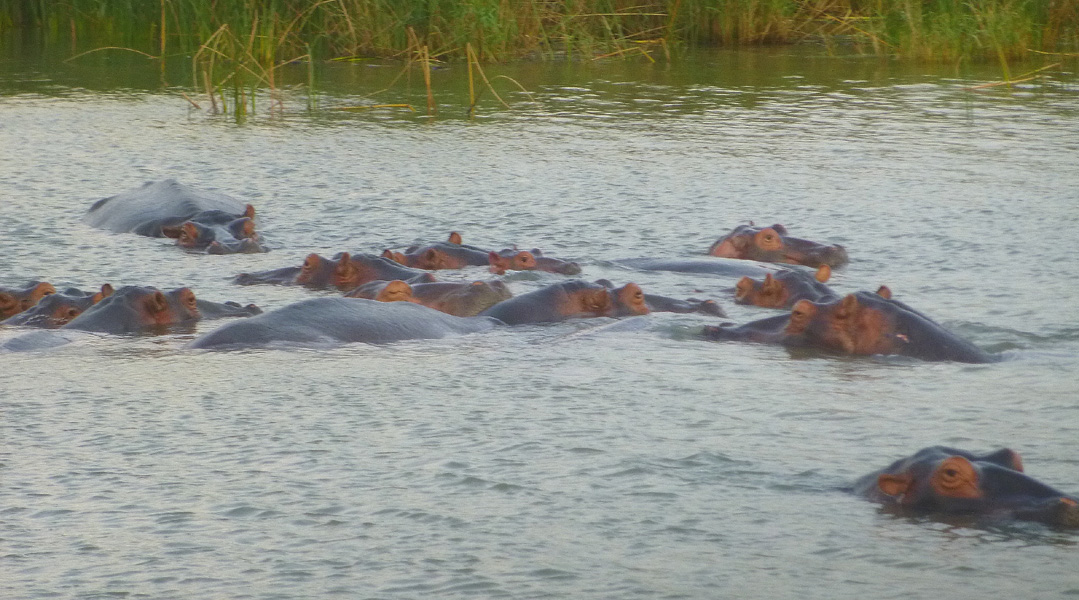 Safari to Kruger National Park and on to Brussels
We have realized that we have been Nomads, traveling from place to place continuously since late December, when we left to explore Argentina. In these months, we have traveled through Argentina, explored the east and west coasts of Florida, visited friends and family in Albuquerque, Phoenix, Denver and Boulder, and then traveled to Atlanta where we departed for South Africa. After all this and our travels in South Africa, we are feeling that we need to slow down and stay in one place for a while.
But, first we felt we wanted to go on one more safari, to Kruger National Park, South Africa's oldest, largest and most well known park. During this safari, in addition to meeting up with a range of animals, we also sighted an amazing array of birds with the assistance of our guide, Hoppy.
Click here to view our Safari to Kruger National Park Flickr album
As we reflect on our South African journey, we already know that we'll return and continue to explore Southern Africa. We have learned that the experiences of being with Africa's splendid critters touch our souls, and that social, political, and economic changes occurring in Africa today are a fascinating study.
After a brief return to Johannesburg, we embarked on the 18 hour trip on Etihad Airlines from Johannesburg to Brussels with a stop in Abu Dhabi. We have settled in Brussels, one of the world's most People Friendly Cities! We will live here at least a month and seek a balance between work and just living the urban life we love.
Click here to read South Africa - Our Take - impressions and analysis.
Click here to return to our 'Searching the World for People Friendly Cities' page
Click here to return to our Home page