Summer 2016 - Back to Europe
First Stop Brussels and On to Amsterdam, Germany, Poland and the UK


Perhaps the greatest challenge of Nomad Life is to decide where to go next, and then to plan the journey. In March, while we were still happily living in Argentina, we began to consider where to spend the summer. Our first instinct was....Europe! But, we have spent every summer since 2007 in Europe. Isn't it about time to consider other places with great summer weather? Perhaps we could even just stay in the USA.
Well, yes, we could. But then we recalled living in an urban neighborhood where we can walk to cafes and shops, ride a tram or bus or metro anywhere we wish, take day trips by train to surrounding cities and towns, visit museums, enjoy stylish architecture along pleasant streets. We also recalled savoring those long summer days and evenings with daylight until 9 PM, perfect for sitting at a sidewalk cafe or strolling in a park. Could we find this lifestyle in the USA? Not so easily. What about Canada - we have heard that Vancouver is a real urban city?
Our indecision continued as we flew back to the USA, making stops in Atlanta, Denver, Phoenix and Albuquerque. After six weeks, our minds were made up - we'd return to Europe for another summer!
So, flights from Albuquerque to Salt Lake City, on to Seattle and over the pole to Amsterdam brought us to the other side of the Atlantic.

First Stop Brussels
A short train ride brought us to Brussels, where we settled in a small, well lighted, nicely furnished apartment, again in the district of Ixelles, but in a more residential neighborhood than in past visits. We have a lovely green park across the street, and just a block away, the gardens and woods surrounding the Abbaye de la Cambre are open to explore, perfect for early morning walks.
In another direction, we pass two small lakes surrounded by greenery, and the home of many ducks and swans. Just beyond is Place Flagey, with a grand Art Deco building containing several performance spaces on one side. Every Saturday and Sunday, the place fills with stalls of sellers of fruits, veggies, roasted chickens, fish, bread, cheese, foods to take away, and household stuff. Our first stop was often a small van that offers fresh gaufres and cafe (waffles and coffee), the perfect way to start a day!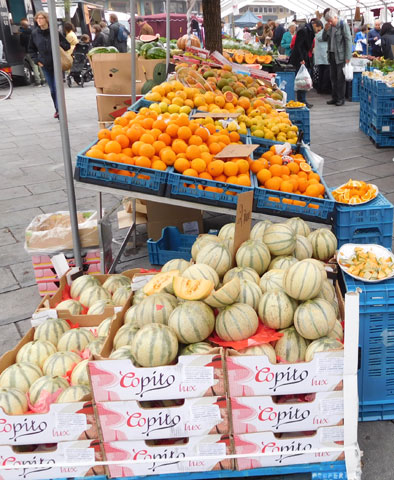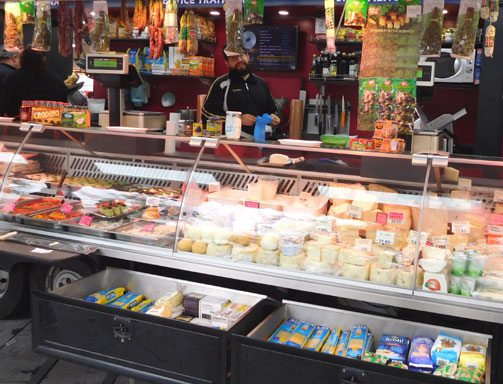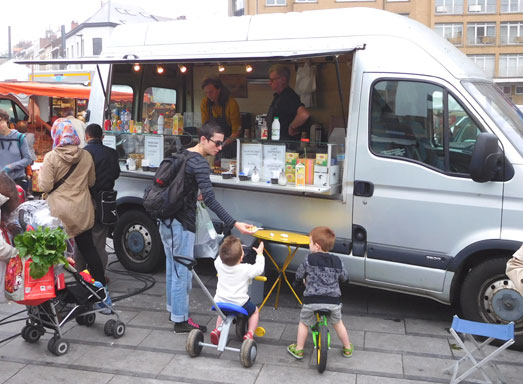 We continued exploring, expanding our walks in various directions, re-visiting places we knew and discovering new delights. Further travels were no problem because we renewed our annual MOBIB transit cards which allow us to travel anywhere in the city! In addition, special senior fares on the trains allow us to enjoy day-trips anywhere in the country. What bargains for us to experience the pleasures of this country!
Bruges was our choice for a day-trip. We enjoyed this historic and very scenic place much as we had on earlier visits.
Click here to view our earlier story.
Another day-trip took us to the Neanderthal Cave near the town of Scladina, Belgium
Click here to view our Flickr photo album.
Back to the top

On to Amsterdam
We then returned to Amsterdam where our primary mission was to explore buurts (neighborhoods) for some future time when we might stay a month or so. While there, we were invited to the home of friends we met in Argentina. We had a lovely evening together, sharing good conversation, wine and cheese! Many thanks, Jeanette, Pierre and Julie!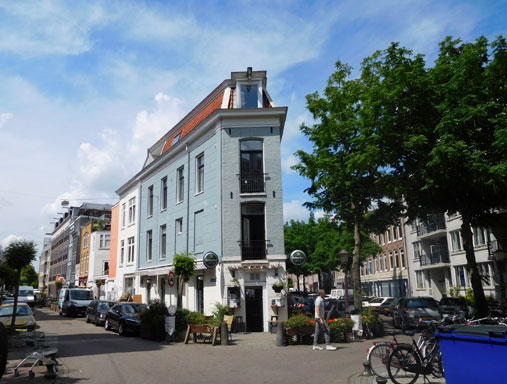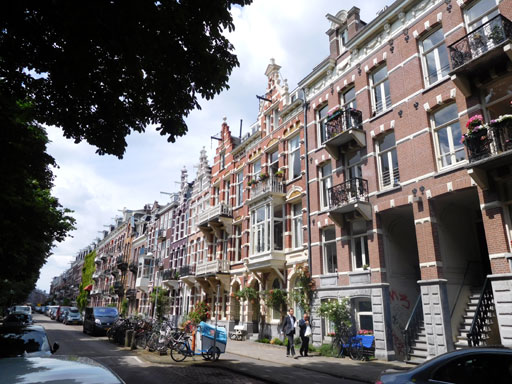 A secondary mission was a visit to the Stedelijk, the famous museum dedicated to modern and contemporary art and design. This museum has been closed for 10 years for a massive reconstruction. Now it is open again and it's glorious! We admired the classic brick side and the new modern addition. Once inside, we spent the whole day there!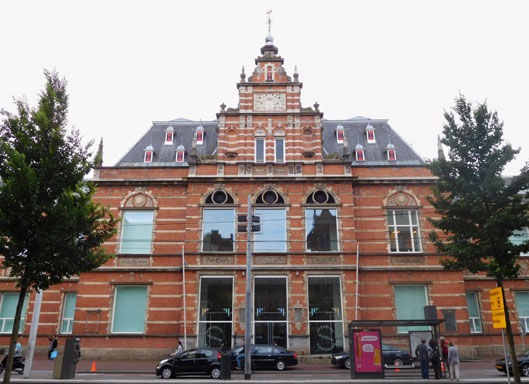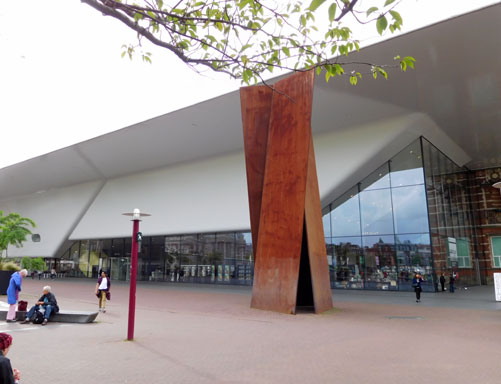 A special exhibition at the Stedelijk explored the art and design of the Amsterdam School, a movement in the early 20th century when young architects, designers, and artists joined up with the city planners and trade union leaders to build a better society.
Click here for more on this fascinating development.
Back to the top

Hamburg and Wedel
Next, we traveled on to Wedel, a suburb of Hamburg, Germany. We settled in a comfortable hotel and spent the next days spending as much time as possible with our dear friend, Gabor. He recently immigrated from Hungary to start a new life in Germany. We shared ideas and opinions on a range of topics, took a road trip to Cuxhaven at the mouth of the River Elbe, watched Euro 2016 football matches, and shared good food and drink!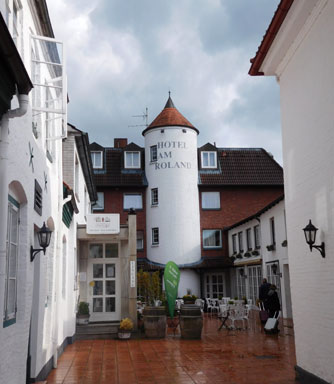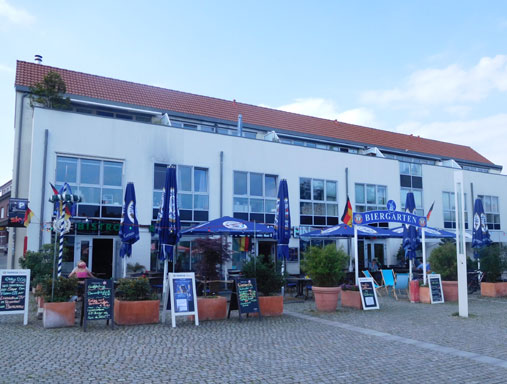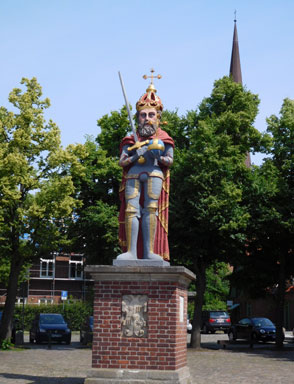 We added a day trip to visit Hafen City, the immense project to redevelop the former port area of Hamburg along the Elbe, including the reuse the massive brick warehouses.
Click here to read the story of our earlier visit.
Returning, now five years later, we again visited the InfoCentre. A young urban planner highlighted the most recent projects for us and told us that Hafen City has a full schedule of summer festivals and fun events. Over 12,000 residents call it home and many more people work there. The amazing ElbPhilharmonie, with it's glass sides and wavey roof line, at last free from construction cranes, has opened for the concert season! Many new buildings have been added, more modern but compatible with the style of the historic brick warehouses. A new line of the Metro now offers service into Hafen City. It's still a work in progress, but progress is indeed being made!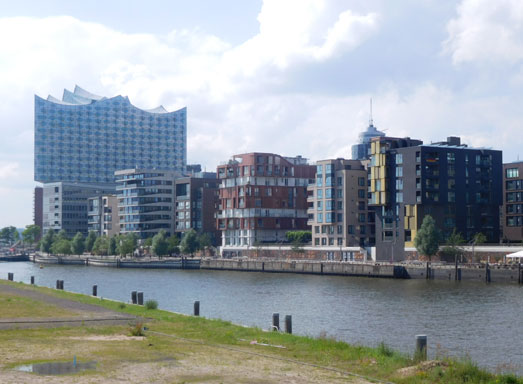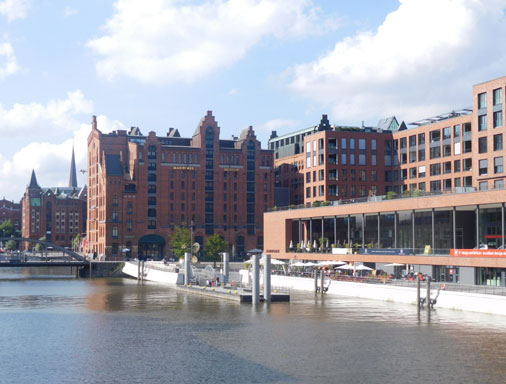 Back to the top

On to Poland
No Rough Guide to Poland! Amazing! Sitting in a sidewalk cafe in Brussels one evening, we had made the decision to plan a journey to discover Poland. Back home, we searched the pages of the Rough Guides website and discovered that they did not publish a Rough Guide to Poland. What might this portend?
Never mind, we soon found that Lonely Planet had a Poland guide in an e-book edition so we ordered it. We began to study right away, knowing that our personal level of knowledge about this country was seriously scant! Before long, we had developed a tentative itinerary. We would begin with a stay in Poznan.
Poznan
From Wedel, a half day train ride with a change in Berlin took us there. We soon discovered the glorious town hall, historic Stary Rynek (old market square) and the nearby Cathedral. We found this city to be livable, welcoming and an excellent introduction to Poland!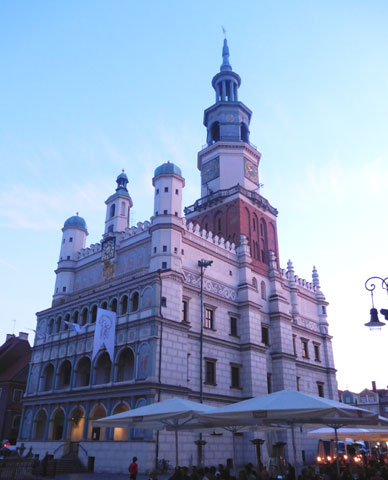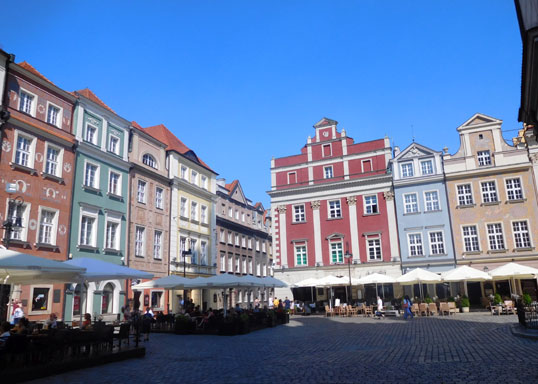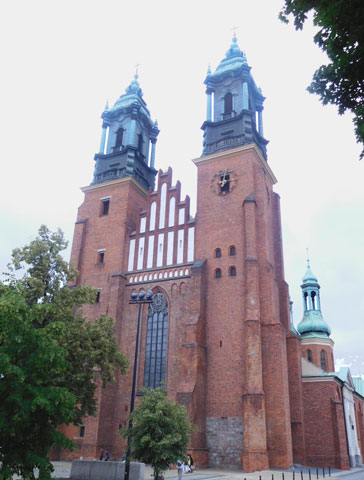 Click here to read more.
Back to the top

Warsaw was our next stop. We traveled by train, an opportunity to ride through the green gently rolling Polish countryside that made us realize that the Polish people who had immigrated to Illinois must have felt very much at home!
Arriving in Warsaw's Central Station, we knew we were in the Big City! We had visited back in the early 1990s but the city has undergone so many changes since then that little was familiar except for the Communist era Palace of Science and Culture, and the Royal Palace and Stare Miasto (the old city), which were completely destroyed during World WarII and lovingly reconstructed by the builders, architects, artists and crafts people of Warsaw.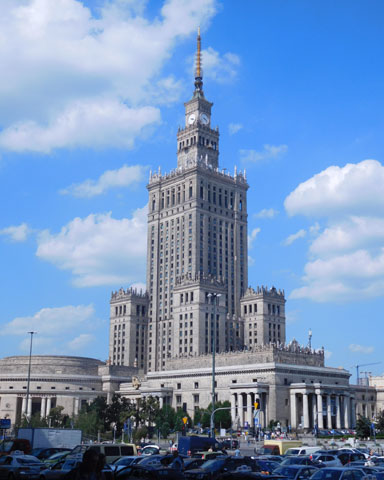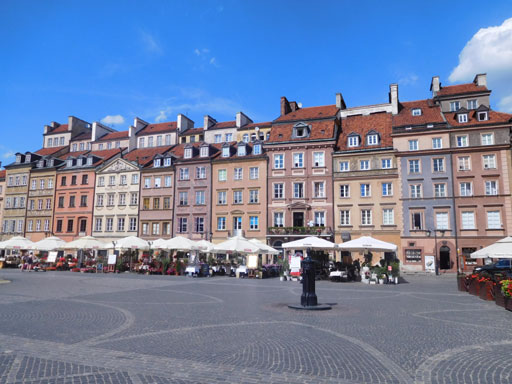 Click here to read more
Back to the top

A shorter train ride took us to Gdansk on the Baltic. It was here that the Solidarity Movement began in the 1970s. These determined folks were able to come together to force changes to the Communist government that to a large degree resulted in the fall of the Soviet Union in 1989. We tried our best to learn about this miraculous, persistent, and courageous battle for human rights and dignity, for better lives and working conditions, for freedom! We admired the three-cross monument in front of the new Solidarity Center, as well as the reconstructed Old Town.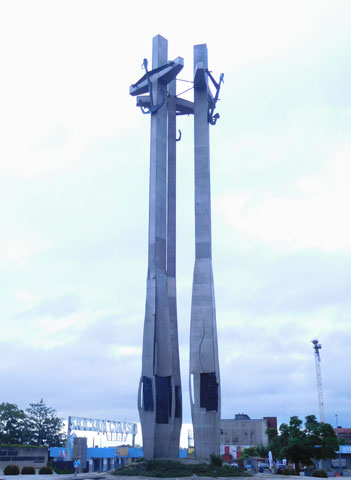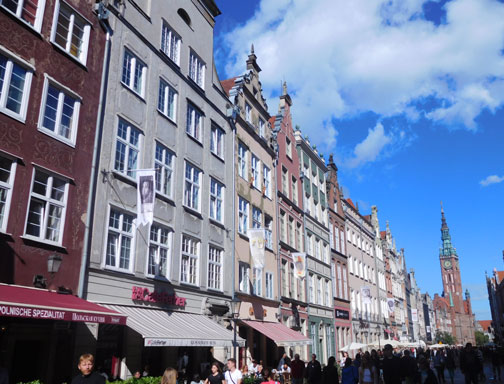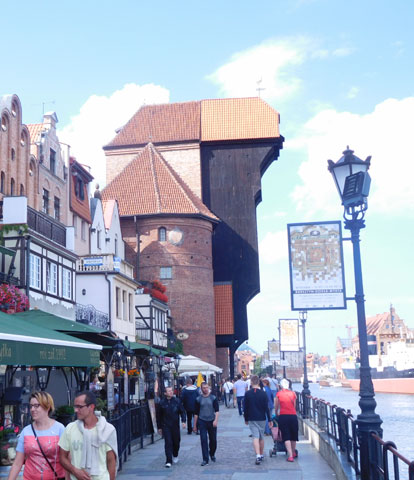 Click here to read more
Back to the top

We then returned to Warsaw to visit places we missed, including the amazing Wilinowe Palace.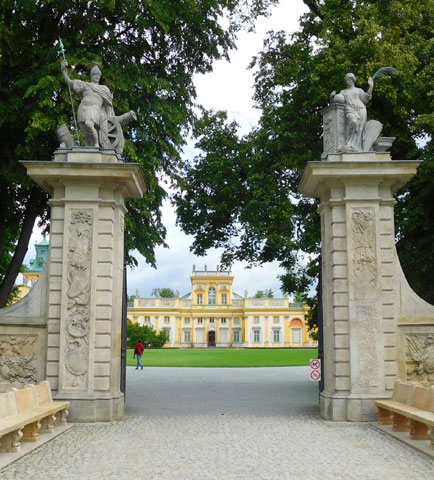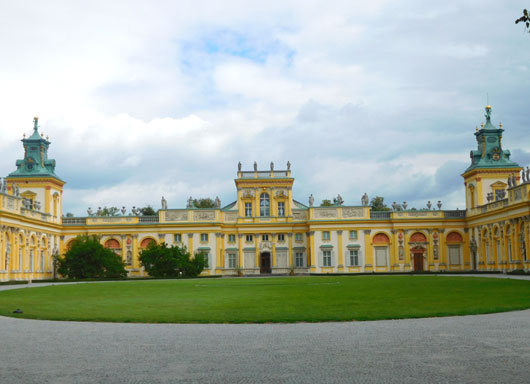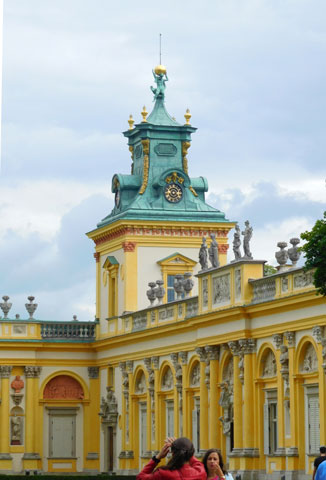 Back to the top

Krakow, another city important to the history of Poland was our next stop. Here, we discovered that beyond the graceful Renaissance architecture there are stories of Nazi opression and Communist planning.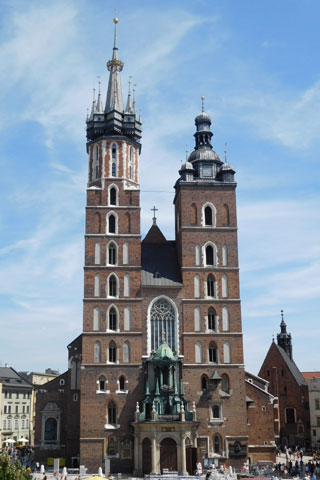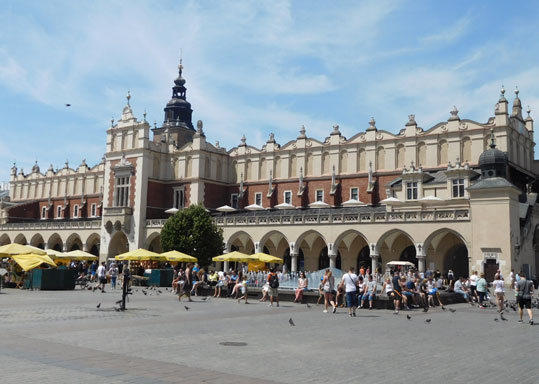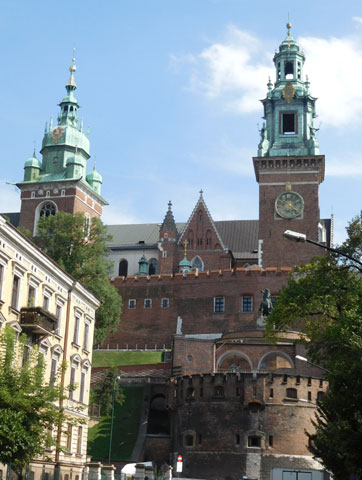 Click here to read more.
Click here to view our Flickr photo gallery.
Back to the top

On to London
With our time in the Schengen countries almost over, we returned to Brussels to relax and reflect on all we had seen and learned, with special interest in the rich history of Poland of which we knew little before this visit. We then boarded the Eurostar train for the swift trip through the Channel Tunnel to London. The fenced yards near the tunnel entrance at Calais were quite eye-opening.
Our explorations in London offered us more insights into this vast, vibrant, sprawling, diverse city so rich in monumental architecture and history, culture and ceremony, challenges and innovation, wealth and poverty. Strolling along the Thames, we savored views of the Houses of Parliament and Westminster Abbey, and visited the Tate Modern Museum, housed in a massive old power station. Sitting at a pub later, we realized that although we have visited London several times, we have never written about it; we made a resolution to rectify this as soon as possible.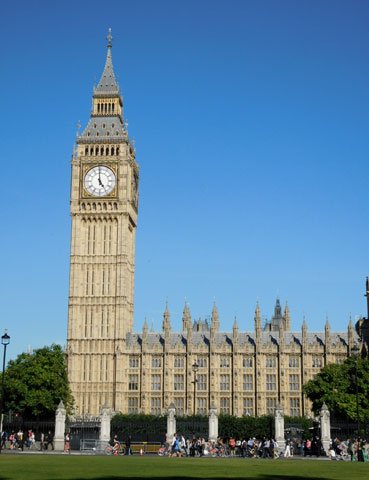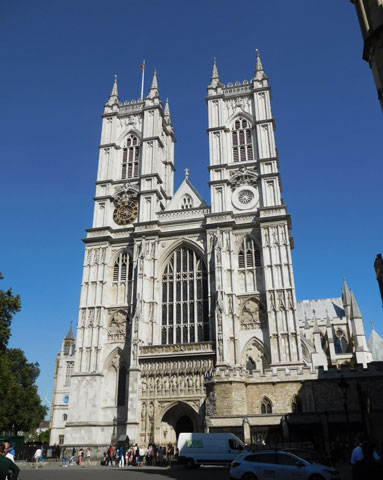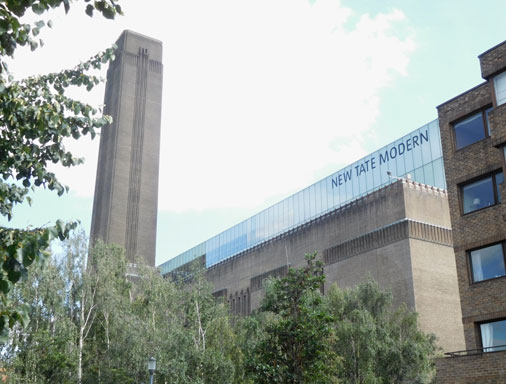 On daytrips we marveled at the great Canterbury Cathedral, and communed with generations of studious young people in Cambridge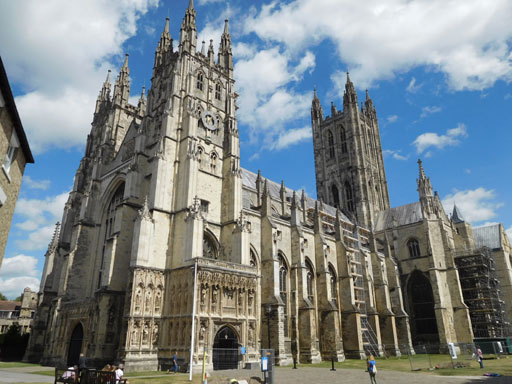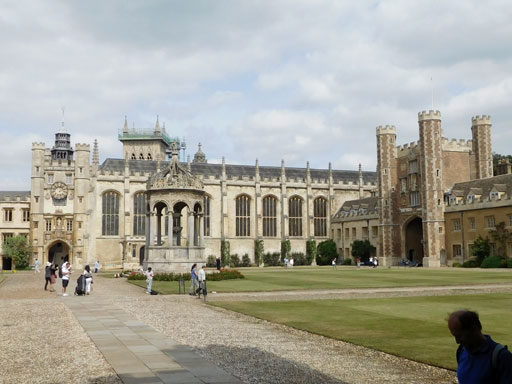 Back to the top

Following our London stay, we traveled north to Newcastel upon Tyne, a riverside city of bridges with a delightful Quayside, Victorian architecture, and plenty of other charms to engage us.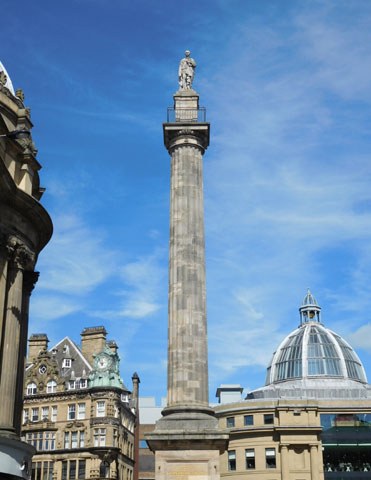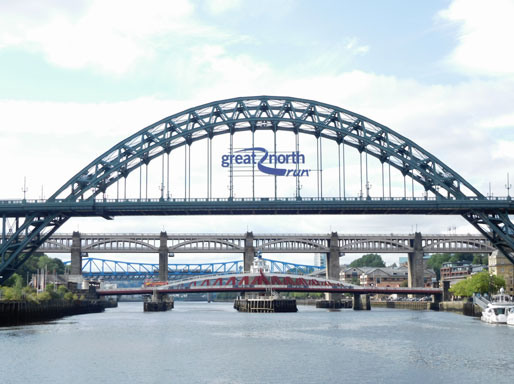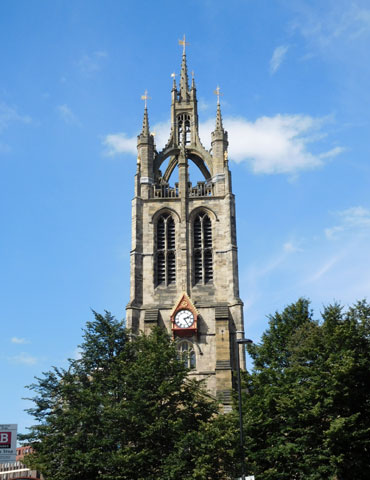 Click here to read more
Back to the top

Perhaps the most essential part of our visit was our exploration of the expanse of Hadrian's Wall and the associated fortresses along the northern border of the former Roman Empire. This had been on our list of places to visit since we studied Latin in high school!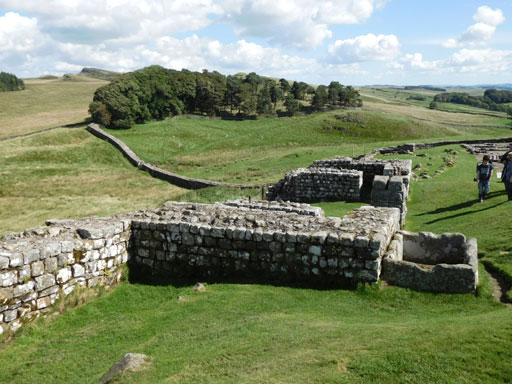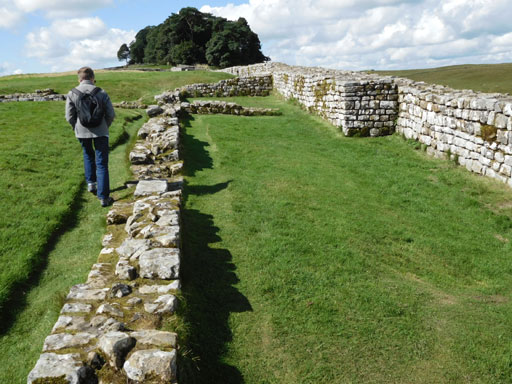 Click here to read about our visit
Back to the top

Continuing north, we crossed the border from England into Scotland, wondering if this was another country. We settled into a nice flat in Edinburgh and began to experience another city rich in history and architecture, including their iconic Castle and the Holyrood Royal Palace. It gave us yet a broader view of the history of the Britons! We also met up with Alex, our friend who we had first met in Durban, South Africa!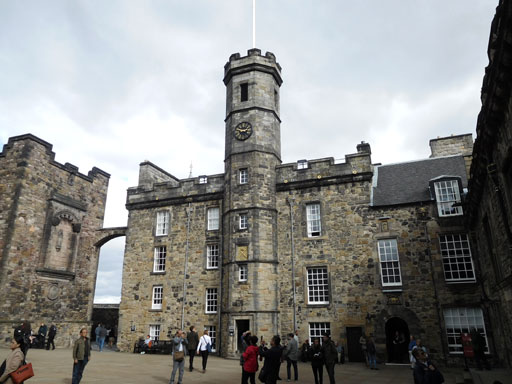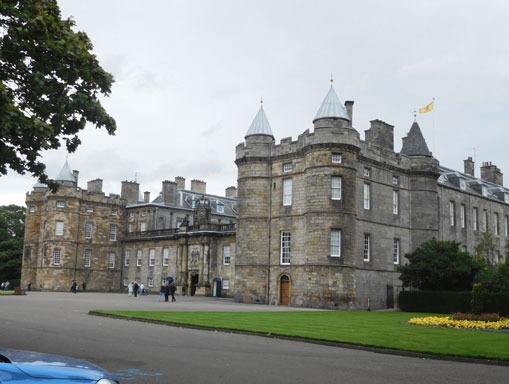 Click here to read about our experiences in the city of Edinburgh
Click here to read about our visit to Edinburgh Castle
It was then back to Newcastle for a work week, on to Heathrow Airport in London, and back to the USA.
Our journeys during the summer and early autumn have enabled us to explore new countries and regions, expand our knowledge, and gain new perspectives. We have met new friends, renewed old and deep friendships, and experienced phenomenal architecture, art and culture. We have savored summer's long days, enjoyed great fresh food and drink, and, most importantly, taken time to enjoy life!
Click here to return to our 'Searching the World for People Friendly Cities' page
Click here to return to our PioneerWest homepage.