Searching for Nomad Friendly Climate - Summer in the Winter 2014/15


With the arrival of Golden Autumn in Brussels, the Nomads began thinking about where to go for the winter - or as we say, finding Summer in the Winter. Over all the years of Nomad living, we have expanded our search from People Friendly Cities to Climate Friendly Cities, but for our travels we also look for Nomad Friendly Climate, which for us means sunny days, comfortably cool nights, occasional rain showers, and day time temperatures around 25oC or so.
After our usual visits with family and friends in the US, it was time to find Summer in the Winter, so we headed down to Mexico where we visited our friends in Puerto Vallarta, and shared New Year's Eve and our 30th anniversary together in Guadalajara. We continued on to San Miguel de Allende before returning to Ciudad de Mexico.
Now the Nomads needed to find more Summer in the Winter, but where? For 2015, our answer was New Zealand.
On January 13, we embarked on two days of flying with stops in Houston, Los Angeles, Honolulu (overnight) and on to Auckland. Here, our good friend, Ross, picked us up and whisked us to his cottage in Snells Beach, north of Auckland.
Together again, we caught up on news, and planned a road trip through the Northland. Our adventures included a cruise on the Bay of Islands, and standing at the northern most tip of North Island, Cape Reinga, where the waters of the Tasman Sea encounter the waters of the Pacific Ocean with great roiling and tumult! We felt the power of the planet here.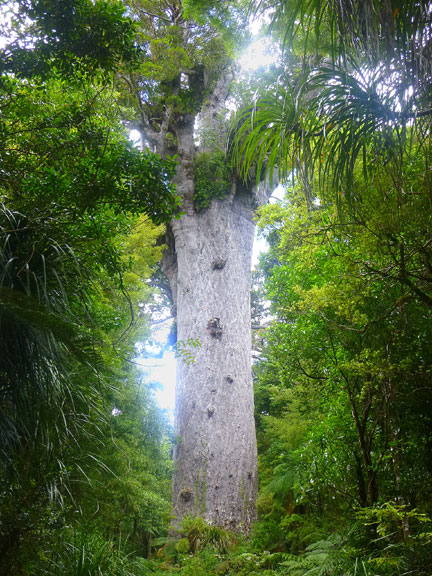 On south along the west coast, we encountered the vistas of green hills, blue harbors, white sand beaches, golden sand dunes, and tiny Kiwi villages where Ross traced his family roots. The nearby Waipoua Forest contains a stand of the ancient Kauri trees, many over 70 meters high and over 13 meters around. We paid our respects to 2000 year old Tane Mahuta, God of the Forest, a true giant (picture at right). The forest was a lovely mosaic of other trees interspersed with more of the huge Kauri.
Returning to Snells Beach, we felt so thankful to Ross for his great trip planning and driving and for being such a fun travel companion! But we needed to continue our Kiwi Journey and made plans to fly to Wellington, the capital.
In Wellington, we explored the CBD, the inner suburbs of Kilbirnie and Newtown, the outer suburbs of Porirua, Eastborne, and Petone, and the hill top suburb of Killburn from which we strolled through the verdant Botanic Garden. Later, the awesome Te Papa Museum held our attention for the better part of two days, filled as it is with well presented information about all aspects of New Zealand, both old and new. Our days in Wellington were fun and we realized that this city has much to offer. Time will tell whether it will filter to the top of our "places to settle for a longer stay" list.
But on further reflection, we have come to realize that the Kiwi Dream is becoming much the same as the American Dream: a single family house with a yard, a car or two, being car dependent, with constant visits to large shopping malls and big box stores, which crowd out small markets and shops. Sigh!
After our visit, we boarded a great ferry to cruise across the Cook Strait to South Island. Here, we settled in Nelson, a pleasant small city of 60,000 in a stunning location on the Tasman Bay, surrounded by mountains. We came because Nelson is the gateway to the Abel Tasman National Park, but also discovered that Nelson offered a nicely lively CBD, and was the center of a thriving wine region!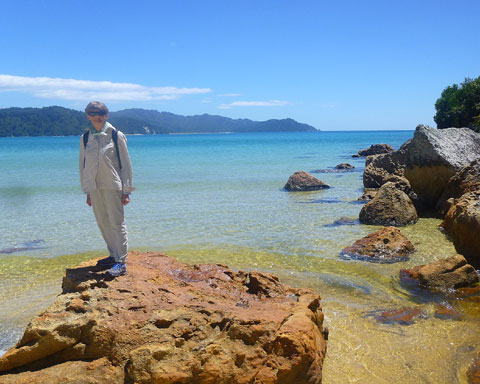 After a few days of exploration, we moved on to Motueka, a delightful smaller town, for easier access to Abel Tasman Park, which we visited traveling by boat along the coast, making stops at beaches along the way, appreciating the views of deep green mountains and deep blue water while learning a bit of the history of this verdant region of New Zealand.
Following these explorations, we traveled on to Christchurch. We arrived a week before the fourth anniversary of the 2011 earthquake, with a goal of learning about the recovery and to talk with people whose lives were so changed during those few seconds when disaster struck this stately city. We returned to Old Country House, the welcoming hostel where we had stayed four years ago. (You may recall that we were visiting Christchurch just four years ago and experienced that earthquake! Click here to read our story of that experience)
We now embarked on a multi-day quest to learn as much as we could about the plans of this great city to recreate itself into the Christchurch of the future. We were aided by Pat and Bob who had lived through the cataclysm and were hanging on, striving to live a normal life now.
Click here to read about what we found.
After Christchurch, we flew back to Auckland to again meet up with our friend Ross for another road trip, this time to explore the Coromandel Peninsula and surroundings. This area, not far from Auckland, has forests, mountains, and beaches galore, and certainly deserves a longer stay for more treks, walks along the beach, and enjoying sunsets!
After hanging out with Ross in Snells Beach, our last days were spent in Auckland to explore the largest Kiwi city. It too may be on our 'places to settle for a longer stay" list.
Click here to read about our explorations in Auckland.
Back in 2011 we posted a number of stories and Flickr photo albums of our travels in New Zealand.
Click here to read more (scroll down to get to the New Zealand section).
Click here to return to our 'Searching the World for People Friendly Cities' page