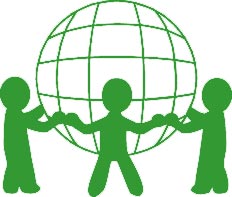 People Friendly Cities - What are they?

Since the industrial revolution began, people have been moving from rural areas to the cities, most often seeking employment opportunities and the chance for a better life. This trend is continuing today, and in fact, as of 2008, more people are living in cities than outside them. Experts expect this movement to continue for the foreseeable future.
With this increased urbanization, it is becoming more and more critical that cities need to be People Friendly, that is, places where people want to be - where they can live, work, play, thrive and be happy.
To accomplish this, we believe that cities should follow our Principles of People Friendly Cities, by which they would incorporate the following attributes.
Pleasing and Efficient Physical Form, including charming and appealing streetscapes, shops within walking distance of home, and distinctive architecture.

Mobility Options that provide people a full range of transport options to get where they want to go, including walking and bicycling

Natural World Connections to Parks, Open Space, Gardens, Historical and Archaeological Sites, Recreational Areas or even a Beach, All Within Easy Reach of City Dwellers.
Now, we are searching the world, visiting cities large and small, to document, through images and stories, the elements of urban development that make these People Friendly. As Nomad Expatriates, we can gain a unique perspective on life in the world's cities, offering our observations in a easy, readable style. Click here to go to the list of our travels.
How Do We Make Sure We Will Have People Friendly Cities
As we have continued our Search, we quickly learned that knowing what makes a People Friendly City is not enough !! The real challenge is finding ways to ensure that our cities grow to be more People Friendly.
The key is working with those who can influence this process.
We believe that there are three groups of people who are key in making this transition happen;
- Urban Planners and Designers
- Developers
- Home seekers - commuters, students, employers and employees - US!
Let's consider US first. Our choices about where to live and work and how we travel from place to place have a tremendous impact on city design.
Click here to read more.
What about Urban Planners and Designers? Planning and design is a visionary process that helps us figure out what the future should look like. After all, if we don't choose where we want to go, we probably won't get there!
Click here to read more.
What about Developers? Developers, public and private, make the designs and plans come to life. They make the investments and build our cities.
Click here to read more.
Click here to return to our Pioneerwest homepage.